Simmy (Real Name: Simphiwe Majobe Nhlangulela, born July 9, 1994) is a 29-year-old South African singer and songwriter who gained fame in 2018 after she signed a record deal with EL World Music and released her debut album titled Tugela Fairy (2018).
Simmy has become quite instrumental in popularizing the neo-folk and neo-soul music genres in recent times. The SA beauty who is a KwaZulu-Natal Province native started with musical competitions which didn't do much for her. However, her story changed upon meeting South African record label boss Sun-El who signed her to his stable, EL World Music, and Simmy has never looked back since then. Read more about the beautiful vocalist's life, both personal and professional.
Summary Of Simmy's Biography
Full name: Simphiwe Majowe Nhlangulela
Nickname: Simmy
Gender: Female
Date of birth: July 9, 1994
Place of Birth: Tugela, KwaZulu-Natal, South Africa
Simmy's Age: 29 Years Old
Ethnicity: African
Nationality: South African
Zodiac Sign: Cancer
Marital Status: Unmarried
Siblings: 3
Education: The University of KwaZulu-Natal
Occupation: Singer, songwriter
Years Active: 2017 to date
Famous for: Her debut album titled Tugela Fairy (2018)
Simmy's Instagram: @simmymusicsa
Twitter: @simmymusicsa
Simmy Was Born in 1994 And Her Real Name At Birth Is Simphiwe Majowe Nhlangulela
Media outlets have always reported Simmy's year of birth as 1996, however, in 2018, the female artist told Apple music that she was 24, meaning that her correct year of birth is 1994. Sadly, Simmy's exact date of birth is not known but some sources say she was born on the 9th of July.
Named Simphiwe Majowe Nhlangulela at birth, the musician decided to abridge her name to Simmy which has remained her stage name to date. The singer cum songwriter's place of birth is recorded as the KwaZulu-Natal Province and she spent her formative years in Tugela Ferry, KwaZulu-Natal.
She Comes From A Music-loving Family
Though details about her family are not in the public arena, it is public knowledge that her parents were very disciplined, Simmy let this on in an interview session with Emmanuel Tjiya of Sowetan newspaper. Their strictness notwithstanding, the artist's folks are music lovers, especially her dad who enjoys country and makandi music: all these served as a source of inspiration to the emerging singer at the time. Nothing is known about her siblings but the records have it that she is the last of four with an older brother who is a big fan of R&B.
Growing up, the emerging talent would spend time with her grandma who lived in the vicinity. Her weekends as a growing child were occupied by a lot of activities and she especially loves tree climbing.
On her academics, the musician completed both basic and high school, and armed with impressive grades, she proceeded to the faculty of Social Sciences at the University of KwaZulu-Natal, graduating with a first degree.
Simmy Was 23 When She Started Singing Professionally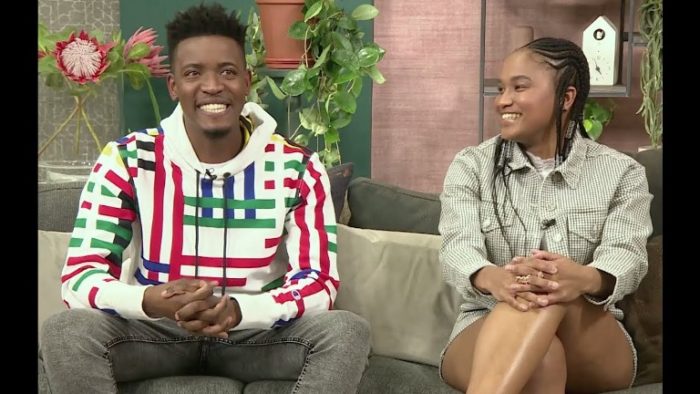 The singer once graced several music competitions like SA Idols and South Africa Has Got Talent but they all came to naught. While still studying at the university in 2013, she met Sun-EL of the EL World Music label who was highly impressed by her performance and requested that she becomes a signee under him. However, the upcoming singer opted to finish with academics first and later joined the music boss in 2017.
Ready and willing to launch her professional music career, Simmy joined the EL World Music and commenced work with the boss on the album entitled Africa To The World. Sun-EL featured the young talent in some tracks like Ntaba Ezikude that went on to become hits and received massive airplay. When the videos for Ubala and Ntaba Ezikude were released, Simmy stole millions of hearts with her graceful presence and beautiful voice. Thus, she began her journey to greatness in the music industry.
She Recorded Her Breakthrough The Next Year
Fame came calling in 2018 after the South African singer dropped her debut album, Tugela Fairy. The album did not only get a good reception from the public, but it also featured singles like Ngiyesaba that charted for a couple of weeks on the Trace Top 30 Africa Chart.
Another chart-topping single is Ngihamba Nawe which appeared on the Top 100 airplay. Ngihamba Nawe was featured in her second album, Tugela Fairy (Made Of Stars); this dropped in 2020. Apple Music artist Spotlight also featured Tugela Fairy. She has recorded several songs, including:
Ntaba Ezikude
Simmy Ubala
Simmy Nawe
Simmy Ngonile
Simmy Ngiyesaba
Sonini
Umahlalela
Ngihamba Nawe
Emakhaya
Simmy has also been involved in notable collaborations with a few of her fellow label signees, including the likes of Mthunzi, Claudio, and Kenza. Thanks to her neo-folk beats, the SA beauty stands out in the industry which in recent times earned her some performances in the East London Buyelekhaya Festival as well as The DStv Africa Magic Viewers' Choice Awards.
Milestones In The Music Industry So Far
Simphiwe Nhlangulela struck gold with her debut effort Tugela Fairy as the album made it to the Apple Music Artist Spotlight. Individually, the tracks in Tugela Fairy have amassed above 500k YouTube views, with two of them hitting the one million milestone and above.
For two weeks straight, the single, Ngiyesaba appeared on Trace Top 30 Charts. After uploading the official video in August 2019, it went on to earn above four million in views within a couple of weeks.
When Tugela Fairy (Made Of Stars) which is her second album hit the music stand in 2020, it hit the ground running as Ngihamba Nawe, the hit track charted on top of the 100 airplay. What's more, most of the album's songs got above 100k views on YouTube.
Simmy's success as a vocalist in the South African music scene earned her enviable spots in multiple events and concerts. On Spotify alone, she garnered over 2.6 million streams, including 542.5k listeners; this came from a total of 92 countries.
Emakhaya Took her to another Level of Fame
Yes, it cannot be disputed that her debut effort Tugela Fairy was a resounding success, however, the artist's next single Emakhaya takes the cake. It was moving, sensational, breathtaking, and astounding. Besides, Simmy couldn't have chosen better collaborators like Da Capo and of course, Sun-El. The single has remained her biggest hit to date and listeners are simply blown away with the sensation.
The track is already streaming on all known platforms and those who have watched it admit that it is apt for the slow dance steps. Six months into its release, Emakhaya amassed over 2.2 million in views. Its official video has accumulated above 600k plays. Apart from boosting Simmy's fame, Emakhaya equally shot up her fortune and her bank account balance is a testament to the success of the hit single. With so much success in a short while, Simmy sure has a lot to offer the South African music industry and the world at large.
The singer's dream is to collaborate with A-list artists like Thandiswa Mazwai, Letta Mbulu, diva Dolly Parton, and Sjava.