Tiwa Savage (Born February 5, 1980) is a 43 year-old Nigerian singer, songwriter, and actress with an estimated net worth of $5 million. She is widely referred to as the Queen of Afrobeats for her contributions to the Nigerian and African music scene.
Tiwa's consistency and dominance on the charts for years have earned her respect from colleagues and the adoration of teeming fans. Since she moved from the United States to Nigeria, she has been a force to reckon with, growing to become not just one of the biggest artists in Africa but one of the richest female musicians.
How Old Is Tiwa Savage Now?
Tiwa Savage was born in Nigeria on February 5, 1980, in Lagos Island, Lagos and is currently is 43 years old. Despite starting her life in the country and obtaining her First School Leaving Certificate, she moved to London at the age of 11, where she started her musical journey. As a secondary school student, she was a trombone player for the school's orchestra, displaying a mastery of the instrument and music that showed she was destined for bigger things.
It, therefore, did not come as too much of a surprise when she provided back-up vocals for legendary late British singer George Michael. It was her official first foray into professional music. She went on to lend her vocals to an impressive list of artists that include Mary J. Blige, Andrea Bocelli, Kelly Clarkson, Ms. Dynamite, Emma Bunton, and Chaka Khan. An inspiring addition to her resume, and it all began at the age of 16.
She Participated in the UK Version of the X-Factor When She Was 26
In 2006, while she was 26 years of age, Tiwa Savage decided to register for the UK version of the top-rated talent show, X-Factor. She did pretty well at the competition as a singer and advanced to the final 24. Unfortunately, her journey in the competition ended shortly after, denying her a place in the final 12.
According to her, it was hard dealing with the limelight as she had to put up a brave front when she heard the news of her elimination from the competition. Regardless, her foray into the competition hinted at what was to come. She subsequently went on to become a national and international superstar.
At the Age of 27, Tiwa Savage Graduated From Berklee College of Music
After her impressive performance on X-Factor, she decided she was tired of being a back-up vocal artist and wanted her own music career. She moved to the United States of America at the age of 27 and enrolled in Berklee College of Music, a private school for music. Located in Boston, Massachusetts, Berklee College of Music is the largest independent college of contemporary music in the world.
Despite being considerably older than many of the students, she took inspiration from their enthusiasm and passion. Eventually, she graduated with a degree in music and a renewed desire to tackle the industry as a solo artist.
At the Age of 29, She Signed a Publishing Deal With Sony/ATV Music Publishing
The year 2009 proved to be an eventful one for Tiwa Savage. At the age of 29, she got the chance to sign a publishing deal with Sony/ATV Music Publishing. Through this deal, she was able to write for and collaborate with a lot of significant artists.
Some of the artists she wrote for include Babyface, Fantasia, Mya, Kat Deluna, and Monica. Her collaboration with Fantasia on the track Collard Greens & Cornbread earned the latter a Grammy nomination in 2010. She also provided background vocals on the Whitney Houston 2009 album I Look to You. This was the last year she spent in the United States before she made the move that would come to define her entire career.
She Moved Back to Nigeria in 2010 at 30 Years of Age to Launch Her Solo Career
Despite finding relative success writing for artists whom she enjoyed listening to while growing up, Tiwa Savage felt a void. She wanted something that was solely hers and she knew she would have to make sacrifices to get it done. Having observed how well Afrobeats was doing back home in Nigeria, she decided she would risk everything and move back home.
This turned out to be the beginning of her success story as a solo artist. She quickly released her first single in Nigeria at the age of 30, called Kele Kele Love. It was a chart-topper and enjoyed massive success in Nigeria and Africa.
After bagging numerous nominations and awards for her debut single, she followed it up with her second single titled Love Me (3x). The song earned her more nominations, awards, and success. With two successful singles to her name, Tiwa Savage had arrived, and she was on her way to becoming a household name.
At 32, Tiwa Savage Finally Became a Household Name After Signing with Mavin Records
Those singles made Tiwa Savage a hot asset and numerous labels were after her signature. In 2012, she finally put pen to paper with Don Jazzy-led Mavin Records when she was 32. The deal represented a new beginning for both parties as Mavin Records was undergoing a transition at the time as an offshoot of the defunct Mohits Records.
Tiwa Savage joined a host of other artists to help launch the label, and in the process, catapulted herself into superstardom. She was finally a household in Nigeria and was now officially the Queen of Afrobeats. Under Mavin Records, she went on to release three albums. Once Upon a Time (2013), RED (2015), and Sugarcane (2017).
Tiwa Savage's Net Worth is Estimated at $5 Million
The declaration of Tiwa Savage as one of the wealthiest celebrities in Nigeria should surprise no one. Since 2010, she has enjoyed incredible success as a performing artist. This success has been hugely responsible for her considerable wealth. As of 2020, Tiwa Savage has an estimated wealth worth around $5 million. Although her career as one of the most prominent musical personalities in Nigeria and Africa played a big part, it is not the only source of her massive net worth. Below are the many ways Tiwa Savage makes her money.
Music Career
Since she took the music scene by storm in 2010, Tiwa Savage has been at the top of the game. Naturally, it means she has enjoyed considerable financial success as a result. She became the first female African artist to sell out the Indigo at the O2 arena in London.
It was an incredible feat at such an iconic arena and meant Tiwa had numerous international fans. Also, she has performed at prestigious events that have paid her handsomely. She performed the national anthem at the Ndani Sessions on the occasion of the 52nd anniversary of Nigeria. She also teamed up with other acts such as Praiz, Waje, and Timi Dakolo to record the Ovation Red Carol theme song titled Higher.
With four albums, numerous concerts, millions of streams from several streaming platforms, and guest features, the avenues through which Tiwa Savage makes money as a musician are never-ending.
Acting Career
Tiwa Savage has tried her hands at acting to mild success. While she has not featured in a wide range of movies, it remains a source of income and contributor to her overall net worth. She made her acting debut alongside Joke Silva and Ireti Doyle in the stage adaptation of For Colored Girls in 2011.
Later on, she appeared in the MTV series Shuga where she played a supporting role. On the show, she played the role of Sade Banjo from 2013 to 2014. Her last acting credit came in 2016 when she made a cameo as herself in Funke Akindele's popular comedy series Jenifa's Diary. Fans should perhaps be on the lookout for more acting projects from Tiwa Savage, and with it, an increase in her net worth.
Endorsement Deals
There is no doubt that Tiwa Savage is a major brand. With millions of followers across social media platforms and a far-reaching influence, brands scramble to present her with deals to ensure she endorses their products. In 2020, Hopper estimated her Instagram posts to be worth $61,400 per post.
In July 2013, she reportedly signed an endorsement deal with MTN worth 30 million Naira. Along with fellow Nigerian superstars Wizkid and Davido, Tiwa Savage is also a brand ambassador for Pepsi. She also landed an endorsement deal with Profectiv MegaGrowth hair product back in 2018.
In 2019, Tiwa Savage became a brand ambassador for Star Lager's fruit variant, Star Radler. It made her the first female brand ambassador for the brand. Along with her son, Tiwa is a brand ambassador for Promasidor Nigeria's Twisco chocolate drink. Reports also suggest she has had endorsement deals with Forte Oil and Maggi.
In summary, there are three primary sources responsible for Tiwa Savage's net worth value, and they are:
Music Career
Acting Career
Endorsement deals
Tiwa Savage is the Richest Female Musician in Nigeria
There is no female artist in Nigeria with a higher net worth value than Tiwa Savage's $5 million. It makes her the richest female musician in the country which is no little feat as the country is blessed with talented female artists who are exceptionally doing well for themselves.
Yemi Alade is her nearest competitor with a net worth valued at $4.6 million. Omawumi, Chidinma, and DJ Cuppy round up the top five with net worth values of $3 million, $2.8 million, and $2.8 million, respectively. Being the richest female musician in Nigeria is a big deal but the battle to retain the top spot is a continuous one. One thing that is for sure is that Tiwa Savage will not be giving up without the fight.
She Spends a Significant Part of Her Net Worth on Luxury
When you are a millionaire in Dollars and a billionaire in Naira, there are not many things in life you cannot afford. This is true for Tiwa Savage, especially when you take a look at her luxurious house and collection of spectacular cars.
Tiwa Savage's House
Tiwa Savage is not particularly loud about how she spends her substantial wealth. Therefore, it's not easy to ascertain how many homes are under her possession. While there are rumors she owns properties in Nigeria and abroad, nothing has been officially confirmed.
The only confirmed house belonging to Tiwa Savage is the magnificent mansion she purchased for N75 million back in 2018. The magnificent edifice is in the quite prestigious Richmond Gate Estate at Lekki, Nigeria. The mansion is an accurate representation of Tiwa Savage's status. If her other properties look anything like this mansion, there is no doubt she has an exquisite taste.
Tiwa Savage's Cars
Talking about exquisite tastes, Tiwa Savage puts all doubts to rest with her eclectic car collection. They include:
This car was purchased in 2013 and it cost her $455,000. She unveiled her luxurious purchase with the #dreamscometrue hashtag. The royal beauty comes with some stunning features, including a Wi-Fi hotspot, adaptive cruise control, laser headlights, and an alertness assistant.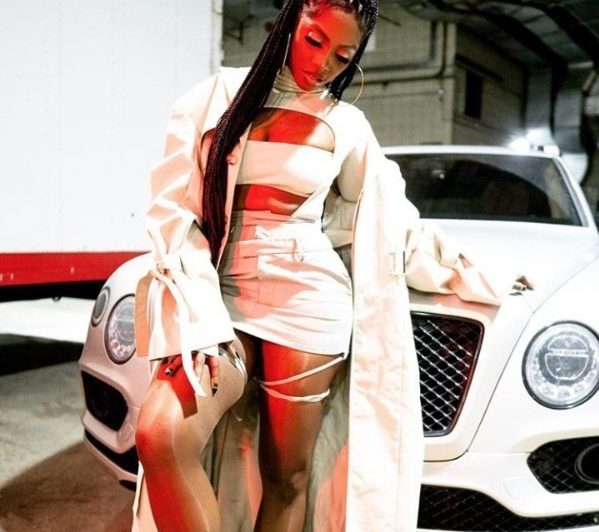 Tiwa pulled up to Wizkid's show at the O2 arena in Bentley's first electrified car, a five-door luxury purchase. The beauty goes for $160,000 and has a top speed of 190 miles per hour. It also revs from 0 to 60mph in 3.8 seconds.
The V-class is mostly designed for comfort, luxury, and spaciousness. It makes a perfect family vehicle and it was particularly customized for her at N60 million. Tiwa Savage posted the interior of her bespoke V-Class on Instagram, informing followers of her purchase.
Luxury Shopping
It is clear that Tiwa Savage enjoys the finer things of life and this is something she is introducing her son to. In a video posted on Instagram, her five-year-old son could be seen in a private jet preparing to zoom off to Dubai for some luxurious shopping. Subsequently, she and her son could be seen doing rounds in luxury shops, and eventually, she purchased a backpack for her little boy.
It was not just any backpack, though. It was a Christian Dior backpack that costs N740,000. Spending such an exorbitant amount on a backpack indicates there is more where it came from and Tiwa Savage is not afraid to splash the cash when necessary.
Private Jet
Nobody has ever been able to confirm if Tiwa Savage owns a private jet or not. Followers of her social media pages are used to seeing picture uploads of her in private jets flying to different locations. What is not clear, though, is if she is the outright owner of one. While some argue that she is rich enough to purchase a private jet, others claim it is beyond her power, and she probably charters when she needs them.
Whether Tiwa Savage rents private jets or owns one, one thing is for sure – she is one of the few people in the world who can afford to engage in such luxurious spending.