Telkom is one of the most well-known brands in South Africa and is the country's biggest fixed-line operator. The company's 100% fiber network combines excellent speed with reasonable prices and has been a big hit with customers. With the revamped fiber packages introduced in 2020, it has become easier for Telkom subscribers with various budgets to subscribe to a fiber package and enjoy blistering internet speed without interruption.
This continuous evaluation is why Telkom continues to remain at the top in the country. For new subscribers looking to purchase a fiber package and are considering Telkom, this article will educate you on the various packages available along with their prices.
How Fast is Telkom Fiber?
One of the features often sold to customers when it comes to the Telkom fiber package is how fast it is. Internet users, be it light or heavy users, want the chance to access the internet at top-notch speed without interruption consistently. When looking out for available fiber options and which one to join, speed is usually amongst the top qualities customers seek. Telkom has recognized the need to provide a fiber solution that delivers on that front.
There are five fiber packages available on the Telkom network. They are determined by their speed, with 10Mbps being the lowest and 200Mbps being the highest.
10Mbps Fiber Plan
This Fiber plan is available to light internet users. It offers an uncapped speed of 10Mbps and an upload speed of 5Mbps. Subscribers to this plan also get access to an email account with 3GB of storage and five aliases. The uncapped version goes for R806.1, while the soft capped version costs R705.13.
20Mbps Fiber Plan
It is the perfect plan for a speed junkie as it comes with an uncapped speed of 20Mbps and an upload speed of 10Mbps.  Stream videos, play games, upload and share files, and do whatever else you want with excellent speed. The uncapped plan costs R1007.76 and R806.1 for the soft capped plan. Like the previous plan, you also get an email account with 3GB of storage and five aliases.
40Mbps Fiber Plan
Enjoy a download speed of 40Mbps and upload speed of 20Mbps with this fiber plan. It also comes with an Email account with 3GB of storage and five aliases. This plan costs R1007.76 for the soft capped plan and R1310.39 for the uncapped version.
100Mbps Fiber Plan
This Telkom fiber package sets the subscriber back by R1613.3 for the soft capped plan and R1713.90 for the uncapped plan. It comes with a 100Mbps download speed and an upload speed of 50Mbps. As with the others, this also comes with a 3GB of storage Email account with five aliases. Do video conferencing, download movies and music, stream videos, and enjoy the high speed to the max.
200Mbps Fiber Plan
The highest Telkom Fiber plan. It has a download speed limit of 200Mbps and an upload speed of 100Mbps. There is no uncapped plan for this package. Instead, it comes with a soft capped data volume of 600GB that goes for R1699. Subscribers will also enjoy free surfer data at night from 12 am – 7 am.
Advantages and Disadvantage of the Telkom Fiber Package
As with everything in life, whatever has an advantage also has a downside. However, the benefits of using the Telkom Fiber package far outstrip the downside of subscribing to the service. The advantages include:
Fast and Reliable Internet – Using fiber optic cables in place of copper, you have a more resilient connection against bad weather and even theft. It ensures you have continuously fast internet speed and can carry out your online activities with little worry.
Online Deals – There is always some special offer for new Telkom Fiber subscribers to win online. This incentive is very encouraging. This year, new subscribers got a WiFi range extender, which helps to extend wireless coverage and eliminate dead zones.
The only noticeable con is that the package can be expensive and there are better prices on the market. Still, it compensates its cost with a high speed most competitors cannot match.
How Can I Set Up Telkom Fiber to Home?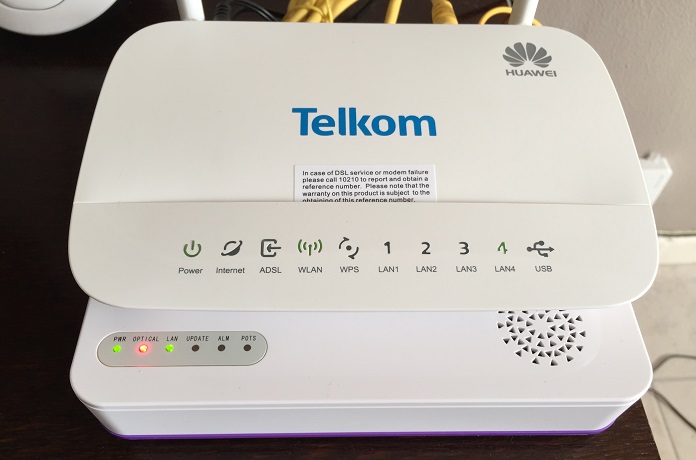 After deciding to settle for a Telkom fiber package, it is time to set it up in your residence and begin enjoying the high speed and other benefits. Follow the steps below:
Retrieve the quick installation guide. Either there is a CD or the installation wizard has been installed in the modem's start-up software.
Follow the instructions to connect the modem to the fiber terminating device
Connect the modem using an Ethernet cable or WiFi, as explained in the guide.
Launch a web browser and enter the URL indicated in the router. The configuration wizard will start automatically.
Follow the prompts. Ensure to have the internet name and password sent to you by SMS handy.
Once the wizard automatically opens the web browser, enter the URL requested and fill the required field with your Telkom phone number and order number
Log in to https://secure.telkomsa.net/titracker/ to activate data-usage notifications
You are now all set up. You can now proceed to connect your other devices via WiFi.
How Good is Telkom's Mobile Coverage?
After satisfying your curiosity about the Telkom Fiber package's speed, you should ascertain if they have coverage that is good and wide enough to cater to your needs. While a network operator might have premium speed, it will be a waste if they do not have adequate coverage in your area.
Customers must verify that the network company they are subscribing to has excellent coverage in their area. Being the country's biggest fixed-line operator, Telkom has built very good coverage across different regions, and you can verify this yourself.
To check if Telkom network covers your area of residence, do the following:
Visit the website https://secure.telkom.co.za/today/ucm/
Once it loads, a page will open, showing you a coverage map
You will see a search tab at the top left corner. Navigate to it.
Enter your full address into the search tab, then press enter
Then proceed to select the plan you wish to subscribe to
Dark and light blue colours show you have coverage in your area of residence. Grey colour shows you do not have Telkom coverage, and you may have to consider another option.
You enter the plan you are subscribing to ensure the specificity of the response from the coverage map. Telkom might have coverage in your area for some plans and not for others. For example, Telkom might have coverage for the standard data plans but is yet to set up fiber coverage in your area. Selecting your plan ensures you get a very specific response.