Many fans of Misha Collins do not realize the fact that he is married and this might be attributed to his excellent portrayal of the role of an angel named Castiel in CW's fantasy series, Supernatural which has somehow made some struggle with the fact that he is indeed HUMAN and like most men is interested in romance. The outstanding American actor is the husband to the exceptional journalist and historian, Victoria Vantoch.
Victoria, popularly known as Vicki is also a teacher and writer. Her writings which cover a wide range of issues such as sex, relationships, fashion, and architectural maintenance, among others have found their way to popular newspapers and magazines including the U.S News, The Washington Post and The Los Angeles Times. Making up her success story is her over a decade and a half marital life with the 24 star, Misha Collins. Read on to have a closer look at the life of the popular historian.
Victoria Vantoch Bio
Victoria Vantoch was born on 30th January 1974 in the Illinois town of Riverdale, United States. She is American by nationality but of mixed ethnicity. Her religion is Buddhism.
On completing her first degree, Victoria Vantoch studied for her postgraduate degree at the University of Chicago. She graduated with an M.Sc. in Anthropology. Vantoch later earned a doctorate degree in History from the University of Southern California.
In 2007, Victoria Vantoch authored The Threesome Handbook: A Practical Guide to Sleeping with Three. The book earned her much popularity as it was the first of its kind. It was actually the first step-by-step guide book for tri-sexual couples and singles ever published in the United States. It also contains useful relationship and communication tips for couples.
Later on in 2013, Vantoch came up with her second book titled, Jet Sex: Airline Stewardesses and the Making of an American Icon (2013). The book which took a historical look at airline stewardship has so far earned her numerous recognition, including an American Space Agency grant, a NASA Aerospace History Fellowship and a Smithsonian Institution Guggenheim Fellowship.
As a teacher, Vicki Vantoch has taught history to college students as well as lectured at different places across the U.S some of which include the Library of Congress, the National Air and Space Museum, and at the Organization of American Historians.
Family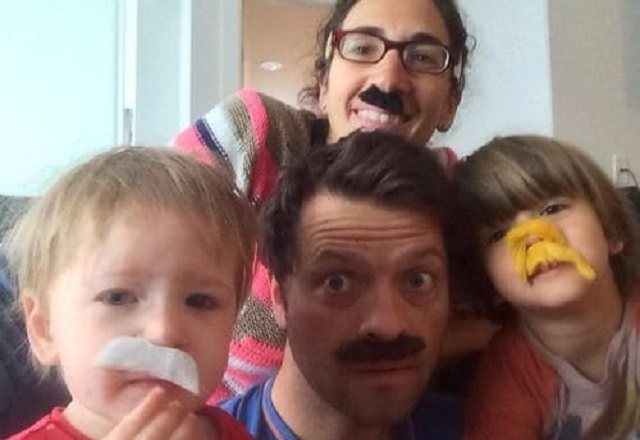 Information on Victoria Vantoch's biological family is not available on the media at the moment. She, however, lives happily with her own family comprising her husband and kids in Pasadena, California.
Victoria Vantoch and her husband Misha Collins wedded on the 6th of October, 2001. The wedding ceremony took place in Maine, U.S.A. The couple met many years back while still in high school.
Victoria welcomed her first child with Misha on 23rd September 2010, a son named West Anaximander. The couple later welcomed their second child, a daughter named Maison Marie on September 25, 2012.
Also See: Kevin Anderson Bio, Wife, Parents, Family, Height, Other Facts
In 2011 Vicki and Misha had a very memorable marriage vows renewal. The colorful occasion came off at a Coinstar supermarket. Making the event more remarkable is the couple's outfit for the occasion – they cross-dressed. While Misha spotted a drag queen wedding dress, Victoria appeared in a white suit with an extremely hilarious bouquet of fresh vegetables.
Facts About Misha Collins Wife
1. Victoria Vantoch is a few months older than her husband, Misha Collins. While she was born in January 1974, the latter was born in August of the same year.
2. Her husband's original name is Dmitri Tippens Krushnic. He was born to Richard Krushnic and his wife, Rebecca Tippens. He, however, adopted his great-grandmother's maiden name, Collins as his last name for professional purposes. As for his first name Misha, it was a nickname given to him from infancy after his mum's Russian ex-boyfriend.
3. Vantoch and her husband Collins are both University of Chicago graduates. They also attended the same high school together and Collins happened to be the only guy in their English class and this attracted him to Vantoch.
4. Just like Victoria, Misha is also a writer, precisely a poet. He actually used a lot of his poems to lure her to his side.
5. Vantoch, alongside her husband, is trisexual. One of her quotes reveals that they have a girlfriend who joins them during sex. The lack of a good book for trisexuals prompted her to write The Threesome Handbook.