Having explicit knowledge of what the customers of every business want, and working towards providing the best products and services is a stepping stone for every financial institution. Standard Bank of Africa has done this and adopted products and services that have extensively expanded its customer base. The introduction of the Standard Bank black card is a clear indicator that they have a good knowledge of their customers' preferences and have worked towards ranking the availability according to the class of customers available.
Although the black card has been in existence before now, its adoption by Standard Bank singled them out from other banks. This service is structured to meet the needs of high-profile customers who want no limits on making transactions from their accounts. This category of customers can spend on costly items without hitting a daily limit. The success of adopting this noteworthy advancement made other banks in South Africa join the trend.
The Standard Bank Black Card
The Standard Bank black card is a debit or credit card issued upon acquiring a professional account or private banking account with Standard bank. The black card serves just like a debit or credit card but has an advanced option of which the user is entitled to daily limitless transactions. Furthermore, customers can obtain the black card on a special request by the customers who meet the requirements of the Standard Bank. It is obtainable by young professionals who are below the age of 30 years.
Standard Bank can give the black card in South Africa to individuals and students who meet the bank's requirements, unlike their counterparts in America that have strict requirements to issue the black card. In America, the black card is called the American Express Centurion Card or the Amex Black Card. The card is obtainable to some Standard Bank customers who meet the demand in America. Still, the bank can give it to exclusively prominent people who have accrued huge net worth like Jeff Bezos, Bill Gates, Warren Buffett, etc.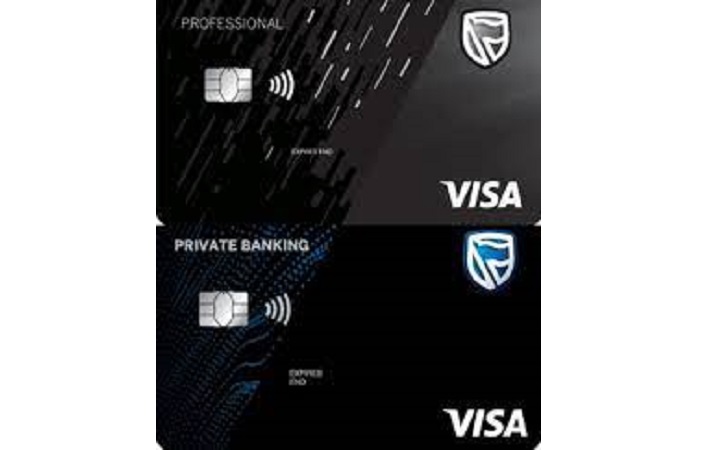 Differences Between The Standard Bank Black Card and The Normal Debit or Credit Cards
Standard Bank black cards are different from regular debit or credit cards. Although users can use them all to make purchases and online transactions, the black card offers more services than a credit or debit card.
The debit card is obtainable on the opening and registration of your account with Standard bank. The Standard Bank black card goes through a requirement to either be a holder of a professional account or a holder of the Standard Bank private banking account. Having any of the two preceding provisions offers you an express acquisition of the black card with Standard bank.
The black card differs in color from the debit or credit card.
It looks like a debit card but defers in function. The debit card has a daily limit on transactions, but the Standard bank black card doesn't have a daily limit on transactions.
Uses Of The Standard Bank Black Card
Customers can use the Standard Bank black card to complete so many transactions. The following are what customers can use the black card for:
Online Shopping.
Daily withdrawals
Customers can use it outside the country for any transaction
Can be used to book a flight
Young Professionals Below The Age of 30 Qualify For The Black Card
Young professionals below the age of thirty who have an account with Standard Bank can request a professional account or go for Standard Bank's private banking service. This age qualifies them to obtain the Standard bank black card with ease and enjoy the numerous benefits.
Requirements For Obtaining The Black Card 
The acquisition of professional accounts and private banking account makes customers qualified to obtain a black card from Standard bank.
Requirements to Open a Professional Account
The bank introduced a professional account to assist young people in planning and investing for their various ambitions. Black cards obtained through a professional account can come as either a Mastercard or Visa card. Apart from getting a black card, numerous benefits are attached to its holders, like personal banking services, easy access to loans, and discounted rates on many services. The following are requirements to open a professional account with Standard Bank:
Verification of the current residence with utility bill payment receipts which should not exceed three months
A valid ID card to prove you are a citizen of South Africa
You must not exceed the age of 30 years
For students, proof of professional degree or last result on the final stage of their professional examination should be made available
Steps To Acquire A Black Card Through A Professional Account
Login into the Standard bank portal using the link.
Click on sign up.
Fill in your name, surname, and password.
Click on next.
Fill in your email address correctly.
Add your phone number.
Fill in your province and the address of the closest Standard Bank to you.
Read the privacy policy carefully and attest to the stated terms and conditions.
Enter by clicking on the sign-in option.
Standard Bank will send a mail to you containing the log-in link and the payment structure required.
Requirements to Open a Standard Bank Private Banking Account
The bank created the Standard Bank private banking account so that every holder has a personal banker whom they can reach out to through emails, text messages, and calls in case of any difficulty. It gives the holders the privilege of choosing from the many financial management options like Standard Bank Financial consultancy and Standard Bank Offshore. Cards obtained through Standard Bank private banking account can come in Master card platinum credit card and Visa platinum cheque card. Every account holder of private banking has many packages attached to the account like loans, Diners Club Platinium club, used in lounges in international airports. The following are requirements to open a private account with Standard Bank:
Verification of the current residence with utility bill payment receipt that should not exceed three months
A valid South African ID card that the bank can use to verify your citizenship
For non-citizens of South Africa, they are to provide an international passport
You must confirm your monthly income with proof
Proof of monthly income of R58,000 and above or an investment worth about R3 million is needed
The above two requirements can help you obtain the Standard Bank black card if you are a citizen of South Africa or not.
Steps To Acquire A Black Card Through Private Banking Account
Login to the Standard bank private banking portal by clicking on the link.
Click on the blue upgrade now button.
Fill in your name and surname.
Input your email address and mobile number.
Fill in your province and address of the city where you reside.
Go through the terms and conditions carefully and agree to them by clicking on the box.
Click on the submit button.
If your registration is successful, you will get a green tick notification on that page.
The next stage is to wait for a customer representative to communicate with you.
From this registration, you have direct contact with the customer representative on obtaining your black card from the bank or the next step to get the card.
Is There A Minimum Salary Requirement To Get a Standard Bank Black Card?
The minimum salary requirement by Standard Bank before giving out black cards to customers depends on the procedure the customer wishes to follow in obtaining the black card. A minimum salary requirement is not mandatory for a person that goes through a professional account to get a black card.
There is, however, a minimum salary requirement for those that opt for the black card through a Standard Bank private banking account. This requirement serves as a verification of the income of the holder, which must be above R58,000. A private account holder with a monthly salary of up to R58,000 can also possess an investment worth over R3 million.
The Cost of Getting a Standard Bank Black Card
If you are using any of the options available to get your black card, there are fixed charges to each option, and it is primarily a monthly charge on the account.
It costs a professional account holder a monthly maintenance charge of R215. This fee is user-friendly as it is payable as you transact, meaning that you get to pay at the end of the month after making use of your available bundle. The fee includes the Annual Diners Club Platinum Card fee, which you are automatically entitled to as you enroll for the professional account with a standard bank.
The Standard bank private banking account holders get to pay a monthly charge of R369. It is also a pay as you transact subscription model with the Annual Dinners Club Platinum and All Platinum Credit Card fees inclusive.
The two options have an exclusive benefit attached, which differs in some of the requirements and the monthly charges that follow it. It is observable that Standard Bank private banking has a more monthly payment than the professional account, but before you quickly opt for the professional account, go through their benefits to know the actual difference and if it is worth neglecting.
The Benefits of A Black Card
The benefits of having a Standard Bank black card will be differentiated using the options available for subscribers. The following are the benefits of a black card obtained through a professional account and a private banking account:
Professional Account
Your monthly bank statement is sent to your email promptly.
You are entitled to 12 free domestic Bidvest lounge visits yearly.
All customers in this platform get transaction notifications through the My Update box on the portal.
The Travel wallet card loading, reloading, and activation are free of charge using this platform.
All professional account black cardholders get a free insurance cover for every flight booked using this platform.
Customers are automatically entitled to access CaféBlue, which is at OR Tambo International Airport.
You are free to request assistance from the private banking team any time you want.
You can bargain for a competitive rate and gain non-rigid terms and conditions on savings and cash investment plans.
You also gain an offer to access financial advisors.
You also get discount offers as a Diner Club member.
 Private Banking Account
You have access to a platinum optimum bank account which you can use in performing international transactions using different currencies of the world like pounds, dollars, Euros, Chinese yuan, etc.
You have access to a bank representative for any financial-related information and assistance at any time without the stress of moving to the branch.
You will be updated every month on your transactions through MyUpdate in the private banking portal.
An account holder in Standard bank's private banking service is entitled to a subsidized data rate. You have 1GB every month, which will cost you only R19 when you subscribe using the black card.
You also enjoy a discount of 35% on flights with Emirate Airlines when you make your bookings using the black card.
When you book a car for hire using your black card, you get a discount of 10% only if the bookings are with Hertz car rentals.
A Standard Bank financial expert is always there to help you with estate planning, trust funds, insurance, etc. The expert is a trusted hand that must give you the best advice on any financial-related question.
You are entitled to 12 visits to Bidvest airport lounges using your black card as a pass.
Be sure to get Bespoke portfolio management by Melville Douglas. This platform comes only based on your request.
You also get a discounted rate when using Standard Bank's online share trading page to buy and sell.
You also get two executive Standard Bank lounges at Tambo International airport when you use your black card.
Having highlighted the benefits of using a black card obtained using the two different processes, you can decide how to get your black card.
Customers are to keep their black cards and the access PIN very safe to avoid getting it into the wrong hands because it will significantly affect their finance, and Standard Bank will not be held responsible. Make use of the 3D verification provided for additional security measures.