Whitney Alford is a Los Angeles-based aesthetician and make-up artist best known for her relationship with Grammy-winning rapper, Kendrick Lamar. Though not popular for too many things, this charming beauty has been the force behind her husband's career and has a title to her credit. If you were wondering who this silent figure is, find out below as we give you a peek into Whitney Alford's bio, parents, ethnicity and other interesting details you won't find anywhere else.
Whitney Alford's Bio
Whitney Alford was born in Compton, California, on May 12, 1986, into a middle-class family. Her early life wouldn't pass for the best as she grew up in one of the most troubled neighborhoods of Los Angeles County. However, the violence she witnesses and experienced wouldn't deter her education. She attended Centennial High School; a Compton-based public high school in California. Although it's not clear what college she attended, we do know that it was in Compton too.
Parents and Ethnicity
As far as specifics go, we have no handle on the exact names or occupation of her parents. However, we know that her father is black and her mother is biracial. Alford seems to bear much semblance with her mother as she has once been called out for not being black enough.
In a much-criticized Facebook post in April of 2015, self-proclaimed Dark Skin Activist, Rashida Marie Strober, posted that Alford was "too light-skinned" to identify with the African American community. The post was eventually taken down due to intense backlash from fans and critics alike.
Life of Kendrick Lamar's Wife
1. Relationship With Kendrick Lamar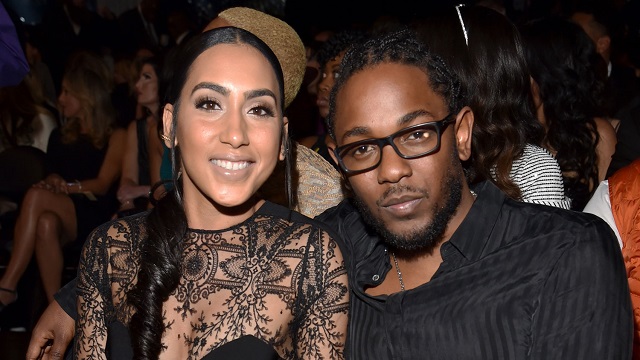 Although Whitney Alford works as a licensed make-up artist and aesthetician and operates a successful beauty business in Los Angeles, she's been very supportive of her husband's career. As high school sweethearts, Kendrick Lamar's first shot at prominence began in 2003 at age 16 when he released his debut full-length project, a mixtape titled Youngest Head Nigga in Charge. Alford even performed background vocals on one of Lamar's songs, King Kunta.
His song, Love is full of lyrics about Whitney Alford. Long before he brought her out for all to see, Lamar had always "bragged" about a female partner that keeps him focused and motivated to pursue his career. Several news outlets even speculated that the mystery woman in question could've been Lira Galore, but that turned out to be false.
After over ten years of 'togetherhood,' they got engaged in 2015. However, it wasn't made public until Whitney Alford was spotted with a huge rock on her left ring finger on March 24, 2015. Not able to maintain secrecy any longer, Lamar, on April 3 of that year, confirmed their engagement during Power 105.1's 'The Breakfast Club'. To celebrate their engagement, the duo spent the night cheering on the LA Dodgers team and later visited the California State Senate complex.
In July of 2017, the couple was thrust into the spotlight again after rumors about Alford's possible pregnancy began to surface. But it soon proved to be just that, Rumors! They currently reside in South Bay, California.
2. How they Met
Whitney Alford and Kendrick Lamar met in Compton's Centennial High School, fell in love and Started a relationship that culminated in their engagement in 2015.
See Also: Cherry Seaborn, Ed Sheeran's Fiancée – Bio, Age, Parents, Siblings
3. Net Worth
Alford makes a whole lot from her beauty business. Even though we have no exact figures on how much she earns or is worth, we know that her partner, Kendrick Lamar is worth over $18 million.
4. Not Black Enough
In an altercation that ensued in April 2015, Whitney Alford was called out for not being black enough. A reality she quickly attested to, but claimed is not any fault of hers. The post was vehemently attacked for its racial nature forcing its author, self-proclaimed Dark Skin Activist, Rashida Marie Strober to take it down shortly afterward.
5. Height and Body Measurements
Whitney Alford is of slim build. She stands tall at 5 feet 8 inches (1.70 meters) and weighs 58 kg. She has shiny black hair and beautiful dark-brown eyes. As of this writing, her other body measurements are not known.