Alex Ernst belongs to the realm of millennials who have established thriving careers on social media. The American internet sensation first rose to fame on the defunct short-form video app, Vine. He later transferred his talents to YouTube and his unique brand of humour and voiceovers gained him viral fame. Ernst is now one of the most popular YouTubers in the world. He has also collaborated with other famous YouTubers and is looking to extend his influence to the mainstream media. Want to know more about this ambitious young man? Then we have got all the pertinent details right here.
Who is Alex Ernst and How Old is He?
Alex Ernst was born on the 17th of July 1996 in Belle Plaine, Minnesota. His nationality is American while his ethnicity is Caucasian. The media personality hails from a family of five. It includes his father, Rex Ernst, his mother – Anita Schiltz and two older siblings namely Emma and John. Ernst's parents divorced while he was growing up, and he and his siblings subsequently split their time between them. Even though he is currently based in Los Angeles, Ernst spent his formative years in Belle Plaine. He completed his high school education at the local high school and received his diploma in 2014.
Is Alex Ernst still part of The Vlog Squad?
Alex Ernst initially joined YouTube in 2009 but didn't gain much traction on the site. He therefore transferred his work to the 6 second video-looping platform, Vine, in 2013. Ernst's hilarious antics and deadpan humour proved to be a big hit on the platform and he went on to garner a million followers. His vines were also looped an astonishing nine million times. By the time Vine shut down in 2017, Alex Ernst was now on solid footing and went back to YouTube. This second coming has been quite successful as the Minnesota native now has more than one million subscribers as well as 15 million views. Asides his eponymous vlog, Ernst also belongs to the popular Vlog Squad. This is a group of former vine stars who produce content for the channel of popular YouTuber, David Dobrik. Ernst is often shirtless in these vlogs and has perfected the persona of the guy who doesn't have much of a love life. Ernst has so far appeared in several of Dobrik's vlogs including Viner Make Out Session, Police Trouble, Time for a New Car, Kiss Cam, Dear Skinny People, Hidden Camera Confession, Picking Up a Hooker, and Blocking Out the Haters etc.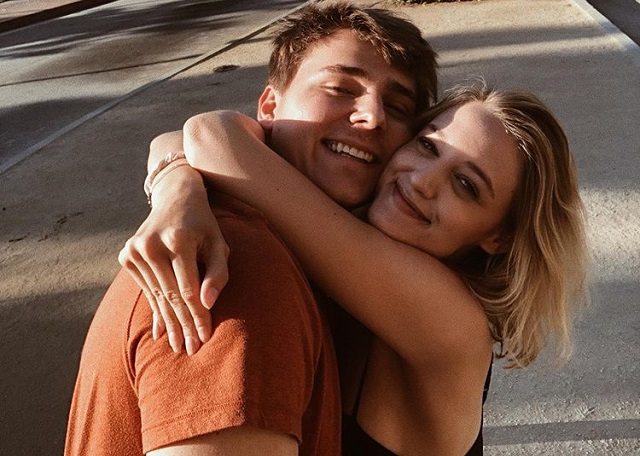 Who is the girlfriend?
Alex Ernst is in a relationship with the gorgeous Emily Seawright. Seawright was born on the 1st of February 1997. She previously worked as a production assistant at Sony Studios and is now a budding Instagram personality. Ernst and Seawright first met via Tinder in 2018 and embarked on two successful dates. Things however took a dramatic turn on their third date. After they had gone out, Seawright dropped Ernst at his house before proceeding to her own home. She was however involved in a multiple car crash on the way. The young lady was in chronic pain but managed to contact emergency services. She was then taken to the hospital where medics revealed that she had suffered a broken leg, a shattered knee as well as a broken pelvis.
Emily Seawright spent a total of two months in the hospital during which she was surrounded by family. Ernst was also a constant fixture and spent several hours playing puzzles and games with her. He also boasted her self-confidence as she felt ugly due to the weight she had lost weight. Seawright was later released from the hospital and Ernst supported her all throughout the recuperation period. The couple have now weathered the storm and are living together in Glendale. Seawright has revealed that even though she went through a life threatening experience, she was able to find irreplaceable love through it. The Instagram personality also described Ernst as a caring soul who motivates her to be a better person each day.
See Also:  Channon Rose and Her Journey From an Abused Child to a Million Following YouTuber
Height and Weight
Alex Ernst boasts of clean cut, boy-next-door, good looks and this has helped to enhance his fame on social media. The Minnesota native is 6 feet 2 inches tall (1.88m) and his weight is given 78kg or 172lbs. His hair colour is dark brown while his eye colour is blue. Other additional measurements are chest – 42 inches, waist – 32 inches ad arms – 15.5 inches. Ernst has an enviable toned physique which he maintains through regular gym sessions.