Iyanya (born October 31, 1986) is a 37-year-old Nigerian singer and songwriter best known for the hit song Kukere. The Cross River native first came to the spotlight after he emerged winner of Project Fame West Africa season one. 
Since he rose to fame in 2008, the singer has steadily built his brand through his released albums, the record labels he founded, and the awards he has won. He diversified his portfolio into acting, and although he has a short filmography list, he has some notable credits. Between his musical skills, voice, and very ripped physique, Iyanya is currently one of the well sought after pop stars Iyanya in Nigeria. 
Biography and Profile Summary of Iyanya
Full Name: Iyanya Onoyom Mbuk
Nickname: Iyanya
Gender: Male
Date of Birth: October 31, 1986
Iyanya's Age: 37 Years Old
Place of birth: Calabar, Cross River State
Ethnicity: Efik
Nationality: Nigerian
Zodiac Sign: Scorpio
Sexual Orientation: Straight
Religion: Christianity
Marital Status: Single
Siblings: Three
Iyanya's Height in Inches: 5 ft 7
Iyanya's Height in Centimetres: 1.8 cm
Iyanya's Net worth: $5 million
Famous for: Kukere
Iyanya's Instagram: @Iyanya
Iyanya Was Born In Calabar
Iyanya, whose full name is actually Iyanya Onoyom Mbuk, was born in Calabar, the capital city of Cross River State in Nigeria. According to our findings, he was born in a place called Palm Street in Calabar. It was also in Calabar that he grew up with his family. The singer was born on the 31st day of October 1986. This means he is 37 years old at the moment.
The identity of Iyanya's parents is quite vague. However, we know that his father worked as a forester while his mother was a school headmistress. Iyanya did not grow up as an only child. As a matter of fact, he grew up with three siblings; a brother and two sisters whom he became very fond of.
Growing up was fun for Iyanya in Calabar as he was raised with his siblings. He explained that while growing up, his father was calm and easy-going. He rarely punished them. However, his mother was different; she was the household disciplinarian who made sure that no one broke rules and anyone who faulted would be punished.
He Became A Choirmaster At Age 5
Iyanya took interest in singing when he was still very little. The singer's family was very religious while he was growing up so everyone took church seriously. In fact, Iyanya's grandfather was a clergyman and the family went to church always. Iyanya soon joined the church's children's choir even before he turned 5 years old and got heads turning with his incredible singing skills.
The singer became popular in the children's choir and when he eventually turned 5 years old, he was made the choirmaster for the singing group. This showed how seriously talented he was, beginning from his childhood days and how he demonstrated his skills for everyone to see.
The Singer Is A Business Management Graduate
It is not clear what elementary and secondary schools Iyanya attended while he was growing up. However, we know that he completed his primary, secondary, and university education in Calabar where he was born.
For university, Iyanya attended the University of Calabar, a public university in Cross River State, where he studied business management. It is not clear exactly when he graduated from the university, but he was already a graduate before professional music began for him.
How He Groomed His Talent With Karaoke
After graduating from the university, Iyanya found a job as a karaoke attendant at a hotel in Calabar. While on the job, he started singing karaoke himself. This was an easy thing to do for him because of his existing interest in music at the time. Because he was so good at singing, he became quite popular at the local bar where he often sang karaoke. He was able to groom and develop his talent with his karaoke performances.
Soon, Iyanya began to develop his vocal abilities at different local bars in Calabar. Some of these bars where he performed included Mirage Nite Club, West-Life, and Fiesta Fries Bar. At this time, he already knew that he wanted to become a professional singer and make music that would be heard around the country.
Iyanya soon began writing songs and recording them. In a 2020 interview with The PUNCH, he explained that he actually recorded as many as 10 songs before he became famous. Around Calabar, he eventually began to make some buzz with his music around 2007. One of the songs that got him some attention at the time was called Lovetrully. According to Iyanya, he wrote the song for his girlfriend at the time.
Who Were His Influences?
Growing up, Iyanya listened to a lot of foreign artists who ended up influencing his style. The singer has cited British singer Craig David and R. Kelly as his key musical influences. Because of his smooth voice and vocal ability, it was easy to sing RnB like these two men.
Apart from foreign influences, Iyanya also has some local influences too. The singer has revealed that he was motivated to pursue music professionally after watching the celebrity lifestyle of popular Nigerian singers, 2Baba Idibia (2Face Idibia) and Olu Maintain. He admired them and made up his mind to become as popular as these celebs or even more.
Project Fame West Africa Came Calling in 2008
Also in 2008, Iyanya's fortunes soared when he took part in the inaugural edition of Project Fame West Africa, a music talent TV reality show filmed in Lagos, Nigeria, and aired in the West African subcontinent. The show was sponsored by MTN, a South African multinational mobile telecommunications company. Iyanya decided to take part in the show after he was urged to do so by his friend, Kcee, another popular Nigerian musician.
During the show, Iyanya wowed viewers with his velvety-smooth voice and became a favorite almost immediately even though there were several other very talented singers competing for the same prize. Eventually, Iyanya went on to emerge the winner of the competition after battling numerous people who had the same aspirations as him. He was ecstatic. Winning the show meant that he now had a greater opportunity to show the world the talent he has been blessed with.
Winning the 2008 MTN-sponsored Project Fame competition was the beginning of greatness for Iyanya and kickstarted his musical career in earnest. Unlike many people who fail to capitalize on their chances after a major competition, Iyanya decided to bank on the visibility the show gave him to attain more success.
He Became An Orphan At Age 22
Iyanya has suffered some mind-blowing tragedies in life. In 2008, shortly before he got into the Project Fame West Africa show, he lost his father. The development shattered him because he was very fond of the man. He was able to put the tragedy behind him and took part in the show. However, shortly after he won the show, his mother passed away as well, also in 2008. He was about 22 years when he became an orphan. The deaths of his parents left him really pained. He explained that they showed him 100% love when he was younger. So, having them pass away before he got the chance to show the love in return, was shattering.
Apparently, it was disheartening that around the time that his music career was almost about to really take off and set sail, Iyanya suffered this horrific tragedy when he lost both his parents. To make matters worse, shortly after his parents died, his brother also passed away. He was left with his two sisters whose responsibilities he had to shoulder. In 2014, the singer got a tattoo of his father, mother, and brother on his chest to remember them. He has since gone on to do great things with his life.
He Released His First Album In 2009
Shortly after becoming the winner of the MTN Project Fame West Africa, Iyanya swung into action and started to record his debut album which he titled My Story. He released the album in 2009. The album contained predominantly R&B songs, however, it also contained elements of hip hop and reggae.
The singer went all out to make sure he created some buzz for his album release. In fact, on the 4th of October 2009, he launched the "Symphony of Iyanya", a concert that was dedicated to celebrating the album's release. The concert was held at Ultima Studios in Omole, Lagos. The album was released by CN Media Imprint.
Following its release, My Story was hailed by critics. This was because the album showed Iyanya's versatility as an R&B artist. His voice was described by many as one of the best around the African continent. However, despite this, the album, which featured guest appearances from artists like Faze, M.I, DJ Zeez, Ugly, and Bokwilla was a commercial failure due to problems with distribution and promotion.
How 'Kukere' Changed Iyanya's Life
Iyanya almost gave up after his first album My Story failed to achieve commercial success. However, in 2011 he visited his hometown of Calabar and saw, with fascination, how much the people loved the local dance called the Etighi dance which originated in Calabar. After this, he then decided to create a song that would popularize the dance around Nigeria. He realized that even though it was great to do R&B songs, it was more commercially viable to do the more danceable, Afrobeats music.
After deciding to do a song that would popularize the Etighi dance, Iyanya teamed up with Nigerian producer, DTunes and recorded a single titled Kukere. The song was released on 4 December 2011 as the lead single from his second studio album, Desire and it was the breakthrough that Iyanya needed.
Kukere was an instant hit and achieved global success, topping charts particularly in Nigeria, Ghana, and the United Kingdom. The song became a national anthem in Nigeria as it was heard in every nook and cranny of the country. It established Iyanya as a standout music star who could grab people's attention with his sound. Kukere eventually won the Nigeria Entertainment Award for Hottest Single of the Year. It also won the Best Pop Single Award at The Headies 2012 and was nominated for Song of the Year at the event.
Iyanya followed up on the success of Kukere by releasing other hot singles Ur Waist, which featured additional vocals from Nigerian music star, Emma Nyra. It was clear that Iyanya was having the time of his life. He had broken out into the spotlight and was clearly the biggest deal in Nigeria's music space.
How Iyanya Escaped Death By The Whiskers
In 2012, Iyanya escaped death by the whiskers and he still tells the story every time he gets the chance. In June 2012, Iyanya, alongside Emma Nyra, Selebobo, and other members of the MMMG label had traveled to Abuja for a concert. When it was time to come back to Lagos, they were booked to fly on the ill-fated Dana Air Flight 992 which crashed in Lagos on June 3.
However, on that day, they got way too busy with their different activities and so they ran late. Because of their connections, the flight was even delayed a little for them with the help of a top airline staff in order to ensure that the celebrities got on. However, Iyanya suddenly began to feel in his spirit that they should not return to Lagos that day. He wanted to stay back in Abuja for one more night because he had not had enough of the city's finery and fast life.
But, the others did not want to stay back in Abuja for the night. So they took off to the airport. However, on the way to the airport, Iyanya kept trying to convince them to stay back in Abuja. He argued endlessly on the way to the airport even though everyone resisted him because they wanted to get home as fast as possible. In the end, Iyanya won and just 10 minutes to the airport, they turned back their vehicles and returned to Abuja.
While going back to their hotels, they decided to stop to buy food at a restaurant. It was while they were eating that they heard that the plane they were supposed to have boarded to Lagos had crashed, killing everyone on board. At that moment, the entire crew knew that Iyanya had saved their lives. Iyanya was visibly shaken seeing that he could have died that day if he had boarded the plane and he was only just 10 minutes away from the airport. Even though Iyanya and the team were visibly shaken, they were grateful for life.
His Second Album Was Released At Age 26
In 2013, months after escaping the plane crash, Iyanya released his second studio album which he titled Desire. The album was released on the 6th of February 2013 by Made Men Music Group, a record label that Iyanya started with his partner, Ubi Franklin, and was supported by six singles—"Kukere", "Kukere" (Remix), "Jombolo", "Flavour", "Sexy Mama", and "Ur Waist". Iyanya was 26 years old at the time the album was released.
Desire which had its production handled by top producers like Tee-Y Mix, Mr. Chidoo, D'Tunes, GospelOnDeBeatz, and Young D, featured guest appearances from popular artists, including Wizkid, M.I., D'banj, Emma Nyra, Flavour N'abania, Tiwa Savage, May D, Vector, Tekno and Yung L.
Even though the album received generally mixed reviews from music critics, it was a hit as several songs from it became club bangers that were heard all over the country. With his second album, Iyanya, once again proved that he was a people's favorite and he continued to pull crowds at his events.
His Third Album Came In 2015
After releasing his second album, Desire, Iyanya began to work on his third studio album that he titled Applaudise. The album which was released by Made Men Music on 19 September 2015, contained 20 tracks and had some core African sounds, with creative fusions to create what was described as a compilation of dancehall, highlife, soukous, Pop, Afro-beat, and RnB. Several other top African artists, including Olamide, Banky W, Lil Kesh, Patoranking, Victoria Kimani, Kcee, Harrysong, Seyi Shay, Don Jazzy, Sarkodie, Efya, Diamond Platinumz, and others featured on the album.
The album was a moderate hit. While some of the songs it contained like Nakupenda, Applaudise, and Mr. Oreo were massive hits, others were not so well received. However, the album generally did well, showing Iyanya was still a beloved artist who still commanded quite some attention around Nigeria and the rest of Africa.
Iyanya's Controversial Fallout With Ubi Franklin
In 2016, Iyanya stunned many Nigerians when he announced that he was leaving Made Men Music Group, the record label that he had co-founded with Ubi Franklin. Everyone was shocked because no one expected him to leave the label where he had created several hit songs and which has been synonymous with his name.
Soon, rumors began to spread around that Iyanya was leaving the record label because he had fallen out with Ubi Franklin and that the two were fighting over money. Some claimed that Ubi had cheated Iyanya and that the singer was leaving the record label in protest. Others claimed that Iyanya left the label because of Ubi Franklin's marriage to Lilian Esoro, a Nigerian actress.
However, shortly after the rumors began to gain ground, Iyanya came out to clear the air. He explained that he was not fighting Ubi Franklin and also claimed that Lilian Esoro was the best woman in the world for Ubi. He went on to say that everything being said in the media after his split from Ubi were all lies, insinuating that they part ways amicably.
Iyanya also revealed that he was going to set up his own record label and release an album as well. Ubi later released a statement to corroborate Iyanya's claims. According to Ubi, Iyanya had been planning to set up his record label for about a year, and that the company had even been registered with new artists lining up to become a part of the record label. Fans were ecstatic. Everyone wanted to see how he would pull off his plans and also if he would as be successful as he was in MMMG.
The Unprecedented Move To Mavin Records
While everyone was waiting for Iyanya to set up his record label as he had announced, something interesting happened instead. In October 2016, news emerged that Iyanya had joined Mavin Records, a record label that is owned by Nigerian music executive, Don Jazzy. The development was the first of its kind because no established Nigerian pop act had left his own label to join a competitor before.
Many people felt that Iyanya should not have joined Mavin Records because it was like a letdown for him since he had his own record label. They felt he should have just set up a record label like he said he would instead of joining a rival company. Many people swore it was a bad move.
However, Iyanya soon explained why he joined Mavin Records. According to him, he realized that he needed to put some really solid structures in place in order to move to the next level of his career after parting ways with Ubi Franklin. He explained that, in his search, he found a professional and creative backbone in Mavin Records and decided to pitch tent with them.
Immediately after joining Mavin Records, Iyanya put out a new song featuring Don Jazzy and Dr. Sid titled Up 2 Sumting. The song, which was produced by Don Jazzy, caught some fire after its release and raked in millions of streaming numbers, especially because of the high anticipation that greeted Iyanya's partnership with Mavin Records.
He Released An EP Under Mavin Records
In March 2017, months after joining Mavin Records, Iyanya released his first body of work under the record label; an Extended Play (EP). He titled the EP Signature. The EP contained as many as 7 tracks and 1 bonus track. The work was produced by Mavin's in-house producers, including Don Jazzy, who is the executive producer, as well as Babyfresh and Altims.
The EP featured fellow Mavin acts; Dr Sid, Poe, and Don Jazzy. Iyanya's EP got people talking and also raked some favorable reviews from critics with some saying the project will "stick to the familiar script of pop music". Some of the songs on the EP, including Odoyewu, Baby Answer, and Bow For You got quite some buzz around streaming platforms.
However, even though it seemed he had started out on a great note with Mavin Records, Iyanya did not stay too long with the record label. In early 2018, rumors began to spread that he had parted ways with Mavin Records. Eventually, in February 2018, Iyanya confirmed that he had left Mavins. He made the revelation during an interview with Beat FM in Lagos. According to him, he did not leave Mavin because he fell out with anyone but because it was just time to move on. During the same interview, he revealed that he had signed with Temple Music, a talent agency.
The Real Reason Why Iyanya Left Made Men Music Group
In 2019, about three years after he left Made Men Music Group, Iyanya decided to open up and reveal the real reason why he left the record label that he co-founded with Ubi Franklin. The revelations that he made shocked many people and stirred wild conversations on social media.
According to Iyanya, he left MMMG because there was so much darkness there at the time and he needed to move out as fast as possible. He claimed that there was no more trust between himself and Ubi Franklin because Ubi was involved in shady dealings. According to him, when he started MMMG with Ubi Franklin, the plan was for both of them to co-own the company, however, he later found out that his name was not in the ownership contract because it was not included.
How He Found Out
In a tell-all interview he had with popular Nigerian music journalist, Joey Akan, Iyanya revealed that he was at home around 2013 when he got a call from a strange number but he refused to pick but the strange number called several times. Eventually, he got a text from the number telling him to pick his calls because his life was in danger. When Iyanya got to talk with the strange caller, a voice from the other end told him to go to the Corporate Affairs Commission (CAC) and ask for his Made Men Music Group company papers. The caller refused to identify himself but asked Iyanya to do as he had said if he wanted to save his head.
After receiving the strange call, Iyanya promptly obeyed what the caller said and quickly flew to Abuja, Nigeria's capital city without telling Ubi Franklin. He lodged in a hotel and began to process his papers at the Corporate Affairs Commission. According to Iyanya, the whole process took two days before things were ready and the papers were sent to him. When he got the papers and pored over them, he was so devastated by what he saw that he broke down in tears.
Iyanya realized that his name was not on the papers as one of the owners of Made Men Music Group, the record label that he co-founded with Ubi Franklin. From what he saw on the papers, he was practically never a part of Made Men Music Group. His name was not found in any of them at all nor was his signature located there. He realized that while the record label was being created and registered, the papers he received and signed were forged. The most shocking part of the discovery was that Iyanya found out that in his place, equity for the company was shared between Ubi Franklin and his siblings. This meant that Iyanya did not own a piece of his own company.
When he made this discovery, it broke him down completely and made him depressed. According to his friends who saw him during that grim period, Iyanya moved about as if his world had ended. He stopped all activity and retired to his room, alone. He was in that state for several days as he pondered what next to do. from that point on, the relationship between him and Ubi changed. The trust was no more there. From that day, he began to make plans to leave the label.
What Ubi Franklin Had To Say
Despite Iyanya's claims that he was cheated and deceived by Ubi Franklin, Ubi later came out to refute the claims. According to Ubi, Iyanya's name was not found in the original CAC papers for MMMG because the singer didn't want to sign anything as he only wanted to concentrate on making music. He explained that Iyanya asked that he be left out.
He further claimed that months after registering the company, they went back to the CAC to rectify the documents and he put his brothers' names initially on the contract because Iyanya didn't want to sign and the document can't have only one person on it. Ubi explained that after the second CAC document was ready, they signed a joint venture document, stating that every money that the company made will be shared 50/50.
Ubi Franklin also claimed that when Iyanya left MMMG, he (Ubi) bought his shares and became the 100% owner of the record label. He later sold the shares to Paul Okoye, a popular concert/entertainment promoter and CEO of Upfront and Personal Global Management to make him a part-owner of MMMG in place of Iyanya. Ubi backed up his claims with some documents.
However, Iyanya fired back by saying Ubi was lying about everything he said. Iyanya claimed that when he left MMMG, he didn't sell his shares to Ubi but left everything to Ubi for free. He claimed his head was messed up because of everything that had happened so he wanted to leave the label and start afresh again.
The development divided Nigerian music lovers as support was thrown either way. While many lambasted Ubi for allegedly cheating Inyanya, others dragged Iyanya for being careless and not taking due note of what was happening with his business at MMMG.
Eventually, the buzz that was generated with the case died down as Iyanya explained that he had moved on from the drama and was planning on making more music for the fans.
His Second EP Dropped In 2020
In February 2020, months after his controversial confessions about Ubi Franklin, Iyanya dropped his second EP which he titled For Your Love. The body of work contained four tracks including "Over You," "RM 305", "Believe," and "Days Gone" as the songs on the list.
The EP, which heavily explored Iyanya's RnB side, did not get the buzz the singer craved as the songs on the project mainly went unnoticed by the general music-loving Nigerian public. They also got very minimal views on streaming platforms. After releasing this EP, Iyanya went on a hiatus.
However, even though he was on a hiatus from music, he was making waves in other areas. On 2nd September 2021, the singer was appointed the Senior Special Assistant on Tourism and Entertainment to the Cross River State Governor, Ben Ayade. Iyanya himself made the announcement in a post via his Instagram account. He also thanked the State Governor for finding him worthy to handle such a position.
Iyanya Reunites With Ubi Franklin After 5 Years
On the 8th of September 2021, just days after bagging his political appointment, Iyanya and Ubi Franklin thrilled Nigerian music lovers when they announced that they had reunited and that Iyanya had returned to MMMG about 5 years after they initially parted ways controversially.
Both Iyanya and Ubi Franklin announced this development on their respective Instagram pages and this instantly caught the attention of Nigerians. Everyone was stunned and very excited at this fairytale reunion which many never imagined would happen, considering how the two men bitterly fell out.
Soon after the reunion, Iyanya released two singles. The first single was titled Change Am featuring Wande Coal, the famous Nigerian superstar singer. The second single was titled Over.
Apart From His Voice, Iyanya Is Also Known For His Physique
Iyanya is known all around Nigeria and beyond for having an incredibly beautiful voice with which he mesmerizes people. However, this is not the only thing he is known for. The singer is also known for having an amazing body structure which he carefully built over the years. Iyanya is regarded to be among the Nigerian singers with the most well-built bodies. And he likes showing it off, especially when on stage.
The singer is known to be a fitness enthusiast. He frequents the gym and works out regularly to keep in shape. He also lifts weights and this has shown in the way his arms have become really huge and ripped. Iyanya also has the popular six-pack abs to prove how much his workouts are working on his body.
The singer's hot body helped him at the start of his career. When he first began commanding attention with his songs, the ladies drooled over him, especially because of his looks and charming body shape. And because he was always in the habit of taking his shirt off while on stage, more female fans became obsessed with him. His fame as not just a talented singer but also a sexy man spread like wildfire, helping his music grow in the process.
Inside Iyanya's Intriguing Love Life
Iyanya's life has not only been about making music and charming people with his voice, it has also been about romance and finding love. Over the years, the singer has been involved in romantic relationships with different women.
Iyanya and Yvonne Nelson
Iyanya once dated Yvonne Nelson, the very popular Ghanaian actress, model, film producer, and entrepreneur. The two dated in 2012 right about the time that Iyanya broke out to widespread fame with his Kukere single. Yvonne Nelson was already an established star at the time who has won awards for her work.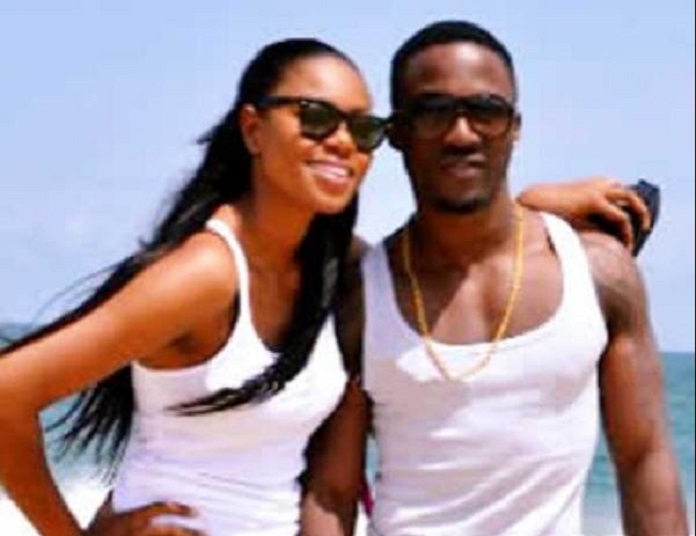 When news emerged that Iyanya and Yvonne Nelson were in love, some people thought it was a publicity stunt. However, it was soon confirmed that they were indeed an item. Pictures of them together started appearing on the internet to confirm the love affair and many fans thought the romance may lead to marriage in the long run.
However, things didn't exactly work out that way because, in less than a year, still in 2012, the Kukere crooner and the actress broke up. News of the break spread like wildfire around Nigeria and Ghana. There were lots of rumors at the time with some people claiming that Iyanya had cheated on Yvonne Nelson which led to the breakup. This was not confirmed at the time.
However, years later in 2017, Iyanya explained what led to the breakup. According to him, they broke up because they hardly had time for each other. He explained that he was hustling really hard at the time and could do four shows in a single day. The actress was also very busy and this ended up affecting their relationship badly and they parted ways. Iyanya also revealed that he misses Yvonne Nelson badly.
Iyanya and Tonto Dikeh
After parting ways with Yvonne Nelson, rumors began to emerge that Iyanya and popular Nigerian actress, Tonto Dikeh were in love. The rumors spread like wildfire and some people even claimed that it was Tonto Dikeh who caused the singer's breakup with Yvonne Nelson in the first place.
However, both Iyanya and Tonto Dikeh came out to debunk the rumors. In a 2013 interview on Channels TV, Tonto Dikeh claimed that she never dated Iyanya and only met him once or twice at the time. Iyanya also corroborated Dikeh's claim, stressing that he never had a romantic fling with the actress. The rumours were thus put to rest.
Iyanya and Freda Francis
In 2015, Iyanya got into a romantic relationship with Freda Francis, a Nigerian socialite, and skin care specialist. At first, it was not certain if they were really dating as only rumors claimed the lovers were an item. However, it was soon confirmed when Iyanya began posting their pictures on Instagram. They were also seen attending public events together a number of times.
Sadly, things did not go any further as the lovebirds soon parted ways in January 2016. When this happened, Iyanya confirmed their separation by deleting all Freda's photos from his Instagram page. On her part, Freda deleted her Instagram account completely.
Is Iyanya Married Now?
After breaking up with Freda Francis, Iyanya kept everything about his romantic life very secret. No one could tell if he was single or not. In 2021, rumors began to spread that Iyanya had gotten married and that he was keeping the matter away from the prying eyes of the public. However, the singer has since denied it. In September 2021, he granted an interview to Hip TV and debunked the rumors in the process.
He explained that he was not yet married but is looking for a wife and not just a girlfriend. Also, he did not reveal if he was in a relationship at the time or he was completely single and searching.