Linda Mtoba (born 11 November 1991) is a 31 year-old South African actress better known for her role as Zama on Mzansi Magic's Isibaya. 
Mtoba has charmed millions of South Africans over the years with her superb acting skills and pure charisma. Apart from her great acting skills, the actress is renowned for her beauty which she does well to flash with the smallest opportunity both online and offline. She is huge on social media, with more than a million followers on Instagram alone.
Profile Summary of Linda Mtoba
Full name: Linda Mtoba
Gender: Female
Date of Birth: 11 November 1991
Linda Mtoba's Age: 31 years old
Place of birth: Umlazi, KwaZulu-Natal
Nationality: South African
Religion: Christian
Sexual Orientation: Straight
Education: Marketing Management
Marital Status: Married
Linda Mtoba's Husband: Steven Meyer
Occupation: Actress, MC, and Content Creator
Famous for: Isibaya, The River
Instagram: linda_mtoba
Linda Mtoba was Born in KwaZulu-Natal Province
The talented actress was born in Umlazi, a township in KwaZulu-Natal, a coastal province in South Africa. However, reports show that she grew up with her family in Durban, a coastal city in eastern KwaZulu-Natal. The actress was born on the 11th day of November 1991 and is now 31 years old.
Linda Mtoba is not an only child; the actress has a younger brother who is about eight years younger than her. They were raised together in Durban. Mtoba is very close to her brother and has often described him as a very supportive person. However, not much is known about her brother or what he does for a living as he is a much quieter person than his actress sister.
She Lost Her Father At 13
Linda Mtoba's childhood was marred with a serious tragedy that befell her family when she had just turned a teenager. At the age of 13, the future actress lost her father to the cold hands of death. It is not clear how the man died, but his death shattered the family and left them grieving for quite some time. Mtoba and her younger brother were left with their mother to cater to all their needs but things were not very pleasant. At some point, they had to stay with their aunt, Lihle, and her son.
Eventually, their mother remarried and their step-father eased her troubles by taking up their responsibilities and caring for them. Mtoba is full of praise for her step-father. According to her, the man was very supportive and raised her and her brother as his own children. The actress is also very fond of her mother and has often declared undying love for the older woman.
She Nearly Became An Orphan
In August 2021, the actress revealed that her mother had an accident that nearly took her life and left her in hospital for some time. Mtoba explained that her mother broke her wrist in three places and also broke her pinky toe. According to the actress, she had never seen her mother in so much pain before.
The really sad development left the actress completely shattered, especially because she had to watch her mother writhing in serious pain. However, the woman has since recovered.
Did She Go To School?
Linda Mtoba is apparently a learned person. The actress speaks very well so it is quite clear that she is well-read and schooled. However, details about where she attended primary, secondary or higher institutions of learning are quite unavailable.
What we know is that the actress was running a part-time course in Marketing Management at a higher institution.
Linda Mtoba Did Not Start Out As An Actress
Almost every South African knows Linda Mtoba to be a star actress who has starred in popular movies and TV series but not everyone knows that she did not start out as an actress. As a matter of fact, before she sought to make a career in the acting industry, she actually worked as a schoolteacher.
According to our findings, the actress is actually a qualified IsiZulu teacher and taught pupils in grades one to five for about one year after graduating. It is not very clear what schools she taught in during her teaching career. However, it is believed that her experience as a teacher helped to boost her confidence in meeting and interacting with people, a quality that has turned her into a notable asset on the screen.
It has been a long time since she stopped teaching but Mtoba says she misses her pupils and the experience she had during her teaching days. She explained that the kids she taught treated her like a superstar and always told her they loved her. She felt like she was fulfilling their dreams as a teacher.
Linda Mtoba's Journey To Acting
After about a year of teaching, Linda Mtoba decided to switch careers and go into acting. However, she did not do this all by herself because her friends actually forced her to go for auditions. Mtoba has always been a very dramatic person and so her friends thought she should give acting a try. At first, she didn't want to do this but her friends literally pushed her to go for auditions. According to her, she did not even know she could act before she was pushed to go for auditions. But her friends made it clear that if she didn't for the audions, she should consider their friendship over! So, she went.
Eventually, Linda Mtoba attended auditions for Isibaya, a South African daily drama series. She revealed that she was very nervous about the whole thing because she had never done something like that before. But the producers liked her because, during the auditions, she did not try too hard to impress them but decided to just be herself. This blew them away and she got a call-back after some time from the producers who told her she had been cast as Zama Nyandeni on the show. She was ecstatic!
Her Acting Career Began At 25
Linda Mtoba's career as an actress effectively began when she started starring as Zama Nyandeni in Isibaya in 2016. She was about 25 years old at the time. During her time on the show, she gained the needed experience to do more exploits in the film industry and met with some industry legends she used to see on TV before she started acting.
She starred alongside top stars like Siyabonga Thwala, Nomzamo Mbatha, Thembi Nyandeni, Sdumo Mtshali, and others. Her character on Isibiya endeared her to many South Africans who were only getting to see Mtoba for the first time onscreen.
'The River' Shot Her To The Limelight
Linda Mtoba starred as Zama Nyandeni on Isibaya from 2016 to 2018 when her character was killed off to the horror of viewers. Three months after she left Isibaya, Mtoba landed the role of Nomonde Dikana in The River, a South African television series that has become very popular in the country.
At the time she was cast to play Nomonde Dikana in The River in 2018, Mtoba was about 27 years old and quickly charmed viewers with her intriguing presence. She became a fan favorite of the show. Mtoba's character, Nomonde is a member of the wealthy Dikana family, and her step-mother, Ma Lindi-Dlamini is a rather hard and unsparing businesswoman who is very calculating. Nomonde herself is calculating and full of maneuvers. At some point in the series, she rose to become the CEO of her stepmother's mining company.
Mtoba's incredible acting skills and her ability to seamlessly weave her way believably around her character have impressed so many people, making her popular. In fact, some people have opined that the character, Nomonde, is too good to be killed off the show anytime soon because of the way Mtoba handles the role interpretation. It is also believed that her appearances on the show have contributed to the way the show has achieved a lot of success.
For the record, The River is now one of the most popular TV series in South Africa and has bagged so many awards and nominations over the years including the South African Film and Television Awards as well as the International Emmy Awards. The success of the series has soared Mtoba's popularity beyond words both on and off social media where she is followed by millions of doting fans.
It is noteworthy that, apart from Isibaya and The River, the actress has also starred in other film projects, including One Night kwa Mxolisi, a TV movie in which she played Lerato in 2021. It is clear that the actress is only just getting started as the future holds very bright fortunes for her.
She Owns A Foundation
Apart from acting, Linda Mtoba also loves to get involved in helping people and giving back to society. The actress now runs her own foundation called the Linda Mtoba Foundation, an organization she established to help support children. Talking about why she set up the foundation, the actress explained that she has always been passionate about helping disadvantaged children to achieve their dreams.
In 2020, she revealed that she has awarded bursaries to the top 10 schools across the country through her foundation. The actress also revealed that she is sponsoring the education of 10 children in her native home province.
The Man In Linda Mtoba's Life
Linda Mtoba's life is not all about making movies and TV series, it is also about building a family and being a doting mother and a loving wife. The actress is currently married to a man called Steven Meyer. The couple dated for some time before they tied the knot as man and wife.
Very little is known about the life of Steven Meyer or what he does for a living. Unlike his actress wife, Meyer is a very private person who leaves very little for public consumption. What we do know is that Meyer and Mtoba are head over heels in love as the actress herself has affirmed from time to time. According to her, she and her husband have a very strong foundation, and being married only solidifies their romance.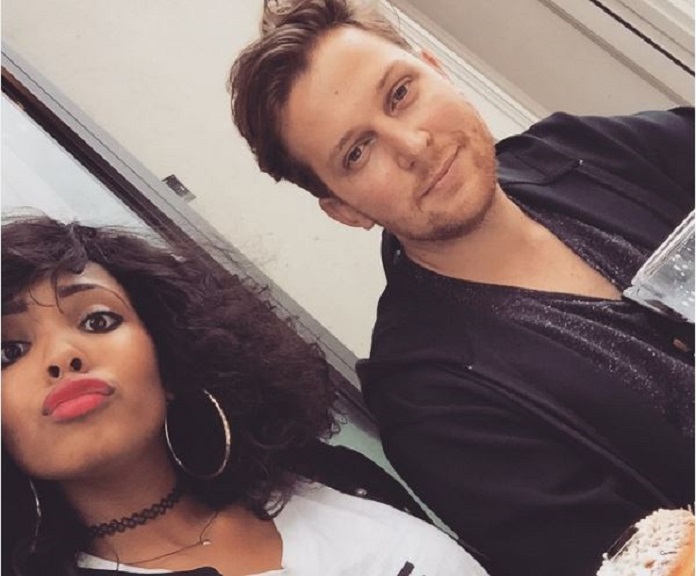 The Amazing Story Of How Mtoba And Meyer Met
Linda Mtoba and Steven Meyer met and fell in love in quite an intriguing manner. The actress revealed how it all happened. According to her, they first bumped into each other in a club when she was about 19 years old in 2010. However, at the time, they did not talk to each other even though they made eye contact. In fact, they didn't even take careful note of each other before they both went back to their homes that night after the club activities were over.
However, as fate would have it, Meyer stumbled on Mtoba's Facebook profile two months after they met at the club and inboxed her. They got talking and became really close. But, at the time, none of them remembered that they had met at a club two months earlier. Eventually, they decided to go out on a date and get to know each other more.
While on the date, Meyer opened up and told Mtoba that he felt he had seen her somewhere before. He then asked her if she was at the club two months back. When Meyer asked her that question, she immediately recollected his face and remembered that they had seen each other before at the club. The whole revelation was surreal to her. Mtoba explained that it was strange that even though they did not exchange numbers at the club that night, the universe somehow brought them back together through social media.
When they started dating, Meyer and Mtoba lived in different towns; Meyer was residing in Cape Town and Mroba lived in Durban. However, Meyer often traveled all the way from Cape Town to Durban to see her regularly. Their love blossomed with time and they decided to settle down together.
All About Their Lavish Wedding
Steven Meyer and Linda Mtoba dated for about 7 years before they got married in 2017. The couple tied the knot in March 2017 in a lavish ceremony that was attended by both the families of the bride and groom. Because she was already a celebrity at the time, the news of her wedding caught attention as fans wanted to know who she was getting married to.
The wedding ceremony was a really lavish one. In fact, it was held in two stages and each stage was flashy and flamboyant with quite a huge turnout from family and friends. Since their marriage, the couple has remained together and it appears that their love has grown stronger with time.
Why Mtoba Has Kept Her Man Away From Public Eye
One interesting thing about Linda Mtoba is the fact that she loves to keep her husband from the public eye. In fact, few people have ever seen her husband's face as she has made sure she never posts the man's picture online. While they were dating, the actress kept her relationship hidden and took care not to reveal who the man in her life was on social media. For this reason, many people did not even know she was in love with anyone.
When she eventually announced she was getting married, it took some people by surprise but the announcement also caused a stir because everyone wanted to know who the man in her life is. However, they were met with disappointment because the actress failed to upload the man's pictures on the internet. She also refused to reveal important details about her man, including his profession, race, and background. This caused serious backlash from fans who asked if the actress was not proud of her husband.
Defending her actions, Linda Mtoba later explained that her husband was the closest person to her and so sharing details about his life online are not acceptable to her at all. She asked fans to respect her decision to keep her man to herself. However, this explanation did not do enough to quieten fans who insisted that she must reveal her husband's face for them to see. Eventually, Linda Mtoba further explained that she decided to keep her husband off social media to avoid getting into situations that could ultimately harm their love and ruin their romance.
It is noteworthy that the actress has shared photos of her husband on Instagram but with his face hidden or blurred. On Father's day in 2021, she shared a photo of the man and her daughter but carefully made sure his face was not showing in the picture.
It is also noteworthy that despite all her moves to keep her husband off social media, several pictures of Linda Mtoba and her man have made their way to the media, including the ones from her traditional wedding and other ones showing them striking loving poses together.
Her Husband's Scary Kidnapping Experience
A very scary incident occurred in 2018 that left Linda Mtoba and her man quite traumatized at the time. Towards the end of that year, Mtoba's husband was kidnapped. According to her, some criminals hijacked her husband's car, kidnapped him, and held him for hours. It was a scary incident because there are stories of people who did not survive similar ordeals in the past.
The actress revealed that after some hours, the kidnappers released her husband, obviously after taking some valuables from him. Mtoba revealed details about the incident in 2019 about one year after it originally happened and thanked God for her husband's safety.
Mtoba Is A Doting Mother To A Daughter
The marriage between Linda Mtoba has been fruitful and has produced a daughter so far. Just like she did with her man, the actress kept the news of her baby hidden for quite some time after she got pregnant. She made sure she kept things under wrap for as long as possible before she finally revealed details about her pregnancy. The actress first revealed she was expecting a baby in July 2019 when she was already heavily pregnant.
This time, fans did not kick against her keeping her affairs a secret as congratulatory messages poured in for the star actress. During this time, Mtoba who was obviously really delighted with her pregnancy shared several back-to-back photos of her baby bump and explained that she cannot wait to welcome her bundle of joy.
In August 2019, one month after she unveiled her pregnancy, the actress had an all-white themed baby shower which was attended by many popular figures like Ayanda Thabethe, Thobile Jele, Zandisile Nhlapo, and others. It was clear that Mtoba had so many South Africans spellbound waiting for her baby's arrival.
Finally, in October 2019, Linda Mtoba became a mother for the first time as she welcomed her daughter to the world. The excited actress announced her baby's arrival on 11th October 2019 with a photo she shared on her Instagram page showing her baby's hand clutching her own.
In her caption, she revealed that the child was born on the 3rd of October 2019, meaning she had kept the baby's birth a secret for about 8 days.
After she announced her baby's birth, fans took to social media to congratulate the new mother on her child's arrival. At first, it was not clear what gender the child was, but it was soon revealed that it was a girl. Mtoba, who was clearly overjoyed about being a mother began sharing the child's photos on Instagram.
The actress shared dozens of photos but carefully kept the baby's face out of sight, showing only her other body parts. Eventually, the actress revealed the baby's face for the first time on her first birthday in 2020.
What Exactly Is The Name Of Linda Mtoba's Baby?
Another curious thing about Linda Mtoba is the fact that she has refused to reveal her daughter's name even though fans have asked tirelessly. The actress only calls her daughter "Bean" or "Beanie Pie" whenever she posts the child's photos online. However, the official name of the baby remains a mystery.
This has not gone down well with some trolls on social media who have slammed Mtoba for not revealing the baby's name. The actress is, however, not fizzled at all and has remained adamant about keeping her daughter's name a secret. According to her, she is not planning on sharing the name with the public any time soon.
At the moment, we can only hope that in the near future, the actress will share her daughter's name for all to know. For now, we must be content with "Bean" or "Beanie Pie". One thing we can tell, though, is that Linda Mtoba is a really doting mother who is bent on giving her child the best childhood anyone can wish for.