Nkem Owoh (born February 7, 1958) is a 65-year-old Nigerian actor and comedian who has become popularly known as Osuofia, a role he played in a movie of the same title. Owoh is one of the most extraordinarily talented movie stars from Nigeria. For the many decades he has been active as an actor, Nkem Owoh has become one of the wealthiest Nigerian actors with a net worth of about $4 million.
His longevity and perpetual relevance have endeared him to millions of people in love with Nollywood productions. Today, he is revered as one of the most beloved veterans in the business. It is noteworthy that, apart from being an actor, Nkem Owoh is also a producer and singer.
Nkem Owoh's Bio Summary
Full Name: Nkem Owoh
Nickname: Osuofia
Gender: Male
Date of Birth: February 7, 1958
Nkem Owoh's Age: 65 Years old
Ethnicity: Igbo
Nationality: Nigerian
Zodiac Sign: Aquarius
Sexual Orientation: Straight
Religion: Christianity
Marital Status: Married
Nkem Owoh's Wife: Ngozi Nkem Owoh
Nkem Owoh's Children: Two Daughters
Nkem Owoh's Net Worth: $4 million
Famous For: Acting
Nkem Owoh's Instagram: nkemowohosuofia
Nkem Owoh Was Born In Enugu State
The veteran Nollywood actor was born in the area now known as Enugu State, in eastern Nigeria. According to our findings, he was born in a community called Amagu Village in Udi Town, Enugu State. It was also here that he grew up with his family.
Very little is known about who Nkem Owoh's parents were. It is not clear what their names were or what they did for a living to raise their kids. This is mainly because the actor himself has said very little about them in the past.
Owoh's Brother Was Reportedly Killed 
Nkem Owoh is not an only child. However, it is not clear how many siblings he has as these details have remained largely out of the public space. However, there have been some reports that he has a brother who was killed by the government as far back as 1985.
According to the reports, the said brother identified as Bartholomew Owoh was arrested in 1985 alongside two others by the Muhammadu Buhari-led military regime. Bartholomew and the others were accused of carrying drugs and were eventually executed publicly after being tried.
Take note that Nkem Owoh has not commented publicly on this development and we cannot independently verify its authenticity. However, different sources claim it is true and that the Owoh family has not recovered from the trauma caused them by Bartholomew's death.
Nkem Owoh Wanted To Become A Professional Footballer
Nkem Owoh is known all over the world today as a film star who has achieved great feats on camera. However, acting was not what he initially wanted to do with his life. Growing up, Owoh was very good at sports and particularly loved football so much. As a matter of fact, he actually wanted to become a professional footballer. He explained that everyone who was close to him at the time thought he would go into football.
Nkem Owoh loved football so much that he even represented his zone and even his state in games played. He was seen as one of the people who would grow up to do exploits for club and country in the round leather game. However, his dream was quashed mainly because his parents frowned at his choice of football as what he wanted to do. At the time, most parents felt that football was a waste of time at the time and so their kids would have nothing to do with it professionally.
Eventually, Nkem Owoh had to go to school to study and get a degree which was what was mainly acceptable by parents at the time.
The Actor Dreamt Of Being An Engineer
With his dream of becoming a professional footballer now gone, Nkem Owoh turned to education. At this time, he developed a love for engineering. He wanted to become an engineer and build things. With this in mind, Nkem Owoh later gained admission into the Federal University of Agriculture, Abeokuta to study engineering.
While in the university, the actor still played football but on a lighter note and only as a recreational activity. He also took part in drama and honed his skills as a budding actor. He was also very funny so he often cracked people up with his actions and so he won many friends who adored his openness.
Nkem Owoh's Journey To Becoming A Film Legend
Nkem Owoh had always been fascinated by acting since he was little. As a child, he watched the adults stage dramas in church and other places and loved it. However, at the time, he didn't see himself acting in dramas. He loved football more then. But, as he continued to grow up, he found himself taking part in dramas especially in school and loved every bit of it.
When he got into secondary school, he got more involved in the drama. It was the only other thing he loved besides football. Nkem Owoh explained that during his secondary school days, he always got noticed as a child who loved dramas very well because he always did very well when he was cast to play roles on stage. Because of this, people began to give him lead roles to play and so his fame as a child who was a good actor began to spread around his school. In fact, Owoh was so good in dramas that when he became a member of the Boys Brigade in the 60s, he was voted head of the drama unit.
One of the most interesting parts of Nkem Owoh's childhood and journey to acting royalty is that when he was still in secondary school, he got noticed by the Theatre Arts Department of the University of Nigeria, Nsukka. Soon, people from that department began to borrow him to star in their dramas. Occasionally, Owoh would be taken to the campus to do one or two things with the dramatists in the Theatre Arts Department. It was a thrilling experience for him. One of the plays he took part in at the time was called Vengeance of Heaven. He also took part in many others. As his fame continued to grow, many acting groups would come to pick him up from school so he could act with them.
Eventually, he graduated from secondary school and relocated to Abeokuta to attend the Federal University of Agriculture where he studied engineering. Even at the university, he was involved in drama in one way or another and was beginning to seriously think about making acting a professional career. He loved engineering but it seemed that acting chose him because he always found himself getting involved in the enactment of plays.
He Kickstarted His Acting Career In The Late '80s
Before he gained admission into the university, Nkem Owoh had a stint with the Anambra State Broadcasting Service (ASBS) in the old Anambra State, and with NTA channel 8, Enugu. When he eventually graduated from the Federal University of Agriculture, Abeokuta with an engineering degree, Nkem went back to Enugu to continue working with the media outfit in the '80s.
While there, he started working mainly as a scriptwriter. He got very good as a scriptwriter and soon started writing for the top sitcoms making waves around Nigeria at the time, including The New Masquerade as well as Bassey and Company and Tales by the Moonlight. He also wrote scripts for Memorial Hospital and others. Nkem Owoh was one of the credited writers in these sitcoms at the time. But, he did not star in any of them because he was too shy to come in front of the camera. He preferred being in the background.
However, Owoh soon began to thrill other actors with what he did backstage and they started to urge him to try going in front of the camera himself. They could see that he could act and that he had the flair that would make him stand out as a star performer. Eventually, Nkem Owoh started starring in movies in the late '80s and soon began causing some stir with his works. It was clear that he was born to be an actor because it all came to him naturally.
In 1987, Nkem Owoh starred in Things Fall Apart, the film adaptation of legendary Nigerian author, Chinua Achebe's book of the same name. He went on to star in other movies afterward.
His Role In 'Ukwa' Launched Him To The Limelight
In 1995, Nkem Owoh, who had already started to get some attention with his acting, was cast to play the title role in the comedy/drama film, Ukwa. It was his first lead role and the project was really exciting for him. The movie, which also starred other legendary Nigerian movie stars like Sam Loco Efe, Patience Ozokwor, Amaechi Muonagor, and others, became a big hit around Nigeria.
The film Ukwa turned Nkem Owoh into a huge superstar because of how big it turned out. As a matter of fact, many Nigerians did not know Owoh's real name for a long time after watching the film. They simply referred to him as 'Ukwa' as he brought life to the movie with his funny takes. It was clear to everyone that Nkem Owoh was a big deal and that he had a lot in him to give the world. The same year, in 1995, Nkem Owoh reprised his role as Ukwa in Ukwa 2, a sequel of the Ukwa which served as his breakout role. He went on to star in Rattle Snake and Rattle Snake 2 also in 1995.
Almost two years later, in 1997, Nkem Owoh starred in Pam Pam, a drama movie. The next year, in 1998, he appeared in two films; Yogo Pam Pam and Kiss Me Quick, playing the role of Lokko. At this time, he was already one of the top stars in the Nigerian movie industry and he was capitalizing on this fact to build a great legacy. In 1999, Owoh starred in the drama film Conspiracy and its sequel, Conspiracy 2. He also starred in Big Man…Big Trouble.
The 2000s were a huge turning point for Nkem Owoh's career. During this time, he starred in some of his best-ever works. In 2001, he played the title role in Onye-Eze, a drama film alongside other top stars including Victor Osuagwu, Hilda Dokubo, and others. The same year, he reprised his role in Onye-Eze 2. In 2002, he starred in Spanner, a comedy film. The same year, he caused some buzz with his action in Long John, a drama/comedy film alongside Sam Loco Efe and Rita Nzelu. The film was another hit and it fetched him quite some accolades.
'Osuofia In London' Changed The Game For Nkem Owoh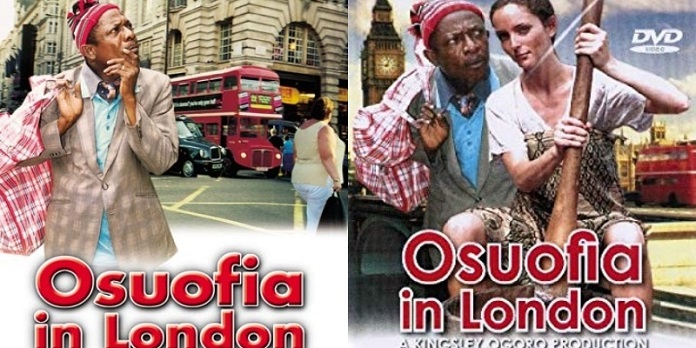 After starring in other movies in 2002, Nkem Owoh was cast to play the role of Osuofia in Osuofia in London, a comedy film about a Nigerian man (Osuofia) who travels to London to claim his late brother's will (inheritance) only to meet with his brother's English fiancée Samantha who wants the inheritance herself. A set of cultural misunderstandings result in a comedy of errors.
Osuofia in London was a really big hit and actually became the biggest Nigerian movie in 2003. It was so big that it became one of the highest-selling Nollywood films in history. The film's popularity changed the game for Nkem Owoh. Even though he was already popular, the movie got him more fame than he thought possible and it catapulted his fame beyond the shores of the African continent to the other parts of the world. Because of the huge success of the film, many Nigerians nicknamed him Osoufia and now refer to him by it and not by his real name.
In 2004, Nkem Owoh reprised his role as Osuofia in Osuofia in London 2, a sequel to Osuofia in London. This also caused a stir around Nigeria although the sensation was not as huge as the first installment. The same year, he starred in many others movies, including Spanner 3, Spanner Goes to Jail, American Visa, My Driver, and others.
In 2005, Nkem Owoh continued his exploits starring in films like Bus Driver in which he played Jimmy. He also starred in Akanchawa. In 2006, Owoh appeared in 18 movies including My Kingdom Come and Made In Cambridge. He also starred in The Dreamer and A Fool At 40. The actor was also in Foreign Base and Indemnity.
Nkem Owoh bagged his first award in 2007 when he starred in Stringer Than Pain. Owoh played the role of Ulonna in the movie and his performance was so good that it earned him the Africa Movie Academy Award for Best Actor in a Leading Role. The same year, the actor starred in Covenant Keeping God and Johnbull & Rosekate. In 2008, Nkem Owoh got some attention with his portrayal of Rev. Czar in His Holiness. The same year, he played Osuofia in Osuofia and the Three Wise Men.
Owoh continued making long strides with appearances in the 2009 movie Forgive Me Father and the 2012 movies Shattered Mirror and Shattered Mirror 2. After this, he went on a hiatus and then returned in 2016 with a strong performance in the drama film, Ghana Must Go.
Nkem Owoh Has Continued To Prove His Relevance
After 2009, Nkem Owoh's appearances in movies began to reduce drastically. The actor used to star in over 10 years a year but the number reduced badly. In fact, in 2010 and 2011, he did not make any films at all. Also in 2017, the actor did not star in any movie. However, in 2018, the actor made a comeback, proving that he is still as relevant as ever. Around this time, the actor started making appearances in blockbusters and catching even more attention with his seriousness.
In 2018, Nkem Owoh was cast to play the role of Godswill Obiagu in Lionheart, a drama film that was one of the most anticipated Nigerian movies of that year. The movie was successful. It became the very first Netflix original film produced in Nigeria. It was also selected as the Nigerian entry for the Best International Feature Film at the 92nd Academy Awards, making it the first Nigerian movie to be submitted to the Oscars. Nkem Owoh's role was praised and he worked alongside other Nigerian film legends like Pete Edochie, Genevieve Nnaji, Onyeka Onwenu, Kanayo O. Kanayo, and others.
Also in 2018, Nkem Owoh starred in Daddy Chief, another blockbuster that received wide publicity and applause. He played the role of Shoffa Donatus alongside Patience Ozokwor, Joke Silva, and others. The same year, he starred in God Calling, playing the role of Papa Francis. In 2019, he starred in Kpali playing the role of Chief Kalayor. The next year in 2020, he starred in Small Chops, playing the role of Smart.
In 2021, at the age of 62, Nkem Owoh proved he was not done yet and was still very relevant when he got some applause for starring in My Village People alongside other veterans like Amaechi Muonagor, Rachel Oniga, and Charles Inojie as well as newer faces like Zubby Micheal, Bovi, Venita Akpofure, and others. The same year, he starred in the drama film The Garbage School and the TV series Tough Love.
In 2022, at age 63, Nkem Owoh reprised his role as Shoffa Donatus in Chief Daddy 2: Going for Broke, a sequel to Chief Daddy. Even though he has been active in the industry for over 30 years, the actor has shown he still has a lot to offer and is not leaving the screens anytime soon. In 2019, the actor, in an interview with Independent, revealed that he had planned to retire but young movie producers won't let him because they have been bringing him many scripts urging him to star in movies. He explains that this means the younger generation is not fed up with yet and this also means he is still relevant even after spending so many years onscreen.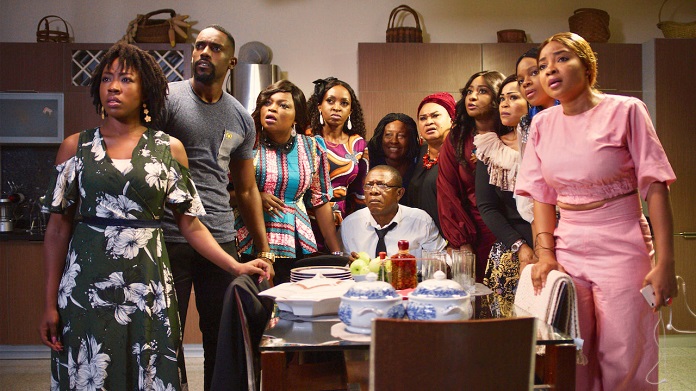 List of His Major Movies
1987 – Things Fall Apart
1993 – Circle of Doom 2
1995 – Rattlesnake
2000 – Ukwa
1999 – Big Man…Big Trouble
1999 – Conspiracy
2002 – Fake Doctor
2002 – Long John
2002 – Spanner
2003 – Anunuebe
2003 – Mr. Trouble
2003 – Osuofia in London
2003 – Police Recruit
2004 – America Visa
2004 – Osuofia in London 2
2004 – Spanner Goes to Jail
2005 – Akanchawa
2005 – The Prince
2006 – A Fool at 40
2006 – Captain
2006 – Foreign Base
2006 – Made in Cambridge
2007- Battle of Indemnity
2012 – Military Zone
2015 – Ghana Must Go
2018 – Lionheart
2019 – Kpali
2021 – My Village People
Owoh Has Won Several Accolades
As expected, Nkem Owoh has won accolades and awards for his work over the years. Having starred in some of the most talked-about movies in Nigerian history, he has solidified his place as one of the most exciting movie stars of all time and is recognized for his feat onscreen.
Some of the awards and recognitions of Nkem Owoh are listed below:
In 2007, he emerged the winner of the Africa Movie Academy Award for Best Actor In Leading Role
In 2014, he won the City People Movie Special Recognition Award
2017, he was honored with the City People Movie Lifetime Achievement Award
Also, in 2017, he was honored with the Africa Movie Academy Award for Lifetime Achievement
Nkem Owoh's Net Worth Is $4 Million
Without a doubt, Nkem Owoh has made a lot of money as an actor. Having starred in several blockbusters across 30 years, it is clear that this fact is not up for debate at all. The actor is listed as one of the wealthiest Nigerian movie stars at the moment. His net worth has been pegged at about $4 million and this is very believable considering his works over the years.
Nkem Owoh has been able to rake in this net worth not just through different means as explained below.
Acting
Without a doubt, his work as an actor has been Nkem Owoh's biggest source of income. For more than 30 years, he has devoted his whole life to making movies and this has paid off tremendously. It is not very clear how much he gets paid per movie but he is believed to be among the highest-paid veterans in the business.
So far, he has starred in over a hundred movies and series since his career began and had cumulatively raked in so much money in the process.
Singing
Everyone knows Nkem Owoh to be an actor. However, acting is not the only thing that he has dabbled into; he is also a singer. In 2004, the actor wrote and released a song titled 'I Go Chop Your Dollar'. The song quickly caught attention after its release mainly because of its controversial tone. It seemed to glory advance fee fraud. The song was also featured in the film called The Master in which Owoh played the role of a scammer.
The song began very big around Nigeria and soon started causing serious buzz that it was eventually banned by the Economic and Financial Crimes Commission and the Nigerian Broadcasting Commission over the message it was passing. Nkem Owoh released a video for I Go Chop Your Dollar and has since released other songs. Some of his other songs include:
Agreement
Know Me When I Am Poor
Mama No Know 'N' Pikin Again
Nkem Owoh has performed his songs at different venues and apparently made money from them.
Movie Production
Nkem Owoh is not just an actor, he is also a movie producer who has produced his own movies. In 1997, the actor produced the movie Pam Pam which he also starred in. The next year, in 1998, he produced Yogo Pam Pam and Kiss Me Quick. The actor has apparently made money as a movie producer as well.
Comedy
Nkem Owoh mainly makes comedy films and this has made him into some kind of comedian. It is noteworthy that the actor once maintained that he is not a standup comedian. However, he explained that gets called to events all over the world just to do a show of comedy at public functions. Apparently, he rakes in money from these shows as well.
The actor is also known to host public events. He often attracts very large crowds to these events because of his star power.