We know for certain that Nandi Mbatha, a South African actress and model had her first known boyfriend at the age of 26. From the looks of things, the runway queen seems to be only interested in dating high-profile men from musicians to actors. If we are to start taking count from Tellaman who happens to be her first known lover, we would not be far from the truth to surmise that the Isithembiso actress has already dated three men and is currently with the fourth.
Who Has Nandi Mbatha Dated Since Her Emergence to the Limelight
In her early twenties, Nandi Mbatha's love life is quite busy as she is known to have dated a good number of men who she met under various circumstances. However, while some ladies will cling to these men, she has not hesitated to move on if she sees the relationship is not working.
Tellaman (Thelumusa Samuel Owen)
Real name: Thelumusa Samuel Owen
Date of Birth: 14th of April 1991
Age: 32 years old
Occupation: Singer, Record Producer, Songwriter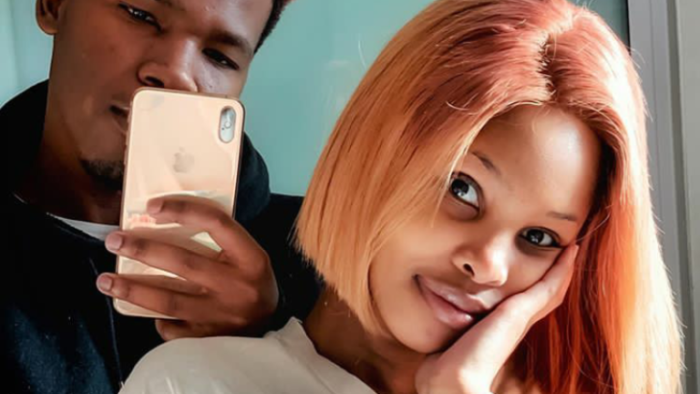 Tellaman is a popular South African vocalist. Nandi Mbatha revealed how she came to love Tellaman's chill vibes as she was able to manage her anxiety through his energy. She was diagnosed with anxiety disorder and has a problem being normal while in public. To remain calm, the actress has for a long time been on special medication called Rescue Remedy.
The duo kept things under wraps when they started dating but trust fans to dig up hidden facts. Speculation about their dating started on a small scale and in no time, it gained ground. However, in May 2019, the SA singer confirmed his dalliance with the Isithembiso actress. He took to Instagram to share Nandi's photo with the suggestive caption "I'm Glad". With the level of curiosity about the duo, fans even needed less to draw a conclusion and that post was spot on.
However, just like many other celebrity relationships, the Nandi/Tellaman union lasted only a few months before it hit the rocks. According to speculations, the duo took the decision to call it quits as Tellaman who is focused on expanding his career and creating more wealth couldn't stop long enough to spend quality time with Nandi. Besides, Nandi Mbatha on her own part already had it up to her neck and couldn't take it anymore.
The talk about the two celebs breaking up started with speculations and ended with speculations since neither of the two parties deemed it necessary to clarify fans on the major reasons for their separation. Besides, we cannot really tell if their split was an amicable one; thus, it is not known whether they remained friends.
Mpho Mtosi
Name: Mpho Motsi
Year of Birth: 1996
Age: 27 years old
Occupation: Creative at Quiteria Atelier
#SunMet2020 #AfricanLuxury_Visionaries
FUN 😁💕 pic.twitter.com/2at8cawb7x

— Nandi Mbatha🇿🇦 (@nandii_m) February 1, 2020
Nandi Mbatha's relationship with Mpho Motsi was the outcome of a chanced meeting between the duo at the Quiteria Atelier studio where the actress went for fittings. Mtosi who was a then-junior creative director with the company engaged the SA star in a conversation that revealed how much they had in common. This happened shortly after she finished with Tellaman. From talking, Nandi and Mtosi became quite close and naturally, their relationship got intimate.
The duo met on the job and the same job takes the credit for embittering their relationship. The prelude to the end of their dalliance happened during the Paris Fashion Week when Quiteria repudiates the release of Nandi's photoshoot images slated to be used for her portfolio. The actress who didn't take it too well got disappointed along the line and it greatly affected the relationship they had. The two ended things earlier in 2020 without letting the public into the details of their short-lived relationship. To date, no one knows how amicable it was while it lasted, why they ended it, and how well they relate after their split.
However, a source who begged to remain anonymous came up with a few insights, according to the person, Nandi Mbatha was very disappointed that Quiteria was reluctant to assist her in advancing her brand which she deemed as sabotage.
Naak MusiQ (Anga Makubalo)
Full Name: Anga Makubalo
Date of Birth: May 28, 1987
Age: 36 years old
Occupation: Musical Artist
After Nandi Mbatha's split with Mtosi, she soon surfaced on the relationship scene again. Though the model and actress tried to keep it shrouded, her name was soon linked to Naak MusiQ, – the New Brighton, Port Elizabeth-born celeb actor and singer whose real name is Anga Makubalo. Within a short while, rumors started running rife about the duo, to the disappointment of fans, neither of them came up with a confirmation or a rebuttal.
Even as they continued to maintain a low-key relationship, it didn't take Nandi long to make the slip that convinced fans that they were actually dating. The SA actress took to social media to share the photo of a masked man sporting a tattooed leg that was just too similar to Naak MusiQ's leg tattoo. The last piece of the jigsaw was connected after Anga shared his own photo where the singer was seen wearing the same outfit spotted on the masked-up man in Nandi's post.
Because of how secretive the duo was with their relationship, the details about when and how they met became a hard nut to crack. However, it was suspected that their path crossed on set since the two are heavily involved in the movie world. Rumors also said they first became friends before deciding to take things to a higher level.
The two lovers allegedly separated towards the end of 2020 and the reasons for their split have remained undisclosed to date. Though Nandi Mbatha's ex kept mute about the whole thing, speculations are that he left the actress to focus on his singing career. They were previously following each other on IG but wasted no time in deleting each other's photos and unfollowing themselves immediately their dalliance hit the rocks. The rumors got more interesting with the tales of how Nandi was allegedly thrown out of Naak MusiQ's house and she had to squat somewhere with a friend. After the actress trash-talked men, tagging them as people who don't take women seriously, fans came to believe that they really split.
So, Who Is Nandi Dating Now?
Seeing the list of notable celebrities Nandi dated in the past, some would believe that she would be sicker of love but that is far from being the truth. The South African celebrity has handled each of her failed (supposedly failed) relationships with optimism and is always quick to put it behind her. Perhaps, this is why she doesn't take time to fall in love again and this time around she's believed to have fallen in love with yet another celeb -Junior Khathi.
Tank The Rockstar (Junior Khathi)
Full Name: Junior Khathi
Date of Birth: Unknown
Occupation: Musical Artist
From what is obvious, Nandi Mbatha is only attracted to fellow celebrities. Recently, speculations linked her name to Tank The Rockstar – a fast-rising South African singer. Junior Khathi is his real name and he is the son of DJ Tira – a legendary SA musical artist. It would appear that the duo wishes to lock fans out as they haven't confirmed being an item. However, that did not stop them from sharing photos of themselves on each other's Instagram.