Bishop Makamu is one of the more popular pastors in South Africa. He is known for his televangelism which happens not just on TV but on radio as well. He is also the host of Rea Tsotella – one of the more popular shows in South Africa. Makamu also offers mentorship programs and is primarily known for his ideas on how the Christain faith is under attack.
Outside of his work life, Bishop Makamu has his wife Hlonifile by his side. The couple have been through a lot but have chosen to remain together through everything. Makamu being a public figure, has exposed several aspects of his life and family to the public eye's scrutiny. He has been embroiled in sexual scandals that have also resulted in some arrests. Despite all this, Bishop Makamu has maintained that he is innocent and that this is the work of the devil. He says that his enemies are trying to ruin his good name.
Bishop Makamu's Wife Is A Trained Nurse
Bishop Makamu has been married for close to two decades and the woman with whom he has had this union is none other than Hloniphile. In the past, the couple were very open about their relationship, its origins, and how well they fit together. Makamu detailed how he mustered up the courage to ask his wife out the first day he met her at a taxi park in 2003.
According to the Bishop, the first time he saw his wife he was at a taxi park where he had just dropped off his friend. He had seen Hloniphile where she stood close to a traffic light, this followed with him making inquiries about who she was, and a week after he mustered the courage to talk to her.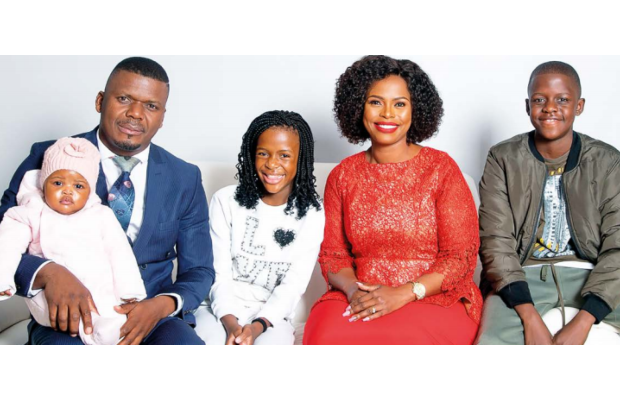 Hloniphile was at the time still a student when all of this happened. She was studying Nursing at the prestigious Ann Latsky Nursing College in Johannesburg. The then 19-year-old revealed that she was very nervous about having a relationship with a pastor. But because she was also from a Christain home, she found it easier to relate to Makamu seeing as they already shared some of the same values. According to her, the opportunity to be his wife can only be described as a calling from God.
From all indications, Hloniphile completed her degree in Nursing and at a point in time, studied at the University of Johannesburg. She has also revealed that she worked at the Gauteng Department of Health, but it is not clear what work she did at this establishment.
When the couple got married, neither of them was as popular as they currently are. As a result of this, the details of the ceremony they had remain unknown. One thing that is certain about their marriage is Hloniphile's dedication to her husband and his ministry. She is fully immersed in the work that he does and supports him wholeheartedly. The couple is blessed with three children; Ntwanano, Ntokozo, and Ntsumi.
The Scandal That Almost Ruined His Marriage And Ministry
Sometime in May of 2021, Bishop Makamu's name circulated in the press for the wrong reasons. An audio clip of him soliciting for what seemed like sexual favors from a member of his church was leaked. In the audio clip, Makamu is obviously on the phone with a young woman who refers to him as "daddy". He is heard asking of the location of the other person on the other end of the line, confirming if she is home and if she will "give him that thing" – a euphemism for sex. However, she does not give consent to this but Makamu continues to coerce her until she buckles under the pressure and implies that she will give it to him on Sunday, the next time they are meant to see.
After the tape leaked, rumors about Bishop Makamu and his wife, especially Makamu himself, began to circulate. On one hand, his integrity as a man of God came into question, and then there were the questions about his devotion to his wife. Makamu denied the allegations stating that he is a man of God and will never solicit sex from another woman who is not his wife or attempt to commit adultery. Bishop Makamu claimed that the entire conversation was a joke and that he was only playing with the girl on the other end of the phone. According to him, asking for sex from his employees or the members of his church was something he would never do.
Moreover, it would be despicable of him to do such, as he loves his wife and will never do anything that would embarrass her. He also released a statement where he said that the conversation was from 2017 and it had also been altered to extort some money from him. All of this fell on deaf ears as no one was convinced that he did not really mean all that he said on the call. On a more serious note, he was charged to court on counts of sexual assault by the woman in the recording. All of this contributed to the disgrace of the Bishop.
Consequences of Bishop Makamu's Actions
Bishop Makamu is a public figure who has a wide reach with his church and works as a televangelist and the host of a show on Moja Love. However, as a result of this, he lost some of his credibility and his job with Moja Love. The producers of the show released a statement on their decision which was an acknowledgment of Makamu's decision to step down from not just the show but the channel as well. But he was not the only person who suffered from his actions.
A social media hunt for who the woman Makamu attempted to make his mistress began. Pictures of a number of women who were suspected to be the other person on the line started to circulate. In one case, it was his niece that was accused of being the other person on the phone, which he cleared up. The picture of another woman came up to which her colleagues quickly stated that she was the wrong woman as she would never be involved in this. So asides from the disgrace and shame that he brought to his wife and family, he also disgraced several of his friends.
How Did Bishop Makamu's Marriage Survive His Cheating Scandal?
As expected, people worried about the impact the scandal would have on the relationship of Bishop Makamu and his wife Hloniphile. There were also worries that the court case and scandal will ruin his marriage. While the entire event unfolded, Hloniphile made no comments about the accusations. She stood by her husband's side, the perfect image of a dutiful wife. To date, she has not really said anything about the case, how it made her feel, or aired her thoughts on the entire scandal.
Moreover, it appears that Bishop Makamu has been re-instated as host of Rea Tsotella as at July 2021. According to the official statement released by the channel, they decided to reinstate him after careful consideration, evaluation, and mediation between the parties involved. They reconciled and agreed on an amicable way forward.
Solomon Ashoms, a close friend of the woman's family who has been serving as a mediator between them and Makamu, revealed that the Bishop has allegedly filed a lawsuit in which he was demanding R5 million for defamation of character. As it stands, all the involved parties have chosen not to make comments on the issue since it is already in court.