Samuel Chukwueze is a Nigerian football player with a net worth of $5 Million. The attacker, who currently plays club football for Spanish La Liga side Villarreal CF, earns an annual salary of £1,144,000.
With the huge pay that rolls in from his football career, the young player has not disappointed in conforming with the signature extravagant lifestyle that is synonymous with present-day celebrities. He drives various ostentatious vehicles, like the Mercedes Benz CLA 250 4MATIC and a Ferrari, and owns a number of houses.
Samuel Chukwueze's International Career Profile
In October 2018, Samuel Chukwueze received a call-up to the Nigerian senior soccer team but recorded his debut on the 20th of November 2018. His debut saw him play a friendly against The Ugandan Cranes which ended in a goalless draw. So far, the winger has gone ahead to represent his home country in a total of 13 matches.
His 13 matches have not gone without recording goals. His first goal materialized during the 2019 African Cup of Nations where Nigeria took on South Africa in Egypt during the quarter-finals, winning bronze in the end. Goal number two came during the qualifiers for the 2021 African Cup of Nations against Lesotho.
As his time with the Nigerian national team progresses, the young player has continued to grow in confidence. The 2019 AFCON tournament, saw him as a mainstay in the squad's starting 11 (under coach Gernot Rohr) and it is predicted that he may remain in that position for a long while.
The Winger's Club Career Profile
Samuel Chukuweze has always been a soccer enthusiast and began to actively play at the age of 8. He draws inspiration from Austin Jay Jay Okocha – the Nigerian football legend whom he holds in great admiration. His early days as a player saw the youngster play with several youth teams before he decided to pitch his tent with Diamond Football Academy in his home town of Umuahia in Abia State Nigeria.
It was from Diamond Football Academy that the Samuel Chukwueze moved to Europe in 2018 to join Villarreal – a Spanish outfit. Villarreal first tried him out in their junior B team before he was deemed qualified to go spread his wings in the senior team; this happened during the 2018/2019 season. Samuel Chukuweze made an immediate impact in the club's first-team squad, recording head-turning performances. Particularly, instances are cited in Villarreal's matches against FC Barcelona, as well as the Spanish giants Real Madrid; he assisted and also scored in these games respectively.
Samuel's remarkable performances so far have not gone unnoticed by the authorities, UEFA has touted him among the top 50 youngsters to watch out for in world football. As his football reputation grows, he is attracting suitors from top clubs who are looking to hire his services. So far, the Nigerian-born footballer has played a total of 52 games for the yellow submarines and in the process, netting eight goals. These are the clubs he has played for so far
• Diamond Football Academy
• Villarreal
• Nigerian National Team
Chukwueze's Current Remuneration is Quite Promising
Considering where Samuel Chukwueze is coming from, the Nigerian footballer is not doing badly at all as he is gradually rising through the ranks. As we all know, most clubs frown at the public declaration of their players' wages but the Nigerian winger's case seems to be different. Going by the reports from Salary Sports, the winger is receiving £22,000 weekly and £1,144,000 per annum from his ongoing deal with Villarreal CF.
A conversion of the footballer's wages in Nigerian currency shows that Samuel Chukwueze takes home more than ten million naira on a weekly basis and his annual remuneration is around to ₦500,000,000. Even after tax, the soccer player will still end up with a tidy amount annually.
According to sources, the winger's previous deal with Villarreal CF was inked in October 2019. He was slated to remain with the Spanish club until June 2023 but has since renewed the deal. Though his exploits in the field of play have been catching the attention of suitors, his release clause has been pegged at €100 million just to discourage such suitors. The €100 million is for his first two years with Villarreal and €80 million from his 3rd year.
Samuel Chukwueze is Worth a Tidy $5 Million
For a winger who has spent barely a couple of years in professional football, Samuel Chukwueze is just doing great with a net worth last estimated at $5,000,000. Arguably, his fortune is accrued from his earnings as a footballer as there seem to be no known endorsement deals attached to his name.
However, this is not to say that Chukwueze will not score any lucrative deals in the nearest future as his popularity grows. Besides, both the player's market value and net worth keep increasing as time rolls by; his market value was last estimated at €30 million.
Here is a breakdown of his remunerations.
• Weekly Salary: £22,000
• Annual Salary: £1,144,000
• Net Worth: $5,000,000
• Market Value: €30 million
• Release Clause: €100 million, down to €80 million
Samuel Chukwueze's House and Cars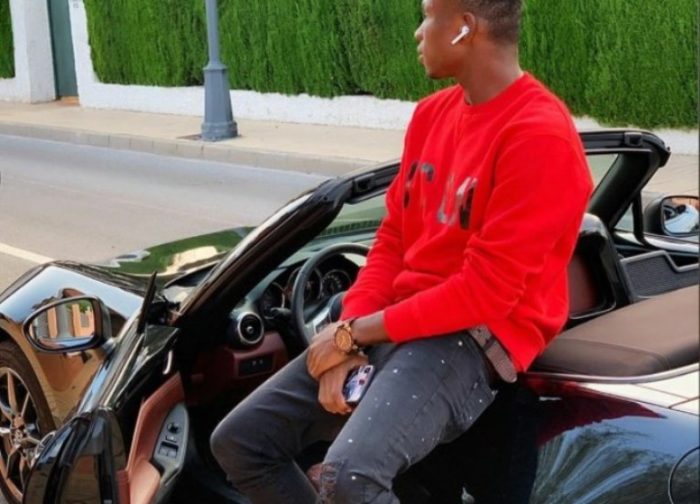 Very little is known about Samuel Chukwueze's automobiles and landed properties, but according to reports, the footballer is far from impoverished. Not long ago, he was spotted with a flamboyant Mazda MX-5 Miata which is an affordable sports cage with a market value that ranges from $25,000 to $30,000.
Sometime in 2019, Chukwueze's name hit the airwaves when he surfaced online with a Ferrari worth about ₦98 million. This gave rise to a heated argument where fans gave voice to divergent views on how appropriate it is for a young soccer player to maintain a car of that caliber. The crux of their argument was that the particular automobile might just be too expensive for him to handle at that level.
However, the Villareal man was quick to nip all arguments in the bud, coming up with a reasonable explanation that suggested he was not the owner of the car. Samuel Chukwueze's denial of ownership of the extravagant car did not stop the player from acquiring a plush Mercedes Benz CLA 250 4MATIC which he wasted no time in flaunting on his Instagram. This happened just before Villarreal CF's match against Real Sociedad.
The young footballer was spotted in flashy jeans and a lengthy suit, complete with a pair of white trainers and black sunshade while cruising the streets of Spain in his luxury ride. In his reaction to the congratulatory messages from fans, the Nigerian-born footballer gives God the credit for his recorded success so far.
On property acquisition, we are yet to see any landed property linked to the soccer player's name which may mean that it is still early days for him to start exploring the real estate market. With that said, the youngster's wardrobe is a testament to how lavishly he spends; Samuel Chukwueze has been spotted on several occasions donning expensive attires and he has been displaying rather pricey phones lately. Being a footballer, he has a history with private jets.