Adams Oshiomhole is a notable Nigerian politician who most recently served as the former National Chairman of the All Progressive Congress political party. From 1999 to 2007, he was the President of the Nigeria Labour Congress, and from 2008 to 2016, he was the Executive Governor of Edo State, Nigeria. He is currently one of the highly decorated politicians in the country and for his long years in the Nigerian political scene, he also ranks among the wealthiest politicians, with an estimated net worth of $450 million.
Adams Oshiomole's Career Started With The Labour Union
Oshiomhole hails from Edo State in Southern Nigeria where he grew up. He was fortunate enough to get manufacturing work in Kaduna with Arewa Textiles. His coworkers quickly elected him to the position of union secretary and not too long after that, he launched a shop-floor uprising in 1971 in response to poor labor practices at his workplace. He eventually became a full-time labor union organizer 4 years later.
The vibrant youthful Oshiomole then joined the National Union of Textile Garment and Tailoring Workers of Nigeria as general secretary and chief executive in 1982. According to a 2017 assessment on the union's fortunes, the textile sector employed up to 500,000 workers directly during its peak in the 1980s, making it the second-largest employer after the government. As a result, Oshiomhole became one of Nigeria's most powerful trade union leaders.
With the restoration of democracy, Oshiomhole, who was already well-known, was elected president of the NLC in 1999. Oshiomhole quickly became the idol of all workers battling anti-labor practices and inspiring mass action through his oratory prowess in political disputes. More so, as president of the NLC, Oshiomhole had some of his most heroic moments. Workers embarked on general strikes 7 times while he was in office. These protests were mostly over wage increases, but they also opposed deregulation of the oil industry and the continuation of structural adjustment programs.
His First Political Position Was As Governor Of Edo State
Adams Oshiomhole became involved in electoral politics in 2002 when he assisted in the formation of the Labor Party (technically it was established as the Party for Social Democracy (PSD) in 2002 and became the Labor Party at its first convention on 28th February 2004). With luck on his side, his popularity soared as a Labour Party leader, and to gain more influence, the party formed a strategic alliance with the Action Congress Party, and he ran for governor of Edo State in 2007. However, his main opponent, Oserheimen Osunbor of the People's Democratic Party (PDP), was pronounced the winner at the end of the election. The decision was appealed on November 11th, 2008 at the federal appeals court, and Oshiomole was declared the winner.
Four years later, after the 2012 Edo State gubernatorial election, Adams was elected to a second term, winning the elections in a massive landslide. He would go on to establish a following in mainstream politics, wearing his trademark khaki "comrade's jacket" as he became widely known as OshioBaba. He ended his tenure on the 12th day of November 2016.
Oshiomhole's Achievements As Governor
During his tenure as Governor of Edo State, Adams Oshiomole established a following for all the work he had done. All the roads in the cities of his state were equipped with street lights, walkways, and waste disposal centers. He also commenced electrification projects in communities that did not have electricity and produced what became known as Comrade City Bus.
Oshiomole also had water projects in Edo Central – the lack of water in the area had been a long-standing issue. This was what prompted the Governor to import water drilling machines and declare that they would begin in Uromi. His outstanding leadership abilities were also seen in the effective way he handled salary arrears which were paid off in full.
Still, in the bid to serve the people of Edo State better, he promoted youth employment and empowerment, as well as raising the minimum pay for public employees. Dilapidated schools reopened in Edo State, and "red roofs" peppered the landscape. Then to put Edo State back on the map, he restored the Samuel Ogbemudia Stadium and started the Okpekpe Road Race. By doing this, Oshiomhole energized and reinforced his party's machinery, allowing them to gain grassroots support.
Recap of the Groundbreaking Achievements of Adams Oshiomole's 8-Year Tenure as Governor
Road Construction
Water Drilling Projects
Education
The one-man-one-vote movement
De-mystifying Political godfathers
Health Promotion
Job Creation
Sports Improvement
Culture, and Tourism Development
His Tenure As Governor Was Not Hitch Free
Although Adams Oshiomole's time as Edo State governor recorded some notable accomplishments, he still faced some form of public backlash especially with regards to his family life. The politician, who lost his first wife Clara Oshiomole in 2010, finally decided to remarry again sometime in 2015 to his current wife, Cape Verdean Lara Oshiomole.
Although not much is gathered about how their romance started, the pair tied the knot in a glamorous wedding in 2015. However, his marriage to Lara was met with mixed feelings as some felt he married a lady young enough to be his daughter while others speculated that he married Lara because she was a former model. Adams Oshiomole would eventually refute all the claims that his wife is or was a model and added that she was only the model of his dear heart.
Adams Oshiomole Had A Brief Stay As APC Chairman
Following a vote by delegates at the party's national convention on June 23, 2018, Adams Oshiomhole was elected national chairman of the All Progressives Congress (APC) in Nigeria. However, his new political position came with a lot of controversies, and a little over a year into it, he was suspended from office.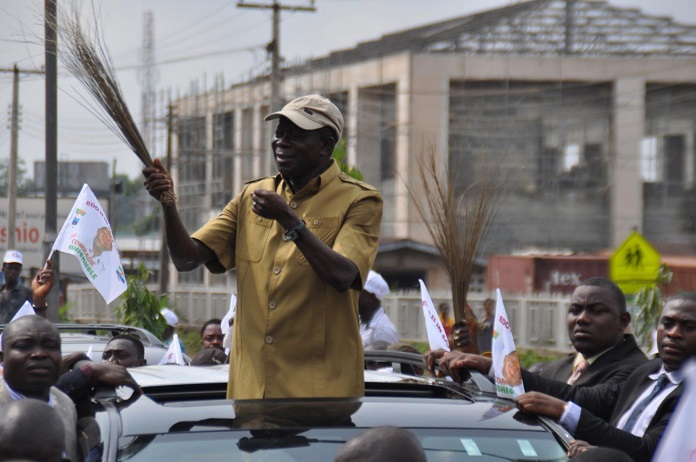 The court affirmed his suspension from the APC on November 12, 2019, bringing his political career to an end in mid-2020. This actually happened after 18 Local Government Chairmen in Oshiomhole's home state of Edo gave him a no-confidence vote. According to what was gathered, he was being accused of attempting to split the party in Edo State. However, a portion of Oshiomhole's party proclaimed his suspension null and void and then suspended state governor Godwin Obaseki, whom they claim arranged Oshiomhole's suspension.
His Feud With Godwin Obaseki Triggered His Political Crisis
The beginning of the end as APC chairman for Oshiomole began with his rift with Obaseki, the current governor of Edo State. Their long-running feud had the potential to derail the governor's bid for a second term and even prevent the APC from winning the upcoming governorship race in Edo state. Godwin Obaseki claimed that Adams Oshiomhole had hampered the APC's decision-making process in Edo state.
However, a couple of years ago, Adams as the governor of Edo State overcame all odds to help Obaseki succeed him as governor in 2016. He actually chose Godwin Obaseki as his successor during their political honeymoon, calling him the "brain and creativity" behind his Edo State administration. As envisioned, Obaseki was elected governor, and Oshiomhole was elected national chairman of their ruling party – the APC.
Unfortunately, shortly after Obaseki took office, the two men's political comradeship began to fall apart. The schism was initially mild, but it became apparent soon after and got worse over time until their ultimate split. Oshiomole was actually the first casualty from the feud, with his suspension by his local ward in Edo State, allegedly manipulated by the incumbent governor. It is widely believed that Obaseki was used to persuade the court to remove Oshiomole from his position as the APC national chairman.
Godwin Obaseki would eventually suffer his own bitter pill when he was disqualified from the APC governorship primary due to purported irregularities in his academic credentials, a conspiracy some suspect was orchestrated by Adams Oshiomhole. Obaseki would move to the Peoples Democratic Party (PDP), where he immediately renewed his reelection attempt.
There were intrigues, sackings, litigations, and threats throughout the conflict between the two, and by extension within the APC.
More Complications Followed His Suspension 
Edo APC eventually reaffirmed Oshiomhole's suspension on January 15, 2020, saying he had no legal right to continue as APC National Chairman because of his suspension in Edo State. On March 4, 2020, a High Court in Abuja ordered Oshiomhole's removal from the position of National Chairman of the APC, stating that having been suspended from the party. Oshiomhole was no longer a member of the party and could not continue to execute his official responsibilities as national chairman with a clear order of the court that Oshiomhole is restricted to the national secretariat of the party. To prevent Oshiomhole from entering the secretariat, armed security agents from the Police, Department of State Service (DSS), and Civil Defense were extensively deployed.
A Federal High Court in Kano issued a new judgment on March 5, 2020, contradicting the decision of the Federal Capital Territory (FCT) High Court and restoring Oshiomhole as the APC's National Chairman. This caused confusion as to which verdict should be followed because both courts (FCT High Court and Federal High Court Kano) have equal jurisdiction and neither can overturn the other's ruling. Oshiomole filed an appeal against his suspension with the Abuja Court of Appeal, which upheld his suspension on June 16, 2020.
Achievements As APC National Chairman
Adams Oshiomhole, the former National Chairman of the ruling All Progressives Congress (APC), has disclosed his proudest moment in government. Apart from triumphing to become the leader of the ruling party, he stated that when the APC took over Kwara State and replaced the Saraki political dynasty, it was his proudest moment and achievement in politics.
The family of the former Senate President, Bukola Saraki, who is a member of the PDP, had previously wielded political power in Kwara State. The APC, on the other hand, had shifted the narrative by electing governors and senators.
Adams Oshiomole's Earnings Over The Years
Being a Labour leader does not translate to much in terms of wealth and money. Therefore, it could be said that Oshiomole amassed his current net worth of $450 million as a result of stepping into politics. More so, it is not a secret that Nigerian politicians are some of the wealthiest politicians in the world. Below are estimated figures of what Adams Oshiomole must have earned as a State Governor:
The initial salary is N2,223,705
Leave allowance of N222,370.50
A car loan equivalent to 400% of the annual basic pay
Gratuity at the conclusion of tenure is N6,671,115
The total salary in a year is pegged at N11,540,89
Figures of his earnings as the national chairman of the All Progressive Congress are not known but it is clearly a prestigious position that comes with a slew of monetary and political perks.
He Reportedly Constructed A Mansion Worth 10.8 Billion Naira
Due to his enormous riches, the politician is able to own some of the most valuable items. More so, since his source of wealth is mainly traced to politics, Oshiomhole has been accused in the past of using public funds to erect lavish houses. One of such allegations can be traced back to 2012 when one of his alleged properties received media attention.
Oshiomole was reportedly summoned to explain the construction of a 10.8 billion naira mansion ahead of the governorship election in Edo State on July 14, 2012. However, he refuted the speculations that he owned such a lavish house during a televised debate hosted by the Nigeria Election Debate Group (NEDG). He disclosed that, contrary to popular belief, he was only building a four-bedroom guest house which was an extension to his home located in Iyamho that he built back in 1991.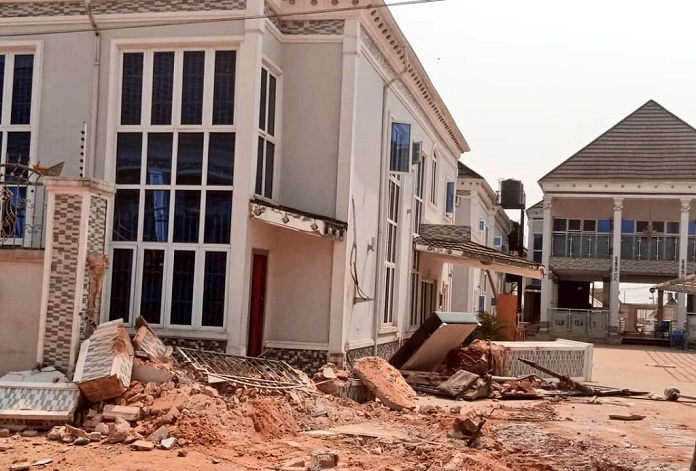 The former Edo State Governor was also involved in another property controversy in 2020 which lead to its demolition. According to what was gathered, the property which was the T.Latifa Hotel actually belonged to Kabaka – Mr. Tony Adun, who is an associate of Adams Oshiomole. The land on which the said hotel was erected belonged to the Edo Government and the hotel was marked for demolition because of its wrong location. The demolition also included several other structures which the government deemed to have been built on wrong sites.