At 20 years of age, Barcelona winger Ansu Fati has already amassed a fortune in excess of 2 million Euros. However, there are sources that believe his net worth has exceeded 3.4 million Euros. Whichever may be the case, it is glaring that Ansu who is aptly called 'The Jewel of La Masia' is doing exceedingly great in his football career even though he has barely spent one full season as a professional.
"The Future of Barcelona FC" as Ansu is often called was actually born in his native country of Guinea Bissau where his father played football before retiring and relocating his family abroad. It was after they put down roots in Herera, Spain that Fati settled down to learn how to play football and subsequently launched his football career at the age of 10 in 2012. Since then, the Barcelona winger has been doing exploits in the field of play, breaking several records, including those that have been existing before he was even born.
An Interesting Tale of Ansu Fati's Early Start In Football
At a point in his life, Ansu Fati's father, ex-Guinea-Bissau football player Bori Fati, decided to move to Portugal with his family. From there, he relocated them to Marinaleda, Seville, Spain, where he drove a taxi to put food on the table. The Fati family finally settled down in Herera where the emerging star proceeded to learn how to play football. According to reports, Ansu almost joined Real Madrid's youth academy but the lure and attraction posed by Barcelona, in addition to his father's counsel, led him to the world-famous La Masia academy in 2012. It was an opportunity of a lifetime for the then 10-year-old Ansu who had already honed his skills playing with the youth teams of both CDF Herrera and Sevilla FC. Important to note that his big brother made a similar move a year earlier.
As earlier mentioned, growing with Barcelona's La Masia academy was viewed as an opportunity too good for any ambitious footballer to miss. For one, it was the academy that churned out soccer greats like Lionel Messi, and no doubt, Ansu Fati also viewed it as a significant draw.
Coming into La Masia, the blossoming winger wasted no time in putting his stellar prowess on exhibition. During his stint with the youth team, Ansu's performance was deemed to be so good that he drew the attention of the bosses at Camp Nou who were completely amazed by his field antics. This resulted in a straight promotion to Barcelona's first team.
He Has Achieved Much In His Young Career
Ansu Fati was going on 17 on the 24th of July 2019 when he began playing football on a professional level. With the stellar record he left at La Masia academy, it goes without mention that he would ink his first deal with Barcelona. The deal inked in 2019 is expected to keep the winger with the Catalan club well into 2022. Besides, it made Ansu the second-youngest footballer to debut for Barcelona at just the age of 16 years and 298 days.
Coming from a youth academy like La Masia that has produced soccer legends like Andres Iniesta, Xavi Hernandez, Gerard Pique, Carles Puyol, Cesc Fabregas, and the greatest of all, Lionel Messi, expectations were at sky level for the youngster as he made his professional debut. True to expectations, the winger was just in his first season with Barcelona when he started breaking records.
Scoring in a 2-2 draw against Osasuna at 16 years and 304 days made him Barcelona's youngest goal scorer ever. That was just one side of the story, the same match projected the La Masia alum as the youngest footballer in La Liga's history to score and assist. What made this feat even more fascinating is the fact that it was Ansu's first-ever start for the Catalana club.
Ansu Fati's performance at the Barcelona/Osasuna match was just the first of several to come as he broke yet another record by emerging as Barca's youngest player to make an appearance in the UEFA Champions League; this happened in a match against Borussia Dortmund. Before the end of the Champions League, the La Masia product was named the competition's youngest goal-scorer at the age of 17 years and 40 days.
As if that was not enough, Ansu scored the winning goal when Barca came against Inter Milan. At this stage in his career life, fans already began associating the Guinea Bissau native with record-breaking feats; thus, it came as no surprise when he went ahead to score a brace in a 2-1 victory over Levante. Following that, he emerged as the youngest footballer in La Liga history to score a couple of goals in just a single game.
An update of his record with the Catalana club shows that Ansu Fati has already recorded 24 appearances with Barca, scoring seven goals in the process. The amazing winger was able to achieve all this just within the 2019-2020 La Liga season. Comparing him to Lionel Messi, fans have to come to view the teenage footballer as a player that has raised the bar sky-high. The reason is that even the greatest product that ever came out of La Masia (Messi) never broke that many records during his debut season in the Barca senior team.
However, this kid from the third world country of Guinea Bissau was able to achieve all these and more, and needless to say, it puts his stellar ability and natural talent in the world view. Save for the injury that set him back, Ansu was already earmarked as a player to watch out for in the next season. However, he is fast recovering and already warming up for what lies ahead.
Ansu Fati Has Chosen To Represent Spain At National Level
This may sound surprising to many but the Guinea-Bissau-born football player has never represented his homeland at any level. Needless to say, it was an opportunity too good for the Spanish Football Federation to miss. Going by the recent reports, the SFF already jumped at the opportunity and has since granted the young player Spanish citizenship to enable him to play for their national team.
Reports also said that Ansu received Spanish citizenship on the 20th of September 2019 and from what is perceivable, any other country in the same position would do exactly like Spain as a player of Fati's ilk is an asset. The player went on to feature for the Spanish Under 21 team, making his debut in 2019 in a game against Montenegro. He later received his first call up to the Spanish senior team for their games in the 2020–21 UEFA Nations League.
Breakdown Of What Is Believed To Be Ansu Fati's Net Worth
Since his emergence as a professional football player, we have seen a plethora of variations in the Barcelona winger's total net worth. According to the majority of sources, Ansu Fati is currently worth around €2 million, however, there are still many other media outlets that have gone ahead to peg it as high as €3.4 million. With this development, it would be better to say that the teenage footballer's real worth is yet to be truly ascertained.
Talking about the sources of the Guinea Bissau native's fortune, it is glaring that he has been earning from his career in football. However, the megabucks just started rolling in as he inked his first deal with Barcelona FC as a professional in 2019.
With that said, it is important to note that Ansu's entire fortune did not accrue from only football even though it is credited as the major source of his income. The teenage star has since attracted the attention of A-list brands and is already enjoying the pecks that come with being a brand ambassador. Thus, his sources of income, for now, are said to be from football contracts and endorsements.
A Look At How Much He Has Earned From Contracts
When Ansu Fati first joined Barcelona during his pre-professional days, the initial agreement was that they will keep him for five years, a period he was expected to be getting a bonus of €700,000. However, this hinged on his continued stay with the youth team – FC Barcelona B. Continuing with the youth team meant an annual remuneration of €300,000. On the flip side, if he eventually gets called up to the senior side, his earnings would be upped to €1,000,000 annually. The fine lines of the deal also stipulated that his first three years could see an increment of €250,000 per year added to his initial €1,000,000.
After "The Jewel of La Masia" signed his first deal as a professional footballer with FC Barcelona, it was reported that the young winger was now entitled to earn a salary in the same manner as other senior players in the Catalana club. A report surfaced in August 2019 claiming that the winger, who is now rightfully regarded as the future of Barcelona football club, will be netting an astounding 2.5 million Euros/2.24 million pounds on a yearly basis.
Crunching the numbers means that the acclaimed "Lionel Messi's heir apparent" will be earning a daily income that will surpass what a well-paid worker may earn in 365 days.
Below is a breakdown of his remuneration, per year, month, week, day, and hour!
| | | | |
| --- | --- | --- | --- |
| SN | Duration | Income in Pounds | Income in Euros |
| 1. | Per Year | €2,500,000 | £2,173,913 |
| 2. | Per Month | €208,333 | £181,159 |
| 3. | Per Week | €48,077 | £41,806 |
| 4. | Per day | €6,849 | £5,956 |
| 5. | Per hour | €285 | £248 |
| 6. | Per-minute | €5 | £4 |
There is A Huge Release Clause In His Contract
For a teenage footballer who is just in his first season as a professional player, Ansu Fati's value is a subject worth scrutinizing. After he inked the contract with FC Barcelona, the Catalana club put the astounding sum of €170 million as a release clause for the young football star. With that said, any club that wishes to sign him on must be ready to part with that amount.
Endorsements and Sponsorship Deals
Many are surprised that the wonder kid of Barcelona has already attracted the attention of A-list brands like Nike. However, those who are abreast with history know that Ansu Fati's case is comparable to that of young Stephen Curry who was overlooked by Nike during his pre-fame days.
Even though the American multinational corporation has a plethora of world-famous athletes endorsing their brand, their mistake of not snapping Curry up when they had the opportunity has continued to hunt them. The reason is that Under Armour which signed Steph up recorded astronomical growth on a global scale as the American professional basketball player attained superstar status within a very short time.
Thus, in order to avoid making the same mistake, Nike wasted no time in signing the Barca winger up. He is currently the company's brand ambassador for one of its new products known as Nike Mercurial Superfly VII Elite. The details of this particular contract are not in the public space, making it impossible to know exactly how much is in it for the winger, but reports already claimed that it is worth millions. Besides, Nike is well aware of the unending advantages of having superstars represent your brand, thus the news does not come as a surprise.
Within a short expanse of time, he signed another brand ambassadorial contract with the Cupra brand. Though the worth of the contract is equally not known, it came with an additional benefit of a customized car.
With that said, we must acknowledge the fact that the Nike and Cupra deals are just the first of many to come as Ansu Fati is fast becoming a household name in the sports world and brands are already queuing up to sign him on.
A Peek At Ansu Fati's Lifestyle
Ansu Fati is still quite young, so it is somewhat difficult to say exactly the kind of lifestyle he will favor. Besides, since he came into adulthood, the Barca wonder kid has been in the hospital recuperating from a knee injury that put him off football for several months. With that said, we would not be far from the truth to say that he has not had the ample opportunity of enjoying his newly found wealth.
Where Does The Teenage Footballer Live?
Even though he has not really started enjoying life as an adult due to his long stay in the hospital, the youngster is said to be a resident of Catalunya in Spain – the same location where his family lives. This has led so many sources to claim that he still lives in the same house with his parents which may not be far from the truth.
Members of the Fati clan include Bori and Lurdes Fati – parents, Brahimi and Miguel Fati – brothers, and Djeny and Djucu Fati – sisters. Ansu who is considered to be remarkably mature for his age has become his family's chief provider even though he is not the oldest child.
What Brand of Car Does Ansu Drive?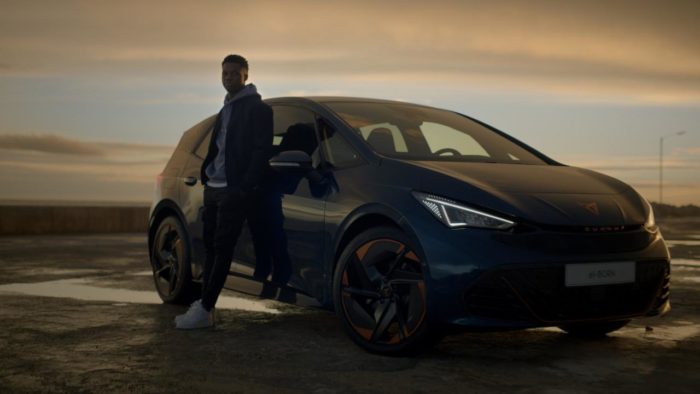 When the Barca winger became the Cupra brand ambassador, he took delivery of a Cupra Formentor as a benefit from the deal. The price of that particular version of the brand is not known but reports said the lower end of the range is around $50,000. As it is now, Ansu is not yet qualified to splurge around town in his new acquisition because he is yet to get a driver's license even though he already turned 18. After the footballer passed the theoretical exam for acquiring a driving license, the CORONA Virus pandemic, coupled with his knee injury, stopped him from taking the practical test which is a prerequisite for obtaining a license in Spain.
Ansu is Believed To Also Have An Audi
On a certain night out of town, the teenage footballer was photographed beside an Audi which fueled rumors that he just acquired the car. However, it was never established whether he owned the automobile or not. Rumors also alleged that his garage is already teeming with a BMW, a Range Rover, and a Ferrari, but all these are still left to be seen.