Zenande Mfenyana is undoubtedly one of the top actresses and models in South Africa today, and naturally, her fans would always love to hear or read about the latest gossips involving her. Known for her roles in SABC 1's Generations and The Queen, Zenande has made a name in the South African movie industry but her love life also shares the spotlight with her career achievements.
Her relationship status is definitely a juicy topic that her fans are eager to learn more about. She has been linked to a few other celebrities in South Africa and was even rumored to have married one of them. We will be exploring more about the relationship status of this beautiful actress in this piece.
Zenande Mfenyana Gave Birth To Her First Child At The Age Of 35
When her fans began to worry and speculate about whether she has given birth yet after making her baby revelation earlier on in the year, she came out on her Instagram account on September 10, 2020, to reveal that being a mother was magical. According to the actress, she never knew she could use both hands very well and function normally after having very little sleep tending to her daughter.
She was 35 when she had her first child and she has not yet had another child since then. Before and after she gave birth, Zenande would always share prayers for her unborn baby on social media, expressing her utmost happiness for the bundle of joy. The identity of the father of her first child is still uncertain but there are a few hints.
My daughter woke up calmly in her cot, no crying, I watched her as she busied herself with looking around and keeping herself occupied. My first instinct was to pick her up, but I held myself back. I'm enjoying watching her being independent ❤️❤️❤️

— Zenande Mfenyana (@Zenande_Mcfen) October 25, 2020
Is Zenande Mfenyana Married to Dr. Malinga?
Zenande Mfenyana was never married to Goodwill Malinga, popularly known by his stage name – Dr. Malinga – but two events happened that got some people believing that both celebrities were together.
Some time ago, the actress posted a message on her social media accounts where she detailed an encounter she had with the baby mama of one of her exes. She stated that it was difficult being in a relationship with a married man and that the baby mama of this particular ex had gone through his phone, put a call through to her, warning her to stay away from her man, to which her response was to laugh hysterically throughout the woman's rude intrusion of her privacy.
Though she never mentioned the name of her married ex, this got a lot of her fans and the media speculating who her mystery married former lover could be. Trust social media to go wild with speculations at a time like this.
Secondly, earlier in 2020, she took to her Instagram handle – when rumors of her being pregnant became rife – and posted a picture of two moons or bubbles shaded in two different colors, which many people interpreted to mean that she was expecting twins and the rumor never seemed to go away. So, when she later revealed that she was indeed pregnant, the rumor mills again began speculating on who could be the mysterious father of her children.
Coincidentally, Dr. Malinga, at the same time, also took to social media to reveal that he (well, referring definitely to his wife) was also expecting a set of twins. So, social media detectives and the rumor mills went to work erroneously, making the conclusion that Dr. Malinga could possibly be Zenande's unnamed married lover and that since both celebs revealed that they were expecting twins at about the same time, they must be romantically involved and that they were indeed referring to the same set of twins.
The speculations continued to spread but unfortunately, they were very wrong. Actress Zenande Mfenyana came out later to debunk the rumor that she was having twins by revealing that she was only expecting a daughter when due. Dr. Malinga on the other hand had twin boys with his wife, Boitumelo Mosupye.
She Was Rumored To Be Dating Warren Masemola
Again, some sheer coincidence and probably some erroneous reporting got some fans to believe that Zenande was actually dating Warren Masemola and that they were indeed having a child together. Obviously, it wasn't just Dr. Malinga who was forced into being Zenande's baby daddy by social media crusaders.
At about the time she revealed that she was expecting a child, coincidentally, Warren Masemola also took to his social media handles to reveal that he was also having a child as well. Again, because of her earlier revelation of having trouble with her ex's baby mama, some people also believed that Warren could be this mysterious ex-lover and the possible father of her child – how they conveniently forgot that Warren was happily married to Kgaugelo Masemola remains a mystery.
It again turned out that both she and Warren were not romantically linked, they just revealed the expectation of their respective babies at about the same time. But the question still remains, who is the man behind Zenande's baby, or at least, who is she dating?
The Identity of Zenande Mfenyana's Love Interests  – Past and Present – Remain A Mystery to Date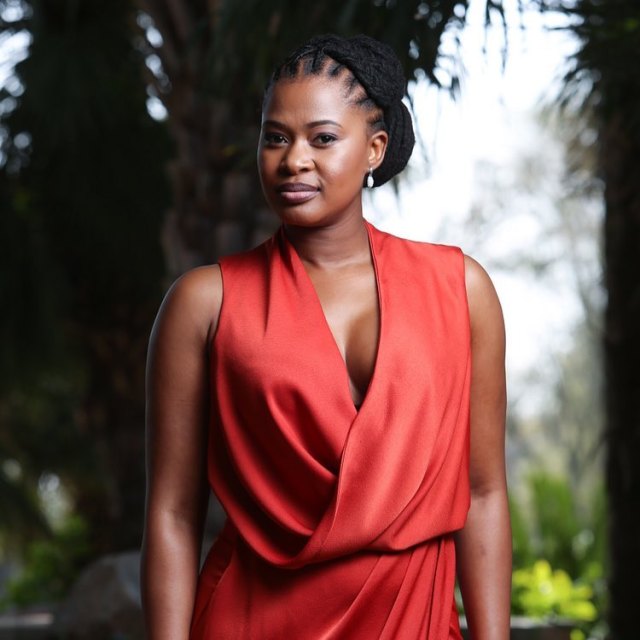 This seems to be the million rand question right now as nobody knows exactly who she has dated either in the past and who she is currently dating now. Zenande Mfenyana is not the type of celebrity who would flaunt every detail in her love for all to see. She never shares any personal information about the identity of the men who have come into her life but from the little we know, she hasn't had it easy.
All we know from her past relationships is that she once dated an unnamed individual who never agreed/approved any of her choices – clothes, friends, house, etc and that she once had trouble with one of her ex's baby mama. Most recently, she revealed that she has put past relationship experiences behind her and that she was indeed dating a very caring and wonderful person for about a year or thereabout now.
The mystery man may be the father of her child but the important part is that she is happy with her life now.