Some people are famous because of what they have achieved while some people are popular because of their connection to the aforementioned famous people. One person who belongs to the latter category is Celeste Ackelson. She is the beautiful and loving wife of Hollywood actor Brian Baumgartner who is famous for portraying Kevin Malone on the sitcom, The Office. Her marriage to the popular Hollywood movie star proved to be the springboard to her present fame and glamorous paparazzi status. Want to know more about Celeste Ackelson? We have got all the details right here including her family life.
Celeste Ackelson Bio
Celeste Ackelson was born in the year 1982. Her exact date of birth, as well as her birthplace, is not known. However, she is an American and was most likely born in of the 50 states. There are no details about Ackelson's family background or any potentials siblings she may have. The most that she has disclosed is that she was artistic as a child and loved drawing and painting.
Celeste Ackelson is well educated and holds a degree in communications from Florida International University. It is not clear if she furthered her education or acquired other academic degrees apart from the aforementioned.
As with other parts of her life, Celeste Ackleson has managed to keep her professional life close to her chest, but one thing that is clear and undoubted is her love for fashion and fashion trends.
On the other hand, her husband, Brian Baumgartner, is a native of Atlanta Georgia. He was born on the 29th of November 1972 and grew up in Atlanta. He attended various schools such as Holy Innocents Episcopal School as well as The Southern Methodist University where he studied acting.
How She Met And Married Her Funny Husband, Brian Baumgartner
Celeste Ackelson and her husband started dating in the late 2000s. The exact timeline of their relationship is not known but they dated for several years before tying the knot in 2014. The couple's nuptials took place on the 28th of April 2014 and it was well covered by the media. The ceremony itself took place in the backyard of their L.A. home and the reception was held at a country club near their house. The wedding was attended by their closest family and friends as well as Baumgartner's former cast-mates from The Office. They include the likes of John Krasinski, Oscar Nunez and Angela Kinsey and Jenna Fischer.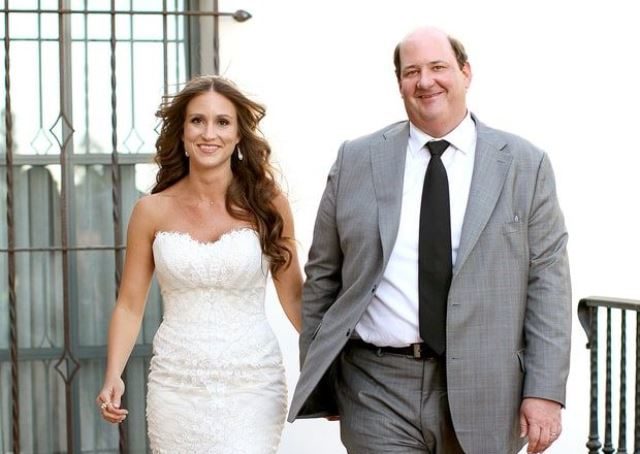 The order of events on the day also appeared similar to The Office final episode which saw Dwight marry Kinsey's Angela. Celeste Ackleson was dressed in corseted, strapless dress which featured intricate lace and sheer overlay for the wedding. She capped her gorgeous look with a tiara, wearing her hair down in loose curls. Celeste Ackelson's husband, on the other hand, looked carefully dressed and arranged in a grey suit, white shirt, and black tie.
Ackelson and her husband now have a daughter together and her name is Brylee Bea Baumgartner. She was born in March 2015 and the couple announced her birth on Instagram where they added that she was already looking forward to watching reruns of The Office.
She is not Brian Baumgartner's first wife
It must be noted that this is the first marriage for Ackleson, however, her husband was previously married to a woman named Julia Fisher, an acclaimed classical violinist, pianist and a lecturer at the Munich University of Music and Performing Arts Germany and they reportedly had a child together.
Celeste Ackleson claims that her husband's sense of humor and his ability to make her laugh even in the most difficult circumstances has been the most amazing and fascinating thing about him.
Baumgartner commenced his career on a humble note; working as an artistic director of a theatre in Minneapolis, Minnesota. He later progressed to acting and took part in several theatrical productions. Baumgartner broke into Hollywood with the dawn of the new millennium and since then, he has never looked back.
He has featured in TV series such as CSI: Crime Scene Investigation, LAX, Arrested Development, Criminal Minds, Law & Order: Special Victims Unit, Chicago Fire and The Office. The Office is a sitcom about the everyday lives of employees at a paper company. Baumgartner plays the role of Kevin Malone, a dim-witted but lovable accountant who loves childish humour and occasionally indulges in gambling. The sitcom ran for nine years, starting from 2005, and is regarded as one of the best TV series of all times.
Net Worth
Celeste Ackelson's net worth is not known to the general public since as not much information is publicly available about her career. Meanwhile, her husband has a net worth of $6 million and they also own a $2.8 million home in Los Angeles where they currently reside. Baumgartner's career is not restricted to TV. He has also appeared in movies such as Four Christmases and License to Wed.
Other Facts about Celeste Ackelson
• She and her husband own a mansion in L.A. and it is worth nearly $3 million.
• She wore an ivory coloured, mermaid-style gown for her wedding ceremony which took place in her own backyard.
• Celeste Ackelson has a great fashion sense and dons stylish outfits whenever she accompanies her beau to the red carpet.
• Her husband is an avid golfer and proposed to her during the Hilton Head Island celebrity golf event.
• Her husband once participated in the game show – Celebrity Family Feud. He captained the winning team and they donated their prize money ($50,000) to the children's advocacy center of north-eastern Pennsylvania.
• She has officially adopted her husband's surname and her name is now Celeste Ackelson Baumgartner.