Often with a smile on his face, John Krasinski is one of the most affable celebrities in Hollywood and the reason is not hard to see. The Massachusetts native has experienced much success both in his professional and personal life. Career-wise, Krasinski has been featured in many movies and TV series including License to Wed (2007), Something Borrowed (2011), and Jack Ryan (2018). He is also a budding filmmaker who directed the highly-acclaimed 2018 horror flick, A Quiet Place.
On the personal front, Krasinski is happily married to an award-winning actress and they enjoy one of the most enviable unions in Hollywood. They have welcomed two kids and the family life gives the actor the impetus to conquer the world.
John Krasinski's Wife Is an Award-Winning Actress
John Krasinski is happily married to a lady who is way out of his league (his words not ours). That lady is none other than award-winning actress, Emily Blunt. A native of London, England, Blunt made her acting debut in 2001 in a stage production titled The Royal Family. She went on to land roles in a series of TV and movie projects before getting her breakthrough in the 2006 blockbuster comedy, The Devil Wears Prada.
Her portrayal of the cold and lukewarm fashion assistant in the movie, which also featured the likes of Meryl Streep and Anne Hathaway, fetched her the Golden Globe Award for Best Supporting Actress. It also introduced her to a  global audience and since then, she has never looked back. The Londoner has featured in several highly-acclaimed works including The Adjustment Bureau, The Young Victoria, Mary Poppins Returns, and The Girl On The Train.
She also starred in the 2018 film, A Quiet Place, which was directed by her husband. The horror-thriller focused on a family who struggles to survive in a bleak world inhabited by harmful creatures with sensitive hearing. The movie received positive reviews from critics. It also did well at the box office, grossing over $340 million on a budget less than $22 million. The movie fetched Blunt the 2019 SAG award for Best Supporting Actress.
The Actor Met His Wife In 2008 at a Restaurant In Los Angeles
So how did  John Krasinski and Blunt end up together? Well, the couple's meet-cute took place at a Los Angeles restaurant in 2008. The two were immediately attracted to each other and Krasinski left his table to go talk to Blunt.
He subsequently asked her out on a date (even though the actress insists that she asked first) and the rest is history. They got engaged in August 2009 and got married on the 10th of July 2010 in Lake Como, Italy.
The couple has remained together since then and has welcomed two daughters. They are Hazel (born in February 2014) and Violet (born in June 2016).
Meet The Two Daughters That Inspire Utmost Devotion from The Couple
As the responsible parents that they are, John Krasinski and his wife take great care to protect their little daughters from the spotlight. They never share their pictures on social media and also take great care to protect their identity. Given all this, it is quite hard to get specific details about both girls.
One thing that is however sure is that they have parents who are completely devoted to them. Krasinski once stated that family is the non-negotiable first thing in his life while his wife has described family as the foundation of all their fun and incredible experiences.
The couple doesn't just talk the talk but also walks the walk. They regularly take their children on outings to incredible destinations. They also make time from their busy schedule to be there for them. For instance, Blunt takes long breaks between projects to be present for the kids. Krasinski, on his part, regularly racks up flier miles just to ensure he can see his daughters each week.
The actor and his wife are also determined to instill good values in their daughters. Blunt has revealed that she is teaching her children to be empathetic to others and embrace differences rather than fearing or teasing them.
Members of The Family John Krasinski Hails from Are Mostly Medical Professionals
John Krasinski is undoubtedly the most popular person in the family he hails from but he is by no means the only accomplished person. The actor belongs to a family of high flyers starting with his parents, Mary Clare and Ronald Krasinski.
Mary is an Irish-American and spent several years working as a nurse in their hometown, Newton, Massachusetts. His father, on the other hand, is Polish-American and he is a doctor.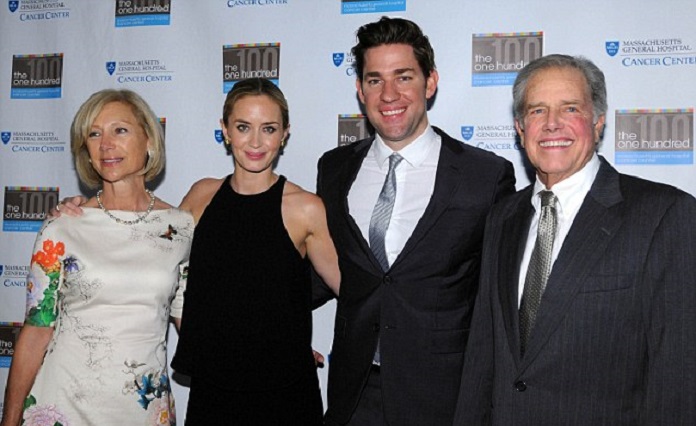 The Sr. Krasinski specializes in internal medicine (diagnosing and treating adult diseases that do not require surgery) and practices in Newton. He is also an assistant professor at Tufts University School of Medicine.
The First Son of The Family Is an Orthopedic Surgeon
Another medical personnel in John Krasinski's family is his eldest brother, Kevin. An orthopedic surgeon, Kevin concluded his pre-med degree at Colgate University, Hamilton, New York. He then returned home to Boston where he attended Tufts University School of Medicine and graduated with flying colors.
Kevin now specializes in surgery and treatment of injuries for collegiate and professional athletes. He has served as the assistant team physician for several colleges including Duke University. He is also a member of the American Academy of Orthopaedic Surgeons and the American Orthopaedic Society for Sports Medicine.
The Actor's Older Brother Is The Founder of Epicenter Experience LLC
The other Krasinski who did not go into the medical field is John's immediate older brother, Paul. Paul is an accomplished business executive who specializes in developing engaging consumer experiences for big brands. He has fulfilled this role for several companies. The Columbia Business School alum has now gone into business for himself and set up his own company called Epicenter Experience LLC in April 2017.
Epicenter Experience is an innovation that allows consumers and brands to communicate directly. One of the ways they do this is through their People Platform app. The app allows brands to survey their targeted consumers and get feedback about products, shopping experiences, and marketing.
The participating consumers are rewarded with digital gift cards as well as other perks. Since its launch, the People Platform app has garnered tens of millions of registered consumers. It has also been patronized by big brands such as Best Buys and Cisco Systems.