Dreka Gates is an American entrepreneur, booking manager and a social media influencer who is perhaps best known as the wife of the hip hop star Kevin Gates. Asides that, Dreka also co-founded the record label "Bread Winner's Association" which she and her husband, Kevin, founded in 2010. Although not as famous as Kevin, Dreka is a businesswoman and help meet in her own rights. Asides being a successful booking manager, Dreka Gates is also a proud mother of two and has been so supportive of her husband's music career. This post pieces together her bio, net worth, and other interesting facts there is to know about her.
Dreka Gates' Age and Early Life
Dreka Gates was born—Shadreka Centuri Haynes— in Baton Rouge, Los Angeles, on August 31, 1986, into a middle class, Afro-American family. Growing up, Dreka had a pretty good head start and was reportedly one of the few of her friends to own a car back in her Los Angeles-based high school. She not only performed well academically, but she also participated in various academic events and inter-school competitions. With such profile in school, it wasn't long before she caught the eye of her would-be husband, Kevin. The duo first met in high school and began dating. Sources have it that they began dating since 2002 and by the time they were getting married in October of 2015, they had been together for over 13 years and already had two children.
The earlier part of their relationship was fraught with several dramas especially as it pertains to Kevin's constant run-ins with the law and other women. But like Keyshia Ka'Oir, Dreka Gates stood by her husband through thick and thin. Little wonder Kevin continues to lavish her with praises and gifts. Unlike a regular hip hop artist, Kevin never stops talking about his wife and her immense support to his life and career. Kevin's boisterous adolescence put him at loggerheads with the law most of the time. He was reportedly arrested for being a passenger in a stolen vehicle when he was just 13. Before the start of his music career in 2007, Gates was involved in a dispute outside a movie theatre and stabbed his opponent multiple times. That was in 2003.
After his music career began, Kevin would go on to spend another two years and seven months in prison—between 2008-2011. Kevin Gates got reformed behind bars and obviously wanted more from life. And so, during his sentence, he studied and obtained an MA in Psychology via a prison education program. His term was shortened and he was soon released for good behavior. Within this time, he was also seeing several women with whom he had multiple love kids. But that didn't make Dreka change her mind about him.
Her Career
As she admits, she was a downright rookie in the music industry when Kevin told her his plans to go into music full-time. She intentionally went all out to learn all she could about the music industry and started off helping her husband gain more visibility. She soon started booking shows; visiting promoters just so she could get Kevin a few performance slots on stage. Gates got her start publicly in 2015. Although not her initial making, she was naturally thrust into the spotlight owing to her husband's eventual popularity. And she's remained a popular face in the media ever since.
She has also appeared in several of Kevin's videos in—Islah—his debut album which he released in January 2016. Islah peaked in the second spot on the US Billboard 200 chart. Since that time, he has released other mixtapes such as By Any Means 2 (2017), Chained to the City (2018) and Luca Brasi 3 (2018).
Net Worth
Dreka Gates is a successful businesswoman whose net worth is reportedly estimated at $1 million. However, we have no details on how much she rakes in annually.
Other Facts About Kevin Gates Wife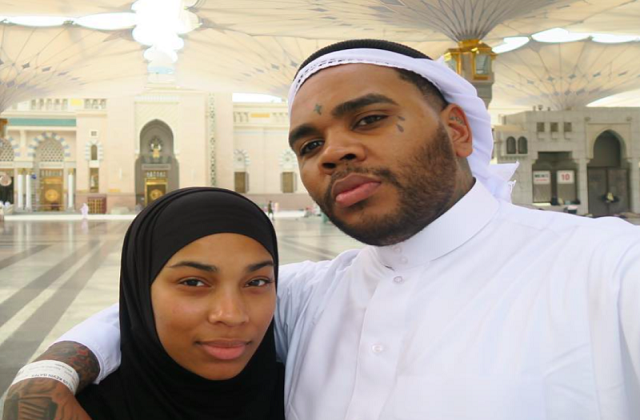 1. Devout Muslim
Dreka Gates is quite vocal about her Muslim faith. As a practicing Muslim, she joined her husband on a Hajj operation to Mecca in September 2016.
2. Social Media
Although joining social media wasn't her original idea, it still wasn't a bad idea after all. So far, she has a massive following across all her social media accounts on Instagram (drekagates), Twitter (@DrekaGates) and Facebook (@drekagates).
3. Children
So far, Dreka and Kevin have two children named Islah Koren Gates, and Khaza Kamil Gates.
4. Height and Body Measurement
Dreka has a graceful slim build. She stands 5 feet 4 inches (1.65 meters) tall and weighs 56kg (123lbs). She rocks black hair and dark-brown eyes. As of this writing, her body measurement, dress, shoe and bra sizes are not known. Dreka Gates has a lot of tattoos on her left hand and chest.