Floyd Mayweather Jr. is an American boxing promoter and former professional boxer with an estimated net worth of $450 million.
The former athlete, who was undefeated in his professional boxing career, was one of the highest-paid athletes in the world during his time and took home more than $1 billion in career earnings. Thanks to this, Mayweather and his family are able to live a very lavish lifestyle.
Key Takeaways:
One of just five athletes to earn more than $1 billion, Floyd Mayweather has made a staggering $1.1 billion in his career to date
He made $250 million fighting Manny Pacquiao in 2015 and $300 million fighting Conor McGregor in 2018, cementing himself as the highest-paid entertainer in the world at his career peak
His earnings aren't restricted to the ring either; he once paid an impressive $18 million for a single watch
Owns multiple lavish properties, including a $60 million Gulfstream G650 private jet, a $25 million Beverly Hills mansion and a $10 million Las Vegas mansion
Most recently, he pocketed a further $35 million fighting Logan Paul
Floyd Mayweather's career earnings total an impressive $1.022 billion. His notable opponents, along with their respective paydays, include:
Arturo Gatti (June 2005) – $3.2 million
Carlos Baldomir (November 2006) – $8 million
Oscar De La Hoya (May 2007) – $25 million
Ricky Hatton (February 2008) – $20 million
WWE Wrestle Mania (December 2008) – $25 million
Juan Manuel Márquez (September 2009) – $25 million
Sugar Shane Mosley (May 2010) – $30 million
Victor Ortiz (September 2011) – $40 million
Miguel Cotto (May 2012) – $40 million
Robert Guerrero (May 2013) – $50 million
Saul Alvarez (September 2013) – $75 million
Marcos Maidana I (May 2014 ) – $40 million
Marcos Maidana II (September 2014) – $32million
Manny Pacquiao (May 2015 ) – $250million
Andre Berto (September 2015 ) – $35million
Conor McGregor (August 2017 ) – $300million
Tenshin Nasukawa (December 2018 ) – $9million
Logan Paul (June 2021 ) – $35million
How Floyd Mayweather spends his $450 million Net Worth
The former boxing champion predictably spends his money on stuff such as houses, cars, etc. He also splashes out his millions on ludicrous items such as diamond-encrusted iPod cases.
Houses
Mayweather owns two houses; a Los Angeles home that he purchased for $26 million in 2017 and a Las Vegas mansion which he purchased for $10 million in 2018. Mayweather's L.A digs measures 15,096 sq. ft and features 6 bedrooms, 10 bathrooms, dozens of glitzy chandeliers, a gourmet kitchen imported from Italy, a magnificent pool as well as a movie theatre. The home also boasts of a self-serve candy shop. On the other hand, Mayweather's Las Vegas mansion measures an impressive 22,000 sq. ft. The house has 11 bedrooms, 14 bathrooms, an indoor and outdoor pool.
Cars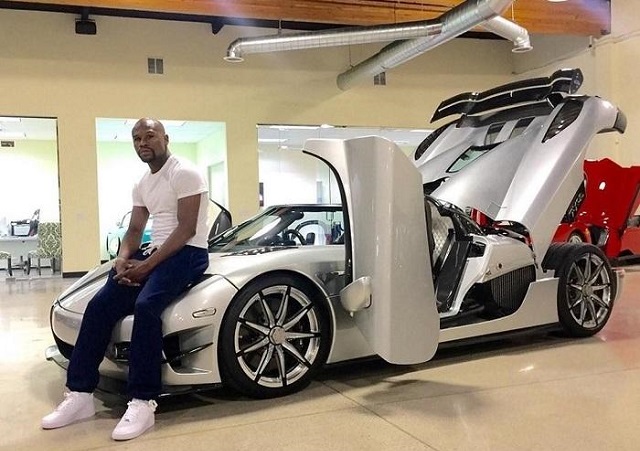 Floyd Mayweather also spends his net worth on cars. The boxer owns an array of luxurious vehicles numbering at least 25. He reportedly colour-codes his cars according to cities. For instance, vehicles in his Las Vegas fleet are white in colour while those in his Miami fleet are black in colour. Some of Mayweather's rides include a Koenigsegg CCXR Trevita – $4.8 million, Bugatti Chiron – $3.5 million, Bugatti Veyron – $1.7 million, Pagani Huayra – $1.4 million, Aston Martin One-77 – $2.4 million, Ferrari Enzo – $3.2 million, Lamborghini Murcielago – $510,000, and Porsche 911 Turbo Cabriolet – $200,000.
Private Jets and Yachts
Floyd Mayweather owns a 100-foot yacht which he reportedly bought for $200 million. The boxer also has two private jets, namely Air Mayweather 1 (Gulf Stream IV) and Air Mayweather II (Gulf Stream V), and those are believed to be in the region of $15 million – $45 million. Mayweather does not like sharing his plane rides as he fears that the extra weight may down his small aircraft. He thus splashes out extra cash for the purpose of hiring planes for his staff, his pals as well as the hangers-on.
Charity
Floyd Mayweather is often bashed for not engaging in enough philanthropic activities but the man does try his best. He once donated $1,000 to a homeless man. Also in 2011, the boxer paid for the funeral of his former opponent, as well as former world super lightweight champion, Genaro Hernandez. Hernandez passed away after a three year battle with cancer.
Boxers and Shoes
Floyd Mayweather also spends a significant portion of his net worth on apparel. The retired boxer does not believe in the 'art' of laundry. He only wears his shoes and boxers once and then discards them. By his own accounts, Mayweather spends as much as $6,500 on new briefs each year.
Family and Loved Ones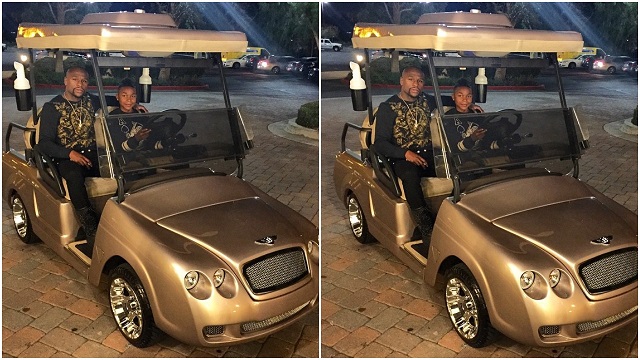 Mayweather believes in giving his loved ones all the best things that life has to offer. The former boxing champion once bought a Bentley golf cart, worth $20,000 for his son, Koraun. He also splashed out $10 million on a 150-carat diamond engagement ring for his then-girlfriend, Shantel Jackson. Mayweather also gifted his daughter, Iyana, an 18-carat diamond ring on the occasion of her 18th birthday in 2018. The ring is reportedly valued at $5 million.
Shopping Sprees
Mayweather doesn't carry credit cards but prefers to travel with raw cash. The boxer moves about with as much as $60,000 to $1 million, and this often results in shopping sprees. The Olympic medallist once spent $400,000 at a Hermes store in Paris in 2016. He also spent $5.3 million at a Beverly Hills jewellery shop in 2018. Mayweather's generosity often results in store owners closing down their outlet in order to allow him to shop in peace.
Personal Barber
Floyd Mayweather is infamously bald but he still believes in keeping it all neat and trim. The boxer has a personal barber named Jackie Starr. Starr earns $1000 per haircut and even travels with him if the occasion demands it.
Personal Chef
Mayweather is one man who really loves his food. The boxer was once spotted eating French fries and chicken fingers at a posh New York jewellery store. He also gave a $300 tip to the chefs at a Las Vegas restaurant just because he enjoyed their food. Back home, Mayweather has a personal chef named Quiana Jeffries. Jeffries is on a retainer for 24/7 and is paid $1,000 per meal.
Watches and Courtside Tickets
Mayweather is legendary for his blings. The Olympic medallist has a diamond-encrusted iPod case worth $50,000. He also has a 280-carat diamond watch worth $18 million. Known as The Billionaire, the watch was designed by Jacob & Co. It consists of 167 different components and also boasts of 72 hours of power reserve. Floyd Mayweather also spends his net worth on courtside seats. The boxer often attends big sporting events such as The Super Bowl and the NBA Championship. He regularly doles out tens of thousands of dollars in order to get the best seats in the house.