With the advancement of the internet and technology, everything has practically gone online, including education. The endless opportunities the internet offers makes learning easy and readily accessible online to students who for one reason or the other are unable to get to the classroom. It's to this end that the Maseno University eLearning portal was launched.
According to the university, this latest innovation is is a kind of online campus designed to provide learners with high-quality learning resources and also afford them the opportunity to collaborate with other learners on various learning tasks to get a diploma or a degree certificate from the comfort of their workplace or homes without having to step into a physical classroom in a physical campus.
There are so many things that can be done on the Maseno University eLearning Portal. This article will not only be showing you the step-by-step details on how to log in to the portal, it will also show you other things you can do on the portal.
Logging Into Maseno University E-learning Portal Is Easy
Logging to Maseno University Elearning portal is not as difficult as you would have thought, it's as easy as following these steps:
Step 1: The first thing to do in getting started is to log in to the learning site by clicking here
Step 2: Once you are on the site, enter your Maseno username and password in each of the sections provided for it on the dashboard.
Step 3: Having supplied the username and password, click on the "Log in" button on the page and you are on Maseno University Elearning Portal page. It's that simple.
NB: However, note that to be able to sign in to the portal, you must have created an account on the eLearning platform to have a username and password.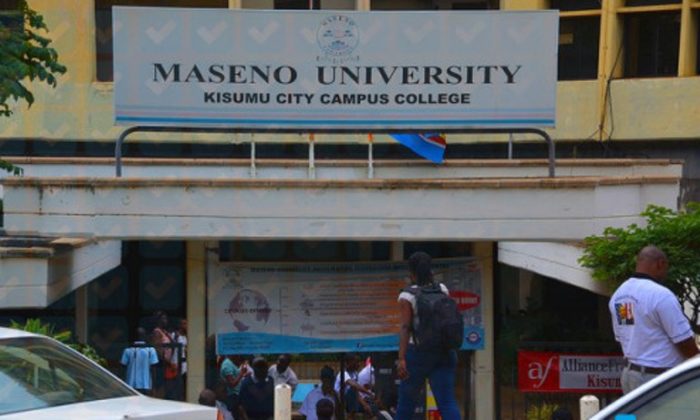 Creating An Account On Maseno eLearning Portal 
Just like logging into the eLearning portal, creating a login account isn't also hard or stressful, it is as easy as knowing the right buttons to click on your internet-powered gadget. The following steps will be helpful.
To create an account on the eLearning platform, you must have been offered admission into the university and received a unique student Username. During the Maseno University student online registration, you will be required to enter the unique username and create a password.
It is with this username and password that you log in to the eLearning portal.
Remember to create a very strong password that can not be easily decoded by any other person.
Resetting your eLearning Portal Password
If you have forgotten your eLearning password or feel the need to reset it for any reason, follow these easy steps:
Visit the password reset page by clicking here 
2.  Submit your username or your e-mail address in the spaces provided
3. If your details are on the database, you will receive a mail with instructions on how to get access again. So ensure the e-mail address you supply is active at the time of trying to rest your login password.
4. Next, log in to the e-mail you have provided for an activation link to reset your Maseno eLearning password.
5. Once you click on the activation link, it takes you to a page where you will be required to enter a new password which will now become your login password to the Maseno eLearning portal.
Note: Please ensure that your login password is one that you can easily remember. If it's one that you know wouldn't be easy for you to memorize and remember on the spot, write and keep it in a safe and easily accessible place for future usage.
Other Things You Can Do On The Maseno University eLearning Portal
The Maseno University eLearning is an all-encompassing platform that you can do several other things on. On this portal, you can do the following:
View your courses
Get Your Module Registration done
Check your eCampus term dates
Orientation to eLearning
Find Course enrollment links
Get online examination orientations
That's not all, there is also a Learner Support section, where students' complaints and issues are addressed. Here you will find;
News Forum (Office of Director Ecampus)
Administrative Forum (Office of Director Ecampus)
Complaints and Compliments Forum (Office of Director Ecampus)
On-Campus Students (Face to Face Board)
Students also get a chance to access the eLibrary and get access to
Electronic library resources
Open education resources
Past question papers
Ask the eLibrarian section
With all these, it's evident that the Maseno University eLearning platform is designed with the learner in mind.
FAQs About Maseno University eLearning 
1. Who is eligible to apply for Maseno eLearning?
Programmes offered at the eCampus are tailored to meet the needs of working and other out-of-school people by providing high-quality online modular diplomas and degrees to facilitate life-long learning. All applicants must meet the minimum application requirements of the programmes they wish to pursue.
2. Who is this mode of learning suitable for?
If you are in full-time employment, have family commitments, live in a remote area, are taking other courses on a full-time basis, or would like to pay for the number of modules that you can afford each time, then yes, this mode of learning will suit your learning needs.
3. Do I need to be computer literate to apply? 
Yes. Applicants should be computer literate and have access to a computer. You also require the internet to enable you to access the Maseno University eLearning portal, which is the main course delivery platform for eCampus programmes.
4. How do I apply?
All applicants fill in and submit applications as instructed on the Maseno University eCampus website. The applicant will immediately receive an e-mail acknowledging receipt of their application.
5. What is the mode of coursework delivery?
Most undergraduate and post-graduate modules are fully online. A number of Continuous Assessment Tests (CATs) are also taken online. Certain modules are blended, including short periods of face-to-face contact with lecturers. All students registered for eLearning modules take sit-in examinations at the end of each semester.
6. What is a module?
A module refers to an examinable unit for which a student individually registers and pays. One unit course is therefore equivalent to one module.
7. What is the maximum number of modules that I can take per semester?
This varies depending on the programme you are on.
8. How do I register for modules?
Registration for modules is done online at the Maseno University eCampus. Students are required to register for the number of modules they desire to take at the beginning of each Semester.
9. What are module levels?
A level is equivalent to a year of study in the corresponding full-time programme in the 1st, 2nd, 3rd, and 4th year. Undergraduate eLearning modules are offered in Levels 1, 2, 3, and 4 which are equivalent to years 1, 2, 3, and 4 of the regular programmes. Post-graduate programmes are offered in Levels 5 and 6.
10. Can I skip the Online Orientation to eLearning?
No. This is a mandatory prerequisite for all programmes offered at the eCampus, taken once, upon registration for the first eLearning modules. It usually runs for 1 week.
11. Where will I sit my Examinations?
Examinations and practical aspects of the module will be conducted at specified centers in Nairobi, Mombasa, Eldoret, and Kisumu. Only students who are duly registered for individual modules will be allowed to sit for examinations. More details on Maseno University Examination Rules and Regulations are available on the university website.