The Co-operative Bank of Kenya is one of the largest banks in the Eastern part of Africa. The bank, which was founded in 1965, has refused to be left behind, especially in matters of innovation and technology. With the Co-operative Bank of Kenya's internet banking and mobile banking application, most of their customers can now sit in the comfort of their homes and carry out transactions, either with the internet or mobile banking platforms of the Bank. As such, it is only a few pressing issues or physical cash transactions that would warrant a visit to any of the bank's branches.
Differences Between Co-operative Bank of Kenya's Internet Banking And Mobile Banking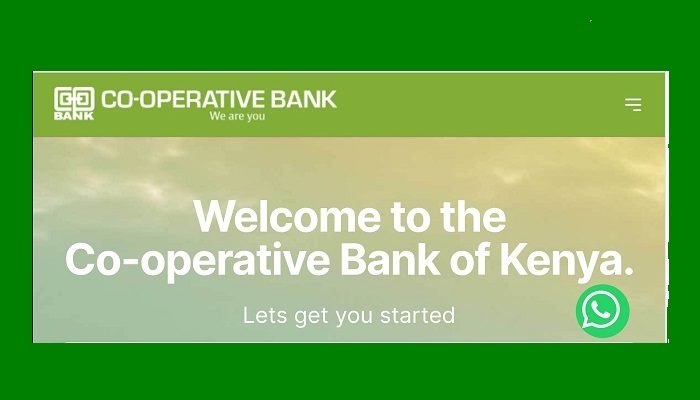 Customers can easily confuse internet banking with mobile banking. Some might even be worried about the security of the different platforms; however, a financial institution will always invest huge funds to ensure that all the platforms through which their customers can do business are quite secure. So, there is nothing to worry about.
The major difference between the Co-operative Bank of Kenya's internet and mobile banking is that for internet banking, customers have to go to the bank's website https://www.co-opbank.co.ke/ and click on the internet banking option on the home page and proceed to log in with your details. You can also go to their internet banking site directly by following this link https://onlinebanking.co-opbank.co.ke/.
So, for internet banking, you will have to go online and visit the bank's website, which will have an online banking system that is connected to the core banking system operated by the bank to provide their customers access to services they would have done in a traditional physical bank.
Mobile banking, on the other hand, is a service provided by a bank that allows its customers to conduct financial transactions remotely using a mobile device such as a tablet or smartphone.
Unlike internet banking, where one has to visit a bank's website, mobile banking uses software which is usually called an app. The Co-operative Bank of Kenya's mobile application is called the 'Mcoop cash app.' It can be downloaded from any phone store, Google Play Store, or the iOS App Store.
For one to successfully use either the internet or mobile banking under the Co-operative Bank of Kenya, there is a need for an internet connection on the device being used.
Requirements For Registering On The Online Banking Platform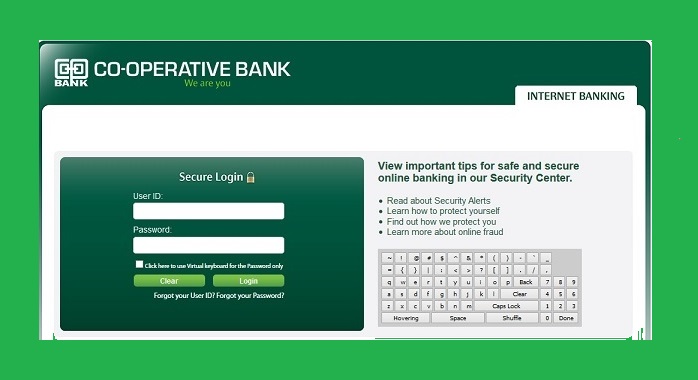 The first major requirement you need to meet before you can enjoy the Co-operative Bank of Kenya's online banking is to have an active account with the bank. Without being a customer, it's impossible to have access to all the benefits of their online banking platform.
If you are already a customer, here are basic things you will need to sign up for Co-operative online banking:
1. Your full name
2. Mobile phone number
3. Date of birth
4. Valid email address
5. National Identification number
6. Country
The details will be required of you to sign up for Co-operative Bank Kenya online banking.
How To Register For Co-operative Bank Online Banking
Go to the Co-operative Bank official website here: https://www.co-opbank.co.ke/
Click on "Internet Banking" at the top right corner of the site. Next, click on Personal Internet Banking." Or…
Go directly to the internet banking web page with this link
https://onlinebanking.co-opbank.co.ke/
A form will pop up, and you will fill in the required information comprising of your "First name, Middle name, and Last name."
Click on "Next."
In the next section, you will be expected to provide the following details
"Date of birth"
"Gender"
"Mobile phone number"
"Email address"
Then, select your ID type – Passport, Driver's license, or National ID.
Fill in your "ID number"
Choose your country
Then go ahead and read before accepting the terms and conditions
Now, click on "Submit"
You will then be expected to enter your ATM Card PIN and expiry date and click on "Next"
Make sure you have your phone at hand, as you will immediately receive a one-time password (OTP) on your mobile phone via SMS
Input the OTP code you received
Then click on "Confirm"
You will have to come up with your preferred "Username"
Set up your "Password"
Choose your security features and memorize them as that will be needed to verify your account
Instantly, you will receive an email from the Co-operative Bank of Kenya
Click on the link in the email to verify your account
You have just successfully registered for online banking with the Co-operative Bank of Kenya
How To Login To Co-operative Bank of Kenya Online Banking
After registering your account, you do not have to go through this rigorous process each time you need to carry out transactions; all you have to do is;
Click on "personal internet banking"
Enter your "username"
Type in your "password"
Click on the "login" icon to sign in to your account online
How To Register For Co-op Mobile Banking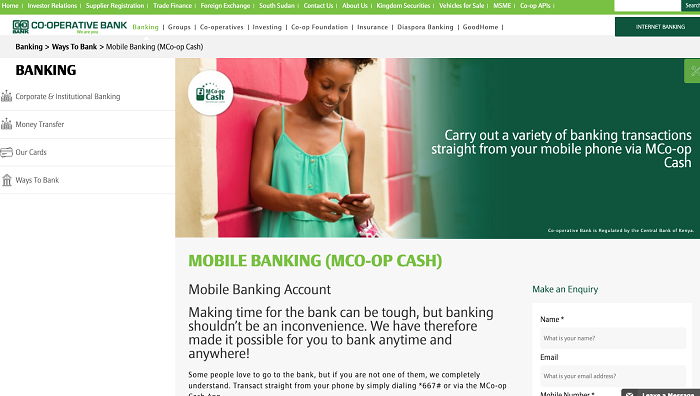 The cooperative bank has a mobile banking application called the Mco-op cash app. It is available for download on most smartphone stores, including the iOS App Store and Google Play Store.
The application enables the co-operative bank of Kenya customers to access a wide range of services.
Here are the steps to register for Co-op Mobile Banking:
Locate, download, and install the MCO-OP CASH app on your phone. This application has been designed to work on most Android devices
Accept the permissions and authorization the application needs to sync with your device
The download will start immediately
After downloading and installing, look for the app on your phone and click on it to register
You will be expected to provide your mobile number, first name, second name, and Last name
Click on next
Input your ID/Passport number, date of birth, and Co-op account number
You will receive an OTP on your mobile device, which you are supposed to use to log in
Once you are logged in, change the PIN
Note: For optimum service, it is advisable to update the application to the latest version from time to time.
Transactions That Can Be Done on The Co-op Mobile Banking Application
What the MCo-op Cash app does is mirror a bank. So in a way, customers carry around a mini version of their bank on their mobile devices. Since the mobile banking app aims to reduce traffic in the bank and make banking easy and hassle-free, customers can do a myriad of things on the Co-operative Bank of Kenya Mobile Banking application.
Here is a list of things that can be done on the application
Send money to any bank
Check your account balance
Pay or access Cooperative Bank of Kenya loans
Buy airtime for any subscriber countrywide
Send money to an MCo-op cash account, SACCO account, or another Co-op Bank account
Withdraw funds at any Co-operative Bank ATM or MCo-op agent
Transfer funds no matter the amount from your Co-op or SACCO account
Get your statement of account
Pay bills like DSTV, KRA, KPLC, and several others
Pay bills for goods bought online
Sell, buy and transfer shares
Pay school fees, rent, and so on
Send funds from your account to your mobile wallet, such as M-Pesa