Hulk Hogan is 6 feet 5 inches tall. This is the same as 77 inches, 195 centimeters, or 1.95 meters. He also weighs 295 lbs. The American retired professional wrestler is 70 years old as he was born on 11th August 1953 in Augusta, Georgia, USA.
Hulk Hogan is a retired pro wrestler known for his signature shirt-ripping, feather boas, handlebar mustache, and long white hair. Athletic and inclined toward sports from a young age, the celebrated wrestler who is undoubtedly one of the most popular of his era participated in many sporting activities including baseball while in high school.
After having grown 6 feet tall at the age of twelve, Hulk Hogan's height and weight helped him to play as a pitcher in Little League Baseball which drew the attention of scouts from Cincinnati Reds and New York Yankees. He was hopeful of making it big as a pro baseball player before an injury halted his baseball ambitions.
Though deterred, Hogan didn't let the incident demoralize him and instead he became a musician. Through fate and determination, he later became a wrestler and within a short time, he became a household name in America. At the peak of his career in the 1980s, he was triumphant over many top wrestlers of the era, including Mr. Perfect and Jimmy Snuka. Due to his rugged looks and popularity, he started receiving offers from Hollywood studios as he began his acting career with the 1982 movie, Rocky III.
Below is a look at Hulk Hogan's height and other body measurements as compared to other top 80s wrestlers, whether his physique played a role in making him successful.
Details of Hulk Hogan's Age, Height, and Weight
The eminent American entertainer was born Terry Gene Bollea on 11th August 1953 in Augusta, Georgia, USA. His father, Pietro 'Peter' Bollea, was a construction honcho while his mother, Ruth V. (née Moody), was a dance instructor. He is of Scottish, French, Italian and Panamanian heritage.
While growing up, Hulk Hogan developed faster than children of his age as he attained a height of 6 feet and weighed 88.5 kg (195 lbs) at the age of twelve. In the present time, he has since grown up to 6 feet 5 inches (1.96 m) tall with a body mass of 133.8 kg (295 lbs). According to the wrestler himself, he used to be as tall as 6 feet 7 inches (2.1 m) but after undergoing surgeries for issues concerning his back, neck, and knee, he supposedly reduced to a height of 6 feet 5 inches (1.93 m).
Hogan's Body Measurements Compared To Other 1980s Top Wrestlers
1. André the Giant vs Hulk Hogan's Height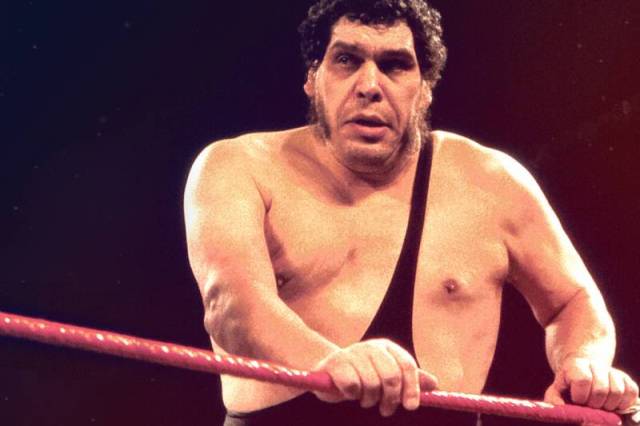 André the Giant had a famous feud with Hulk Hogan that culminated at WrestleMania III in 1987. The wrestler was born André René Roussimoff on 19th May 1946 in Coulommiers, France. He was indeed a giant of a man with his gigantic height of 7 feet 4 inches (2.24 m) and a body mass of 236 kg (520 lbs), making him older, taller, and heavier than his nemesis.
2. Randy Savage vs Hulk Hogan's Height, Age and Weight
Known for his intense exhibitions in and out of the ring, flamboyant ring attire, 'Pomp and Circumstance' entrance song, and his signature catchphrase, 'Oooh Yeah', the late Randy Savage was rated among the greatest wrestlers in history. He was born as Randy Mario Poffo on 15th November 1952 in Columbus, Ohio, United States. Hulk Hogan was taller and heavier than him as he was 6 feet 2 inches (1.88 m) tall and weighed 108 kg (237 lbs).
3. Bret Hart's Height vs Hulk Hogan's Height, Age and Weight Compared
Bret Hart popularly known as 'the Hitman' was born on 2nd July 1957 in Calgary, Alberta, Canada. With a height of 6 feet (1.83 m) and weight of 107 kg (235 lbs), he is obviously shorter, younger, and lighter than Hulk Hogan.
4. Roddy Piper vs Hulk Hogan's Height
Roddy Piper (image source)
Roddy Piper was shorter and younger than Hulk Hogan. The Canadian, who was born on 17th April 1954, stood at the height of 6 feet 2 inches (1.88 m) with his 104 kg (230 lbs) weight. He died on 31st July 2015 in his sleep at the age of 61 at his home in Hollywood, California.
5. Hulk Hogan's Height vs Jake Roberts
Jake 'The Snake' Roberts was born as Aurelian Jake Smith Jr. on 30th May 1955 in Gainesville, Texas, United States. The World Wrestling Entertainment Hall of Famer is younger, lighter, but taller than Hulk Hogan thanks to his height of 6 feet 6 inches (1.98 m). His weight is recorded as 113 kg (249 lbs).
6. Mr. Perfect vs Hulk Hogan's Height Compared
Compared to Hulk Hogan's height and weight, Mr. Perfect was shorter and lighter as he stood at 6 feet 3 inches (1.91 m) and had a body mass of 117 kg (257 lbs). He was born Curtis Michael Hennig on 28th March 1958, making him also younger than Hogan. Mr. Perfect succumbed to acute drug intoxication on the 10th of February 2003 (aged 44) in Tempa, Florida, USA.
7. The Ultimate Warrior vs Hulk Hogan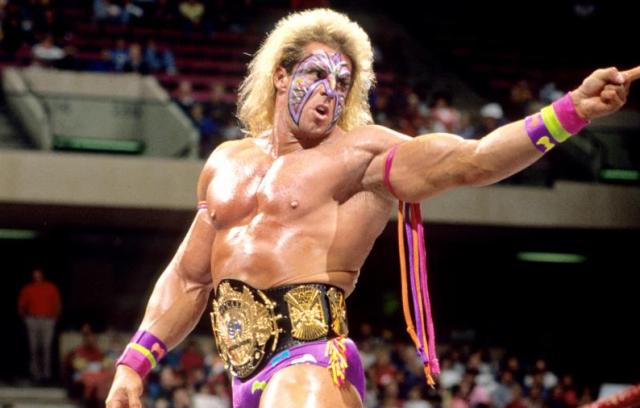 The Ultimate Warrior was born James Brian Hellwig on the 16th of June 1959 in Crawfordsville, Indiana, USA. Prior to his demise through myocardial infarction on the 8th of April 2014 (aged 54), he was 6 feet 2 inches (1.88 m) tall and had a body mass of 127 kg (280 lbs).
8. Rick Rude
'Ravishing' Rick Rude was born as Richard Erwin Rood on 7th December 1958 in St. Peter, Minnesota, United States. He was 6 feet 3 inches (1.91 m) tall and weighed 114 kg (252 lbs) prior to his death which was caused by an accidental overdose in April 1999, aged 40.
9. Jimmy Snuka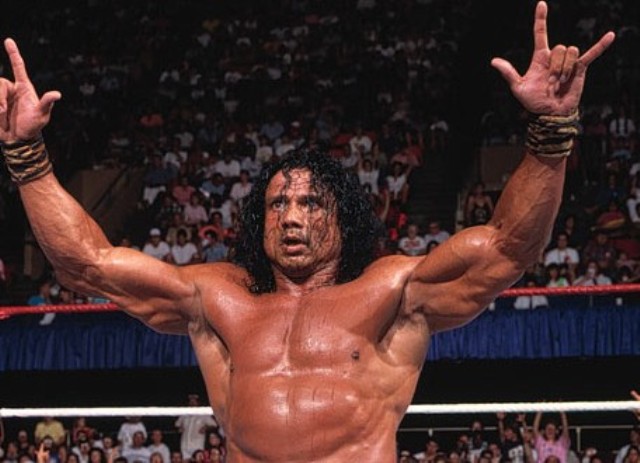 Jimmy Snuka was a Fijian pro wrestler born as James Wiley Smith on 18th May 1943 in Suva, Fiji. Before his death on 15th January 2017 (aged 73), he was 5 feet 10 inches (1.78 m) tall and weighed 107 kg (235 lbs). He evidently shorter and lighter than Hulk Hogan but was however older than his colleague.