Menzi Ngubane was a South African movie star who was popularly known as Sibusiso Dlomo for his TV role in the soap opera Generations. He was active in the industry for over three decades before his demise, making him a role model to many upcoming actors and actresses. Apparently, he will forever be remembered as one of the most popular actors in the South African movie industry because of his outstanding performances over the years. His great acting skills can be seen in various projects like Yizo Yizo, Gold Diggers, Ashes to Ashes, Heist, and many others.
Mostly referred to as a ruthless villain, Menzi Ngubane's personal life was not a rosy one as he got separated from his first wife Lerato Sedibe after five years of marriage. He moved on to get married to Sikelelo Sishuba whom he met years back. The two remained together and Sikelelo was his strongest support system until his death.
Menzi Ngubane Divorced His First Wife Lerato Sedibe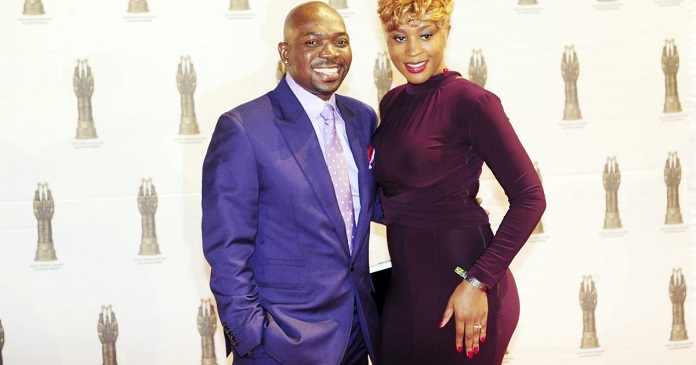 Late Menzi Ngubane got married to Lerato Sedibe in 2008 but the duo went for a divorce in 2013 and the actor made the news of their divorce known to the public in 2014. However, he revealed that the divorce was instigated by his ex-wife. The late soapie star seemed to have faced his hardest challenge as he was battling cancer, joblessness, as well as his divorce at the time. He expressed his pain in his belief that he was happily married but it turned out that it wasn't true.
Lerato Sedibe shared her own part of the story, stating that the actor had an arousal problem that made their sex life difficult. She went on to reveal that she sought solutions for the actor's sexual problem but things went out of hand when his health deteriorated. Despite the challenges, the loving ex-wife of Ngubane did not stop loving her husband because their marriage was built on love.
She further went on to reveal that Menzi Ngubane was a Sangoma (a traditional spiritual healer, priest, or prophet), she discovered this after finding a muthi in her home which she burnt upon consulting her pastor. She expressed her shock and disappointment in her ex-husband who came from a strong Christian home. She went on to say that the last time she talked to her husband was in October 2013.
Lerato Sedibe had a daughter from her former relationship whom Ngubane treated as his as they did not have any child together. She has since moved and was once congratulated by her ex-husband on welcoming her new baby girl. It is alleged that she is set to tie the knot with her new lover.
Ngubane Met His Second Wife Sikelelo Sishuba in 2014
Late Menzi Ngubane met his second wife Sikelelo Sishuba at the SABC where she worked as a receptionist in 2004. The actor had a good eye and a good taste for things as he couldn't withhold what he saw and fell in love with her immediately. Menzi denied being married before but Sikelelo found out later about his marriage to Lerato in the papers. It seemed she fell head over heels for him as she was heartbroken following what she read in the papers.
After the late actor divorced Lerato Sedibe, he decided not to miss out on love, thus, he went back to his old-time friend Sikelelo Sishuba. The two settled their odds and sparked the love that once existed between them. Having been played once, it took Sikelelo a year to give the actor another space in her heart. After a year and eight months of rekindling their love, the actor proposed to her and equally paid her labola in August 2018.
The duo had a grand wedding in Kagiso, in the West Rand. The actor made a grand entry in an admirable traditional Zulu attire and traditional Zulu song. Their wedding was graced by family, friends and well-wishers.
The Actor Found Solace In His Second Wife
After his first failed marriage, people accused Menzi Ngubane's second wife Sikelelo Sishuba of using a love potion in his food which made him marry her. The late actor debunked the allegation, stating that he choose to shower his wife with love and he is not under the influence of any spell.
He went further to commend her strength and supportive nature throughout his trial days. The movie star stated that she is respectful, God-fearing, stood by him, and helped him fight when he was diagnosed with kidney failure in 2011. She is no doubt worth all the commendations as she was there for the actor when he was sacked from his movie role in Generations, leaving him out of a job for six months. His wife helped him get back to set after nurturing him throughout his sick days. Late Menzi Ngubane showed how happy he was in his second marriage as he showered his wife with a C180 Coupe and Mercedes-Benz CLA, clothes, shoes, and bags.
Menzi Ngubane did not welcome any child with his second wife Sikelelo Sishuba. However, he performed fatherly duties with the two daughters she had from her previous relationship. He did not relent in taking up the duties of a father to the girls as he taught them how to handle the opposite gender and equally took them to beautiful places in South Africa.
Menzi Ngubane Denied Being The Father Of Aisha
Menzi Ngubane took in Aisha as his daughter when he got married to Lerato his first wife. Lerato had Aisha in her previous relationship before getting married to the movie star. Before his demise, he did not live in the same house with Aisha, neither did the two involve each other in their affairs, which made their relationship unknown to both the media and the masses.
The late actor became the center of attraction when a fake account on Facebook spread rumors about Aisha welcoming a baby. Menzi Ngubane responded to the rumor, revealing that the news caused trouble in his home and he was not her biological father, neither was he the grandfather of the baby. The actor further cleared the air, saying that he was no more married to Aisha's mother Lerato Sedibe as he found happiness in his new home, irrespective of the usual marital issues that come up, which is normal in every home.