The world is not ready for this record-breaking comedian; selling shows faster than light and brandishing an explosive and energetic sense of humor, Jo Koy is here to stay. His source of inspiration for most of his jokes includes his family especially his son and apparently, his fans vibe with that. He has performed on a number of shows including The Tonight Show and has had 2 successful comedy specials on Comedy Central. To learn more about this successful Filipino-American stand-up comic, keep reading.
Jo Koy's Bio
Jo Koy's original name is Joseph Glenn Herbert and he was born on the 2nd of June, 1971 to an American father and a Filipino Mother. Jo Koy, therefore, has both European American and Filipino ancestry. Growing up, Jo's family moved a lot; they went from the city of Spanaway in Washington to the city of Tacoma, also in Washington and finally settled in Las Vegas.
For his high school education, Jo Koy attended Spanaway Lake High School but finished in Foss High School in Tacoma. This frequent change of environment perhaps played a role in shaping Jo to becoming a very diverse and open-minded person. He got admission into the University of Nevada in Las Vegas but this young man gave up his college education to concentrate fully on stand-up comedy.
A lot of questions have been asked about the idea behind his stage name 'Jo Koy' and this talented comedian has explained that it was very easy to come up with that name as it was born out of a nickname his family used to call him while he was growing up.
Career
Climbing up the ladder in the world of comedy is no easy task. It takes a lot of hard work and persistence and it seems Jo Koy had an early understanding of this. Regarding his growth in comedy and acting, the comedian says he gives the credit to his mum for her support of his talent as far back as when he was a little child. Urged by this support, Jo Koy made the bold decision to move to Las Vegas and began to perform at a Las Vegas coffee house.
Officially, Jo Koy's career began in the year 1994 at a comedy club in the city of Las Vegas. Soon his talent was undeniable and he grew from performing open night mics to having a regular spot on Catch a Rising Star, a show that featured at the MGM Grand Hotel and Casino. Performing on such a large platform gave him the confidence to have his own show and soon enough, this ambitious lad rented the Huntridge Theater and reportedly sold tickets to his first show by going from door to door.
Jo Koy is definitely no stranger to television as he has made quite a number of appearances on shows like Comic View by BET, The Tonight Show with Jay Leno and notably, Chelsea Lately hosted by fellow comedians, Chelsea Handler. Conquering not just the visual world but also the audio world, Jo Koy alongside fellow comedian Michael Yo launched a podcast on July 23rd, 2012; The Michael Yo and Jo Koy Show.
Inside Jo Koy's Family – Details of His Son, Sisters and Parents
This extremely successful comedian is very private about his family life but here's what we know about his family: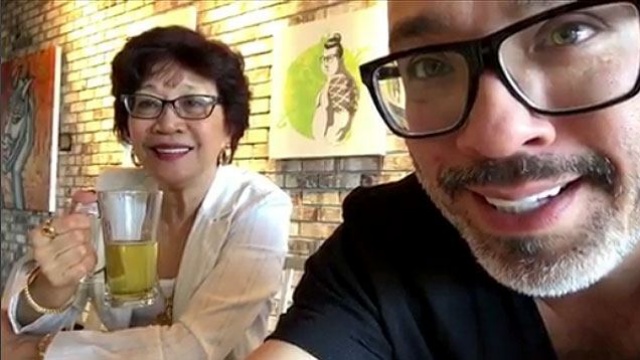 His mother's name is Josie Harrison and she was born in 1948. She is a citizen of the Philippines, coming from Quezon City. This industrious and supportive mother reportedly worked two jobs just to provide for her children. These two jobs were being a banker at Wells Fargo and being a hostess at a restaurant. Interestingly, her mother was an actress in her home country of the Philippines. Jo Koy often credits his mother for his success saying her support gave him the boost to pursue his career as a comedian.
His father worked in the US Air Force. Unfortunately, Jo Koy was estranged from his father at a young age because his parents got a divorce when he was only 13 years old. He, however, did not lack a fatherly figure in his life as his mother soon remarried a Postal service worker who was formerly a soldier for the American army.
Jo Koy has two sisters; Rowena Hebert and Gemma Herbert. He shares a tight bond with his siblings and has shared several pictures and videos where he's having fun and a good time with them. This is definitely one man that takes his family seriously.
Does He Have a Wife or Girlfriend?
Jo Koy got married to Angie King, a Filipino-American singer. The couple got divorced a few years after tying the knot. Even though they are separated, they understand that when it comes to raising their son teamwork makes the dream work. He maintains a very cordial relationship with Angie, and she even promotes his shows on her Instagram page.
Jo Koy is currently in a relationship with a beautiful young lady named Amy Bray, who features heavily on his Instagram page. Turns out, the two love birds got engaged on the 30th of April, 2017. We are keeping our fingers crossed regarding wedding bells.
The butt of all his jokes; Jo Koy's son has become an interest to his fans. He had his son Joseph Herbert Jr. on the 21st of April, 2003 with his ex-wife, Angie King. Jo Koy's son features heavily in his comedy and in fact, his new stand-up special on Netflix borders on being a father to his son.
Net Worth
Jo Koy's life as a stand-up comic has been a fruitful one for him so far, and no doubt it has helped him increase his worth as far as finances go. The comedian has a net worth that is estimated to be $1.5 million.