Kyle Kuzma is an American basketball player who plays as a forward for the Los Angeles Lakers in the National Basketball Association. His career as a basketballer is fast paced and exciting but so are other areas of his life. Find out more below.
Kyle Kuzma's Bio (Ethnicity/Nationality)
Kyle Kuzma was born on the 24th of July 1995 and given the full name Kyle Alexander Kuzma. He is biracial as his biological father is of African-American ethnicity while his mother who is white has her ancestry traced to Ukraine, England, and Germany.
Kyle had his love for basketball ignited when he was really young as he had a basketball rim in their living room which he practiced with. Basketball was his safe haven from the rough streets of Flint and it would be a huge part of his formative years. Kyle went to school at Swartz Creek Community School from where he moved to Bentley High School. In high school, he managed to average 17.9 points, 14.4 rebounds, 3.8 assists and 3.4 blocks per game while he was still a junior.
It was also as a student at Bentley that Kyle Kuzma sent shooting tapes to preparatory schools. The head coach of Rise Academy, Vin Sparacio, liked what he saw and brought the young player in. While a high school student and in Rise Academy, he raised his average to 22 points and seven rebounds for each game. He then got offers to play with Division I schools which included Tennessee, Iowa State, and Connecticut. He finally picked the University of Utah to attend.
When Kyle Kuzma started at the University of Utah, from where he later graduated with a degree in sociology, he had to redshirt his freshman year because he had signed late. The lad, however, became a starter by the time he was a sophomore. Kyle was averaging 10.8 points per game. As a junior, he brought his average up to 16.4 points, 9.3 rebounds, and 2.4 assists per game. He earned his first-team All-Pac-12 honors. At the close of the season, Kyle Kuzma made up his mind to get into the 2017 NBA draft.
Kyle was the 27th overall pick in the 2017 NBA draft for the Brooklyn Nets. He was traded on draft-day trade to the Los Angeles Lakers in exchange for D'Angelo Russel who went to the Brooklyn Nets from the Los Angeles Lakers. He then signed a rookie scale contract with the Lakers on the 3rd of July 2017. Kyle Kuzma played in seven out of eight games for the Los Angeles Lakers. He started in six of the games which were part of the NBA Summer League and led the team in terms of points scored.
Kyle Kuzma was named to the All-Summer League Second Team after averaging 21.9 points, 6.4 rebounds, 2.7 assists, 1.4 blocks, and 1.1 steals per game. He was also the Summer League Championship Game MVP after he managed to record a double-double of 30 points in his team's win over the Portland Trail Blazers in their championship match. Kyle has also got himself named the Western Conference Rookie of the Month at that time and is now recognized as the first NBA rookie to have compiled in his first 20 games; 330 points, 120 rebounds, and 30 made three-pointers. After his rookie season, on the 22nd of May 2018, Kyle Kuzma was named to the NBA All-Rookie First Team.
Family (Parents)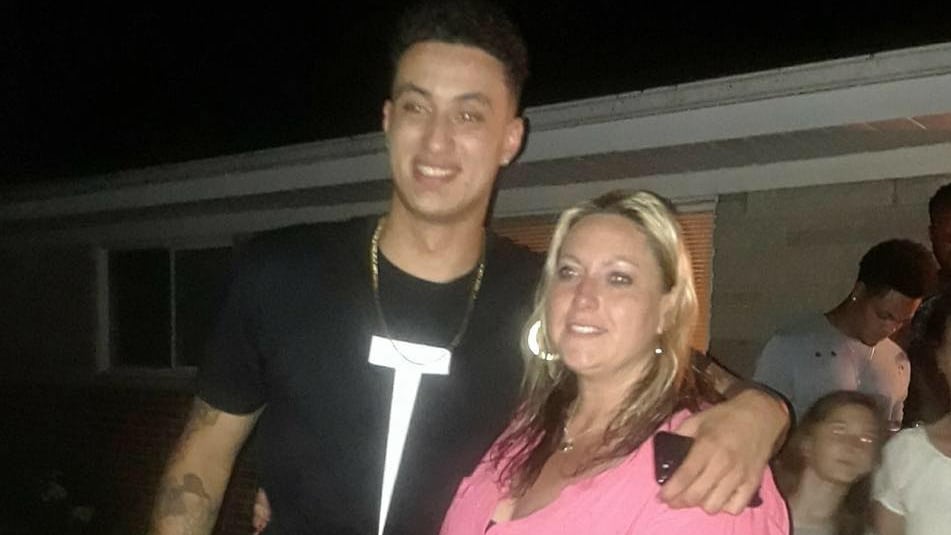 His mother is Karri Kuzma, who was in her time a shot put champion in high school, contrariwise, the identity of his father is harder to define. The basketballer has met his father only once as he has not been in the life of his son or the rest of the family. His mother married another man named Larry Smith who he views as a father figure. Through his mother's union with Larry Smith, Kyle Kuzma has half siblings – a half brother called Andre and a half-sister named Briana.
See Also: Colin Kaepernick Girlfriend, Wife, Parents, Family, Ethnicity, Net Worth
Who is His Girlfriend?
The power forward for the Los Angeles Lakers is very private about his dating life with hardly any rumor ever coming out of that camp. He is however now reported to be in a new relationship with a woman known as Sophia Jamora. Jamora has been spotted at some games tagging along with her beau.
Height
At a height of 6 foot 9 inches, Kyle Kuzma fits the bill of what a modern NBA forward would be expected to look like. His amazing height probably contributes to his game and is perfect for playing what is known as the stretch four at the next level.