Unlike most athletes who get inspired by their neighborhood to develop an interest in a certain sport, Madison Keys' case is different as she was inspired to play tennis just by admiring the signature white dresses Venus Williams wore as she dazzled on the courts. She asked her parents to get her one, her parents promised to get her one if she started playing tennis. Her father recalled after this bargain, that all little Madison did was try to hit balls into the next yard and her parents did keep their own part of the deal by not only getting her Venus Williams' type of white tennis dress but also guided her to pursue the career path that they are not only proud of but which she is equally proud of and successful in. Madison's success has attracted the interest of many not just into her profession but her personal life, but Madison is one of those celebrated personalities that prefer to keep their private lives, private, giving a large room for speculations, however, a few details have emerged.
The Tennis Star's Parents Are Attorneys
The pretty young lad was born in Rock Island; one of the cities in Illinois on February 17, 1995, to Rick and Christine Keys. Her dad is an African-American who played for the Division II All-American college basketball team at Augustana College. In 1981, Rick would later graduate from John Marshall Law School, Chicago, and went on to become a renowned attorney. He is currently a partner at the Keys Law Offices and specializes in criminal defense and personal injury claims.
Her mom, however, is a white American, however, it is not known if she had been an athlete too when she was younger. In 1988, Christine graduated with a B.S.c degree from Marycrest University, then she went further to attend law school at De Paul University College of Law, Chicago, Illinois, graduating in 1991.
Owing to the fact that her dad is an African American and her mom is white American, Keys can best be described as biracial; however, she has made it clear countless times that she wouldn't be described by her race. "I don't really think of it I don't really identify myself as white or African-American. I'm just me. I'm Madison," she told the New York Times in an interview, but acknowledging her roots is inevitable.
Her Mom Gave Up Her Flourishing Career To Ensure Her Success In Tennis
Madison is just one out of her parent's four daughters. She has one older sister and two younger ones. Her other sisters are Sydney, Madison, Montana, and Hunter. Although it is not known what her other siblings are into; it is a well-known fact that Madison is Rick and Christine's only child out of the four who play tennis.
Her parents had to sacrifice a lot in order to allow her to pursue her dream as a professional tennis player. Giving up a promising career and having to put up with a long-distance relationship are just a few out of the many sacrifices they made.
Her mom practiced law for a while in Rock Island before she had to retire and relocate to Florida with her sisters so that Madison could pursue a career in tennis. Although they are still married, they have lived apart for several years, in fact, they still do; Christine lives in Orlando, Florida while Rick lives in Rock Island, Illinois.
All that sacrifice did not go to waste, looking at how successful their daughter has become must really make them very proud; in an interview with Vavel Rick Keys says It's been a thrill to see Madison achieve great things' beating great players like the Williams girls along with many top players.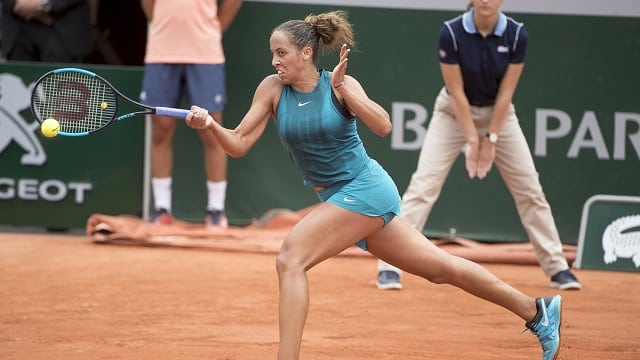 Her Boyfriend Also Plays Tennis
Madison Keys is among the few celebrities who prefer talking about her career instead of her personal love life, however, this has made a lot of her fans assume she is bisexual, especially with her involvement with the LGBT community; although she hasn't said anything concerning the speculations. Fans believe she is just a lover of the community and nothing more.
The beautiful tennis player is currently dating a fellow tennis player named Bjorn Fratangelo. Fratangelo was born on the 19th of July 1993 in Pittsburgh, Pennsylvania to the family of Mario Fratangelo. He was named after the sensational tennis legend, Bjorn Borg. His dad Mario who happens to also be his coach guided him toward his profession at a very young age. It is on record that he began playing the tennis sport when he was only four years old.
In 2011, he won the boys' singles title French after beating Dominic Thiem, who is currently the world's number 3. Bjorn is one out of three Americans who have ever won the title. In 2016, he also won the French Open Wild Card Challenge and in 2017, he became one of the semifinalists at the Hall of Fame Tennis Championships. He currently ranks number 130 in the world.
The news of their relationship was first rumored in 2017 and would later be confirmed via a post she made on her IG page. Before Bjorn, Madison had no records of a concrete relationship. She has however been romantically linked with Nick Kyrgios, but there has never been substantial evidence to ascertain this.
Although Bjorn has few pics on his IG account which he took with beautiful women especially one in which the woman in the photo referred to him as #bf, there is not much evidence to proof whether or not he was actually in a relationship with the said lady, it is not also on records if Bjorn himself has dated any other lady or if Madison is his first as he also lives a very private life away from his career.
What we do know is that the couple has remained together for about three years and spend a lot of time together. Although they don't seem to be planning a wedding any time soon, they appear so much in love and have continued to share memorable moments of themselves on their respective social media pages.