President Muhammadu Buhari has been married twice with children from both marriages. While his children with the first wife Safinatu are not so much in the spotlight, the ones he had with the First Lady, Aisha Buhari are quite popular. Muhammadu Buhari's children are well educated as they are schooled both in Nigerian and the United Kingdom. Nearly all are married and living with their spouses except for the last child who goes by the name, Amina Buhari.
Out of the five children the president had with Aisha, Zahra and Hanan are more outspoken and have been enmeshed in controversies at certain points in their lives. However, there is a whole lot more to learn about the first family of Nigeria.
How Many Times Has President Muhammadu Buhari Been Married?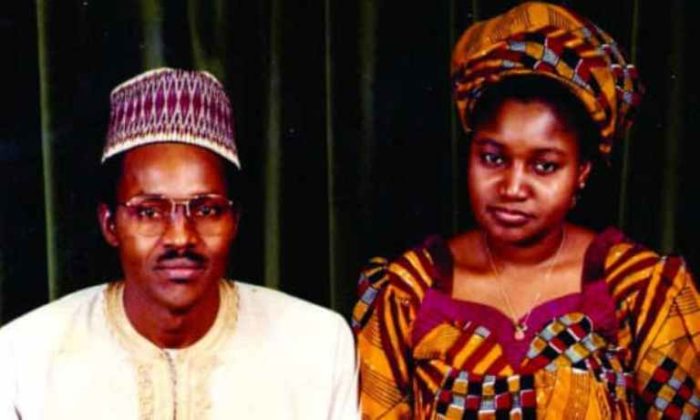 Many think that the current president of Nigerian, President Muhammadu Buhari only married once but that is far from the truth. The Daura native was already married during his first tenor in office as the Nigerian Military Head of State which lasted from 1983 to 1985. During that time, his first wife, Hajiya Safinatu Buhari served as The First Lady of Nigeria. The duo met while Safinatu was barely into her teens, however, it was not stated whether Buhari dated the 14-year-old girl but the records said they eventually tied the knot when Safinatu clocked 18 in 1971. Her wedding took place a couple of days after she finished from Women's Teachers College but she never took up a teaching job in her life.
Safinatu and Muhammadu's union was quite fruitful, blessed with five children. Below are Muhammadu Buhari's children from his first marriage
Zulaihat Buhari
Fatima Buhari,
Musa Buhari
Hadiza Buhari
Safinatu Buhari
The first five children of Buhari comprise four girls and one boy Musa who died a long time ago. Zulaihat is also late, she passed on in Kaduna, in November 2012. The cause of death was said to be sickle cell anemia but she gave birth two days earlier. With that said, Buhari's only surviving children with Hajiya Safinatu are Hadiza, Fatima, and Safinatu.
After living together as man and wife for 17 long years, Muhammadu and Safinatu decided to call it quits with their union in 1988. Buhari's divorced wife is deceased, she had a long battle with diabetes after she was diagnosed in 1998 and died in the year 2006.
Buhari Got Married To Aisha in 1989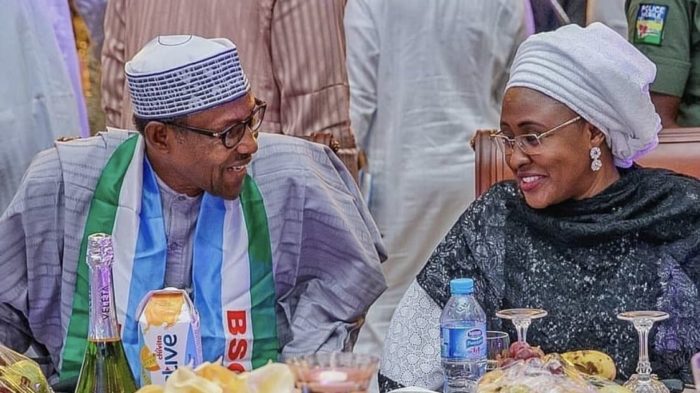 Barely one year after Muhammadu Buhari secured a divorce from his first wife Safinatu, he went ahead to tie the knot with Aisha Buhari who became his second and current wife. Their wedding took place on the 2nd of December 1989 and their union has lasted for over three decades.
Like Safinatu, Aisha was equally 18 years when she became the second wife of Buhari and despite the fact that she went into matrimony at such a tender age, the first lady did a good job of overcoming her battles and coming out on the other end as a strong and independent woman who has remained loyal and submissive to her spouse.
Aisha Buhari is a well-educated woman, an alum of Ambrose Alli University (AAU) where she majored in public administration for her first degree. Going back to school for her Master's, the first lady joined the Nigerian Defence Academy, Kaduna, for a course in international affairs and strategic studies.
As the wife of a sitting president, Aisha has been deeply involved in philanthropy and has many foundations under her belt. She equally supports many through several charity programs. Hanzy Beauty Institute is a beauty salon in both the federal capital territory and Kaduna where she functions as the principal. The first lady is also the MD of Hanzy Spa.
These Are President Buhari and Aisha Buhari's Children
In the same way as his first marriage with Safinatu, Buhari and Aisha's union was equally blessed with five children in exactly the same mix – four girls and a boy. They include
Halima Buhari
Zahra Buhari
Yusuf Buhari
Hanan Aisha Buhari
Amina Buhari
Halima Buhari Sheriff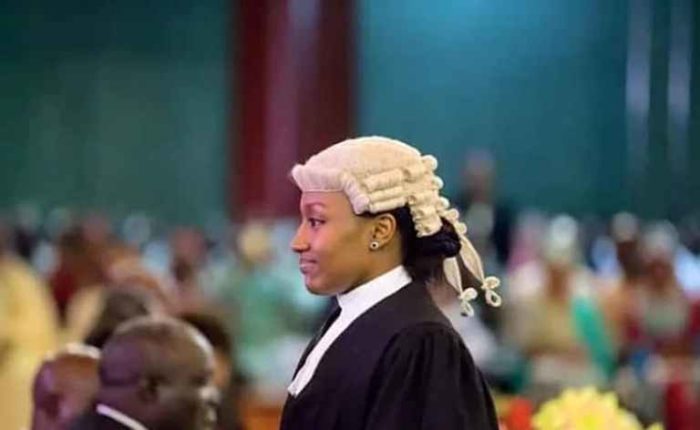 Full Name: Halima Buhari Sheriff
Date of Birth: 8th October 1990
Age: 33
Nationality: Nigerian
Education: International School, Kaduna, British School of Lome, Bellerby's College, Brighton, United Kingdom, University of Leicester, United Kingdom, Nigeria Law School, Lagos.
Parents: President Muhammadu Buhari and First Lady Aisha Buhari
Height: N/A
Occupation: Lawyer
Years Active: 2016
Net Worth: NA
Barely a year after Muhammadu Buhari tied the knot with his second wife Aisha Buhari, the couple welcomed their first child together, a beautiful girl called Halima Buhari. Her birth occurred on the 8th of October 1990, about two years after her father's divorce from his first wife Safinatu. One thing that can be said about Aisha's first child is that she does not live a public life, thus, people barely know anything about her personal life.
Halima Attended Several Institutions of Learning Both In Nigeria and Abroad
Halima is said to be the most learned among President Muhammadu Buhari's children. Her academic journey started in Nigeria at the International School, Kaduna, where she acquired basic education. Buhari's daughter later moved to the British School of Lome. Her next port of call was Bellerby's College, Brighton, United Kingdom, and then the University of Leicester, United Kingdom. Aisha's first daughter returned to her home country to attend the Nigerian Law School, Lagos following which she was called to bar in 2016. According to several media outlets, Halima was set back with one year after she had a re-sit at law school. Her graduation, they said was formerly slated for August 2015 but was shifted to 2016 because of the re-sit.
Halima's call to bar happened in the federal capital territory of Nigeria, precisely at the Abuja Law School. The event was witnessed by some members of her family, including the First Lady of the Federal Republic of Nigeria, Aisha Buhari. Two of her younger siblings Yusuf and Zahra Buhari were also in attendance. here is a list of the institutions of learning attended by Halima Buhari;
International School, Kaduna
British School of Lome
Bellerby's College, Brighton, United Kingdom
University of Leicester, United Kingdom
Nigeria Law School, Lagos.
Halima is Believed To be Practicing Law in Nigeria
As earlier mentioned, the first of Muhammadu Buhari's children with Aisha is someone who loves to live her life on the quiet side. Thus, people don't really know much about her career pursuits. However, many believe that she is a practicing lawyer. But the details of her professional life are sadly lacking.
Buhari's Daughter Halima is the Wife of Alhaji Babagana Muhammed Sheriff 
A prominent Bornu man named Alhaji Babagana Muhammed Sheriff took Halima's hand in marriage in 2012 when she was 22 years of age. According to reports, the duo have been long-time friends before they chose to take their relationship to the ultimate conclusion. It was at the Yahaya Road Jumat Mosque that the lovebirds were joined together as man and wife. The occasion was a remarkable one graced by the bride's father, Muhammadu Buhari, and other invited dignitaries in the country which include the likes of Gen. Buba Marwa, Senator Kanti Bello, the then governors of Borno, Kano, Kaduna, and Nasarawa State deputy governor.
Security at the venue was very tight as only a few people were allowed to attend. Women were excluded from the guest list which comprised only men. After her nuptials, Halima became officially known as Halima Buhari Sheriff, the couple has since been blessed with the birth of a daughter.
Zahra Buhari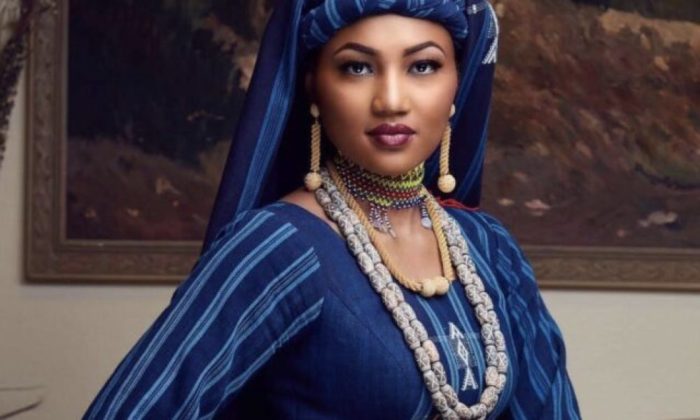 Full Name: Zahra Buhari
Date of Birth: 18th December 1994
Age: 28
Nationality: Nigerian
Education: Kaduna International School, British School of Lome, Bellerby's College, Brighton, United Kingdom, University of Surrey, United Kingdom
Parents: President Muhammadu Buhari and First Lady Aisha Buhari
Height: N/A
Occupation: Philanthropist
Years Active: N/A
Net Worth: N/A
Born on the 18th of December 1994, Zahra Buhari is the second among President Muhammadu Buhari's children from his second marriage. She came four years after the birth of her big sister Halima and has three younger siblings after her. Zahra is really an outspoken individual who entertains no fears about airing her opinions.
Zahra Attended The Best Of Schools
As a child born into stupendous wealth, Zahra Buhari had attended only the best of schools both in her home country Nigeria and overseas. After spending fruitful years at Kaduna international school, the president's daughter joined the British School of Lome in Togo. Traveling outside the shores of Africa, Zahra moved to the United Kingdom to attend Bellerby's College, Brighton. She earned her degree in Medical Microbiology from the University of Surrey in the UK.
Important to note that, Zahra and her only brother Yusuf Buhari passed through the same university in the United Kingdom and they did their graduation the same day in 2016. These are the schools that Zahra has attended so far;
Kaduna International School
British School of Lome
Bellerby's College, Brighton, United Kingdom
University of Surrey, United Kingdom
Aisha Buhari's Second Daughter Is A Philanthropist
Zahra may have bagged a degree in Medical Microbiology but she has never worked in that field for one day. Rather, the second of Muhammadu Buhari's children chose to toe the same path as her mother Aisha Buhari. Zahra seems to have the milk of human kindness running in her veins which led the president's daughter to float an NGO called ACE; full meaning is Assisting, Caring, and Empowerment. The key purpose of the non-governmental organization is to help children who are sufferers of sickle cell anemia to access treatment for free. ACE's reach is not limited to children who have sickle cell, the outfit extends magnanimity to other important spheres of life such as
Proper education for the underprivileged
Economic empowerment
Health care
Zahra also works with orphaned kids through her ZMB homes which she founded some years back. The purpose of ZMB homes is to provide Nigerian orphaned kids with safe and nurturing homes. The daughter of the president has obviously leveraged her influence to touch many lives in the country. Little wonder Oracle Magazine bestowed her with the Charity Ambassador of the year Award in 2015. In an interview session in Nigeria, Zahra talked about her mother's work in philanthropy and how she draws inspiration from her.
She Got Married To Ahmed Indimi in 2016
A couple of years before her 22nd birthday on the 16th of December 2016, Zahra Buhari became the wife of Ahmed Indimi – a Borno native from the Northeastern part of Nigeria. Ahmed is a well-educated man who attended both Lagos Global College and American Intercontinental University, Atlanta, Georgia, where he acquired his first degree and Masters's in Information Technology. Zahra's spouse is the son of a wealthy entrepreneur, his father Mohammed Indimi owns Oriental Oil where he (Ahmed) is gainfully employed as the company's head of marketing.
Zahra Buhari's nuptials with Indimi was hosted at Abuja National Mosque. Unlike Halima's wedding that was conducted under strict security, Zahra's was well attended by family, friends, political elites, colleagues, and more. The couple later took to social media to share snapshots of the event with fans.
Zahra and Indimi's union is undoubtedly a fruitful one as they welcomed the first child of their marriage barely two years later. Their son Muhammad Indimi was born on the 9th of July 2018 in Madrid Spain. Muhammad soon became a brother to a baby girl whose identity has never been revealed but according to reports, she was born in the United Arab Emirate, precisely in Dubai.
She is the Most Popular of All President Muhammadu Buhari's Children
Zahra Buhari seems to be the complete opposite of all her siblings who don't seem to have much presence on social media except for Hanan. She is not only active on Twitter and Instagram, but the lady also launched a website where she updates fans on her life and ambitions.
On the picture-sharing platform, Instagram, the mother of two frequently shares her pictures, including that of her husband Indimi. She once shared the snapshots of her home which is said to be among the most elegant and opulent mansions in the country; this happened immediately after her nuptials when she hosted a tea party at her new home. Zahra's Insta Stories also contain other pictures she took in the luxury mansion. The mother of two also shows unflinching support to the president through her Instagram posts.
Zahra is undoubtedly the most outspoken of all Muhammadu Buhari's children and her outspokenness, especially on national matters have earned her a bucket full of criticism from the Nigerian public. She was once featured in an interview session where she claimed that none of her siblings, herself inclusive can speak Hausa fluently. According to Zahra, her father often corrects her Hausa whenever they are discussing. The usual mode of communication in their home is "Engausa" – a colloquial for the combination of Hausa and English languages. Blaming her inability to fluently communicate in Hausa on the fact that she attended school with white children, Zahra told her interviewers that they mostly speak the indigenous Fulani language, Fulfude at home; but this was said off stage.
Zahra's Political Opinion on Her Father's Government
Being one the most outspoken of Muhammadu Buhari's children, it came as no surprise that Zahra Buhari can voice her opinion on national issues in the public space. The mother of two who seems to love the camera mentioned in an interview session that she harbors no political interest like her dad but that will not deter her from showing him her unwavering support
An instance came for her to put her words to action during the Corona Virus pandemic when the Nigerian public accused Buhari's government of hoarding the palliatives meant to be distributed to the needy. In the midst of the accusations, the FG maintained that their warehouses were invaded by hoodlums who carted away the food items slated for distribution. Upon hearing this line of defense from the Federal Government of Nigeria, Zahra wasted no time in taking to Instagram in defense of her dad's government, saying that the statement from the FG clearly vindicated Buhari and is enough proof that he is not the problem of Nigeria.
On their own part, Nigerians who were really angry about the non-distribution of palliatives heaped a deluge of criticism on Zahra and her statement. According to the citizens of the country, the mother of two was just supporting her corrupt father at the expense of the truth.
Zahra also leveraged Twitter to clear all controversies surrounding the president's school leaving certificate. At one point, her Twitter handle was successfully hacked and the hacker was having a field day making unpleasant comments about the leaders of Nigeria, however, it was later said that Zahra was not the person operating the Twitter handle as at that time. One thing that must be said for Zahra is that she has been really good at showering her dad with unsolicited support in any way she can. But then, that is exactly what is expected of her.
Zahra Buhari Has Once Been Enmeshed in Controversy
Perhaps, because of her outspokenness, Zahra has been deemed to be the most controversial of all Muhammadu Buhari's children, what with all her activities on different social media platforms and her opinionated comments on national issues without entertaining fear or reservations. However, her major controversy was recorded when she had an unpalatable brush with SaharaReporters. According to the news site, A prominent Nigerian who was identified as Alhaji Nasiru Haladu Danu and several other top officials under President Muhammadu Buhari's government diverted and shared above 51 billion NGN and transferred around N2.5 billion to one of Zahra Buhari's foundations.
Knowing her kind of person, Zahra did not let the grass grow under her feet in reacting to this weighty allegation. According to the president's daughter, her foundation has never been a beneficiary of such funds from anyone. In her anger, she demanded an apology and a retraction from SaharaReporters. Zahra laid down her condition for the apology and retraction saying that the news site must publish them on their platform, including three other national dailies. This she said must continue for the ensuing seven days.
Yusuf Muhammadu Buhari
Full Name: Yusuf Muhammadu Buhari
Age: N/A
Nationality: Nigerian
Education: Kaduna International School, British School of Lome, Bellerby's College, Brighton, United Kingdom, University of Surrey, United Kingdom.
Parents: Muhammadu Buhari and First Lady Aisha Buhari
Height:5 feet, 6 inches
Occupation: N/A
Years Active: N/A
Net worth: N/A
Out of all Muhammadu Buhari's children with his second wife Aisha Buhari, Yusuf is the only male child. He became the only surviving son of the president after the death of Musa Buhari, the president's only son with his wife Safinatu. Yusuf was born in his home state of Katsina on April 23rd, however, his year of birth has never been mentioned in the public arena. Though it is believed that he was born in the 1990s.
Perhaps the most reserved of President Muhammadu Buhari's children, Yusuf is named after his dad as his full name is Yusuf Muhammadu Buhari and he is quite close to the president; both have been severally spotted attending ceremonies together. He even accompanied the president to the United States in 2015 on what marked his first official trip after he was inaugurated. Buhari's only surviving son also goes to the farm with his father. According to the first citizen of Nigeria, he was the one who stopped Yusuf from joining the military when he showed interest.
Yusuf equally shares a very close bond with his mother Aisha Buhari whom he describes as a fighter who loves to give expression to her views no matter how controversial an issue may be. Yusuf who claims he can't do anything without involving his mum also said that he sometimes follows his mind even when Aisha disagrees.
The president's only surviving son views his mum as caring and loving – an unofficial doctor with prescriptions for fixing everybody's problems. Whatever issues that are brought before the first lady finds an immediate solution from all the solutions up her sleeve, Yusuf said. She is a fighter no one can disagree with and goes to any extent to find lasting solutions to issues. Aisha is said to have a keen interest in issues concerning all her children. Yusuf said he must tell her his plans even when it is glaring that she won't agree and when it eventually backfires, his mum won't judge him but allow him to learn the hard way.
Yusuf Has Both A Bachelor's Degree and Master's
Like all his siblings, President Buhari's only surviving son commenced his academic pursuit at Kaduna International School. Moving to Togo, he joined the British School of Lome following which he left the country to the United Kingdom to study at Bellerby's College, Brighton. He went to the University of Surrey, the United Kingdom where he bagged his first degree, graduating at the same time with his sister, Zahra Buhari. After his graduation, Yusuf went back to the UK where he bagged a Master's from one of their prestigious universities. Below is a list of the academic institutions attended by Yusuf Buhari.
Kaduna International School
British School of Lome
Bellerby's College, Brighton, United Kingdom
University of Surrey, United Kingdom.
After he returned to Nigeria in 2018, the president's son had to do the needful by joining the National Youth Service Corps which he completed by March 2019. However, his state of deployment and place of primary assignment has remained shrouded in secrecy to date.
His Involvement In The Hospitality Industry Turnout Out to be a Hoax
Yusuf Buhari has always lived a reclusive life and when he came back to the country after bagging his degrees abroad, the only surviving son of Muhammadu Buhari continued with his quiet life. Thus, nothing was heard about him following any career path. However, rumors once made the rounds that Yusuf is into the hospitality industry and secretly owns a couple of hotels in the federal capital territory of Nigeria, Abuja. The rumors also pointed out a third hotel that was said to be under construction.
Going by the then speculations, there was a wealthy American businessman (name withheld) who claimed that the president's son had plans of investing in his business interest (Nigeria high-speed broadband). According to the rumors, the American was hosted at Yusuf's five-star hotel where the president's son demonstrated his financial capability.
As the controversies of the said hotels were making the rounds, Yusuf maintained a stoic silence and to date, he never divulged anything. Thus, no one really knows the truth and the whole hotel ownership saga was later dismissed as a hoax.
Yusuf Muhammadu Buhari's Motorcycle Accident
There were previous speculations that Yusuf Buhari secretly acquired a couple of BMW power bikes which the market price was pegged at $157, 000 each. The acquisition of the two bikes which happened in June 2017 was said to be at the instance of Bashir Gwandu, a close friend to the president's son.
A few months later, in December 2017 while enjoying a ride in Gwarimpa, Abuja, the president's son got involved in a ghastly accident that did not only damage the $157, 000 worth of power bike but also left him in a coma with severe wounds and fractures. Being in a very critical condition, flying him out of the country was totally out of the question, thus, he had to receive initial treatment in an Abuja hospital. It was after he miraculously recovered from the coma that Yusuf was flown abroad for further treatment which as expected triggered reactions from the Nigerian public.
The ensuing talk which was centered only on the elites condemned how they get all the special treatments while they are the ones that neglected to fix the country's health sector. The middle and low class, they said are the ones feeling the brunt of the poor health infrastructure.
Though the accident did a good work of making Yusuf popular, the son of the president never leveraged it to get more popularity, rather, he went back to his normal reclusive life pattern which has made it even more difficult to get facts about his life.
Yusuf Buhari Met His Wife, Zahra Nasir Ado Bayero at Surrey University
Yusuf Buhari and Zahra Nasir Ado Bayero has been long-time friends before they got wedded. Zahra is equally from an affluent background – the daughter of Nasir Ado Bayero who is the sitting Emir of Bichi. The Emir's daughter was born in 2002 and acquired her basic academic qualifications in Kano State before moving to one of the universities in the United Kingdom (Surrey University) to study architecture. It was while Zahra was a student at Surrey that her path crossed with the president's son and the two got acquainted.
After Yusuf decided to make Zahra his wife, the president took the initial step by sending his emissaries down to Bichi in Kano State to declare his son's intentions to Emir, Nasir Ado Bayero as the tradition demands.
On a Friday the 25th of August 2021, the lovebirds finally tied the knot in the bride's hometown, Bichi. According to reports, they were joined by Isa Ali Pantami, Nigeria's Communication Minister for a bridewealth of N500,000.
Yusuf May Not Have Attracted Any Controversies, But His Wife Has
During the bridal shower held in preparation for Yusuf and Zahra's wedding, the daughter of Emir of Bichi appeared in a figure-hugging gown, undeniably transparent around the shoulder area. Being a Muslim, she was expected to cover her head but she didn't. This sparked a lot of speculation among the Nigerian public as they questioned why Hisbah – the morality police in the northern part of Nigeria that arrests people for wearing indecent dresses can be silent on this issue. According to the social media trolls, Hisbah probably enforces a different law for the elites and another for the poor and middle class.
The speculations later forced a reaction of the Hisbah police through their spokesperson, Sheik Harun Ibn Sina who said that the Emir's daughter is not above the law. Going further, the sheik said if Zahra desires to get blessed in her marriage, then, she should lead by example.
The President's Son Has Skeletal Presence on Social Media
Though Yusuf established a presence on Twitter @YusufBuhari, his handle has not been active. He is known to keep a low profile and his handle had just 116 tweets. His latest tweet was seen on the 10th of February, 2016 – it was a brief patriotic message with an image that read "For the love of our country and the future generation".
Aisha Hanan Buhari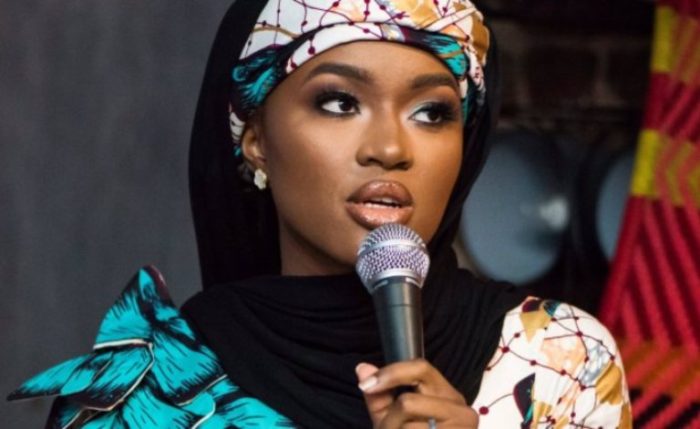 Full Name: Aisha Hanan Buhari
Date of Birth: 30th August 1998
Age: 25
Nationality: Nigerian
Education: Kaduna International School, and Ravensbourne University England
Parents: Muhammadu Buhari and First Lady Aisha Buhari
Height: N/A
Occupation: Photography
Years Active: N/A
Net Worth: N/A
Born on the 30th of August 1998, Aisha Hanan Buhari seems to be the only one among President Muhammadu Buhari's children born during his time as the head of the army in Nigeria; her birth occurred on the 30th of August 1998. Just like her siblings, she also seems to be very close to both her parents. Hanan who is obviously named after the first lady was spotted on Instagram wishing her mummy a happy birthday.
In Hanan's birthday wishes to her father, President Muhammadu Buhari, she described him as the most important man in her life. Saying she can never thank him enough.
She is an Alum of the Ravensbourne University England
The records portrayed Hanan as being exceptionally gifted in terms of intelligence. Her academic journey commenced in Nigeria at the Kaduna International School following which she traveled to England for further studies. At Ravensbourne University England, she enrolled for a course in photography and media, graduating in 2019. More notable about Hanan's graduation is the fact that the president's daughter bagged a first-class in her discipline. Going back to the same academic institution the following Autumn, she completed a Masters in Fine Arts (MFA).
Hanan Buhari Career Is Practicing Photography
From what is perceivable, Hanan Aisha Buhari is obviously good at what she does. After completing her studies in the United Kingdom, the president's daughter returned home to Nigeria where she settled down to practice her career as a fine art photographer. She has a website through which she brings her work to public notice.
In 2017, she organized and hosted an exhibition in the capital territory tagged "Innovation by Hanan". At The exhibition which was well attended by a lot of dignitaries in the country, Hanan showed some of her works, earning commendations from the industry A-list and top governmental officials.
Those who were present at the exhibition lauded the president's daughter for her efforts and contributions to changing the age-held perception of photography. Now, the discipline is seen as a career path for the highly gifted and talented – no longer as something to be managed by the less privileged and school dropouts
Her Union with Mohammed Turad Sha'aban Has Endured For A Year and Still Counting
Hanan Aisha Buhari had just clocked 22 years of age on the 4th of September 2020 when she tied the marriage knot with Mohammed Turad Sha'aban. The son of a former Nigerian lawmaker, Mahmud Sani Sha'aban, Mohammed is the country's present minister of works and served with the Lagos State Government as a special adviser. According to reports, Hanan's spouse also studied in the United Kingdom at Northampton University where he earned a Master's degree. He is the current holder of the traditional title, Wakilin Tudun Wadan Zazzau.
The wedding which was hosted at Aso Rock (Nigeria's presidential villa) turned out to be a fairy tale wedding. HamadForever Alhamdullilah, the wedding hashtag started trending instantly as top communication outfits like Bellanaijaweddings were on hand to cover all the happenings at the venue. The caliber of people in attendance includes top politicians and some members of the country's diplomatic community. With the wedding ceremony done and dusted, the first lady of Nigeria, Aisha Buhari took to Instagram to share the couple's first photos via their official IG page, thanking well-wishers and attendees for all their goodwill messages.
After their nuptials, nothing was heard from the couple until one year later when they surfaced to celebrate their anniversary. On the 4th of September 2021, the duo took to their individual IG pages with posts full of emotional words. Captioning a lovely picture of the two together, Mohammed wrote, "You are a prayer answered! Happy Anniversary Baby". Hanan's post was a bit simpler, reading "Happy 1st My love". All these obviously indicate that the couple has been enjoying marital bliss.
Hanan also surfaced on Instagram to wish her baby a happy birthday in 2021
Controversies Trailing Hanan Buhari
Being the daughter of a sitting president of the Federal Republic of Nigerian, Hanan Buhari has had her share of scandals and controversies. Her name hit the airwaves in 2020 following a court case against her by one Anthony Okolie. Going by the man's exact words, President Buhari's daughter sent operatives of the Nigerian State Security Services to unlawfully arrest and detain him for purchasing a sim card she previously used.
The man who happens to be a trader of the Igbo extraction had to spend a total of ten weeks in detention following which he filed a suit against Hanan at the Federal High Court in Asaba. Evidence of the case file revealed that Mr. Anthony Okolie was demanding a whopping 500 million naira for blatant violation of his fundamental human rights without any regard for the rule of law. The payment would also take care of the loss he incurred during the period he spent in detention.
Weighing in on the matter, Hanan said it was true that the sim card that was acquired by the man was used by her in the past, but she never ordered his arrest. Going further, the president's daughter claims she never even reported the case to the SSS or any other Nigerian law enforcement agency for that matter.
In his response, the trader insisted that Hanan actually ordered his arrest as the case file was captioned "the first family". The case lasted for several months with intense court proceedings, following which the court absolved both MTN and Hanan. However, the turn of events led the court to order the law enforcement agency to pay Mr. Okoli the sum of 10 million naira as compensation.
Hanan Buhari Sparked Another Controversy After She Used The Presidential Jet
While she was busy with her final year project as a student of photography and media, Hanan Buhari was flown to Bauchi State in one of the presidential jets, just for a special durbar. It goes without saying that the occurrence did not sit well with the Nigerian public who were quick to pour criticisms on the first family. However, she never commented on this situation unlike the case of the sim card.
Amina Buhari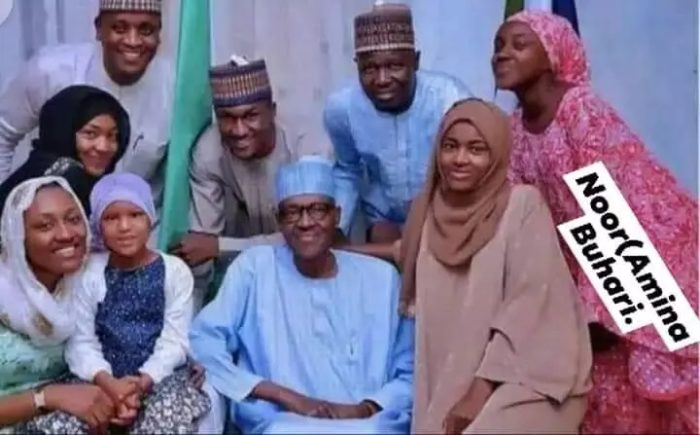 Full Name: Amina Buhari
Date of Birth: 14th September 2004
Age: 19
Nationality: Nigerian
Education: NA
Parents: Muhammadu Buhari and First Lady Aisha Buhari
Height: N/A
Occupation: Student
Years Active: N/A
Net Worth: N/A
The youngest of all President Muhammadu Buhari's children is a young lady who is called Amina Buhari. The records captured her date of birth as the 14th of September 2004; this makes Amina six years younger than Hanan. The last child of the president who is still in her teenage years lives a well-protected life as there is little or no information about her.
Until recently, people thought Hanan was the president's last child as Amina's existence was kept well away from the prying eyes of the public because of her tender age.