Davido and Chioma's relationship is one of the most talked-about celebrity love stories in Africa. This is not surprising at all, considering Davido's popularity among Nigerians, Africans, and people around the world. There is hardly anything that happens in Davido's life that goes unnoticed, including his relationships. So, when Chioma came into his life, it soon became public knowledge.
The couple has enjoyed a lot of attention since the media confirmed that they were dating and, over the years, they have made headlines with their PDA and devotion to each other. In fact, the kind of waves the lovebirds have constantly made with their love story has made some fans hail them as Nigeria's Romeo and Juliet. However, like all relationships, Davido and Chioma's love story has not always been a rosy one.
How Davido And Chioma First Met
One of the most sought-after pieces of information about Davido and Chioma's endearment is how the couple met each other. When news first emerged that they were dating, many people became curious about how one of Africa's biggest stars came to fall in love with the beautiful, and unknown young Chioma. Well, the story is quite an interesting one.
Davido and Chioma met in school when they were both students of the popular Babcock University. Talking about how this happened, Chioma, while responding to questions from fans in 2018, explained that when she was in school, she had a friend who knew Davido. According to her, this friend of hers was actually dating a female friend of Davido at the time, so it was easy for her to access Davido through him. Apparently, Chioma was so close to her friend that he introduced her to Davido after some time.
Who Introduced Chioma To Davido?
When Chioma told this story, many fans concluded that Nigerian singer Peruzzi was that friend of hers who introduced her to Davido. They reached this conclusion because Peruzzi is Chioma's distant cousin and is also signed to Davido's record label. So, they figured that if Peruzzi is a relative of Chioma and is also Davido's friend, then he must have been the one who introduced her to the singer.
However, Davido quashed this school of thought in 2020 during an interview on Bounce Radio. He revealed that it was his manager, Lati, who introduced him to Chioma. Apparently, it was not Peruzzi at all who linked the couple up. Findings later revealed that when Chioma and Davido started dating, Peruzzi had not even met Davido yet.
They Were Just 'Mere Friends' For A While
When Davido was first introduced to Chioma, they became friends and continued being just friends for some time. However, after about two years, they decided to take things a little deeper and started dating each other in 2016. Davido later explained that he grew very fond of Chioma after getting so close to her and becoming used to her incredible cooking skills.
When Davido and Chioma started dating, their fans and the press were not certain about the love affair until December 2017, when Davido took her to Dubai. Before this time, in 2016, there had been rumors about the couple being an item. Soon, different reports began to emerge that the African music maestro, was dating a fine young lady called Chioma, who was completely unknown to the public at the time.
In January 2018, the signs became apparent that the couple was dating when Chioma was spotted accompanying Davido to a family function, and this raised a few eyebrows. Soon after this, Davido took Chioma on one of his many tours around the world. At this point, there was no doubt about the fact they were in love. The couple later made trips to Senegal and Barbados to have a great time together.
In April 2018, Davido was spotted in a video publicly declaring that he is in love while he was in a club with Chioma by his side.
Chioma's School Work Reportedly Suffered Because Of Davido
At the beginning of her relationship with Davido, reports emerged that Chioma had abandoned her studies to be with Davido. Being an international superstar who had shows worldwide, Davido was always traveling, and Chioma was with him. Because of this, her education suffered. According to a report by Vanguard in 2018, Chioma once had to skip a whole session and abandoned school because she was traveling around the world with Davido on his tours. She even had to defer her studies, according to the report.
These reports shook social media at the time, especially because it inferred the whole thing was causing a family feud in Chioma's home. It was claimed that Chioma's parents are devout Seventh Day Adventists and that they were distraught with their daughter's relationship with Davido and her school abandonment.
Chioma later reacted to these reports. In her reaction, she asked people to shut up if they didn't have facts about any story.
How Davido And Chioma Became The Most Discussed Couple In The Nigerian Entertainment Circle
Davido and Chioma's relationship happens to be one of the most recognized love stories in the entertainment scene and the most discussed. This is mainly because of how they've gone about professing deep love for each other at the slightest provocation, how they have backed up their words with action, how the media has constantly swooped on every content relating to the couple.
One Of Davido's Biggest Songs Was For Chioma
Davido caused quite a huge stir in April 2018 when he released one of his biggest and most publicized songs, "Assurance." Interestingly, the song was composed specially for Chioma and was dedicated to her. When the song was released, its lyrics made fans euphoric; a true confession of love for someone special. It was not the other Davido songs; this one was from the heart.
"Assurance" was released on 30th April 2018, which was actually Chioma's birthday. This made it even more special. The song made waves around the country, became some national anthem, and drew a lot of attention to Chioma, who was only beginning to get a taste of what it meant to be a popular figure. It was not long before her social media followers grew by leaps and bounds.
A Terrific Car Gift On Chioma's Birthday
With Davido's dedication of "Assurance" to Chioma, their relationship had become one of the most talked-about love stories in the country. Everyone was raving about how sweet it was for someone to dedicate a song to his lover. However, the superstar did not stop there; he went on to cause a bigger stir when he gave Chioma a huge birthday present.
On the evening of 30th April 2018, Davido presented Chioma with a Porsche car as a surprise birthday gift. The car was reportedly worth about N45 million.
Davido's presentation of the expensive birthday gift to Chioma was highly publicized on social media at the time, which further got their relationship in the public eye. If people were already talking about the couple's love after Davido's "Assurance" was dedicated to Chioma, they were talking even louder now with the car gift.
Davido And Chioma's Profession Of Love Has Stunned Fans
When Chioma came into his life, it appeared that Davido's whole life had changed. Unlike many of his colleagues who hid their love interests, he was very open with his and openly confessed his deep and proud admiration for the woman. It was clear that Davido, who already had two kids with different women, was ready to abandon his flirty lifestyle and cling to one woman.
Ever since their love story became public, Davido and Chioma have often professed love for each other on social media. Often, the couple has stunned fans with how much they seem to align with themselves when they publicly write loving words on social media. Each of those times, fans have described them as 'couples goals.'
The Couple's Engagement
Davido and Chioma are not yet married. However, they are already engaged. In September 2019, Davido took his family to meet with Chioma's family and have a proper introduction ceremony as culture and tradition demands. He later uploaded a photo of the introduction on Instagram.
As expected, the introduction ceremony caused a stir on social media as millions of fans sent in congratulatory messages for the couple. It was clear that a wedding was on the horizon.
Shortly after the introduction ceremony, Davido popped the big question and asked Chioma to be his wife. He proposed to the woman in London. According to reports, Davido took Chioma on a dinner date to a costly restaurant in London and then proposed to her there. Of course, she accepted!
The Arrival Of Their Son Cemented Their Love
Davido and Chioma have a son together. The couple welcomed their son on Sunday, October 20, 2019. Davido was ecstatic and quickly took to social media to announce his son's arrival to all his fans' delight.
In his post, he referred to Chioma as his "wife" and called her a powerful woman. He also revealed the boy's name to be David Adedeji Ifeanyi Adeleke Jr. The boy is Davido's first son as he has already had two girls from different mothers in the past.
When his son was born, Davido explained that his son's birth made him respect Chioma a lot more because he witnessed her in agony during the delivery and realized she was making a huge sacrifice for them both. The coming of their son took their love to the next level.
Ifeanyi Is The Face Of Davido's Album
Davido is very fond of his son and has openly demonstrated this on countless occasions. The pop star is so fond of the young boy that he made the child the face of his fourth studio album titled 'A Better Time.'
When the cover design of the album emerged, it featured his son's face. Ifeanyi is seen staring into space while he is being held by his father, who buried his face into his back. There is no denying the unbreakable bond that exists between father and son.
Has There Been Trouble In Paradise?
As beautiful as Davido and Chioma's relationship has been, it has not been without controversy, and there was a time people thought the couple had broken up. In June 2020, rumors began to spread like wildfire that Davido and Chioma had fallen out bitterly and even had a huge fight.
Trouble started when rumors began to spread that Davido had welcomed a fourth baby with another woman. The rumors were never confirmed though, but they caused a serious uproar on social media as people slammed Davido for not being loyal to Chioma. Shortly after these allegations began to spread, another report emerged that the couple had separated.
The report of Davido and Chioma's separation was released by popular Nigerian blogger Stella Dimoko Korkus, who put out a really damning report alleging that Davido and Chioma were no more together. According to the blogger, insiders told her that the couple had a big fight over some differences they had and were even living in separate houses at the time already.
Stella Dimoko Korkus, in her report, also claimed that insiders revealed to her that Davido and Chioma got into a huge physical fight and hurt each other. It was claimed that Davido had beaten up Chioma so badly that she had to go into hiding to conceal the marks that Davido's punches had drawn on her face.
Davido Unfollows Everone On Instagram
In the midst of all the allegations trailing their relationship, Davido added insult to injury when he decided to unfollow everyone on Instagram, including Chioma. The move caused some stir on social media as many people believed that by unfollowing Chioma, he passed a message that all was not well between them.
Fans immediately went into a flurry, asking Davido and Chioma to repair their relationship and do away with whatever was causing commotion between them. However, others claimed that Davido was only trying to chase clout and get public attention.
What Chioma Had To Say About Everything
While the media was agog with rumors of a breakup between Davido and Chioma, the young woman decided to address the matter. She took to her Instagram page and released a statement in which she debunked the story that Davido had beaten her up.
She stated clearly that Davido had never raised a finger on her and that she has also never even attempted to push him. According to her, all these were unfounded rumors that should stop circulating.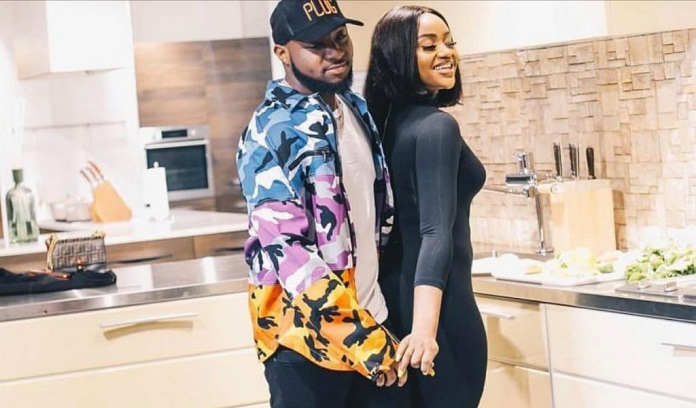 Are They Still Together?
At the moment, Davido and Chioma are still very much together. Despite all the rumors that spread about them splitting up, the couple is still in love and plans for a better future as a family.
In September 2020, Davido confirmed he is still with Chioma during a Bounce Radio Live interview with Ebuka Obi-Uchendu and revealed that he would get married to her in 2021. He also explained that he would have married her in 2020 if the outbreak of Coronavirus had not spoilt the plans he had.