A Super Bowl champ, Russell Wilson has been a trailblazer in the NFL since 2012. Though he was initially rejected at the beginning of his career, the Seattle Seahawks' quarterback was lucky that height wasn't all that mattered to some teams. With his dynamic leadership and athletic skills, he eventually rose to become one of Seahawks' most valued players as well as one of the highest paid players in the league. Here are interesting facts about the quarterback's career and his personal life.
Russell Wilson's Biography
The Ohio native was born Russell Carrington Wilson on November 29, 1988. Though born in Cincinnati, Wilson was raised in Richmond, Virginia. Given that Wilson is from a very athletic family, it was no surprise that he developed an early interest in sports. By the time he was in high school, Russell who began playing football at age four played for Richmond's Collegiate School's baseball, basketball and football teams. He led the school's team to a state championship in 2004 and as a senior quarterback, he was named Conference Player of the Year.
At NC State University, Wilson continued with his outstanding performances and made history as the first freshman quarterback to earn all-ACC first team honors. But after a fall out with his coach in 2011, Wilson transferred to the University of Wisconsin where he also enjoyed an outstanding senior year. Though Wilson's athletic abilities and success record were undisputable, he was initially considered too small to be drafted into the NFL. But a breakthrough came in 2012 when he was selected into the NFL draft as the 75th overall pick by the Seattle Seahawks.
In Super Bowl XLVIII, Wilson who was just in his second season in the NFL helped lead the Seattle Seahawks to a 43-8 victory over the Denver Broncos. By the next year, he also led his team to the Super Bowl XLIX, but they lost to the New England Patriots. Despite losing their bid for a second championship, Wilson had already established himself as one of the game's top young players as he started the two Super Bowl games and became the first quarterback to do so in his first three seasons. While the Seahawks failed to make a third consecutive Super Bowl appearance, Wilson continues to put up impressive performances with the team as well as breaking magnificent records.
Following his outstanding NFL career record, Wilson has been rewarded with several awards and accolades such as being a seven-time NFC Offensive Player of the Week, the December 2012 NFL Offensive Rookie of the Month, the 2012 Steve Largent Award, the 2014 PFWA Good Guy Award, among many others.
Besides the NFL, Wilson is also into other lucrative ventures. He is a businessman who owns the Good Man Brand clothing line and enjoys endorsements and deals with popular brands such as Pepsi, Microsoft, Nike, and Duracell among others.
Details About His Ethnicity and Parents
Russell Wilson is the second of three children born to Tammy Wilson and Harrison Benjamin Wilson III. He has an older brother, Harrison IV, who helped hone his athletic skills and a younger sister, Anna.
The Seahawks QB is of mixed ethnicity as he has both African-American and Native American heritage. His father, Harrison, is a lawyer and his mother, Tammy, is a legal nurse consultant. Though he eventually chose a career in law, Wilson's father was a former NFL prospect who played football and baseball for Dartmouth. More so, back in the days, Russell's grandfather was a two-sport superstar at the Kentucky State University.
He's Been Married Twice
Russell Wilson has made two attempts at marriage. His first marriage was with Ashton Meem. The couple who first met in high school did not spark up their romance until college although Wilson attended North Carolina State University and later the University of Wisconsin, while Meem was at the University of Georgia. Despite the distance, love won for the couple and by 2010, they were engaged. Two years later in January 2012, they tied the knot in Virginia at the early stage of Wilson's playing career.
The longtime couple who seemed to be going strong, however, shocked the NFL community and the world at large when they suddenly filed for divorce in 2014 under unexplained circumstances. Wilson and Meem's union did not produce any kids. Shortly after their divorce, rumors emerged that Russell ended the marriage because of an alleged affair Meem was having with Wilson's teammate, Golden Tate. However, Tate denied the allegations severally.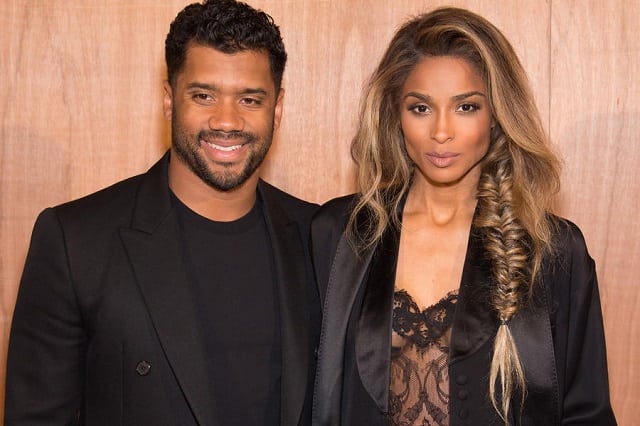 Wilson is currently married to American pop princess, Ciara whom he began dating shortly after his divorce from Meem. Wilson and Ciara who have been married since July 6, 2016, welcomed their first child together, a daughter named Sienna Princess Wilson, who was born on April 28, 2017. Despite their previous failed romances, Russell and the chart-topping beauty are going strong and have become one of NFL's most popular couples.
What Is His Height And How Much Does He Weigh?
Russell Wilson is quite famed for not measuring up to long-established NFL league standards and for being the shortest quarterback to win a Super Bowl. Former N.C State standout who has an athletic build stands at a height of 5 feet 11 inches and weighs 93 kg. Though considered one of the shortest quarterbacks in the NFL league, thankfully, Wilson's height didn't cost him his NFL career as he was eventually drafted following his other athletic and dynamic features.