Shatta Bandle is a Ghanaian social media sensation and socialite with a net worth estimated to be over $9.7 billion according to him.
Shatta is among the many celebrities who have attained immense popularity from their presence on the internet. But while a majority of those who attain fame online do it through their antics that are somehow backed up with talent, Shatta Bandle's sudden venture into the world of fame came through a rather weird way as he claimed to be one of the richest people in the world.
Shatta's claim of being the richest person on the African continent was a great magnet that helped draw people's attention toward him with many only wanting to dig further into how his wealth came about. Is Shatta Bandle really worth the millions he claims to have or are there some truths about him we don't know? Well, questions like these are what we would be answering in the following paragraphs.
Details About Shatta Bandle's Wealth 
To start with, Shatta Bandle who coined the name 'Bandle' from the bags of money he supposedly has, isn't a billionaire as he has claimed to be. The self-claimed richest man in Africa, who was born and bred in Karaga in the Northern part of Ghana and was given the birth name of Firdaus Iddrisu, only became a social media sensation after a series of videos where he claimed to be worth over $9.7 billion dollars went viral. The Ghanaian further said that he had money saved away in American, UK, and Chinese banks, and can't calculate all of his deposits.
Bandle's claim did not only spark reactions from people in his home country but from people in other African countries as well. He has since become popular in not just his home country of Ghana but also in Nigeria, South Africa, Kenya, and the Benin Republic after people all over the continent were posting their reactions to his video online. A number of radio and TV stations have also interviewed him on his claims and this has definitely made him more popular and extended his boundaries.
The Internet Sensation Claims To Work For An Oil and Gas Company
As per how Shatta Bandle came about his wealth, the man who is popularly referred to as short man devil by his friends and fans, claims to be in the oil and gas business, working with oil companies in Ghana, Nigeria, and the United Arab Emirates. While he has refused to reveal the names of the companies he works with, he says that this is a major source of his income. He is otherwise just a social media influencer who has occasionally been referred to as a comedian.
Meanwhile, it was recently revealed that the luxury lifestyle exhibited by the celebrity is a product of Nana Kojo Boateng, popularly known as Dada Joe Remix. Nana Kojo is a Ghanaian millionaire and business mogul who deals in real estate. Going by his activities on social media, the business mogul prefers to live a quiet lifestyle with a decent taste of luxury. Although there were claims of Nana's wealth not being legitimate, a picture that surfaced in August 2019 showing Shatta Bandle with the mogul depicts that he (Bandle) is one of his benefactors. Rumors further have it that Nana Kojo owns all of the luxury items Bandle brags with on social media.
This, however, is not to say that the young celebrity does not have a reasonable income of his own. He definitely gets paid to appear at shows and has even featured in the 'Audio Money' music video by Rudeboy, one half of the popular Nigerian afro-pop group P-Square.
Shatta's Claim of Being Richer Than Dangote
Shatta's series of viral videos not only have him claiming to be the youngest billionaire in Africa, but they also have him claiming to be richer than Aliko Dangote and Bill Gates. While his exact net worth is not known to the public, the diminutive personality with an adult height of fewer than 147 centimeters (4 ft 10 in), is clearly nowhere close to the two business magnets. Aliko Dangote's net worth is estimated at US$13.5 billion while Bill Gates is worth around $129 billion (as of 2020).
Shatta Bandle may not have as much as he claims to have in his bank account but he sure has joined the celebrity list. His consistency on social media and ability to court attention has earned him over 50 handles on West African entertainment portals. Obviously, Shatta realized and took advantage of social media by picking on some of the richest people familiar to his fans. For his actions, he has even been mentioned among the smartest social media users of our time.
Shatta Bandle's Car Collection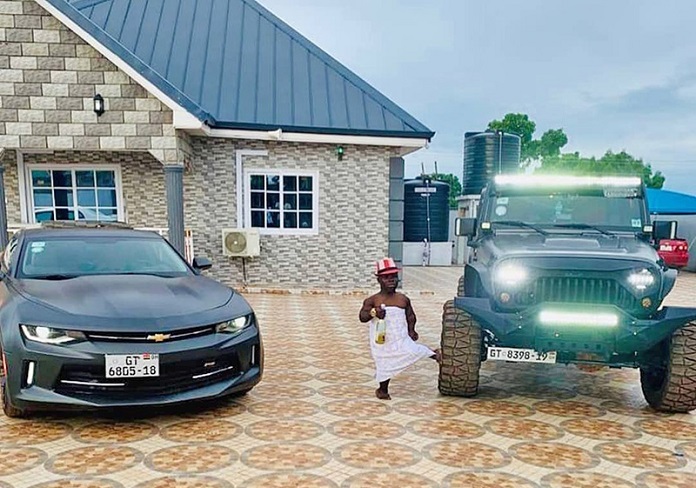 Shatta Bundle claims that he spends millions of dollars on himself and has lost count of the number of cars and private jets he has. While it is not clear if all the cars he parades as his own on his Instagram page are truly his, what is quite clear is that these cars are really exotic. They are:
Black jeep Wrangler sport edition – $56,000 (N20.3 million),
Mercedes Benz C300 4matic SE – $41400 (N15 million),
Bently Bentyaga (Bentana) – $188, 000 (N68.2 million)
Dodge  Challender SXT – $31,000 (N11 milliom)
Range Rover Sport Edition – $80,000 (29 million)
Hyundai Accent 2018 edition – $18,000(6.6 million)
Hyundai Elantra 2017 – $$18,000(6.6 million)
Toyota Corolla SE 2004 – $10,000(N3.5 million)
Black Chelvoret Camaro – $38,000 (13 million)
Aside from his luxury rides, Shatta is often seen wearing a Patek Philippe nautilus 5980-1r-001 wristwatch that costs around $180,000 (roughly N68 million). Others are a 24karat gold Quartz wristwatch and a 24karat gold chain with an encrusted pendant worth $20,000. He further owns Versace sunglasses worth $500, Gucci sunglasses worth $800, a diamond-encrusted 30billion gang gold chain worth around $10,000 (N3.5 million), and a Zeblaze thor Pro 4 Smartwatch worth around $167.39.
Bandle's mansion in the Trassaco Valley estate in Accra, Ghana is reportedly worth millions. The mansion is reportedly one of his numerous multi-million mansions across Ghana.
In one of his recent videos, Shatta was seen hanging out with a couple of excited pilots in Nigeria. The video also has him making his usual pompous statements about him inspecting his pilot and cabin crew for take-off and landing.