Thabo Mvuyelwa Mbeki (born June 18, 1942, Age: 81 years old) is a South African politician who served as the president of the nation from 16th June 1999 to 24th September 2008. He is also known for his works as an activist during the apartheid regime.
To date, Thabo Mbeki is one of the most recognized faces in South African politics. He was an important figure during the apartheid struggle and after the country gained its independence, he served as the first vice president of the country under the legendary Nelson Mandela. At the height of his political achievements, Mbeki became the second president of South Africa from 1999 until he was ousted in 2008 by his party.
The rise of Mbeki to becoming the president of South Africa, thereby attaining the highest office in the country, was not something that was coincidental. It came from his many years of hard work and sacrifices. More so, he is a well-educated individual whose educational journey took him to different countries of the world.
Profile Summary Of Thabo Mbeki
Full Name: Thabo Mvuyelwa Mbeki
Gender: Male
Date of Birth: 18 June 1942
Place of Birth: Mbewuleni, eSigangeni, South Africa
Thabo Mbeki's Age: 81 years old
Ethnicity: Xhosa
Nationality: South African
Zodiac Sign: Gemini
Sexual Orientation: Straight
Religion: Christianity
Thabo Mbeki's Parents: Govan Mbeki and Epainette Mbeki
Siblings: Linda Thokozile Mbeki-Jiba, Moeletsi Mbeki, and Jama Mbe
Marital Status: Straight
Thabo Mbeki's Wife: Zanele Dlamini Mbeki (m. 1974)
Thabo Mbeki's Children: Monwabisi Kwanda Mbeki
Thabo Mbeki's Net Worth: $11 million
Famous For: Being the second president of South Africa
Highest Educational Qualification: Master of Economics degree
Highest Office Attained: President of South Africa (16 June 1999 – 24 September 2008)
A Look Into The Earliest Life Of Thabo Mbeki
It was on June 18, 1942, that Thabo Mvuyelwa Mbeki was born in the town of Idutywa in Transkei in the Eastern Cape of South Africa. He was birthed into the family of Epainette Mbeki and her husband, Govan Mbeki. Because of the pursuit of education and his involvement in the political struggle of South Africa, Mbeki did not get to spend so much time with his family.
Of the Xhosa ethnic extraction, Thabo was named by his father after his close friend and comrade in the struggle, Thabo Edwin Mofutsanyana. When he was only 10 years old, Mbeki was set to join the political movement in South Africa, but he was considered to be too young. Nonetheless, he did not lose his political consciousness; he actively got involved in the struggle for freedom in South Africa as a young teenager.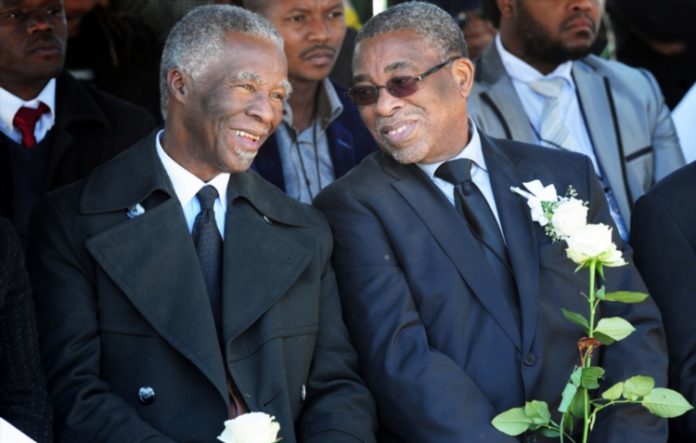 He Was Born and Bred In A Family Of Achievers
Both of Mbeki's parents, like many other blacks at the time of the apartheid regime in South Africa, were fully involved in the struggle against the unjust government. More than just political activists, his parents were also teachers and traders. His father was a member of the South African Communist Party (SACP) before he later became an ANC stalwart. He was also the editor of the Territorial Magazine / Inkundla Ya Bantu at a point.
His mother was many things in one, but most importantly, she was known as an educator who established the Nomaka Mbeki Technical Senior Secondary School. She was also into different community projects as she was credited as one of those behind the Khanyisa beadwork project. She died in 2014 at the age of 98.
Mbeki was brought up alongside three siblings. One of his siblings is the renowned political economist, Moeletsi Mbeki, who is currently the deputy chairman of the South African Institute of International Affairs. When Thabo rose and became the president of South Africa, Moeletsi became one of his strongest critics.
The oldest of the siblings was Linda Mebji who was also an achiever like the other members of her family before she died in 2003 when she was 61 years old. Linda was respected for being the first woman to be employed by Standard Bank as far back as 1974. She would later leave her job because of the racially unjust conditions of the bank. She was involved in the struggle for which she was arrested in 1976 and was kept in prison for 10 months without trial.
Thabo had another brother, Jama Mbeki, who was the youngest member of the family. Born in 1948, Jama was also involved in political activism. Unfortunately, he disappeared without a trace together with Thabo's son, Monwabise Kwanda, in 1981. Since then, nothing has been heard about them. It is believed that they were killed by men loyal to the white minority government.
A Rundown Of The Early Academic Achievements Of Mbeki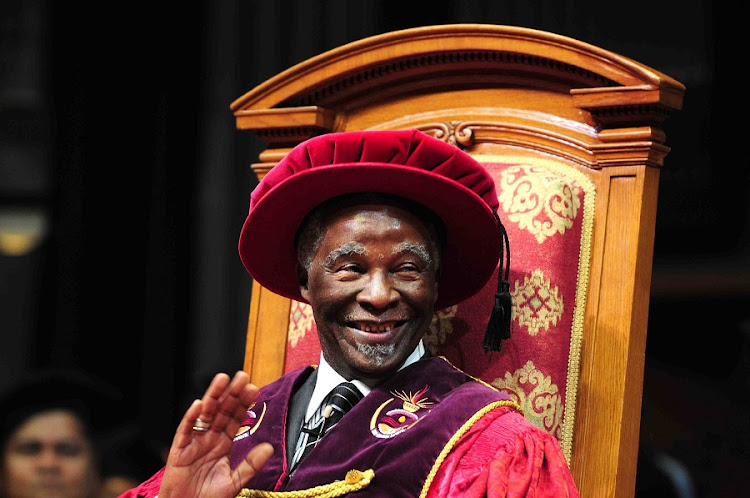 Born to parents who were teachers, it was clear from the start that Mbeki was going to get all the education possible. He got his primary education in the South African towns of Idutywa, Queenstown, and Butterworth. While at Idutywa which was where he was born, he went to Ewing school until he reached grade six. He soon moved to Queenstown as Ewing did not have senior classes. While here, he stayed with his uncle whose name was Michael Moerana, a teacher of music who was also a classical music composer. His time with his mother's brother helped him fall in love with music and reading.
The future president of South Africa remained in Queenstown with his uncle and his six children for a couple of years before he moved to Butterworth which was much closer to his birthplace, Idutywa, meaning that he was much closer to his family. For yet another time, he lived in the family of another teacher whose name was Makonza Ngampu who also happened to be Mbeki's clansman. While there, he was sent to Davies Senior Higher Primary School which was run by the Methodist Church.
Only a year later, Makonza Ngampu left Butterworth as he was transferred to another school. Because of this, Mbeki saw himself moving in with another teacher whose name was only given as Mr. Lavisa. It was there that he remained until 1954 when he completed his education and was set for college.
The educational path of Mbeki led him to the prestigious Lovedale College which was a missionary school that was attended by many future leaders of the Southern African sub-region, including Robert Mugabe, Nelson Mandela, and Oliver Tambo. It was also the college that was attended by the senior Mbeki. Founded by the Scottish Presbyterian Church as far back as 1841, the college became the first high school in the country to take in black students for more than a century.
Thabo began his standard six education in the school in 1955 where he became one of the 94 students to be admitted. While he was there, he got involved in some sports, most especially rugby, but the main things he had his mind on were politics and activism, and it is because of the latter that he was later expelled from the college when he was in his final year in 1959.
After he was expelled from Lovedale, Mbeki continued with his education at home and then he sat for the matriculation exams at St John's High School in Umtata in 1959, and then between 1960 and 1961, he got to complete his British Advanced level examinations at Britzius College in Johannesburg. After this, he applied and got admitted into the London School of Economics for a degree in Economics by correspondence. He later moved to the UK where he completed and got his degree from the University of Sussex in 1965. It was also here that he obtained a Master of Arts degree in Economics and Development.
Recap Of The Academic Profile Of Thabo Mbeki
Attended primary school at Idutywa and Butterworth and high school at Lovedale, Alice.
Expelled from school as a result of student strikes (1959)
St John's High School, Umtata (1959).
Completed British A-level examinations (1960 and 1961).
Economics degree as an external student with the University of London (1961 – 1962).
Master of Economics degree, University of Sussex (1966).
The Educational Pursuit Of Thabo Mbeki Was Linked To The Struggle
Considering the fact that he was born into a family with both parents as activists and teachers, it was only natural for Thabo to be politically conscious while also getting his education. As a result of this, his educational pursuit was consciously streamlined towards the attainment of the freedom of South Africa.
At the age of 14, he was already involved in activism while he was still a high school student. In 1959 when he was in his final year, Mbeki led other students to stay away from classes after a fellow student was expelled. This did not go down well with the school administration and he was subsequently expelled from Lovedale. He was still a student of Lovedale when the Bantu Education Act was passed, seeking to repress blacks by enforcing a discriminatory curriculum. This was one of the reasons why Mbeki and other students joined the student strike and refused to attend classes.
When he went to Johannesburg to attend Britzius College, he joined the ANC and became the secretary of the African Students' Association (ASA). After he was forced into exile in 1962 and continued with his education at Sussex University, Thabo Mbeki joined the Student Union under which he continued the struggle for the liberation of South Africa.
After he obtained his first degree, Mbeki had wanted to join the army wing of the ANC, uMkhonto we Sizwe (MK), translated to the Spear of the Nation. This move was vetoed by Thambo who insisted that the young man continued with his education and go for a master's degree.
He Had Military Training In Russia
Apart from the regular education, Thabo Mbeki's educational journey also saw him receive military training in Moscow for a year. During the struggle to end the Apartheid regime in South Africa, the ANC received financial and educational support from the Soviet Union, as well as military training and arms supply.
This made it easy for him to get permission to attend Moscow's Lenin International School in 1969, where he underwent military training for one year. He was said to have excelled at the Lenin Institute, which was established with the sole aim of training communists as well as provide ideological training to members of liberation movements, under which Thabo fell.
Even though he showed many great prospects as he received training in advanced guerrilla warfare, the liberation movement needed him to become the assistant secretary of the ANC's Revolutionary Council (RC). Because of this, he had to end his military training halfway and move to Lusaka where he assumed this position. With this, it is clear that although he got military training, he did not end up receiving any certificate to that effect, neither did he serve in the military.
However, the experience he got would later play an important role as he was later at a point, saddled with the responsibility of recruiting soldiers for the army wing of the ANC. Also, he came to serve in the ANC's Political and Military Council. Thabo Mbeki's military training came a decade after the ANC formed a military wing known as Umkhonto we Sizwe, with the purpose of breaking up apartheid activities.
How Thabo Mbeki's Education Shaped His Career Path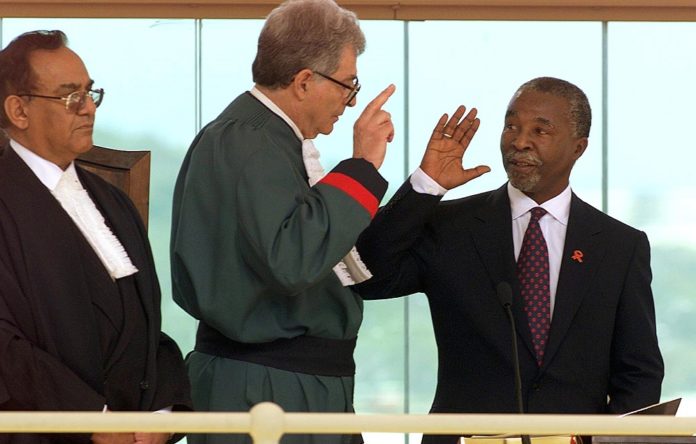 The educational journey of Thabo Mbeki played a very important role in his career achievements in later years. He has held various positions as a member of the ANC and also in the political space in South Africa. Here is a look at all the positions that Thabo Mbeki held:
Secretary of the African Students' Association (December 1961).
Worked for the ANC office in London (1967 – 1970).
Assistant Secretary Revolutionary Council of the ANC in Lusaka (1971).
Member of the National Executive Committee (NEC) of the ANC (1975).
Political Secretary in the Office of the President of the ANC (1978).
Director of the Department of Information and Publicity (1984 – 1989).
Re-elected to the National Executive Committee (1985).
Director of Information and as Secretary for Presidential Affairs (1985)
Member of the National Assembly of South Africa (1994 – 1997)
Executive Deputy President of the Republic of South African Government (1994 –
13 June 1999).
President of the African National Congress (1997 – 2007)
2nd President of South Africa (16 June 1999 – 24 September 2008)
Chairperson of the African Union (July 2002 – July 2003)
Chancellor of the University of South Africa (2016 till date)
Some Prestigious Awards and Honors He Has Received Through The Years
All the efforts and contributions of Thabo Mbeki to the freedom and development of South Africa has not gone unnoticed. It is in respect of this that he has been recognized by various awards and honors both at home and in other parts of the world. Here are some of the accolades he has been recognized with:
Arthur D Little Institute, Boston- honorary doctorate in business administration (1994)
The University of South Africa – Honorary doctorate (1995)
Sussex University – Honorary doctorate of laws (1995)
Rand Afrikaans University – Honorary doctorate (1999)
Glasgow Caledonian University – Honorary doctorate of laws (2000)
The University of Stellenbosch – Honorary doctorate in commercial sciences (2004)
Good Governance Award – US-based Corporate Council on Africa (1997)
Newsmaker of the Year from Pretoria Press Club (22 August 2000)
Oliver Tambo/Johnny Makatini Freedom Award (2000)
Peace and Reconciliation Award – Gandhi Awards for Reconciliation (2003)
Good Brother Award – National Congress of Black Women Washington D.C (2004)
Champion of the Earth Award by the United Nations (2005)
Rotterdamse Jongeren Raad (RJR) Antidiscrimination Award – Netherlands (2005)
Confederation of African Football's Order of Merit (2007)