If you are in for all the celebrity gist and gossips, then stories about Lasizwe Dambuza's gay sex with his alleged partner should be on your top list of most-read stories. The South African-born television and social media personality, radio host, comedian, actor, and YouTuber is famous for his show Lasizwe: Fake It, Till You Make It, which airs on MTV. He also has a Youtube channel where he is popular for sharing unique and extremely hilarious YouTube videos that interpret South Africans daily lives.
Since his rise to fame, Lasizwe has not failed to wow his fans with his multi-talent. He is everywhere, from the TV screens to radio sets and various social media platforms. However, his recent decision to flaunt his love life has earned him a place on the dissecting tables of his fans and foes alike. While society is still yet to fully accept his sexual orientation, Lasizwe's decision to come clean about his personality has raised many questions, with many wanting to know more about how everything began.
How and when Lasizwe Realized His Gay Status
Lasizwe first realized and accepted he was gay when he was 15. The TV personality admitted that the lack of a male figure while growing up had a huge impact on his sexuality. Lasizwe, whose real name is Thulasizwe Siphiwe Dambuza, was born in Soweto, South Africa, on July 19, 1998, to Lindiwe Dambuza MenziMcunu. Lasizwe's parents were never married but were in a relationship with each other when they had him. He was brought up majorly by his mother, the reason why he has her last name.
Growing up with his mum, three sisters, and other women present in his household brought out Lasizwe's feminine nature, and as he grew older, he found himself accepting that path for himself. In an interview he granted a few years back, Lasizwe admitted he grew up peeing like a girl but only realized he was doing it wrong when watching a kid's program on TV and saw the boys in the show peeing different from the way he was accustomed to. He also went on to admit that if he had his dad or any other male figure by his side while growing up, things would most likely have panned out differently.
Negative Reactions from His Family, and Friends About His Sexuality
Lasizwe opened up about his gay sexuality to his mum Lindiwe while in high school, and she became furious about her only son being into people of same-sex. According to Lasizwe, his now-deceased mother refused to talk to him for almost half a year. However, Lindiwe later accepted Lasizwe for who he chose to be.
At school, it was not easy being openly gay for Lasizwe. The majority of his male pals quit being friends with him. The dislike he got from some of his friends back in school was different when he began to venture into the entertainment industry. Although many liked his content, he was largely criticized for his sexuality. The vast majority judge him for being gay at his young age and would not hire him for this reason even though they liked what he had to offer.
Coming out was not easy initially; he realized this and decided to follow in his own path. He claimed the oppression he faced for being gay made him work hard just like any other LGBTQ member who faced similar oppression. Realizing people would not help him for being gay, he chose to go solo and work on his ideas.
The Hate that has Trailed His Gay Sexuality and how He Handles Them
There are always prices to pay for every decision one takes in life. The media personality Lasizwe knew about it, and he prepared himself ahead of the times. Hence, his emergence to fame despite all odds. A look at the controversies he's been involved in include:
Disabled his Twitter account over body shaming
Lasizwe took a mirror selfie which he posted on several of his social media platforms. The picture which had him wearing a T-shirt and underwear generated some mixed feelings from his fans and critics alike on various social media platforms.
His picture was faced with hateful comments from bullies and trolls on his Twitter page. To shut down all negativity and hate, he decided to take down his account. While his account on Instagram, YouTube, and Facebook remain active, his Twitter account has remained down since then.
He was Accused of being Homophobic
Even as a gay person, Lasizwe has been accused of being homophobic severally. Many from the South Africa LGBTQ community have continuously termed Lasizwe homophobic because of the abusive words he uses to describe others in the community.
Accused of being a copycat
Jay Versace, an American YouTuber, accused Lasizwe of being a copycat and coping with his personality from Earl Hendricks. However, Lasizwe was quick to refute such claims and made it known that he never copied anyone's work but rather got inspiration from such persons.
Lasizwe Dambuza's Relationship with Cedric Fourie
Cedric Fourie is a South African actor and TV personality. Like Lasizwe, Cedric was born in Soweto, and he is famous for his role as LehasaMaphosa in the TV show SkeemSaamSoapie. Also, like Lasizwe, Cedric was raised by a single mum, and he grew up with his sisters.
Lasizwe and Cedric are both entertainers and have featured in several shows together. Along the line, the pair became close friends to such an extent that fans began to hope the pair were in a relationship. They both maintained the status quo for a long time, posting pictures of themselves together with controversial captions which fueled the idea that the pair were dating.
Cedric soon came clean a few months ago, stating that he isn't gay and that he and Lasizwe are just very close friends and their relationship never crossed the line of them becoming lovers. Quite disappointing for fans who wished the pair were dating. Cedric is married to Ugandan Zari Hassan, with whom he has a son, born in 2015.
Who is Lasizwe's a New Boyfriend?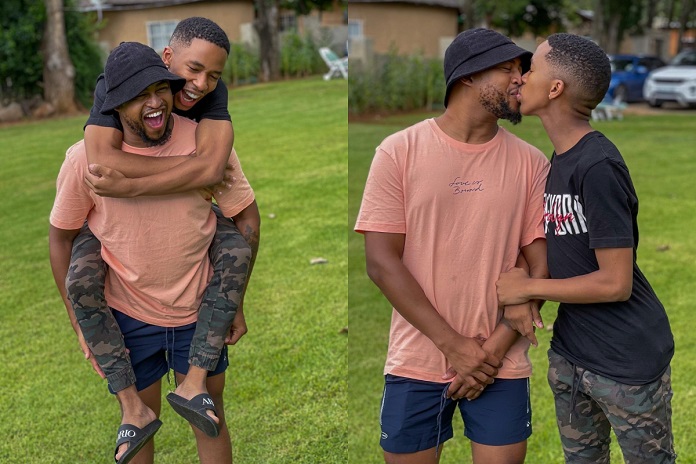 It has been confirmed that Lasizwe is not in a relationship with Cedric Fourie, but
the question on the lips of many of his fans is, who is the mysterious guy Lasizwe
posted on his Instagram on 2021 valentine's day? Lasizwe has confirmed that he has a new lover, but he is lip-sealed on who his mysterious lover is.
The valentine pictures the SA entertainer posted about himself and his lover are however no longer Instagram. But before they went missing, we captured the text that accompanied them to be "Sing with me "Valentine's is coming, Wheres your boyfriend? You are sitting at home! LONELLLLYYYY!!!!" for the first picture that showed him holding his boyfriend's face. For the second shown above, he wrote "One day you will also be like us but for now enjoy being single."