Cyril Ramaphosa aspired to become a politician right from his days as a law student at the University of the North. His activism as a student saw him get arrested multiple times, but the emerging political guru was not deterred. Though imprisonment occasioned by activism disrupted his academics, Cyril graduated and continued with his course, going on to become a trade unionist.
Joining the African National Congress took the young politician deeper into the South African political scene, leading him to serve in various capacities until he bagged the position of the country's number one citizen. In between that time, however, he took a hiatus from politics to join the business world. He would eventually return to politics to take the bull by the horn, and needless to say that his return paid off. From ANC's Secretary-General, he served as the vice president of South Africa under Jacob Zuma. Cyril would later emerge as the party's president and subsequently the country's president after Zuma was ousted from office in February 2018.
Joining Politics Early Disrupted Cyril Ramaphosa's Academic Pursuit
1972 was the year when Cyril Ramaphosa joined the University of the North in Limpopo Province as a law student. On his arrival at the institution, he got embroiled in student politics, joining BPC (Black People's Convention) and SASO (South African Students Organisation). His activities as a member of these groups led to several stints in jail for the rising politician.
First, in 1974, he spent 11 months in solitary confinement for organizing pro-Frelimo rallies. A couple of years later in 1976, Cyril was locked up at John Vorster Square for a period of six months following the Soweto unrest. All these imprisonments disrupted his academic pursuit but from what is obvious, the young politician was not discouraged from achieving his set goals.
Upon his release from John Vorster Square, Cyril Ramaphosa went back to complete his studies at UNISA (University of South Africa) but this time around, he had to resort to correspondence studies as he was also working at the same time. Until he graduated, the young South African doubled as a clerk, working for a firm of attorneys based in Johannesburg. He finally graduated in 1981 with a B. Proc. Degree.
Political Activism Led Ramaphosa To Become a Trade Union Leader
With his academic qualifications bagged, Cyril Ramaphosa wasted no time in practicing his trade. He started by joining the legal department of CUSA (Council of Unions of South Africa) in his capacity as an advisor. Upon CUSA's request in August 1982, the emerging politician launched a new union for mineworkers called NUM (National Union of Mineworkers).
Following this development, Cyril was apprehended at Lebowa and promptly arrested. His charges were listed as organizing or planning to participate in a gathering that was to be held in Namakgale; this according to reports was under a ban by the region's local magistrate.
His Work As A Trade Union Leader Put Him In The Fore-front of The Fight Against Apartheid
After NUM was successfully launched in August 1989, Cyril Ramaphosa emerged as its first General Secretary. He remained in the position till June 1991 when he resigned. His resignation was as a result of his election as ANC's (African National Congress) Secretary-General.
Working with the President of NUM, James Motlatsi, and Vice-President of NUM, Elijah Barayi, Cyril succeeded in leading the mineworkers in his country into one of the major strike actions in the history of South Africa. The former trade union leader was also active as ANC's secretary-general, playing key roles in most of the association's activities like the rent boycott crisis of 1988. He was on hand to accompany released political prisoners who were ANC members to Lusaka in Zambia. He further featured in the release of Nelson Mandela from prison; the National Reception Committee that took charge of the arrangement for Mandela's release had him as its chairman. Cyril also coordinated ensuing welcome rallies in the country. Subsequently, he joined a committee known as International Mandela Reception Committee.
When NUM seceded from CUSA in 1985 to establish COSATU (Congress of South African Trade Unions), Cyril Ramaphosa took the center stage as COSATU joined effort with UDF's (United Democratic Front) political movement against P. W. Botha's government under National Party. This was what birthed the MDM (Mass Democratic Movement).
Cyril Ramaphosa's Journey to Becoming Deputy President of the ANC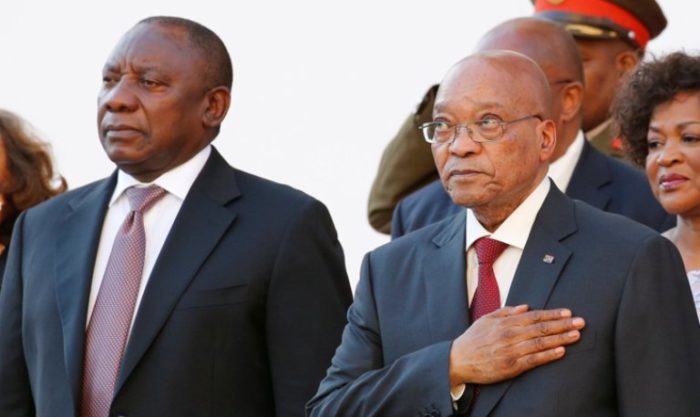 Following his election as ANC's Secretary-General in 1991, Cyril Ramaphosa became the head of the team that negotiated the abolition of apartheid with the government of the National Party. When full democracy was eventually restored in 1994, Cyril joined the SA parliament as a member and on the 24th of May 1994, he emerged as its Constitutional Assembly's chairman. The then government's major focus was national unity and Cyril played a vital role in achieving that aim.
Ramaphosa later decided to join the private sector after losing his presidential bid to Thabo Mbeki in 1997. He subsequently resigned from all his political commitments and positions to launch a career in business that saw him hold sway as the director of New Africa Investments Limited. But while he was going about his business, there was constant speculation that the politician would be making a return to politics. However, Ramaphosa always refuted the stories, reiterating that he had lost interest in running for the presidency.
Things, however, took a different turn in 2012 when prominent ANC member Derek Hanekom requested that Cyril Ramaphosa join the race for ANC presidency as they were in dire need of men of his caliber. Cyril tried to douse the ensuing speculations, dismissing it as a joke. However, he officially joined the race to become ANC's Deputy President on the 17th of December 2012 with the backing of Jacob Zuma and his associates. Cyril would later emerge as ANC's Deputy President.
His Time As Deputy President of South Africa (2014 – 2018)
When the Jacob Zuma administration took over the mantle of leadership in South Africa, Zuma promptly named Cyril Ramaphosa his vice president on the 25th of May 2014. His swearing-in ceremony was overseen the next day by SA's Chief Justice Mogoeng Mogoeng. Subsequently, the new DP became Leader of Government Business in the country's National Assembly. The post bestowed several new responsibilities on him which include; all the affairs of the Parliament's national executive, making sure that members of the Cabinet take charge of their parliamentary responsibilities, and the programming of all parliamentary businesses as initiated by the country's national executive.
Ramaphosa Became President of the ANC in 2017
For a very long time, members of the ANC considered Cyril Ramaphosa as a potential candidate for the party's presidential seat. However, he lost his first bid to Thabo Mbeki in 1997. A decade later in 2017, Cyril revealed his interest in running for ANC's presidency alongside his second run for president of South Africa. His campaign slogan was flagged off as #CR17 Siyavuma.
Before the end of August 2017, he had received endorsements from several bodies including, the National Union of Mineworkers, COSATU, the Eastern Cape, Northern Cape, and the leadership of ANC's Gauteng province. Individually, some heavyweights in the South African political scene also threw their support behind Ramaphosa. This includes the likes of Sdumo Dlamini – COSATU's president, Angie Motshekga – education minister, Pravin Gordhan – former minister of finance, and Senzo Mchunu – former premier of KwaZulu-Natal.
ANC's 54th Elective Conference took place on the 18th of December 2017. Cyril's closest opponent, Nkosazana Dlamini-Zuma, who is Jacob Zuma's ex-spouse, fought a tough battle but Ramaphosa emerged the winner with a total of 2,440 votes to Nkosazana's 2,261. Thus, he became the president of his party for the first time.
He Was Elected President of South Africa in 2018
After President Jacob Zuma was compelled to tender his resignation as the president of South Africa in February 2018, the National Assembly elected Cyril Ramaphosa unopposed as SA's next President. This was accomplished on the 15th of February 2018, following which Chief Justice Mogoeng Mogoeng presided over his oath of office taken at the country's presidential guesthouse, Tuynhuys.
A day after Cyril's assumption of office as the number one citizen of South Africa, markets rallied strongly with stocks on a rising trend. Besides, the country's currency reached its firmest since 2015. Government bonds also improved in strength.
President Cyril Ramaphosa's initial State of the Nation Address was delivered on the 16th of February 2018. This marked a first in the history of democratic South Africa where a sitting president would give his State of the Nation Address alone without a Vice President. In his address, the new president underlined the burning need to nurture the country's economy, youth employment, tourism, and also work on bringing down the size of the country's Cabinet. In addition, Cyril hammered on the significance of keeping late Nelson Mandela's legacy alive.
The speech attracted majorly positive reviews from the opposition who considered it to be positive, viewing it as something that will engender change in the country.
Cyril Ramaphosa's Tenor as the President
Cyril Ramaphosa started dispensing his duties as the president of South Africa immediately. On the 17th of February 2018, he appeared at the Mittah Seperepere Convention Centre located in Kimberley where he joined the Armed Forces Inter-Faith Service as the Commander in Chief of the SA National Defence Force. There, he delivered his inaugural public speech as the nation's number one citizen.
The Cabinet he inherited from the outgone president was reshuffled on the 26th of February 2018, removing all controversial members. He then named David Mabuza – Premier of Mpumalanga and ANC's deputy president, as the Vice President of South Africa.
The 2nd of March marked Ramaphosa's initial international trip as SA's president when he went to meet President João Lourenço of the Republic of Angola in his country as SADC's chair. When the South African general elections came in 2019, the ANC emerged victorious with 57.50% votes. Subsequently, on the 22nd of March 2019, the National Assembly elected Cyril Ramaphosa unopposed to take up his first full term as the SA president.
Since he was previously elected as the president to take Zuma's place, Cyril is considered constitutionally eligible to complete two full terms.
The Incumbent President Has Faced Several Challenges, Including Impeachment Threats
Busisiwe Mkhwebane, the SA Public Prosecutor released a report on the 19th of July 2019 claiming that the Parliament of South Africa was intentionally misled by the president over the contentious Bosasa contributions to his CR17 presidential campaign under the ANC. Mosiuoa Lekota – COPE Leader, called for the impeachment of Ramaphosa, while Mmusi Maimane – DA Leader, proposed that an ad hoc committee be set up to conduct investigations into the allegations.
Briefing the citizens of South Africa on the 21st of July 2019, Ramaphosa called for a thorough judicial review of the findings from Mkhwebane's submissions, describing the said reports as "fundamentally flawed."