A Zimbabwean football star, Khama Billiat has recorded a lot of career milestones in his professional life. The player made his senior league debut with the team of Ajax Cape Town from where he navigated to the Mamelodi Sundowns. Khama is currently a Kaizer Chiefs forward and has played international football for his country Zimbabwe.
However, his success in the field of play cannot be compared to his personal life. Though he has been married to one woman, Esnath Munyedawo for over a decade and they have been blessed with a daughter, Khama's love life has been fraught with so many scandals involving girlfriends and baby mamas. The latest in line is the alleged news that he took a second wife.
Khama Billiat and Esnath Munyedawo's Love Story Started In The Church
The Zimbabwean football forward has been married to his spouse, Esnath Munyedawo for over a decade, however, fans were never intimated with facts about their love life, but it is public knowledge that they were members of the same church which brought them together in 2009. Perhaps, the reason why their dating days and wedding were not publicized was that Khama had not attained the level of popularity he enjoys now. He was only able to make his senior league debut in August 2010, playing for Ajax Cape Town.
Even as they have been long wedded before Billiat attained popularity, one thing is still glaring in their union; the fact that the football forward is eight years younger than his wife. The Zimbabwean native was born on the 19th of July 1990 and though Esnath Munyedawo's exact date of birth is not known, her year of birth is believed to be 1982. Besides, Esnath is the taciturn type that doesn't like to surface anywhere near the spotlight, thus, details about her personal life are sadly missing. The mother of one cannot be found on social media platforms, unlike her very visible spouse.
Career-wise, Esnath Munyedawo's line of work has never been mentioned. The few sources that have mentioned the mother of one referred to her as a footballer's wife. Many have since concluded that she may have no career of her own.
Billiat and Esnath Welcomed a Baby Girl In 2011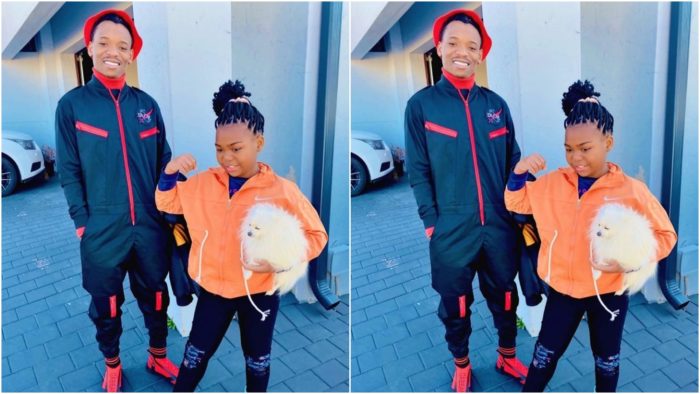 Within just a couple of years after their paths crossed in church, the couple facilitated their wedding and subsequently gave birth to the only child of the union; a beautiful baby girl called Kimberly. Kim came to cement their love in 2011, but her exact date of birth never surfaced in the public space.
Kimberly is growing up fast and from what is perceivable, Khama Billiat is your typical hands-on dad who shares a close bond with his little girl. The football forward's Insta-stories is suffused with photos of father and daughter wearing expensive matching outfits.
How News Of Him Taking A Second Wife Started
When the news about the Kaizer Chiefs forward taking South African-born actress turned musician, Nomcebo "Dot" Mthethwa for a second wife burst on the media space, fans couldn't help but wonder how it all started. Within a short while, reports surfaced that the rumors were triggered by the singer's mother, Smaniso Mthethwa who told City Press that Khama Billiat and Nomcebo are officially engaged and the Zimbabwe Warriors talisman already paid lobola for her.
After she convinced the tabloid that the two were actually planning a future together, Nomcebo's mother declined to comment further when asked follow-up questions. According to the would-be mother-in-law, she doesn't have the right to release further details about the impending wedding as she would need permission from the couple.
Who is Nomcebo Mthethwa?
Nomcebo 'Dot' Mthethwa is a South African vocalist, TV presenter, and former actress from eMpangeni, KwaZulu Natal. The daughter of Smaniso Mthethwa was born in 1996, she left the movie scene after acting a notable role in Uzalo to make her debut as a Gqom artist. Dot recently hit the jackpot with her single Makoti – a possible chart-topper presently receiving remarkable airplay on several of the radio stations in South African.
Khama Billiat's' Reactions To News About Him Taking A Second Wife
As the news about Khama Billiat marrying a second wife hit the newsstand from the stables of City Press, other media outlets went overboard with the information, and naturally, this elicitated a strong reaction from the Kaizer Chiefs forward himself. With guns blazing, Khama came out in his own defense. According to the father of one, the allegations about him taking a second wife are all false and he completely repudiates that. Talking further, the football star said he has only ever been married once in his life, his spouse's name is Esnath Munyedawo and they are happily married.
Dismissing the article as pure fabrications, Billiat expressed his displeasure with the media. Referring to the mother of his child as Mai Kim (Kim's mum), the Zimbabwean native mentioned that it has never been part of his plans to marry for the second time. His exact words to the Chronicle were that "Khama has just one wife, Mai Kim, and never married anyone else. I do not know why people choose to do this. I repeat I'm happily married to Mai Kim".
"Khama has one wife, Mai Kim, I never married anyone. I don't know why people are doing this. I repeat I am happily married to Mai Kim,"
Yes, Khama Billiat's statement to the media refutes rumors of him taking a second wife, however, it is rather interesting to note that he never addressed Nomcebo's mother's part in the whole thing. What gave the older woman enough confidence to come to the public space and announce that her daughter's lobola had been paid by Khama. Hmm, that particular mystery remains unsolved to date. Even when reporters tried reaching the footballer on phone for elucidation, he simply laughed and hung up!
Being a naturally taciturn person, nothing was heard from Khama's legally married wife, Esnath Munyedawo on the issue and we are yet to get Nomcebo "Dot" Mthethwa's version of the tale.
Fans Also Weighed In On the Matter
Naturally, a scandal of this magnitude in the life of a football star of Khama Billiat's ilk is bound to get reactions from fans and the general public. While many cautioned him to pay more attention to his profession, others brandished Nomcebo 'Dot' Mthethwa as his latest acquisition on spouse collection. Many still compared him to Mamelodi Sundowns team manager, Peter Ndlovu who became broke following several high-profile child maintenance bills.
Khama Billiat Is No Stranger To Scandals
Apart from the saga of taking a second wife, the Zimbabwean international forward has been enmeshed in other unpalatable scandals. His name was once linked to Beverly Sibanda – a controversial Zimbabwean raunchy dancer who performs with the stage name "Bev". Sibanda came to the public space with stark claims of having a sexual relationship with the footballer.
Again, Khama Billiat's name hit the airwaves after an unidentified SA lady who is allegedly his baby mama threatened him with accusations of abandoning her and his baby. Some sources reported that the alleged scuffle over child maintenance led the mystery woman to stab Khama's head with a screwdriver. Though it was later reported that the local police settled the matter amicable between the two, the terms of the said settlement were never made public.
Other Women Khama Billiat Dated In The Past
Apart from the aforementioned names, the football star has allegedly dated other women in his life, including;
Tshengofatso Matlou
Popular South African model, Tshengofatso Matlou, was rumored to have dated the Kaizer Chiefs forward sometime in the past. However, information about their alleged dalliance is not readily available, but it was reported that they became an item sometime in 2014.
Malibongwe Gumede
Khama Billiat's romantic entanglement with Malibongwe Gumede was equally rumored. Gumede is in the same career field as Khama as a female footballer. Malibongwe behaved exactly like Bev Sibanda as she went public with the news that she was dating the Kaizer Chiefs forward.
Ado Adams
Ado Adams is another South African native whose name has been linked to the Zimbabwean-born footballer. Ado is a runway queen like Tshengofatso Matlou but it was never confirmed whether their relationship actually happened.