Kwadwo Nkansah, popularly known as Lilwin, ranks as one of the notable entertainers in Ghana as he is a talented, actor, musician, as well as a comedian. With this popularity also comes a massive net worth which makes him one of the richest stars in Kumawood. With such a thriving career, one would expect his family life to follow suit but that is not the case. Kwadwo Nkansah's divorce did not just surprise many but is also a drama-filled affair with his ex-wife Patrica Afriyie.
Having spent many years with her, their divorce came as a shock when it became public knowledge, likewise the reasons for it.
Kwadwo Nkansah and Patricia Afriyie Were Lovers Prior To His Success As An Entertainer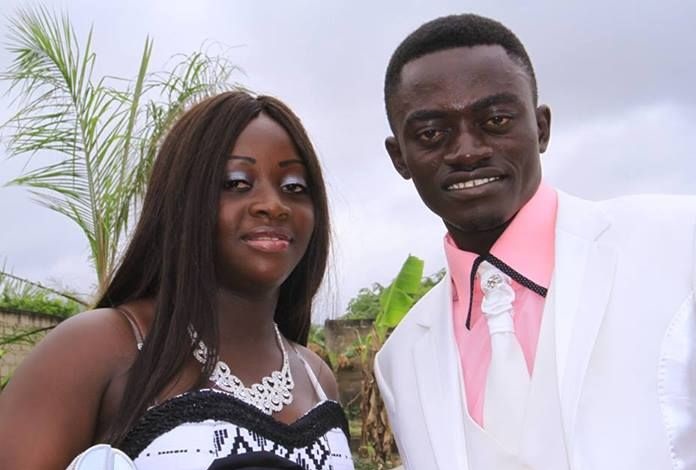 Lilwin is notable for his great strides in the Ghanaian entertainment industry. His talents which also cover being a comedian and musician have all been as successful as his acting career. However, the same cannot be said for Lil Win's love life which has been a turbulent one barely 4 years into his marriage to Patricia Afriyie.
Although not much is known about his ex-wife's background or what she does for a living, it is known that she and Kwadwo have been together even prior to him attaining stardom in entertainment. The exact time or details of their budding romantic days together is unknown to the public. However, given the fact that Patricia was not in the limelight like her partner, it was expected that the home front would be well catered for but that was a far cry from the unpleasant turn of events that occurred just a couple of years into their young marriage.
During their time together though, the couple became parents to 2 boys. Kwadwo is very fond of his cute sons and he often takes to social media to share lovely pictures of them. As of now, they are still very young and not many details are available about them.
Kwadwo & Patricia's Divorce Was Caused By Infidelity
The couple who exchanged marriage vows in 2012 initially appeared to be living in bliss as there was no conflict in their family which had gone public. However, sometime in 2016, their marriage began to gain attention for the tension they had in their relationship. By 2017, the internet was rife with rumors of an alleged split but Kwado discarded the claims in several interviews and social media platforms.
He reassured the public that he had not ditched his wife and if they had any misunderstanding, he would not spill it out in the open. Patricia was also defending her then-husband as she claimed they had sorted things out between them and were back to normal.
Towards the end of 2017 though, Patricia exposed Kwadwo's maltreatment towards her in their marriage. She revealed that he constantly abused her verbally whenever she raises concerns about an issue bothering her. She also accused him of being a pretender as he would always appear to be innocent of maltreating her when they are in public. More so, the actor later became very unavailable and he could leave home for months without telling her of his whereabouts and the only way to hear from him was through his manager.
However, the issue that bothered her the most was his infidelity. According to Patricia, the issue of infidelity started early in their marriage when she found out that her husband had gotten a white woman pregnant not too long after they got married. That became a big contention in their young family as there were several other occasions during which she accused him of cheating but his response was that she was 'nagging'.
Allegations From Close Acquaintances Further Fueled The Tension Between The Couple
The Kumawood actor is known to be very good friends with another notable Ghanaian personality, Top Kay. At some point, he was even described as the right-hand man of the actor and as such, it is expected that he shared a very close relationship with the comedian and his family.
In the midst of Kwadwo's marital crisis, rumors of his wife's infidelity started to trend alongside his own. According to reports, this news began to circulate when Top Kay mentioned that Patricia Ariyie has been sleeping around with different men. He even went on to suggest that Kwadwo should conduct DNA tests to confirm whether he was the real father of Patricia's kids. However, the actor brushed off the allegations, stating that he would continue to take care of his boys irrespective of what any DNA test result may say.
In response to the accusations made by Top Kay, Patricia called him a liar, accused him of placing a curse on her and asked him to come and defend himself in front of the elders at the Manhyia Palace. Top Kay who also identifies as a fetish priest accepted the challenge, saying he had evidence to back his claims. Although there is an element of truth in the allegations as Patricia had actually cheated on her husband according to a leaked voice recording, she denied having any knowledge of how Top Kay got hold of the recording and why he was using it against her.
Another person whom Patricia blames for her failed marriage is Kwadwo's manager, Zack. According to the actor's ex-wife, Zack is responsible for the sudden change in Kwadwo's attitude when his popularity began to rise. He advised him to be the arrogant and troublesome man he is today, as well as suggested for her to be kicked out of her matrimonial home by brainwashing Kwadwo with lies about her.
Has Kwadwo Nkansah Re-married?
Not long after he separated from his wife, news of an alleged relationship with Kumawood actress, Sandra Ababio began to spread. According to a revelation made by his former manager's sister, Ayisha Modi, Kwadwo left his wife to date the actress whom he snatched from the singer, Guru. However, the actor said nothing in his defense, he rather went on to clarify that he had known Sandra for a long time now, and it's a normal thing to snatch girlfriends as people do it all the time.
A further look at their relationship indicates that it was Kwadwo who had actually introduced Sandra to Kumawood. At the time, he remembered that no one wanted anything to do with Sandra as she was a newbie but when she hit the spotlight, many people came around her, even lesbians.
As of 2020, the actor hinted that he would soon be getting married to his girlfriend and though he did not specify the name of the lady, many speculated that his wife-to-be was Sandra Ababio. More rumors later circulated when the actress revealed shortly after that she just got married secretly. She took to Instagram to make the announcement, referring to herself as 'Mrs. K.D'. This has made many believe she is the new 'Mrs. Kwadwo', but the pair are yet to confirm that fact.