Nomzamo Mbatha recently revealed that she is single and guess what? She is equally grateful for this. You may wonder why and we can assume it's safe to say her disposition is because the South African actress has managed to put the idea of hard work to play. Notably, the actress has been embroiled in a number of romantic escapades which has contributed to the fame she has today but it hasn't been a rosy path for her in the love department. Talking about Nomzamo Mbatha's boyfriend has always raised a lot of dust.
She was once in a love triangle that included a very close friend and fellow actress, Jessica Nkosi. More recently, it would appear that there are still kinks and left-over feelings from her last relationship that are yet to be resolved. For now, Mbatha has found many ways to cherish herself.
Mbatha Is Currently Single and Loving it
Nomzamo Mbatha is a very beautiful and popular actress who has built a successful career not just in South Africa but in the United States of America, as well. The works she does as a human rights activist has also added to her fame, as a result of this, there is always a lot of speculations on the current state of her romantic life
The South African celebrity who currently resides in Los Angeles has found a way to maintain two jobs while she lives on two different continents. In 2019, she was cast to play a role in the upcoming Coming 2 America, which is a sequel to the classic 1988 film. She has managed to juggle shooting her roles in the sequel while still playing the lead on the South African show Isibaya. Overall, she seems to be too busy for love lately.
Being back in LA means back to working two time zones which spans over two days and a workload like no other.

Thank goodness there's no relationship to manage on top of it all, because wow. 🥶 pic.twitter.com/BRzWT5Qa9Z

— Nomzamo Mbatha (@NomzamoMbatha) March 11, 2020
On the 11th of March in 2020, the actress took to Twitter to share how exhausted she is, especially as she was working in the United States and South Africa at the same time. She ended her tweet by announcing that she was glad she did not have to deal with the burden of a relationship. We will never know if it was intentional or she was being cheeky, all we know is that Nomzamo Mbatha is currently single.
Later in April, she temporarily deactivated her Twitter handle following attacks from trolls who resorted to cyberbullying. This follows a question and answer session she had with fans where she apparently said something some people didn't like.
A Picture With Kagiso Rabada Is Not Proof He's Nomzamo Mbatha's Boyfriend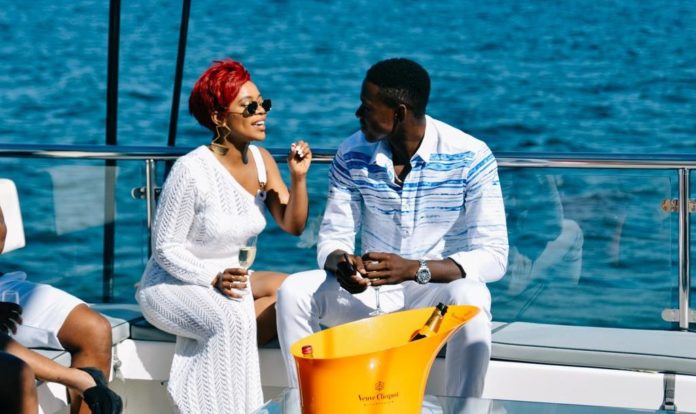 Nomzamo Mbatha was on a yacht in January of 2019 where she was pictured sitting in close quarters with Kagiso Rabada, the famous cricket player who is on the Highveld Lions team. Mbatha was in a white one-hand number while Rabada was wearing a two-piece white ensemble, the actress looked like she was in good company and the two looked cute together. The picture stirred some rumors and people wondered if they were starting a relationship or already in one.
Neither party has confirmed or denied the rumors but they have not been seen together ever since that cozy outing. Thus, it might not be a good idea to jump to conclusions here.
She Was In A Love Triangle With Gospel Singer, Khaya Mthethwa And A Close Friend
In 2016, on a talk show, Nomzamo Mbatha played a game of "Never have I ever" and she revealed that she had been engaged in the past. Now, the only person with whom Mbatha is believed to have been in a relationship so serious was Khaya Mthethwa.
In case the name doesn't ring a bell yet, Mthethwa is the first black person to win South African Idol, a feat he pulled off in 2012 during the 8th season of the show. It is not clear when Nomzamo and the singer started dating or how they met, but in 2015, it came to the public's notice that Mthethwa was in a relationship with Jessica Nkosi, a close friend to Nomzamo.
The affair with Nkosi allegedly started while the singer was still dating Nomzamo. She made the discovery through personal text messages and emails exchanged between Jessica and Khaya which they couldn't deny. Things apparently got awkward for the ladies who work in the same space most of the time. This fallout happened in 2015 and since then, all concerned parties have moved on.
According to Mthethwa, the relationship he had with Nomzamo Mbatha did not work because their connection was one that had no end goal but this was after rumors had circulated that the relationship ended because someone cheated. The singer also claimed that he only hooked up with Nkosi months after his split from Mbatha.
The Actress' Most Famous Relationship Was With Maps Maponyane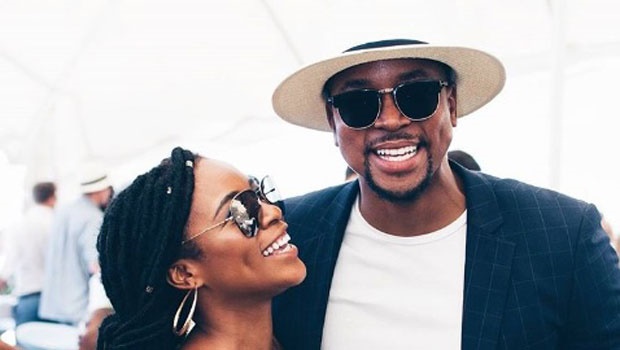 Nomzamo Mbatha has proven that she likes to keep her private life private and she found a way to do this. She notably applied this in 2016 when there were rumors of her having a relationship with model Maps Maponyane.
The two starred in the 2015 film Tell me Sweet Something. Following their performance, it appeared that they got closer and would tag each other on social media posts. After constant denials from both parties on the romantic nature of their relationship, it was by the middle of 2016 that it became clear that they were in a relationship. Even then, there was no public confirmation by the former lovers that Maps was Nomzamo Mbatha's boyfriend.
Maps May Have Cheated On Nomzamo
From concluding that the hunky TV presenter was Nomzamo Mbatha's boyfriend, the story changed two years after when in 2018, the couple no longer tagged themselves on social media or made public appearances together. It became clear that they broke up and the grounds of their break-up were speculated to be infidelity on Maps' end. Nevertheless, this was never confirmed by the actress.
Their split was followed by a cordial yet cold relationship between the both of them. But, a few days before the announcement of her singlehood on Twitter, Maps posted a picture with himself and a young woman who looked like Mbatha. This caused a flurry of reactions until he confirmed who the woman in the picture was, and it was not the actress.
This led to Mbatha mentioning him on Twitter and saying he made his bed and he should lie on it. It would appear that there are still things going on between these two. Meanwhile, fans are still rooting for them to find each other again.