Andile Jali has established himself in the South African football league following a successful career that has lasted for over 13 years. He currently plies his trade with Mamelodi Sundowns, one of the top clubs in the Premier Soccer League, where he earns about R550,000, approximately $33,000 as his salary. This makes him the highest-paid Mamelodi Sundowns player and his income is the major contributor to his estimated $3 million net worth.
With such a huge chunk of money to his name, it does not come as a surprise that Andile lives a very flamboyant lifestyle. This is evident in the luxurious home he owns and the fast cars that can be found in his garage.
Andile Jali Has Played For Several Top Clubs
Andile Jali, who is currently 33 years old, was born on 10th April 1990 in the city of Matatiele, South Africa. He developed a passion for football at a very tender age and when his parents spotted his potentials, they gave him the necessary support to pursue his dreams.
The young man was only 12 years old when he reportedly joined a young football team called Hot Spurs in 2002. Andile stayed with the team till 2005 before moving over to Matat Professionals in 2006. He stayed with the team for a year before joining National First Division side Pretoria University in 2007. The budding player eventually had his major breakthrough when he signed for Orlando Pirates in 2009. The next year he was called up to the national team which he later became captain.
Andile Jali's stint with the Orlando Pirates was trophy-laden. In the 2010/2011 season, they won the league title and the MTN8 cup. The following year, they won the league title, MTN8 cup, as well as the league cup. More so, his sensational performance and contribution to the team's success earned him a contract in Europe as K.V. Oostende signed him in 2014 for almost a million euros.
He Had a Four Year Stint in Europe Before Returning to SA to Play For the Sundowns
Andile was pretty much successful in the Belgian pro league; his most successful season there was in the 2015/2016 campaign when the team came fifth in the league. Unfortunately, there are no available details about his earnings with this club just like others he had played for in the past. However, it is speculated that he could have earned more in Belgium than he is currently earning. His wife's complaints about his salary sometime last year support this.
How Much Does Andile Jali Gets Paid At Mamelodi Sundowns?
Andile Jali made an unexpected return to the Premier Soccer League when he was signed by Mamelodi Sundowns in 2018 after being released by K.V. Oostende due to injuries. The move made him the highest-paid player in the club as of then, with a whooping R550,000 per month as salary. Though it is the equivalent of what an average English Premier League player earns in a week, it is a large sum for a player in South Africa.
Since he signed his contract with the Mamelodi Sundowns, Andile has made 24 appearances for the team, recording 1 goal so far. More so, it is known that he has a current market value of about a million euros.
Other Contributors To Andile Jail's Estimated $3.5 Million Net Worth
Being a popular player, Andile has signed some endorsement deals that have earned him a lot of money. He is a known brand ambassador of Nike and also represents Lion Match Products. Last year, he and his wife signed an ambassadorship deal with an energy drink company all the way from Nigeria called Sniper Energy Shot.
Andile Jali has been able to keep some of the terms of these endorsement deals away from the public. This means that there is limited information on his actual income. His net worth is, however, estimated to be about $3.5 million.
How The Sundowns Star Spends His Money
He Owns A Very Luxurious Home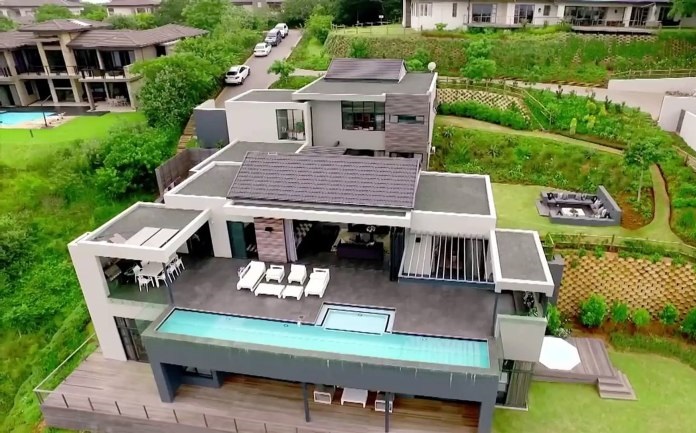 One thing Andile Jali has lavished his money is on his house and there is no gainsaying that his abode is a masterpiece. The eye-catching parts of the house include the sitting room, pond, swimming pool, and workout space.
The sitting room is designed using a dark background. The perfect blend of neutral colors between the sofas, walls, and paintings gives a lovely welcome. The dining room which is a continuum also shares the same background.
The pond is another lovely feature in their home and it gives the house a sweet feeling of nature. In front of the pond is a massive space covered with neatly trimmed grasses and it is believed to be a workout space where the family exercises – you can attest to the fact that the union of a fitness trainer and a regular athlete means exercise is a culture in their family.
Other beautiful features of his home include the swimming pool, beautiful flowers, and luxurious bathtubs. However, the location of Andile Jali home remains a mystery to date even though the first glimpse of their home was shared by his wife sometime in 2015.
Andile Also Has A Fascination For Fast Cars and Owns A Fine Collection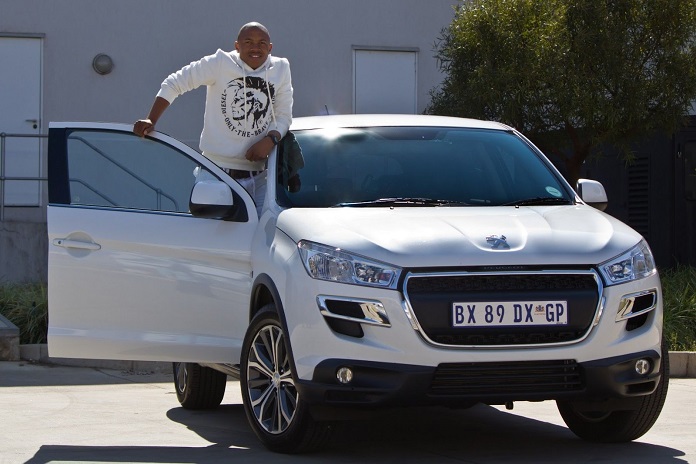 The Sundown star had a thing for fast cars and his garage has several high-priced cars. Some of Andile's luxury cars include:
Jeep Grand Cherokee SRT 8
This heavy metal costs the footballer about R1,000,000 to acquire and it comes with notable features like:
– Power: 475hp @ 6000 rmp
– Displacement: 391 cu in, 6410 cc
– Torque: 470 lb-ft @ 4300 rmp
Peugeot 508 1.6 THP Active
Andile was gifted this car in 2011 when he landed a deal to be the car's brand ambassador. This fast car also comes with some outstanding features like:
– Power: 156 Hp @ 6000 rmp
– Engine Location: Front, Transverse
BMW 1 Series 118i 5-door M Sport
Andile doled out about R18,900 to own this beauty and it comes with features like:
– Engine Power: 136 bhp/100kw
– Transmission: Manual
– Highest Speed: 130 Mph
– Fuel Type: Petrol
Andile Jali's Wife and Kids Live A Very High Priced Lifestyle
Andile and his wife Nonhle have 3 children together, although they both have a child from previous relationships. From what was gathered online, the footballer's family enjoys some very high-fetched amenities. According to Nonhle's video in which she was complaining about Andile's salary not being able to meet the family's needs, she stated that the kids attend one of the most expensive schools in the country. They also have premium medical insurance while she, Nonhle, likes to buy luxurious hairs and bags even though they can't afford all of that anymore.