The South African music industry is one of the best in the world because of the efforts of talented stars like DJ Tira. The Kwaito artist whose real name is Mthokozisi Khathi is a South African record producer, DJ, and all-around entertainer. He is well-loved in the entertainment sphere and the love has extended to his significant other Gugu Khathi, who came to the limelight following her marriage to the DJ. Though they officially became husband and wife in 2013, the couple has been together longer than that. We explore their love story and the children the union is blessed with.
Now 47 Years Old, DJ Tira Met His Wife More Than Two Decades Ago
While DJ Tira's age is public knowledge as it is on record that he was born on August 24, 1976, in his hometown of KwaHlabisa, KwaZulu-Natal, South Africa, the actual year his wife was born is not known. We only know that she celebrates her birthday on October 25th every year and her husband always seizes the opportunity to gush over her.
The age difference between the two has never been an issue and though it is obvious Tira is older by many years, the gap is not a significant one. Gugu appears to be in her 30s while her husband is already in his mid-40s. Gugu Khati was born and raised in Soweto, Gauteng, South Africa, which is quite different from where her husband spent his budding years but somehow, they were able to find each other.
They Dated For 18 Years Before Their Wedding In 2013
There is no denying the fact that DJ Tira and Gugu Khathi are among the cutest duos in the South African showbiz industry. While they are famous, certain details about their personal lives are not known publicly. This is probably because of his wife's strict privacy policies, which may have contributed to the success of their relationship.
What is established, however, is the fact that they met at a time when DJ Tira was not famous. This was about 18 years before they made their union official in 2013. They stayed with each other through thick and thin, supporting their various endeavors to date. Tira always gives credit to his wife for his career success and together, they have proved that celebrity marriages are not always doomed to fail. One thing DJ Tira wishes is to grow old and spend the rest of his life with his wife and kids. Gugu is a successful businesswoman but amid all the success and busy schedule they have to deal with, DJ Tira and his wife always find quality time to spend with the family.
Gugu Is Not The First Woman DJ Tira Married
While they are now enjoying a peaceful home as one of the lovely couples in SA, before Gugu, DJ Tira was married to a woman named Lale Ngcobo. Without details about how and when this marriage started, it didn't last long before Ngcobo's diabolical ways drove them apart.
The tidbits that leaked out about their union suggest that she used muti on Tira to make sure he stays by her side forever. She reportedly went to a sangoma to conjure a love potion which she used on her husband. The process required DJ Tira's dirty socks. But his family suspected something wasn't right at some point and went in search of answers. Another sangoma revealed what Ngcobo did and Tira filed for divorce in 2009. The marriage lasted for just two years before it crashed.
Lale Ngcobo was last seen in KZN where she worked in a bar in 2015 and her condition wasn't anything to write home about. Interestingly, Tira is willing to render help to her to support her to stand on her feet again. It is not clear what the relationship between the former couple is like now as DJ Tira keeps that part of his life in the past where it belongs.
DJ Tira and His Wife Are Parents To Three Children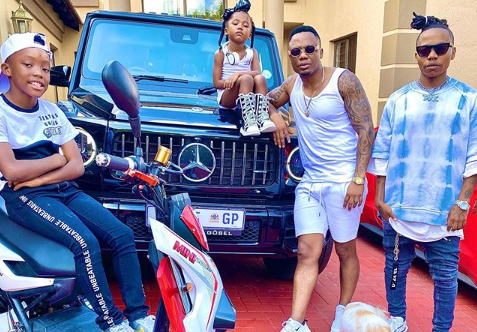 In their more than two decades together, the singer and Gugu have expanded their family with the birth of three children. Their kids – two boys and a girl have been identified as Junior, Chase, and Chichi Khathi. They obviously had their first child long before they got married as Junior is all grown up now.
The family is always sharing happy moments on social media and it looks like they are living their best lives. The two sons of DJ Tira are already following in his footsteps with the first son making major headway in the music industry.
DJ Tira's Reaction To His Son's Music Career
From following his father to the studio, Junior Khathi caught the music bug himself and he is now building a career in the field. He was just 13 years old when he indicated an interest in what his dad does and when Tira finally took him to the studio, he was so excited. Junior now goes by the stage name Tank the Rockstar and under that moniker, he has been performing on different stages in South Africa and neighboring Swaziland. His career seems to be taking shape but his father doesn't feel happy about it.
DJ Tira would prefer to have his son graduate from college where he is studying as a sound engineering student. He wants his son to get educated first before delving into the industry. He obviously wants to protect his children from the dangers of being swallowed up in the crazy music world. Nevertheless, the father of three is proud of Junior's accomplishments so far and is ready to support him. Tira confessed that Junior has a better singing voice than him and he raps well too. The father and son duo have also collaborated on a project and Junior is looking forward to more of that.
Junior Khathi's Success Compared To His Father's
The obvious fact is that there is no comparison here but the young lad is not joking around with his craft. DJ Tira has been in the game for more than 20 years and has contributed to putting South African music on the world map. Junior, on the other hand, is just in his budding days as a musician but he does have big prospects.
According to Junior, he is not competing with his father and Tira's success doesn't scare him either. He aspires to be his own man in the future and not someone hiding behind his father's big name.
"I'm not looking to be my father – I love what I do but I can never compete with him. He's a real rock star. He's been doing this since 2000 and he's successful with every hit he releases. He's on top of his game."