Throughout Lerato Moloi's union with businessman Collen Mashawana, the whole of South Africa regarded the actress as a role model. Many who wished to emulate her kind of life couldn't help but eulogize the entertainer. Besides, becoming a mother and appearing to be doing a good job at raising her child lifted Lerato a notch higher in the eyes of her admirers until the day came when the couple surprised the entire country with news about their imminent separation.
The news took fans completely by shock as many found it difficult to believe that something so beautiful could suddenly turn sour within a twinkle of an eye. Before long, we started hearing the details of the sorry tale that led to their separation. It soon became glaring that the people's role model had feet of clay as rumors about her alleged infidelity to Collen came to light.
Lerato Moloi's Marriage To Collen Mashawana and Divorce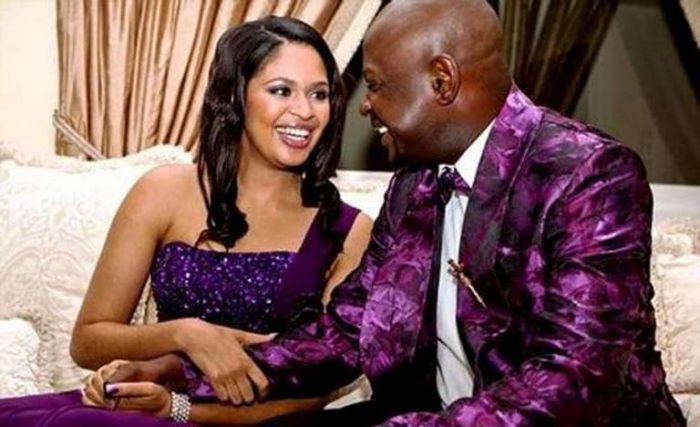 Who could have thought that a union that seemed so beautiful from the beginning would one day witness a scandalous breakup like the Lerato Moloi and Collen Mashawana marriage? At the onset, the couple would always appear at public functions, all smiles and radiating with happiness, and you don't need a soothsayer to tell that they were living in marital bliss. Besides, going by their social media posts, one would easily decode that they were right for each other until trouble busted in paradise. Their ensuing marriage issues led to separation and ultimate divorce.
Who is Her Husband?
Lerato Moloi's ex-husband, Collen Mashawana, happens to be one of the top businessmen in South Africa. According to reports, he is part of the holding company known as Afribiz Invest where he functions as its executive chairperson. Reports from Juice said Afribiz Invest owns a diversified portfolio of business interests through a total of 14 subsidiaries.
Further investigations threw up the fact that Mashawana's name hit the airwaves in 2012 after some suggestive reports surfaced in the news, claiming that he was the financier for Floyd Shivambu's (EFF deputy president) luxury BMW 5 Series.
Collen Mashawana Popped The Big Question To Lerato Moloi In A Romantic Way
No one knows exactly when and how they met, but according to what we gathered from kept records, Lerato Moloi's ex-spouse popped the big question in a romantic manner. Their relationship, which had been going on for a while, became public knowledge after Collen took romance to another level when he gifted Lerato a surprise birthday party with notable figures like Julius Malema (Economic Freedom Fighters leader) in attendance.
Collen had something up his sleeves when he staged the part, and lo and behold, it was an engagement. The businessman went on to pop the big question at some point during the party and Lerato went home that day as the official fiancée of Collen Mashawana.
But while the couple's engagement was conducted in the public eye, they went on to have a private wedding. As a result, when and where Lerato and Collen got married has remained a mystery. Besides, no one knows the kind of wedding they had; whether it was the lavish type with many guests or just one with family and close friends.
Their Separation Was Orchestrated By Reports of Infidelity
Since we cannot place our fingers on the exact time of their nuptial, it is difficult to say exactly how long they lasted as a couple. However, the story of their separation and ultimate divorce is all in the public arena.
Fans never saw a breakup coming as both Lerato Moloi and Collen Mashawana always appeared happy in public and in photos. Thus, it was a huge shock when the news of their break up filtered out. According to the tale, there were cheating allegations on both Collen and Lerato's sides, but the SA actress, they said, played the victim and made herself look innocent against Collen whom she portrayed as the monster.
It all came to an end in 2014 when cheating allegations about Lerato came to light. According to the speculations, she cheated on Collen with Archie Masebe – a married man who worked with Transnet as its head of marketing. The speculations really dented the actress's image as she was like a role model in all of South Africa. Initially, the cheating accusation was not confirmed by both Lerato or Masebe but there were suggestive photos of the two.
A while later, Lerato Moloi decided to let her guard down by admitting that they actually dated but it happened at a time when her marriage was on a hiatus. Their separation, according to the actress, was influenced by friends who advised them wrongly. It was when she was going through the heartbreaking experience of their separation that Masebe came into her life and they commenced dating around 2013.
However, Lerato said they already knew that their relationship would never go far, thus they kept it casual. All that ever happened between them were a few kisses and the exchange of messages, including the occasional lunches and dinners. Sex was never part of the mix.
While Collen Appears To Have Moved On, Lerato Moloi is Still Visibly Single
Apart from the dalliance with Archie Masebe that obviously didn't go anywhere, Lerato Moloi has not appeared on the love scene since her divorce from Collen was finalized. From what is obvious, she has remained single to date. However, the story is completely different for her ex-husband who wasted no time in finding love again.
The SA businessman has been an item with Thembi Seete for a long time despite all his efforts to keep it under lock and key. The speculations about them being an item were confirmed in 2018. A suggestive picture of them surfaced on the internet space, posted by Jabulani "Cashflow" Ngcbobo – ForEx trader. In the photos, the duo attended Lebo Gunguluza's wedding in Mauritius. The pair are said to be currently engaged and cohabiting. In addition, Thembi Seete had a daughter in 2018 who is believed was sired by Collen.
Lerato Moloi and Collen Mashawana Are Parents To A Son
Yes, the Lerato Moloi/Collen Mashawana union has come to an end but the couple left a legacy in their only child, Prince Mashawana. When and where he was born were never stated but the boy is already carving a niche for himself in the entertainment world. According to reports, Lerato and Collen's son suffered from bullying at a younger age which led him to create a cool superhero alter-ego, catapulting him into stardom.
The Young Prince who has gained popularity as Super Mash has become a huge encouragement to the younger generation with his position as the youngest TedX speaker globally. He reportedly spoke on the topic entitled "Can Children Change the World?" after a speaker at TEDx Sandton selected him at the event.
The SA kid superhero was just seven years old during the COVID 19 pandemic when he collaborated with other SA superhero kids to alleviate the sufferings of the people through sharing relief items such as foodstuff to the needy. Reports never specified who got custody of Prince between Lerato and Collen, but the young man is growing under the watch of both parents who obviously dote on him.