Blake Griffin's parents are Tommy and Gail Griffin, and he has an elder brother named Taylor Griffin, who is a retired basketball player.
Blake Griffin's parents and sibling have been crucial to the success that he has achieved as a professional basketball player and NBA star. For instance, his dad coached him during his high school days while his mother homeschooled him for the early parts of his education. It is, therefore, not surprising that now that Blake is famous, he keeps his parents and brother quite close.
Blake Griffin is a Six-Time NBA All-Star 
Blake Griffin is renowned as a professional basketball player of American origin. He is, as of this writing, playing for the Detroit Pistons of the NBA. Blake was active in college basketball, playing for a couple of seasons with the team of Oklahoma Sooners, where he earned pride as the Consensus National Player of the Year during his sophomore.
His NBA draft was in 2009 when the aspiring professional was picked by the Los Angeles Clippers as the first overall, and he has since made the records as a five-time All-NBA selection as well as a six-time NBA All-Star. The famous basketball player's success does not come as a surprise, especially when you consider the identity of Blake Griffin's parents, particularly his dad, Tommy Griffin, who works as a basketball coach.
In the same year as his NBA draft, Blake sustained a kneecap injury; he eventually missed the full 2009–10 season as he had to go into hospital for surgery. However, Blake's National Basketball Association debut as a rookie was accomplished the next season as he won the NBA Slam Dunk Contest, was picked as an All-Star, and was named the NBA Rookie of the Year. Blake is worth his weight in gold, as he was named among the 15 Greatest Rookies of All Time by Sports Illustrated in 2011.
Blake Griffin's Parents are Tommy and Gail Griffin
The famed basketball player is bi-racial, while his dad, Tommy Griffin, is of Afro-Haitian ancestry; his mother Gail Griffin is unmistakably Caucasian. Thus, Blake is partly white and partly black.
Blake is the product of a sports family; both his brother and dad are professionals in the game of basketball. During his heydays in the games, Tommy Griffin functioned as a basketball center and was equally a track standout representing his school – Northwestern Oklahoma State University.
Tommy Griffin later ended up with a job as a high school coach, where he mentored both his sons in their basketball careers. The professional life of the NBA star's mum has never been given a mention, but it is common knowledge that Blake Griffin's parents were quite adept at bringing up their children, with Gail tutoring them through the homeschooling process while their dad Tommy took care of their future careers as basketball players.
Under the watch of his father, who serves as the head coach at Oklahoma Christian School, Blake bagged a quartet of high school state titles.
His Elder Brother, Taylor, is also a Basketball Player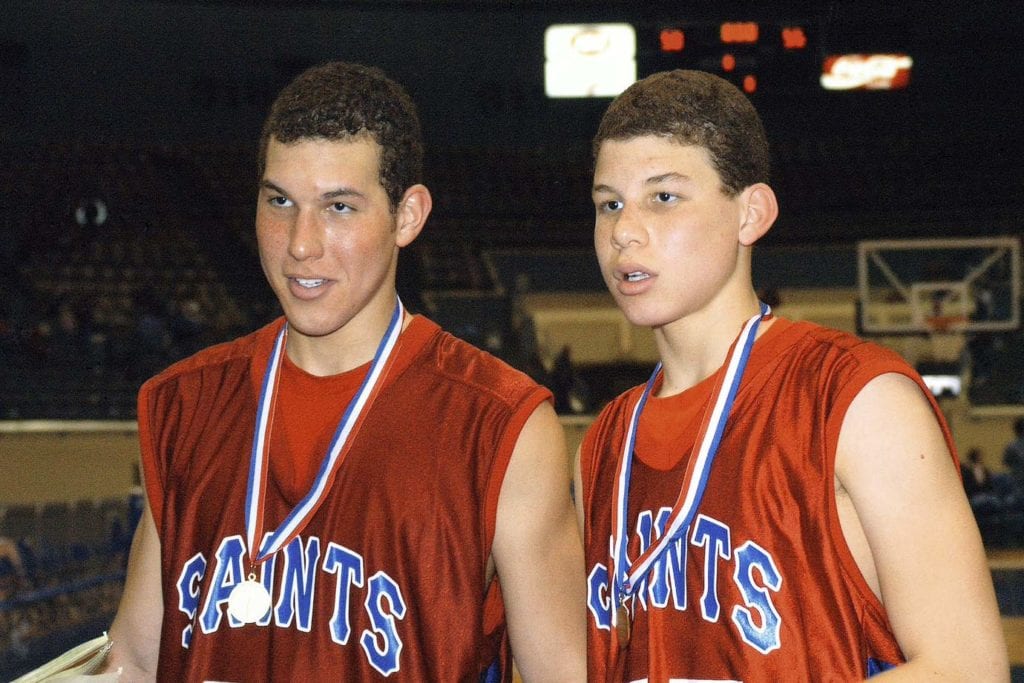 Blake Griffin has a brother, Taylor Griffin, who is three years older than him. Unlike other kids, the Griffin boys didn't start formal education on time. Their mum, Gail, undertook the task of personally tutoring them under the homeschooling arrangement from their first grade till Blake got to the eighth grade and Taylor was already in the tenth grade.
When the Griffin boys eventually made it to high school, precisely at Oklahoma Christian School where their dad worked as the head coach, Taylor, and Blake played together at the 2003/04 as well as the 2004/05 high school seasons and were instrumental to their school's success as the winner of the two basketball tournament for Oklahoma 2A state high school games.
Taylor Griffin is now a retired basketball player. He ended his career with the Italian Series A2 side known as Pallacanestro Trapani. He had gone the normal school-to-pro route. In the same way as Blake, Taylor was active in college basketball, recording good stats with the basketball team at the University of Oklahoma.
Taylor's days in college saw the basketball standout as his school's captain. The young Tailor made good records at the 2009 NCAA Men's Basketball Tournament when he led his team to the Elite Eight. Since his graduation from the University, Taylor has played with many recognized clubs. He played for a while with the Phoenix Suns before moving over to the Belgacom Liege Basket of Belgium. He has also played for the Charlotte Bobcats, but that is not all. Before joining the Pallacanestro Trapani, Taylor played for the team of Santa Cruz Warriors as well as the Dakota Wizards.