The lives of celebrities serve as fodder for news outlets and because their lives are oftentimes more interesting than the average person, celebrities are subjected to extreme scrutiny. This experience is not just limited to the celebrities in question but is also extended to those in their lives. This ranges from immediate family members to those who they have any form of relationship with and when it is romantic relationships, the scrutiny is even more. As expected, the children of these celebrities also get their own share of the spotlight and media attention. Corey Feldman has just one child, Zen Scott Feldman and because of his father's celebrity status, he has become subject to scrutiny.
Who is Zen Scott Feldman?
Zen Scott Feldman is the child of Corey Feldman and Susie Sprague. Scott Feldman was born on the 7th of August in 2004 -a time when his parents happened to be one of the biggest stars of the entertainment industry, thus they were resident in Los Angeles when Scott was born.
His parents are of Jewish heritage which makes him one too; as a result, Zan Scott Feldman was raised to practice Judaism – a religion that he continues to practice in adulthood. Corey Feldman, his father is an actor who came to prominence during his childhood in the 1980s, a career he carried on as an adult. Zen Scott's mother, Susie Sprague was an actress and model, who in the course of her career as a model has posed for numerous brands, most notably for Playboy. His parents met when his mother was marking her 19th birthday and nine months after in 2002 they got married in a wedding ceremony that had MC Hammer as the officiating minister. He was born two years after they got married and he is the only child of his parents.
Corey Feldman's childhood was spent in the spotlight and this exposed him to all sorts of people including the three men that sexually assaulted him and his friend, Corey Haim. Having firsthand experience of what it is like to have a childhood as a celebrity caused Feldman to shield his son from a life of fame, and as a result of this, very little is known of Zen Scott Feldman. This decision to keep his child shielded from the public was one he reached with Susie and it came up when the reality television show The Two Coreys was being shot. The producers did not want Zen Scott Zeldman to feature in the show and his parents were fine with their decision, saying that they shared the same feelings.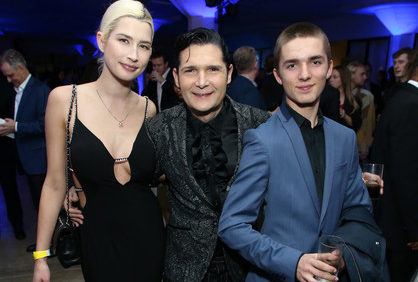 His Parent's Divorce
In 2009, Zen Scott had the media's full attention. Corey Feldman and Susie Sprague were splitting; the latter was the one that filed for divorce and her reason was irreconcilable differences. In her suit, she also included that she gets full custody of their child, Zen Scott while Feldman will only be privy to visitation rights, requesting for spousal support was a part of her divorce suit. Feldman contested her demand for sole custody and spousal support, arguing for joint custody of their child and no spousal support.
For a suit that was filed in 2009, it was not until 2014 that the proceedings were finalized, and Feldman was required to pay a monthly fee of $750 to Sprague not for spousal support but for child support. Zen Scott Feldman was ten when his parent's divorce was finalized and the court gave his mother full custody of him while his father had visiting rights.
Read Also: Cheryl Scott – Bio, Is She Married or Engaged, Who is the Husband or Boyfriend?
What Does Zen Scott Feldman Do For A Living?
Zen Scott Feldman is, as of this writing, in high school, but if the wishes of his parents come to fruition, Zen will have no business with entertainment and will continue to live his life under the radar. He has made appearances at different events with his father and mother. With his father, Zen who is a big fan of Marvel Comics attended the Excelsior! – an event that was done in honor of the late Stan Lee in January of 2019. The Kodak Awards in February of the same year also had the two Feldmans in attendance, for this event Courtney Anne Mitchell; his father's current wife was also present.