Anele Ngcongca was a renowned South African footballer born in Cape Town, South Africa, on the 21st of October 1987. He started his youth career with Aces United and then FC Fortune. The right-back player also played for FC Fortune (2003-2007), K.R.C. Genk (2007-2016), Troyes AC (on loan, in 2015-2016), and Mamelodi Sundowns Football Club (2016-2020), in his senior career. The South African player served his country with his skills on the South Africa national football team.
He played for the Bafana Bafana squad for seven years, from 2009 to 2016. Within this space of time, the team competed in the 2010 FIFA World Cup, as well as the 2013 and 2015 Africa Cup of Nations. Asides from his football career, Ngcongca appeared in the news and gossip blogs because of his love affairs. The two prominent women in his life were his ex-wife Linda Racaza and ex-lover Mshoza. And there was drama around the trio in recent times.
Anele Ngcongca and Linda Racaza's Love Story Began In High School
Anele had his high school education at the Simons Town School in Cape Town. He met the love of his life, Linda Racaza, as a student at this school. What started as a high school relationship turned into a lasting love story, at least for about 10 years.
While it is known that they became an item as teenagers, we are however not sure of what year the high school sweethearts got married. But as fate would have it, the marriage wasn't one that would see them spend the rest of their lives together.
Nonetheless, it saw them spend about a decade together as a couple. For the years they were married, the union also witnessed the birth of a child.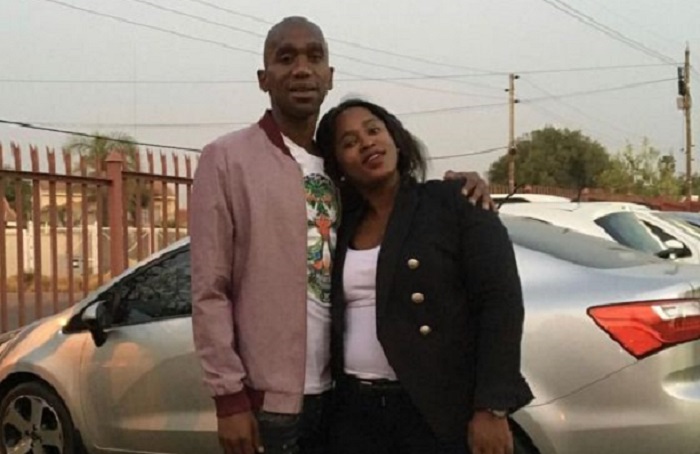 Anele Ngcongca and His Ex-wife Had Only One Child Together
Linda and Anele had a child together, a beautiful daughter named Siposethu Ngcongca. The 13-year-old child was born on the 20th of September 2010. The relationship between the football player and his ex-wife seemed delightful to watch until the issues that tore them apart came to light.
Anele spoke highly of Linda's commitment to his career's growth and her gift of a child to him. Much wasn't known about their daughter Siposethu but she gave a heartfelt speech about her father at his funeral after the soccer star passed in late 2020.
The Couple Separated In 2018 Because of Infidelity
Trouble began in their paradise in 2018 when Anele was abroad, in Belgium, following his football career. He returned with suspicions of his wife cheating on him. It tore him to learn this of his erstwhile supportive partner. The couple tried for a while to sort the issue to no avail. Anele just couldn't deal with the infidelity and this led to a separation with Linda being the primary caregiver of their daughter.
Well, it didn't take Anele long to move on. In no time, the press began buzzing with news of a budding romance between the footballer and the Kwaito music star, Nomasonto Maswanganyi, a.k.a. Mshoza. It didn't take long for the rumors to be confirmed by the lovers. Anele revealed that what he had with Mshoza was different from his relationship with Linda. He said his new girlfriend lavished him with much love and respect and he felt truly happy with her.
Anele Ngcongca's Ex-wife Fought His New Lover After Their Divorce
According to the rumor mills, Linda didn't take the breakup well which is understandable. How does one walk away from a longtime lover without looking back? That can't be easy! The real trouble began when the new lovers moved into a house near the one he shared with Linda Racaza; a move Mshoza claimed was Anele's decision against her judgment. Was that a good decision to make? Absolutely not!
One fateful day, barely three months into the new relationship, Anele and Mshoza made a quick stop for fuel that turned into an ugly drama. Linda drove into the petrol station and made a move at her ex's lover. An ugly fight ensued with both women ending up behind bars.
Anele's new relationship seemed like it was headed for the rocks after the ladies were granted bail. Mshoza revealed that she was expecting a baby for the man. Sadly, she lost the pregnancy not long after; a situation she attributed to the stress of dealing with Linda and the fight. Not surprisingly, she called off her romance with Anele, stating that it might have been rushed and she just may still be in love with her ex-husband, Mkuva. Mshoza had previously been married twice to Jacob Mnisi and Thuthukani Mkuva.
All efforts by Anele to rekindle the flames proved abortive. About a year later, on 18th November 2020, Mshoza lost the battle for her life to diabetic complications.
Yet another loss to the music industry.

It is with great sadness that we acknowledge the passing of kwaito star Nomasonto Maswanganyi, affectionately known as Mshoza. #RIPMshoza pic.twitter.com/q9gKe25QlT

— SAMRO (@SAMROMusic) November 19, 2020
The Footballer Also Lost His Life In November 2020
On the 20th of July 2020, the Koninklijke Sport Vereniging Roeselare (KSV Roeselare) management took to their Twitter handle to announce that Anele had signed a two-year contract with them. Interestingly, rumors ensued around November 2020 about a possible signing of the player by AmaZulu Football Club. This caused a lot of ruckus and confusion.
According to BBC Sport, Anele Ngcongca was actually going on a one-year loan from Mamelodi Sundowns to AmaZulu F.C., with talks of the club possibly retaining him. Anele's manager, Mike Makaab, confirmed this with a statement he made to SowetanLIVE. It was also revealed that Ngcongca was scheduled to meet his new coach and teammates on Monday, the 23rd of November 2020. He set out on a trip from Johannesburg to Durban in the province of KwaZulu Natal, South Africa. Unfortunately, his vehicle was involved in a car crash on the N2 freeway and he died on the spot.
The Mtunzini South African Police Service stated that an investigation into a culpable homicide had been opened. This news hit the football industry and fans hard. Both Anele's old and new clubs released a joint statement on the player's death.
Our condolences on the untimely passing away of former Bafana Bafana defender Anele Ngcongca, who died in a car accident this morning.
May his soul RIP. pic.twitter.com/dCpxLu47Cz

— Bafana Bafana (@BafanaBafana) November 23, 2020
With Anele and Mshoza's deaths coming merely five days apart, some fans on both sides were convinced his death was a result of heartbreak or a case of lovers reuniting. Many others insisted that the public leave their families to mourn their loved ones in peace.