Short haircuts are loved by black women for a lot of reasons and the fact that they are easy to manage tops the list. More so, choosing the appropriate short haircut has a rejuvenating effect on women, especially older women as it can shed off up to 15 years from their age. So, if you want to rock a simple but classy look, opt for short haircuts this season and we have compiled a comprehensive list of 40 short haircuts black women can experiment with no matter their hair texture or age.
Short Natural Haircuts For Black Women
Short natural haircuts always look gorgeous on black women. All you have to do is pick the right style for your hair texture. Check out the following short haircuts before your next hair appointment, especially if you have decided to go on short hair:
1. Short Natural Fohawk With Curls
This haircut is basically the Mohawk-style haircut with low fade. The hair at the center will be twisted to form fine curls which will drop around the face. You can untangle the twists to let the coils fall and to give your hair more volume. This hairstyle can be rocked by women of all ages and it suits a wide range of face structures which will include oblong, circle, diamond and heart-shaped face structures.
2. Buzz Cut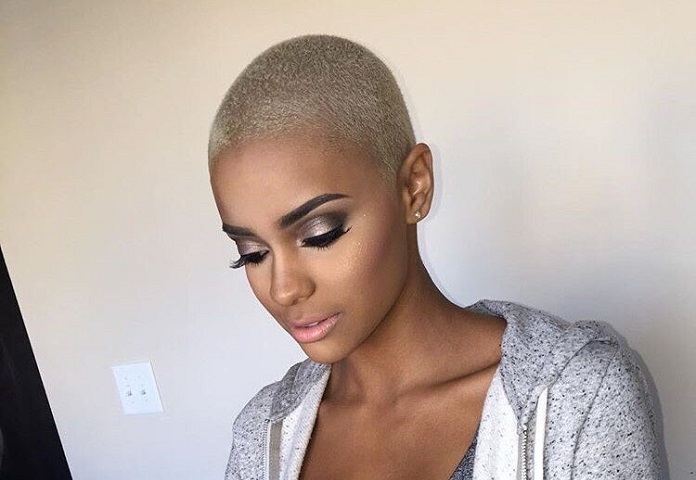 The buzz cut is a hairstyle that will greatly enhance your facial features and with it, your makeup will eventually pop no matter how light you apply it. The buzzcut could be a clean shave style in which you remove all the hair or you can decide to leave a little bit of hair which can be styled down or dyed to any color of your choice.
Various styles of the buzz cut have been trending for more than a decade now and women of diverse facial features have experimented with it with satisfactory results. Top celebrities like Lupita Nyong'o, and Jada Pinkett rock this haircut elegantly.
3. Natural Tapered Haircut With a '90s Flair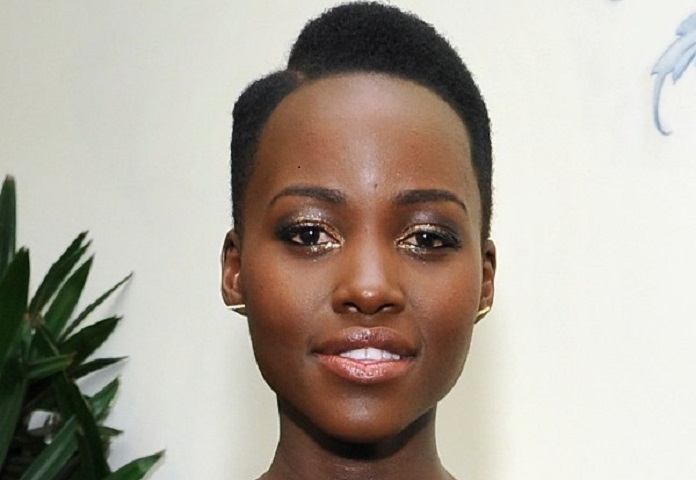 This haircut will definitely ensure that you do not spend long hours styling your hair. It is achieved by doing the basic tapered haircut but the hair on the top is not totally removed rather, it is given a shape that is a bit edgy but classy like how haircuts were done in the '90s. The tapered haircut with a 90s flair definitely looks good on a round face but other face structures can also rock it out if they wish.
4. Slicked Down Short Haircut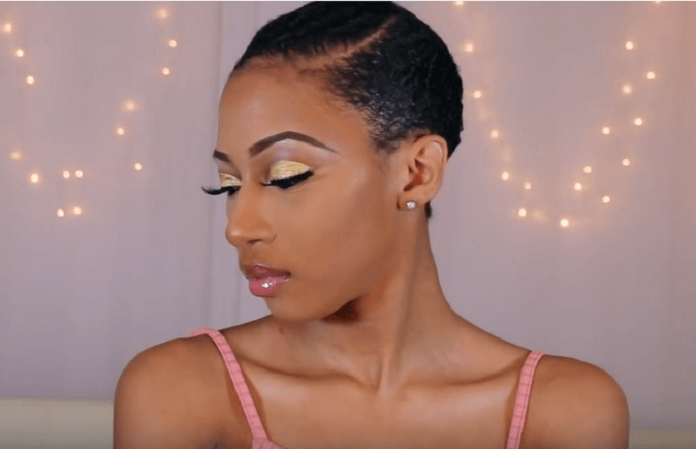 The slicked-down haircut is sure to give you a casual but elegant appearance. It is one of the hairstyles that looks great on women with any face structure and physique. Although this hairstyle is great for thin hair, people with coarse or thick hair can also try it out. To enhance the style, you can choose to add some waves and ensure to use a long-lasting hair gel or edge control to give you a smooth finish.
5. Under Cut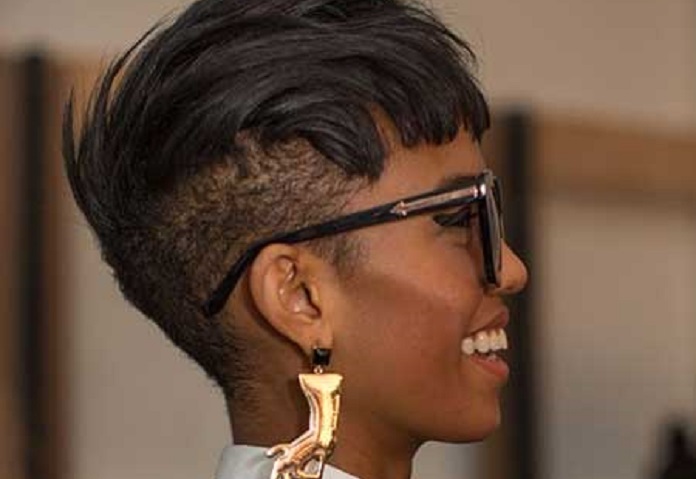 The undercut has always been in vogue and it looks great on a variety of face structures, especially oblong faces. This haircut is also loved because of its simple but edgy look, especially if you leave a sizeable amount of hair at the top of your head which you can either drop down or hold up to show the haircut underneath.
Short Bob Haircuts For Black Women
The bob is a cute hairstyle that has a very low maintenance routine which has been trending for a long time now. Depending on your hair texture, you can go for various lengths which you can easily style to suit you. There is a bob for every face structure that will either soften the facial features or highlight them. Just pick from the long list of available bob hairstyles that will enhance your facial features.
6. The Middle Part Bob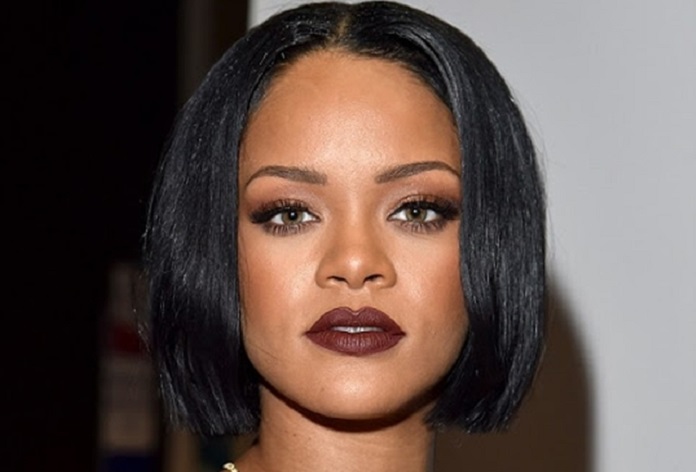 If you intend to pull off a sleek and stylish look, the middle part bob is the perfect haircut you should consider. It looks great on different face shapes, including oval, long, and heart-shaped faces as it creates an alluring look. To make the middle part, you can decide to make your hair straight which can be achieved by using relaxants, the keratin treatment, or using flat irons. However, consider the health and texture of your hair, how long you intend to keep the look and how much money you want to spend on your hair before opting for any of the methods. This haircut has been rocked by celebrities like Rihanna and Kelly Rowland on several occasions.
7. Asymmetric Bob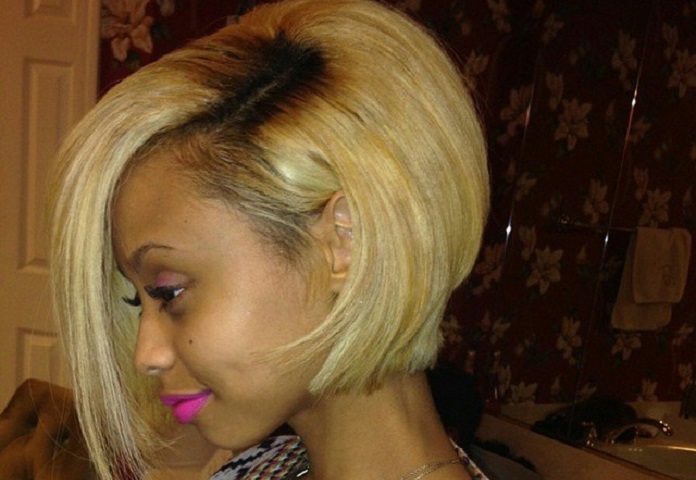 With the asymmetric bob haircut, your hair will be transformed to give you a chic and classy look. The length of the hair at the back of your head is very important to ensure that you get the desired chic and classy appearance – it should not be too high or low. Dying your hair golden will also give this haircut a perfect look when it is styled.
8. French Fringed Bob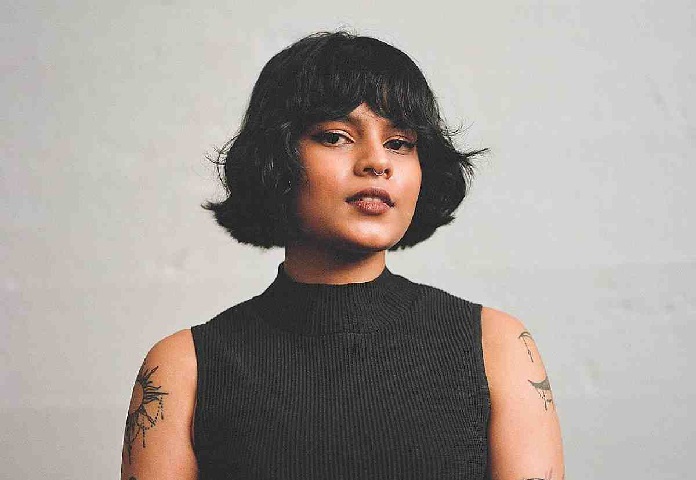 A French fringed bob is a very feminine haircut that always softens the facial features. You can decide to leave the bob very close to your earlobe or a bit down towards your neck, either way, it will still give you a graceful look. American actress Kat Graham is popular for the French fringe bob look – she has rocked it in various lengths over the years.
9. Inverted Wavy Bob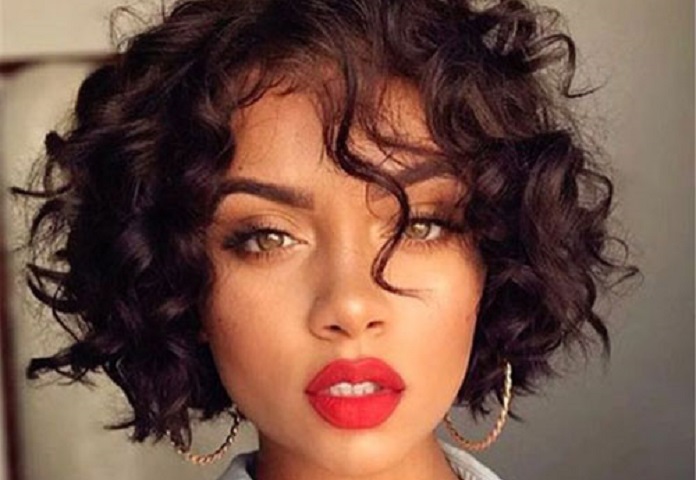 The wavy bob gives a unique look to the inverted bob cut and it looks amazing, especially on round faces. This haircut is done in such a way that the back layers give the hair a lot of bounce and balance.
10. Feathered Bob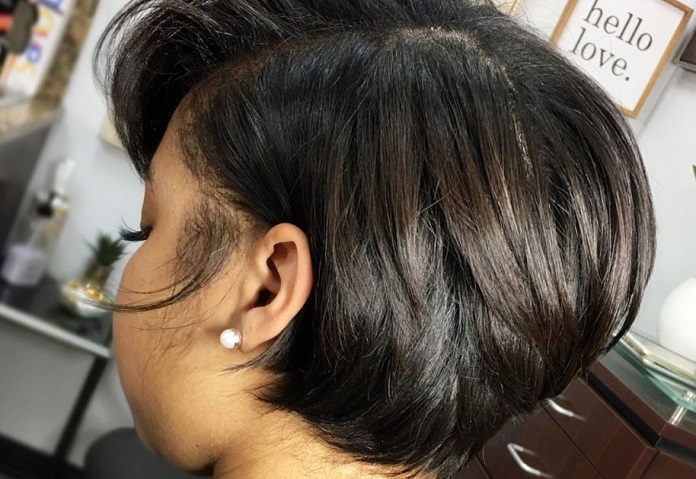 The feathered bob is a popular bob haircut but to achieve a feathered look on your hair, use a hairdryer to brush back your hair to give you the desired look. It is also more suitable for a feathered bob to have a side part – this will enhance the hairstyle by making the feathers more visible.
Short Haircuts For Black Women With Round Faces
Short haircuts can look quite fabulous on women with round faces. So, if you had doubts that you won't be able to rock a short haircut because of your round and chubby face, fret no more as we have compiled below a list of stunning hairdos that would suit your face shape perfectly. You just have to keep in mind that for you to make a major statement with a short haircut as a round-faced person, it has to be choppy, razor layered, and tousled styled to give you that exotic look.
11. Tapered Afro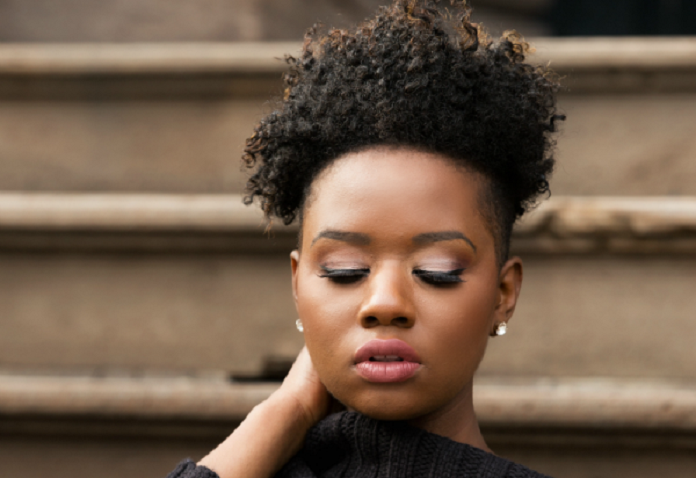 The tapered afro haircut will definitely flatter a round face, especially if it comes with a height on top. The narrow sides will make the hairdo look sophisticated without being too wild and with the use of hydrating hair curling cream, you will be able to moisturize the hair and give it definition.
12. Short Chin Length Haircut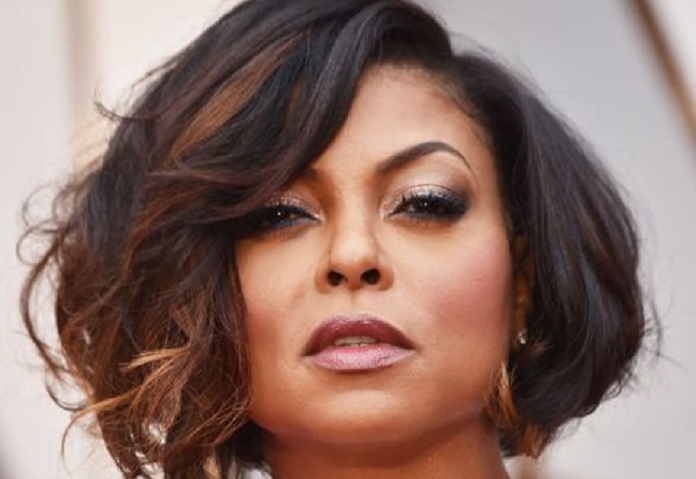 Ladies with round facial structures usually have a tough time making their faces appear smaller. However, trying a chin-length haircut will definitely do the trick. You can also comb your hair to one side to give you a cute finish. Hollywood actress, Taraji .P. has rocked this haircut and she looked dashing on it.
13. Short Fringe Haircut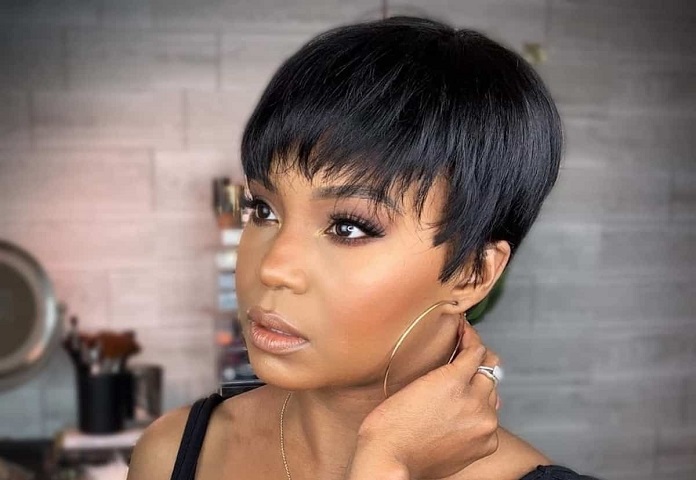 Round face-shaped women should always consider haircuts that would help frame their face to make it softer and elongate it. This choppy bangs haircut is perfect not just to frame the face but to also elongate it. The fringe will make your eyes pop and the choppy bangs will elongate your facial features perfectly.
14.  Short Sides Long Top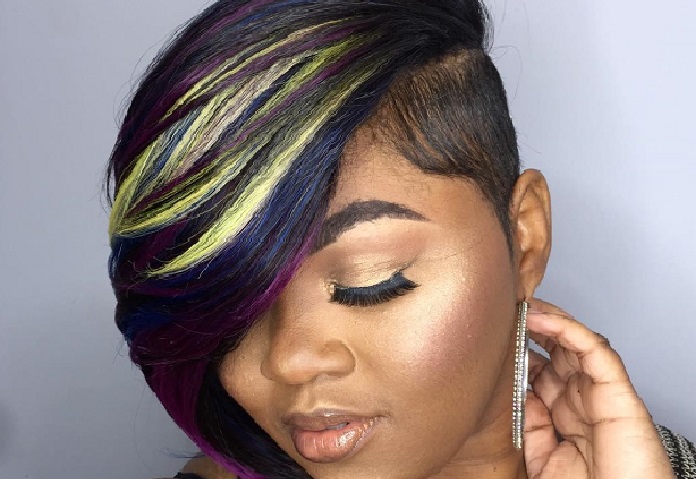 This partially shaved haircut will suit ladies with fuller faces and give them an edgy but subtle look. You can also choose to experiment with colors to make your haircut stand out.
Short Pixie Haircuts For Black Women
An alternative way you can rock a cropped hairdo is by switching to a sassy pixie cut. The pixie cut follows the same procedures of a long top which is complemented with a short back and sides. More so, the jumbled layers on top of the head give volume and some form of dimension to this hairdo which all work together to accentuate the facial feature, especially the cheekbone.
15. Feathered Pixie Haircut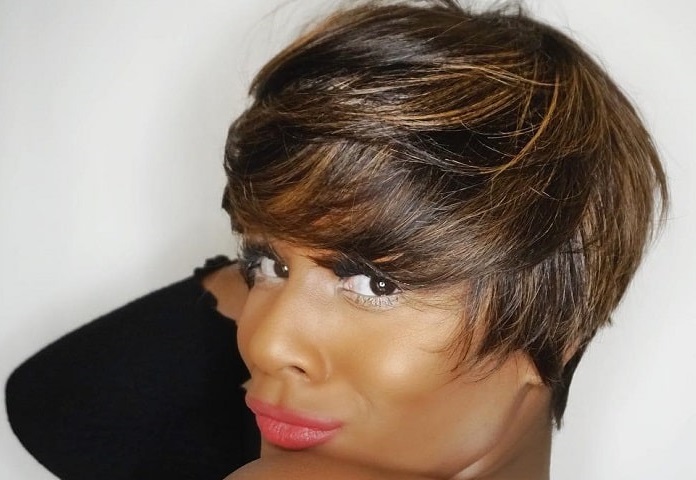 If you want to pull off a fun look then try out this feathered pixie hairdo. The sides are tapered and the layers are cut in an uneven manner to give it a classy but playful appearance. This pixie cut can be rocked by ladies with any face structure but it is most suitable for women with oblong faces.
16. Deep Parted Edgy Pixie
This pixie haircut is sure to draw a lot of attention to your hair, especially if you decide to give it some color or go blonde with dark roots. As the name indicates, the parting is deep and the shorter side is neatly trimmed down to give a prime and proper look. The blunt finish of the longer side and the volume on top gives the haircut balance. It is a great choice for women with a round and square facial structure and has been rocked by Mary .J. Blige on several occasions.
17. Super Short Pixie Cut with Bangs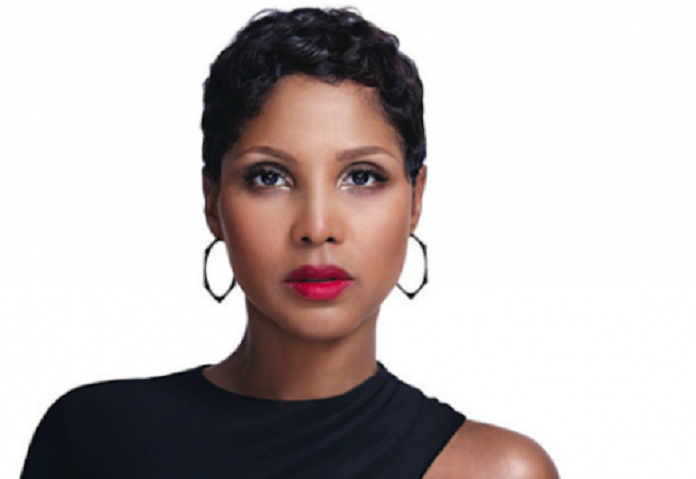 No matter how short your hair tends to be, a pixie cut will definitely give you that elegant look you desire. This is a classy and sexy pixie haircut that has been trending since the 50s thanks to the renowned actress Audrey Hepburn who rocked short pixie cuts in various styles.
18. Pixie Cut with Finger-Waves
Finger waves have always been an ideal look for women with super short hair and adding it to a pixie cut is always a head-turner. To achieve an even more dramatic look, part your hair on the side and comb the wavy bangs to either the left or right side for a classy look. A non-flake mousse will be needed to give a long-lasting hold.
19.Diagonal Pixie Cut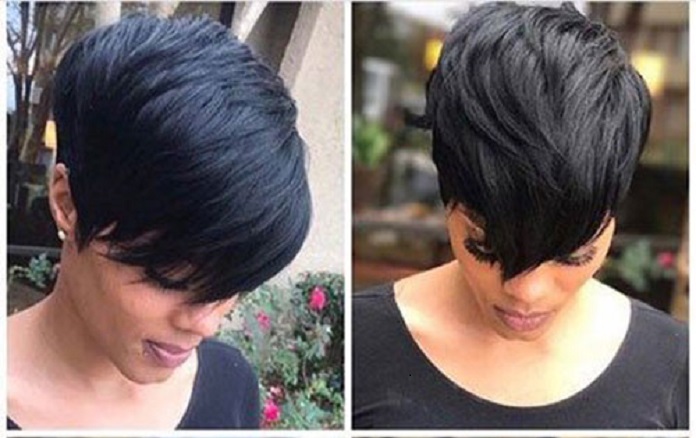 The diagonal comb-over pixie is among the trendiest pixie hair cuts as it flatters diverse facial structures, from oblong to round faces. This haircut usually comes with diagonal bangs and a slight tousle at the top section which gives the face a narrow and elongated look.
20. Piece-y Pixie Cut with Designed Back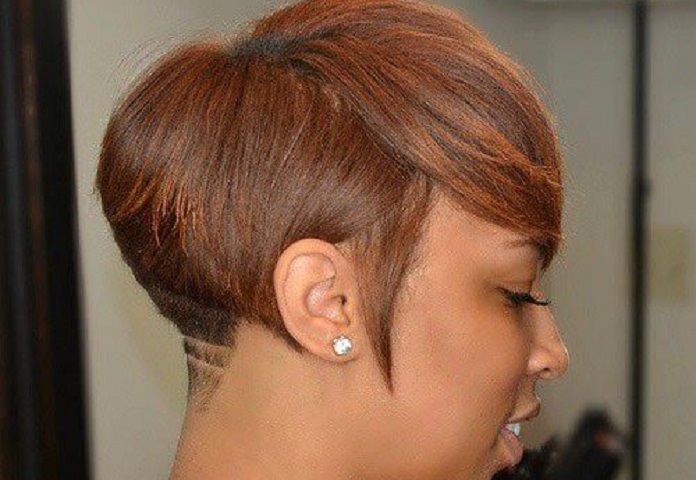 This pixie haircut is usually cut slightly longer on one side of the face while the back will be short. The layers are also cut in such a way that they form a small bulge at the top of the head to give the hair some dimension. You can also throw in some colors to make your hair stand out and even add a design at the back of the head.
Short Haircuts For Older Black Women
Short natural haircuts are a wonderful choice for older black women as they will definitely accentuate their beauty. Moreover, short haircuts are very fashionable and go well with anybody irrespective of their age – all you have to do is choose the right haircut for yourself and style it appropriately. Below are some trendy short haircuts for older women:
21. Low Curly Silver Haircut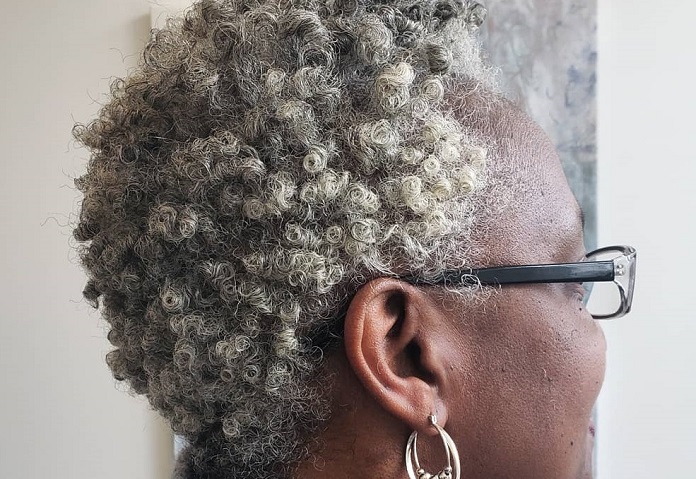 Short silver haircuts are always appealing, especially for older women. It exudes a fine blend of confidence, maturity, and being chic. To appear even more sophisticated, you can add some curls. This haircut will look great on older women with oval-shaped faces.
22. Platinum Bob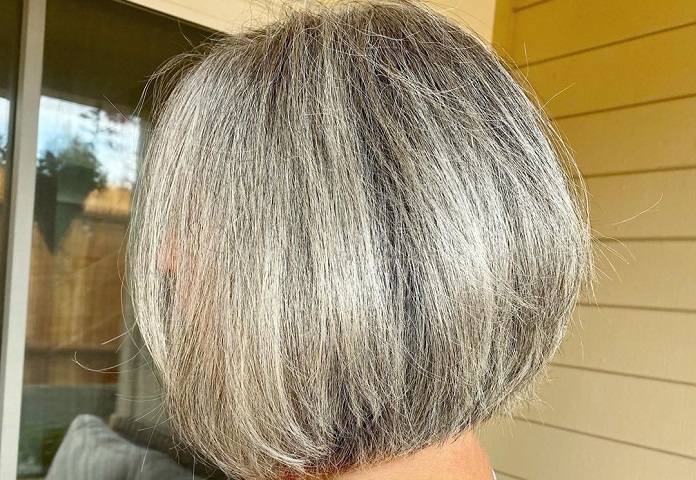 Platinum hair styled is another hairstyle that works quite well for older women. To achieve the edgy platinum look on short hair, you can start out by cutting your hair into a concave bob then playfully push to one side with a comb. The locks that are scattered carelessly will add volume to the hair.
23. Exotic Layered Curls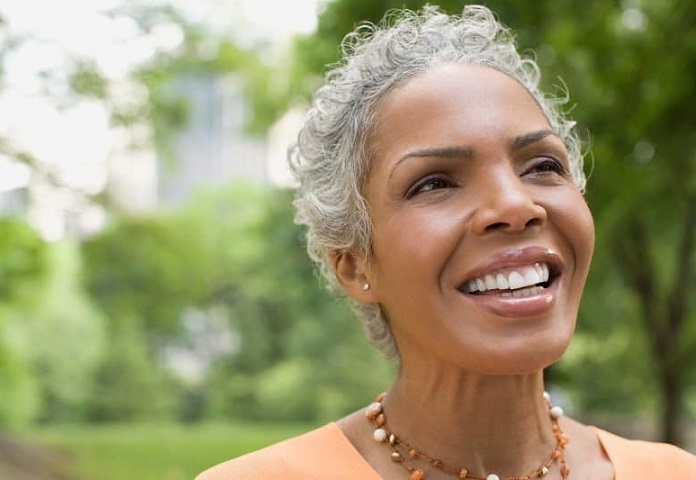 Older women will definitely pull off a very sexy look with this exotic layered curls haircut. It's also very easy to achieve once your hair is cut down to the appropriate length. A curling iron will come in handy to help you curl the hair in various directions and when the curl is combed out, your exotic look will be achieved. A side part will give a perfect finish to this hairstyle and it is most suitable on oblong faces.
24. Short Pixie with Bangs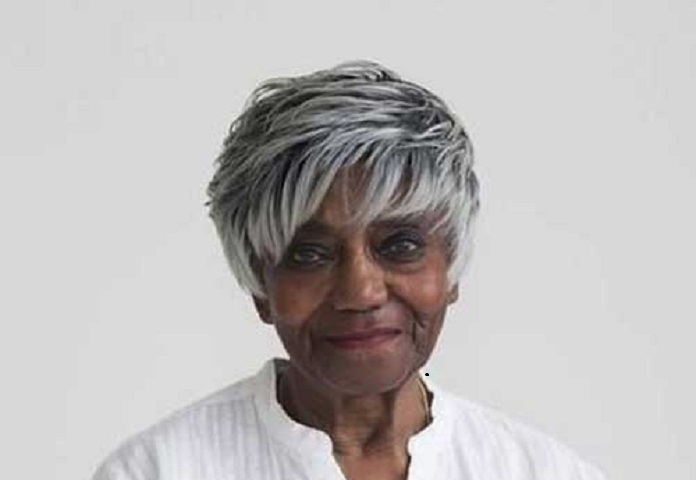 A short pixie with bangs is a hairstyle that will never go wrong even on an older woman. To make the hair stand out, you can decide to add some color or just let the bangs flow with your natural silver or grey hair color to showcase elegance.
25. Slick Shaved Hair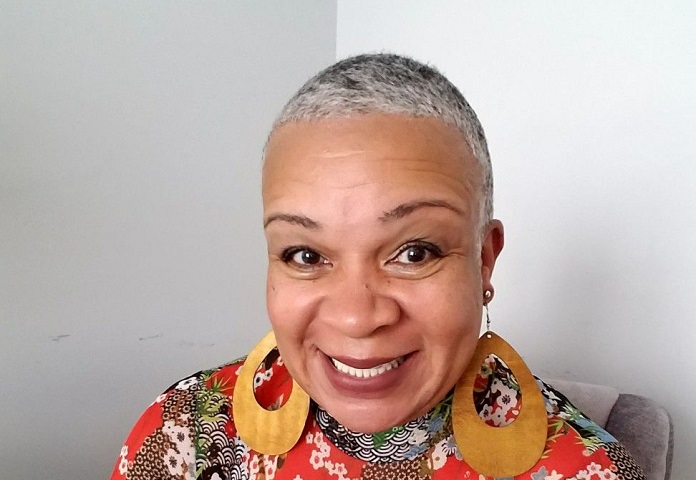 For older women who find it difficult to style their hair, the slick shaved style will be appropriate. Just cut the hair as low as possible and use any hair gel of your choice to hold it down. You can smooth the hair with a soft hair brush whenever you want to go out.
26. Tappered Undercut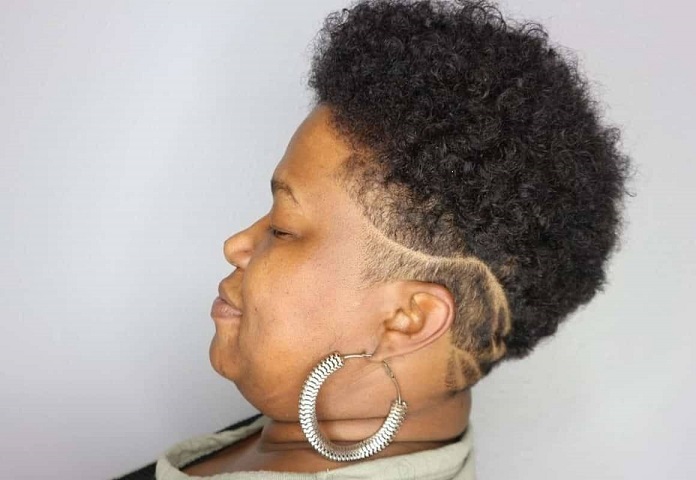 A tapper undercut is a hassle-free and chic short haircut any woman over 50 would be glad to rock. Since both sides of your head will have little or no hair, it serves as the perfect canvas for some creative designs. You can also color the tip of your hair to make it stand out.
27. Short Afro Cut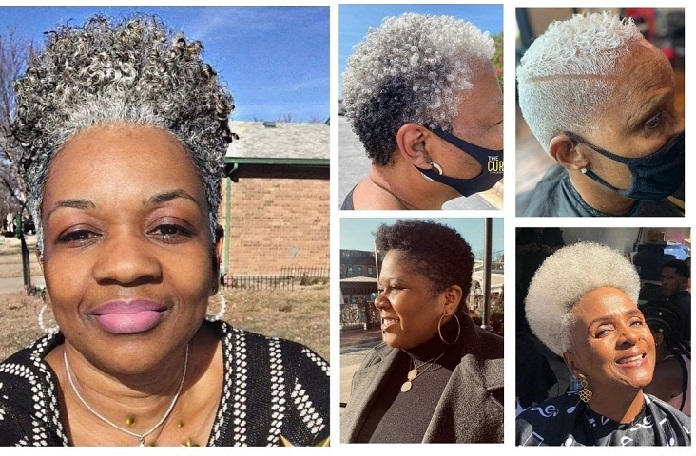 For older ladies with full hair, you can decide to cut the hair low and groom it into a chic afro. Adding some curls will also make the short afro cut very attractive and give a youthful look. This hairdo is perfect on all face types.
28. Charming Spiky Pixie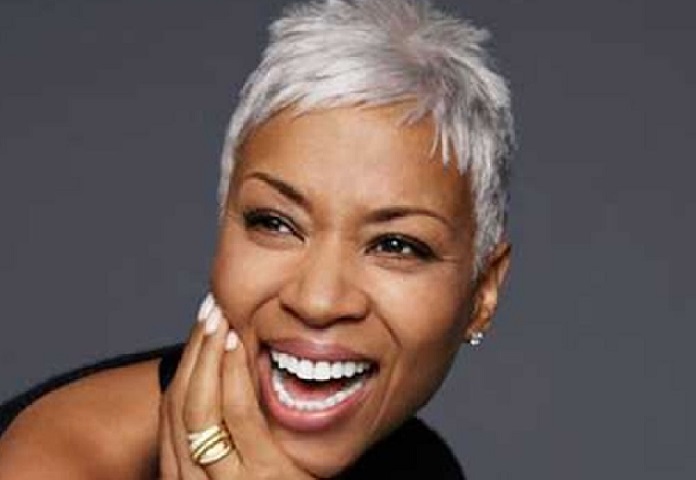 This short haircut has a rejuvenating effect which will be ideal for older women. It molds the face and generally gives the person a facelift with well-defined cheekbones. You can decide to dye your hair to any color of your choice to enhance your look or better still, flaunt your grey hair with grace.
29. Short Deep Curly Haircut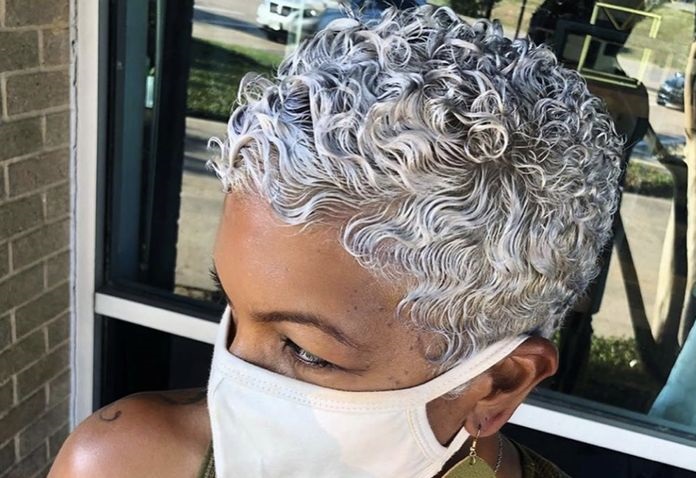 A short curly haircut is a classy hairdo that will suit senior women. The short curls have a way of giving the hair volume and making your neck appear slender. You can also decide to have a lower cut at the back to accentuate the hairdo.
30. Salt-and-Pepper Cut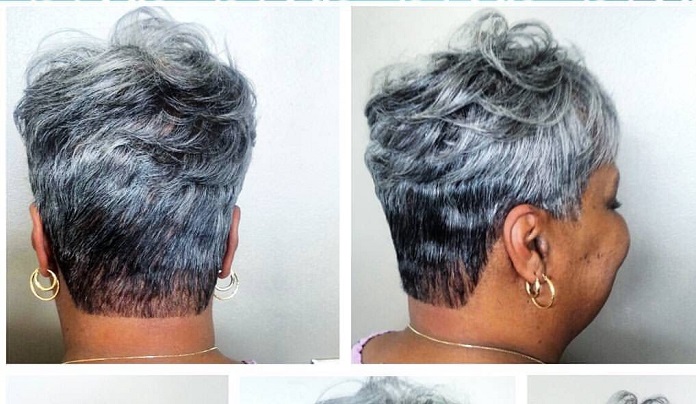 With the salt and pepper hairdo, any older woman can pull off being classy and graceful at the same time. It is also easy to maintain and it suits a wide range of facial structures.
31. Short Messy Pixie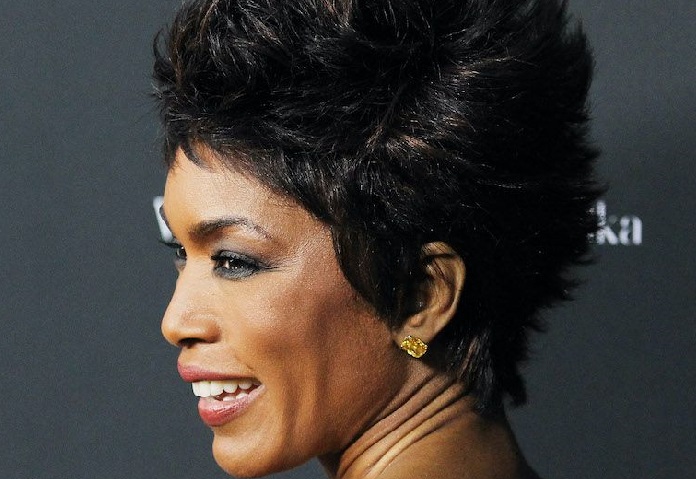 This is an upbeat haircut that has a way of keeping your vibe both casual and fun. The messy nature of the haircut gives it a sassy look which is always in vogue. You can rock this hair for any occasion – both formal and informal and still fit in perfectly.
32. Short Choppy Pixie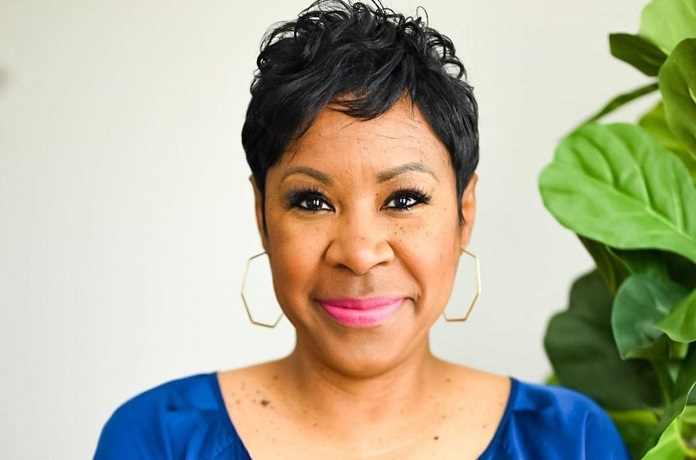 An older woman who is adventurous should opt for a short choppy haircut. It is edgy and exhibits class and maturity. This haircut is ideal for both thick hair and thin hair, just ensure that the hair layers are done appropriately around the scalp with a bit of a ruffle at the top.
Thin Hair Short Haircuts For Black Women
A major thing to look out for if you have thin hair is to choose a hairstyle that will help add volume to your hair. More so, using the appropriate hair products and styling your thin hair in the right way will make it appear thicker and fuller.
33. Short Haircut with Bangs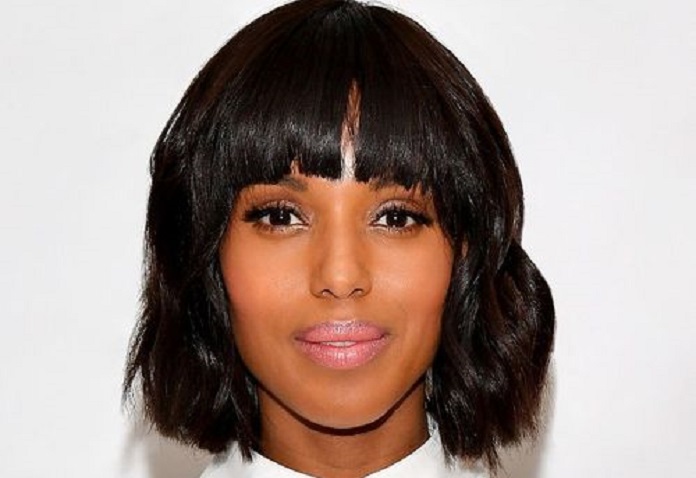 A thin hair will definitely stand out with a short choppy haircut and bangs. For this style, you can also try to make the edges to be blunt but don't bother that the hair will not be lying neatly because the messy look is needed to nail this hairstyle.
34. Low Fade With Waves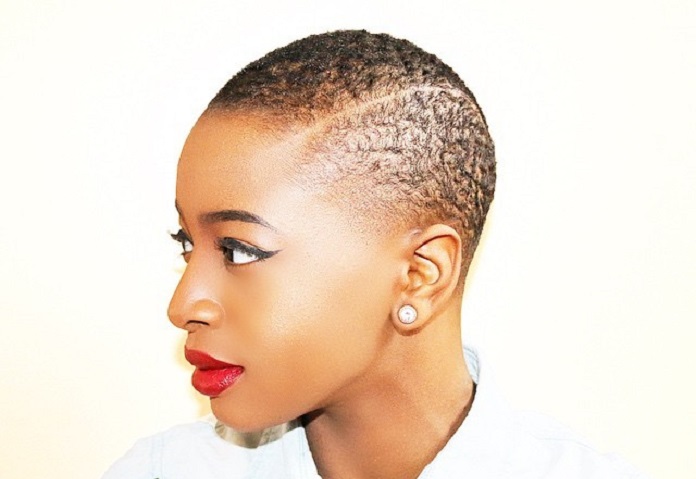 This hairstyle is quite easy to maintain on thin hair since one can use a styling hair gel to hold the hair firm. The waves can be created either at the top of the head or all around the head to give it a fuller look.
35.  Shaved Side with Designs 
A shaved cut will always turn out to be classy on any thin hair. The hair cut helps create a clean shave on the head and frames the face, especially if some hair extensions are added at the center. More so, to make the haircut even more classy, some designs can be added to the back of the head.
Relaxed Hair Short Haircuts For Black Women
A perfect canvas you can use to create any style of your choice is relaxed hair. Due to its smoothness and silk feel, a lot of styles will look great on it. Here are a few styles you can try out if you have short relaxed hair:
36. Tappered Sides With Short Curls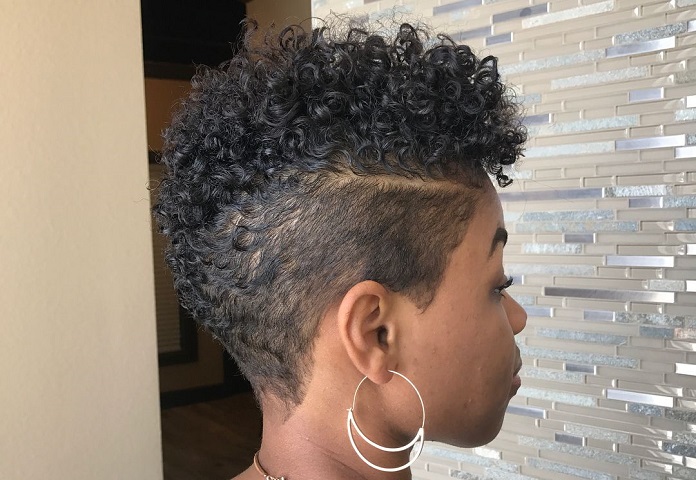 The good thing about relaxed hair is the fact that it can be easily managed. To ease any hair hassle you can decide to shave the hair on the sides of your head low while leaving a handful at the center which can be curled. This haircut will suit a wide range of facial structures, especially oblong-shaped faces.
37. Straight Short Cut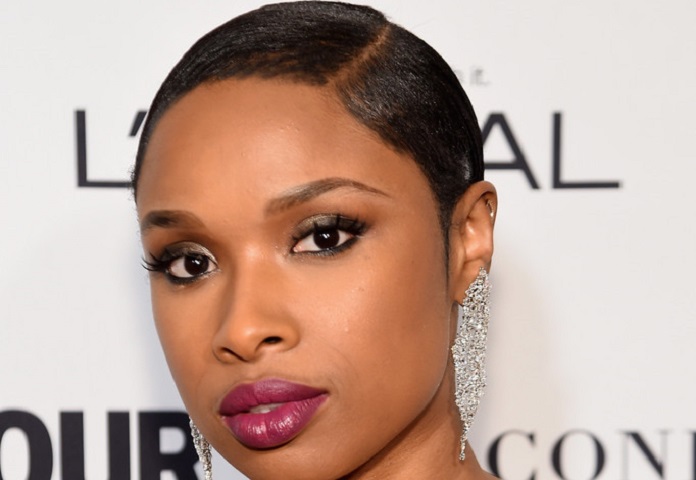 A  straight short cut on relaxed hair is a chic haircut that is worth trying out. To give you a perfect finish, you can go ahead to slick it down using a good hair gel. This will frame the face and make your eyes noticeable. It would look terrific on round faces.
38. Short Pixie Cut with Bangs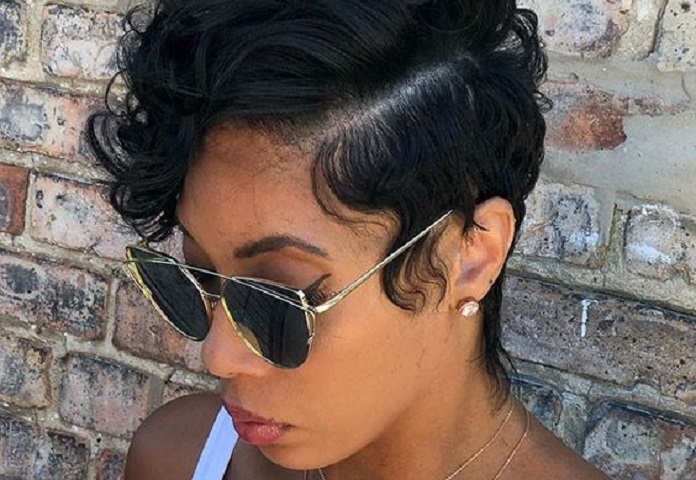 This hairdo is achieved by cutting the relaxed hair a little to a short length reaching the ears and then creating short curls on top to form bangs around the head. You can use a curling pin to get the curls. Finish the look with a deep side part.
39. Short Mohawk with Design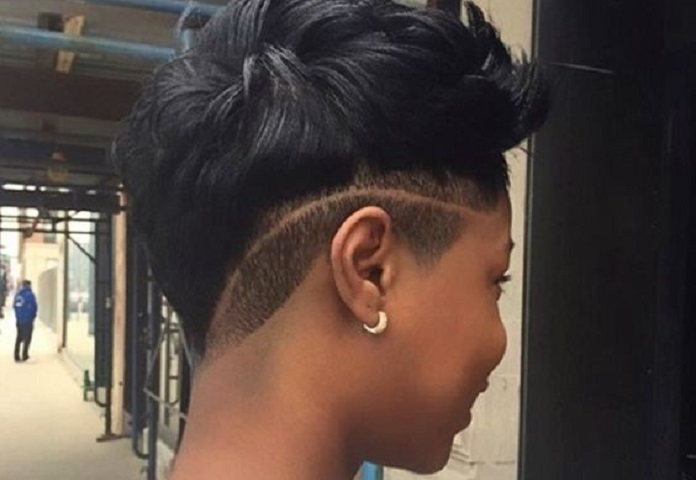 The mohawk haircut also looks great on relaxed hair. To enhance the haircut, you can design the sides and leave adequate hair at the center which can be combed or styled in a stylish manner. This is a simple and chic style you can rock for any occasion.
40. Smooth Pixie Cut with a Flip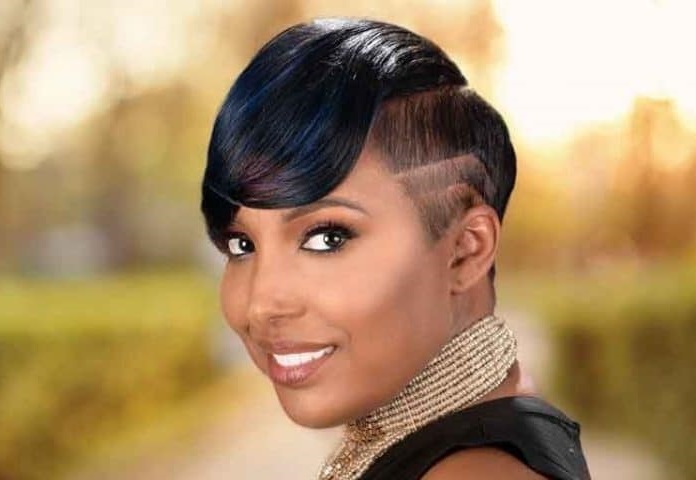 You can easily pull off a smooth pixie cut with a flip, full fringe, or side fringe on relaxed hair. To make it even more sophisticated, you can decide to shave the back low. It is an ideal haircut if you don't have the patience or time to style your hair regularly as you can easily comb the front and brush the back and you are good to go!