Oftentimes, African women find themselves in a dilemma when it comes to their natural hair. Sometimes, the texture can be very difficult or the length may not be enough for that particular hairstyle that you've been longing for. Other issues may come from your hair texture and its ability to be braided into different styles. A small frustrated group may decide to just cut the hair and save themselves the stress but that isn't always the best solution to these issues. Some ideas are available for this group of people.
Trending Afro Hairstyles For Short Hair
These are some of the best trendy afro hairstyles that will look great with your short natural hair.
1. The Tightest Tiny Curls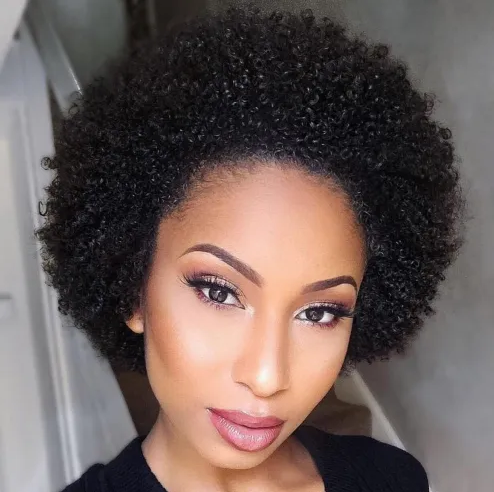 The style comes in an awesome curl that is suitable for all occasions and it's made up of tight curls. This is a good hairstyle that became popular at the time many more women have started embracing their natural hair and it has always been in vogue. The process of making this hair is a bit harder than usual due to the tightness and length of the curls. Nevertheless, you can never go wrong by rocking this beautiful hairstyle.
Choose the curls and make them yours. Your beauty will be easily amplified with this hairstyle when your face is well-toned with the right mix of make-up. Bold earrings are also a good compliment to this afro hairstyle. The hairstyle looks good particularly on ladies with oblong or round face type as the oval shape of the hair has a unique way of projecting the ladies' face.
2. Half Shaved Natural Hairstyle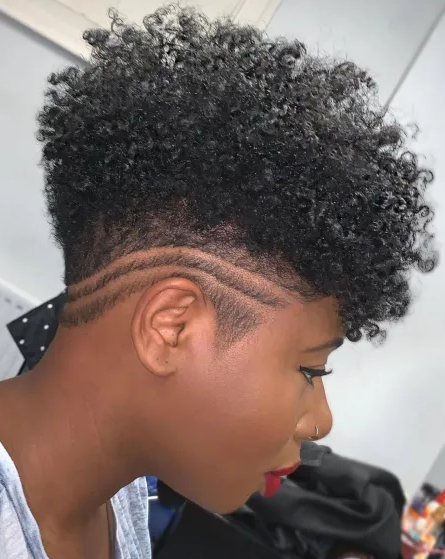 This can be a perfect combination for individuals with oval-shaped faces and curly hair that need a low-maintenance hairstyle that will not cost them much and this is a favorite afro hairstyle for young black women who want to fit every description of modernity. The good thing about this hairstyle is that it can be done with very few requirements and maintaining it is very simple. All you need to successfully achieve making this hairstyle is a good barber and a moisturizer that can keep your hair in the best shape. The sharp razored lines when combined with the triangular sideburns can be described as tomboyish. The poofy curls will come in handy when you need to gain that extra height for brags. And for the rest of the hair, you need to keep them well-combed up and moisturized to bring out the shine in them.
3. Cute Natural Tapered Cut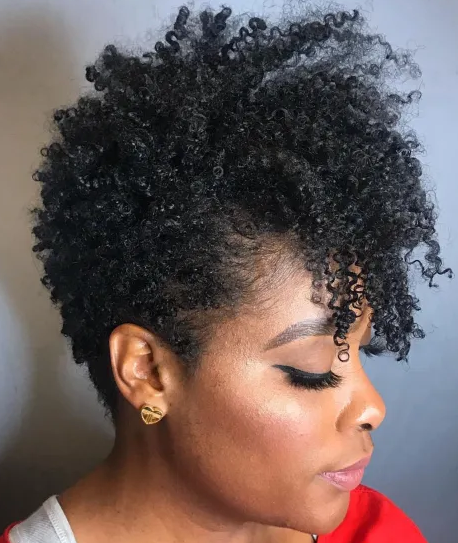 If you're still new to the afro hairstyle and you want to try out the process for the first time with your natural short hair, you may have to consider this tapered afro haircut style. The process is given that name because it involves having curly hair that has been made into curl tendrils piling on top of the head while a good barber takes a tapered cut on the sides. The process requires a barber with steady hands and your hair would have to be in the best position for you to make this happen.
This trendy afro hairstyle will be perfect when you allow your curls to have a little bit of frizz as that would save you a lot of money for hair cream and gel. This afro hairstyle is remarkably good for ladies with diamond-shaped faces and also those with heart-shaped faces and prominent cheekbones.
4. Side-Parted Short Curly Natural Hairstyle
If you're looking for that trendy afro hairstyle look that would give you the boss chick vibes while looking sexy at it, then the side-parted short curly afro hairstyle should be the choice that you make. The good thing about the hairstyle is that it makes the most use of your natural hair and leaves your hair looking very natural with kinky tendrils. Making this hairstyle is not so easy but it surely does not look complicated.
The major work is done on the deep side part with the laid edges. This activates the mass of the curl on top of the hair. The hair ends are tinted with the copper color to give it a glorious look. Like it is the norm now, you can always use edge control hair products to finish off and pattern the edge of your hair the way you like it. If you have an oval face type, this afro hairstyle will make you look good effortlessly.
5. Asymmetrical Side-Swept Afro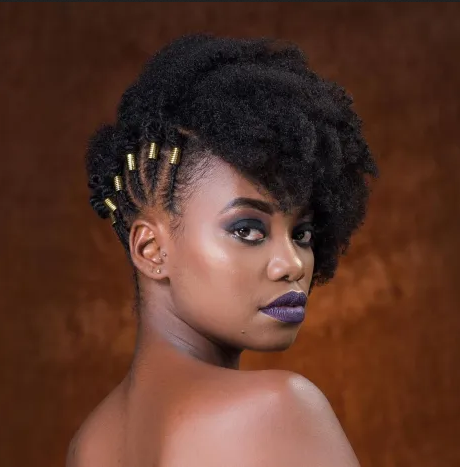 The asymmetrical side-swept afro hairstyle should be the obvious choice of hair to make if you have a rectangular or oblong face and when you want to make the most of your short natural hair. The hairstyle which is bold enables your hair to appear longer and it can give it an afro look that is suitable for any occasion. The process of making this style is very simple and involves making side braids that are directed upwards. The braids are adorned with golden cuffs to give them an elegant look for aesthetics. The hair can look as kinky as it can be and still appear wonderful. This is a trendy look that every black woman should try.
6. Flat Twists Updo for Very Short Hair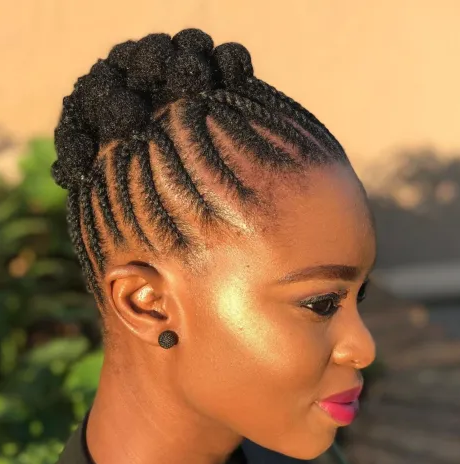 If you're looking to groom your natural afro hair with as little details as possible, then the flat twists updo can be the choice that you have to make. You must not have very long hair to enjoy some of the best styles. This hairstyle which particularly suits people with a square face protects your naturally kinky hair when you're working on a budget. Maintenance should be a priority at this stage because of the nature of the twists. The hairstyle is routine and should be easy to make although the hair will have to be in good condition. The flat twists will run towards the crown of the head. You can decide to add extensions from there if you wish to tweak up the style. This is a good hairstyle for ladies with thinning hair. Not just for adults, this is also an afro hairstyle that will look good on kids.
7. Short Curls with Side Bantu Knots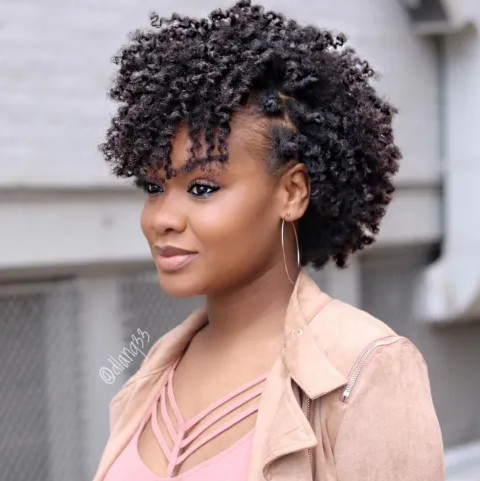 This is a great hairstyle for women with an oval face and short beautiful curls that can be made to fall over the eyes. This hairstyle is part of the twist-out hairstyle routine for short natural hair. The Bantu knots by the side are a trendy addition that is suitable for black women that wish to reference the olden days' hairstyles of people of African origin. The Mohawk style with which the curly ringlets can be worn makes it even more satisfying to look at and can also be pulled back to resemble a sweet topknot. This is a boss chick hairstyle and should be at the top of the list for stylish ladies that love natural hairstyles. Besides, it combines different styles to make one awesome hairdo.
8. Flat Twisted Mohawk Updo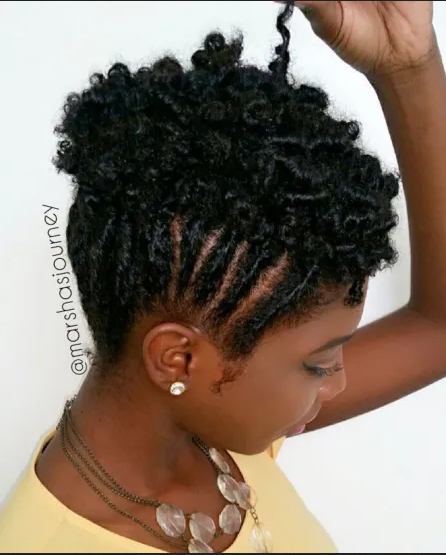 If your hair is short but you need an updo to promote and show off your curls, then the flat twisted mohawk updo should be a good place to start from. This hairstyle brings out the best of your afro hair and displays your hair texture in ways you never know. The style is simple and involves an upward braid that leads to the curls at the top of your head. This can be a good hairstyle you can wear in a formal and informal setting and still look smashing while at it. The Mohawk style is the highlight of this type of hairstyle. For ladies with oval or oblong-shaped faces, you will look uniquely beautiful when you try out this afro hairstyle.
9. Natural Undercut with Shaved Designs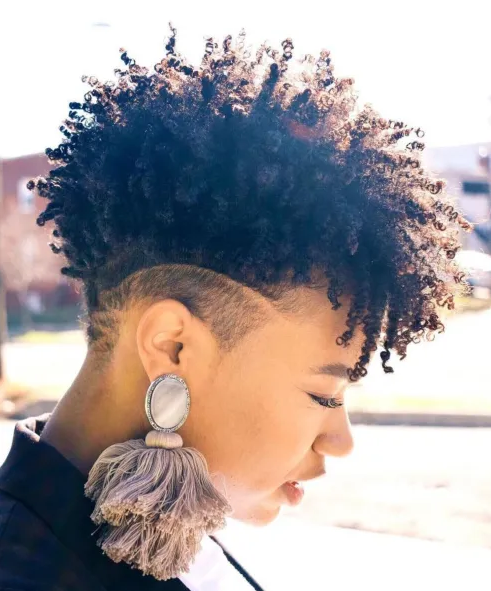 Ok, I'll have to admit that I'm biased when it comes to women with fun undercut designs and that's why this hairstyle would be one of my favorites. This hairstyle leaves you with an amazing look that will expose your curls for everyone to admire. You can then close off the process in style by getting a good barber that will give you a beautifully designed undercut for the sides and the back of your hair. There can be an added red highlight at the end of the curls to emphasize their beauty. This is a trendy hairstyle for ladies that love that boyish sexy look with a well-contoured oval-shaped face.
10. Knotted Headscarf with Curly Full Fringe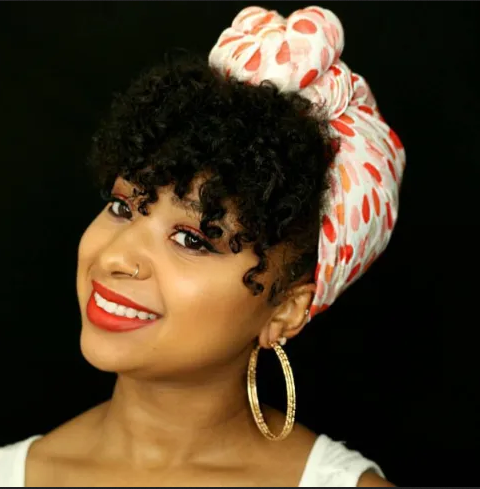 Some natural hairstyles that look great on African women with oval or heart-shaped faces can be achieved when they're worn with accessories such as beautifully colored headscarves, headbands, and others. The look is awesome and can bring out the beautiful texture of your natural hair, enabling you to look like the queen that you are. It's good for protecting your hair as well and can be worn on those days that you don't feel like exposing your hair to natural elements. The styling of the bandanas or scarves does not matter as long as it brings out your natural hair beauty.
11. Inverted Cornrows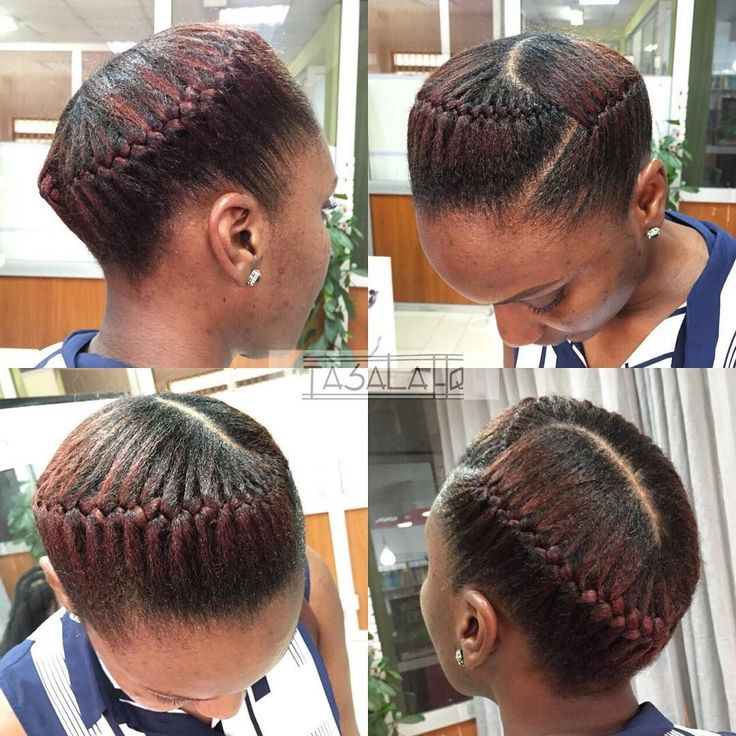 Inverted cornrows aka didi braids are awesome trendy afro hairstyles that look great on natural afro hair. They're tailor-made for African natural hair and for women that love to protect the short hair that they have. The style through which this hair is made is not complicated but great care is taken when making it to have the best results. This look may closely resemble the traditional cornrows that we've all been used to. The designs are sleek and the simple but tight braids look as if they've been plastered into the hair. This is a trendy hairstyle that looks neat and classy and is recommended particularly for women with triangular faces.
12. Short Natural Sass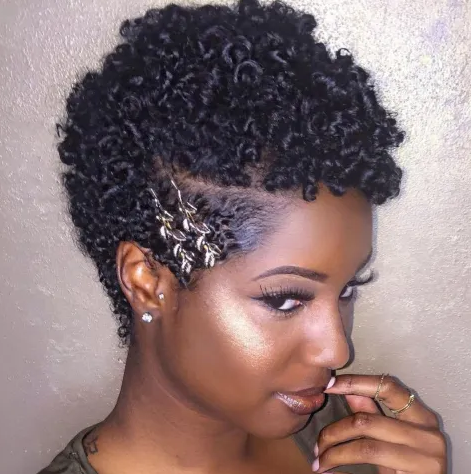 This trendy afro hairstyle does not require aesthetic pleasure, especially when you have an oblong face. But if you chose to wear makeup, you will look all the more glamorous. This is the hairstyle that many black women love and opt for as the hair is easy to maintain without the need to buy many accessories. The hairstyle is perfect for short hair with softer textures. The process of making this hairstyle needs a couple of curling twists and good moisturizers to bring out the beauty of the hair. You may need to get a couple of clips to hold the hair in place if you wish to achieve different styles of it. Adding golden highlights to the sides, or the tip will be a flex that will enable you to show off your curls for the beauty that they are.
13. Pretty Afro with Babylights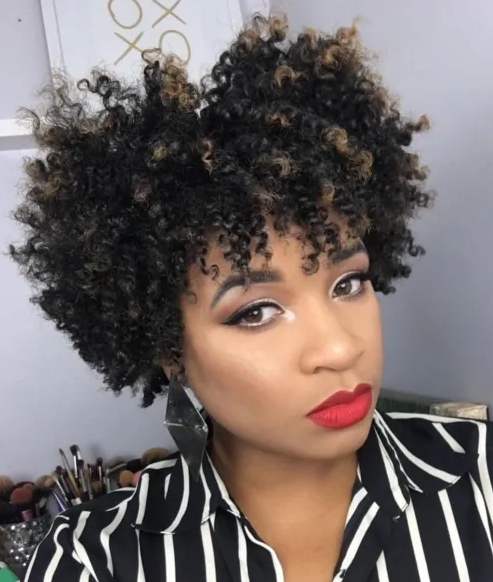 If you're a lady with a heart-shaped face and you love to have your short hair with a lot of volumes on top of it, then the pretty afro will be the perfect blend for you. This gives your hair longer tapers while enabling your curls to settle in a big mass at the top of your head, settling it comfortably as good as you want it. You can then make it classy by adding babylights with added earrings that will make you look bold and beautiful. This is a great hairstyle that is good for people with a good jawline and it brings out your face properly.
14. Warm Brown Natural Undercut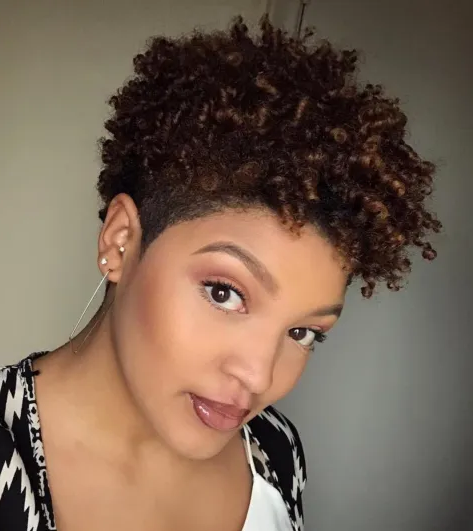 Now, this trendy afro hairstyle is for the ladies with a triangular face and also those that love to keep it short and neat. It's a good opportunity for you to play that face card game to the fullest without having to worry too much about maintenance. This can be done when your hairstylist varies the length and silhouette of your natural hair using a taper and an undercut to make it classy. The tapered cut is blended with sideburns to give you that commanding look that is sexy and yet bold for any type of environment. This is a modern fashion trend for ladies and you should give it a trial.
15. Flat-Twist with Twist Out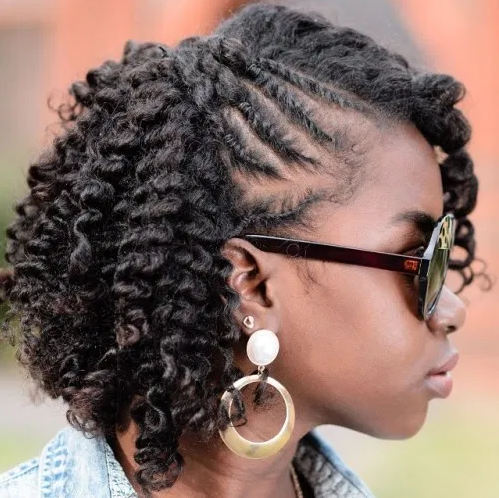 Twist out is one of the easiest trendy afro hairstyles for short natural hair and it enables you to achieve full curls after applying heat. It's a trendy afro hairstyle among people that regard themselves as the "naturalists." If you're worried about whether this style can be slept on, then you don't need to think too far because it can be slept on without much worry and can be maintained as easily as most natural hairs.
Making a perfect twist out is quite easy and can be concluded in a few easy steps. Your hair needs only to be in the perfect condition for that to happen and then the rest is as good as done. You can even decide to throw in different twist-out styles like single-strand twists, flat twists, or the two-strand twist. Ladies with round, oval, or oblong-shaped faces will find this hair appealing as it projects their beauty effortlessly.
16. Cornrows to Twist-Out Top Updo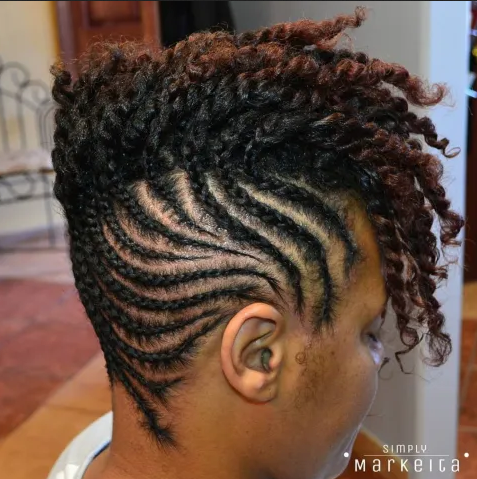 This is a perfect hairstyle for ladies who like undercuts and tapers but cannot bear having their already short hair getting cut to achieve their desired style. You can then choose to mimic the hairstyle that you wish to do and do it on the undercut. This updo can also be good for those who are still grooming their hair but still wish to show off their curls. It is a trendy and modern protective updo that can do your hair a whole lot of good. This is a boss chick hairstyle and is quite easy to make as long as you mark the trail from the beginning of the hair to where it stops at its updo. Ladies with oval, oblong, or heart-shaped faces will look exceptionally good in this hair.
17. Natural Faux Hawk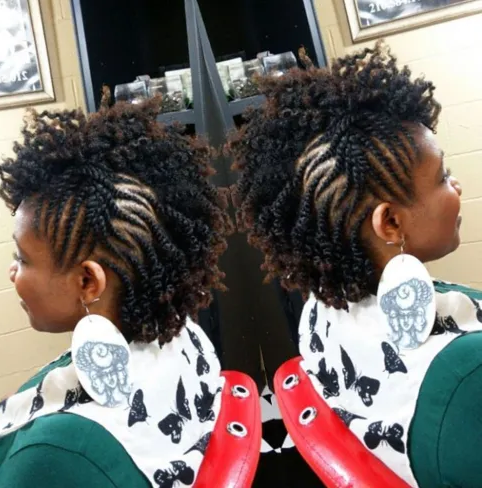 If you have a heart-shaped face and you're also a good fan of simple makeup, this hair will thrill you as much as it has thrilled us. The natural faux hawk is a work of art. The afro hairstyle is done in an intricately braided pattern that is composed of simple twists and zigzag patterns. The zigzags are very good for aesthetics, making the hair a very complicated hairdo to make but the result is perfect. The twisted curls are not hard to make as long as you have sorted out the patterns. The hair is short and it's very comfortable to wear.
18. Side-Parted Medium Layered Hairstyle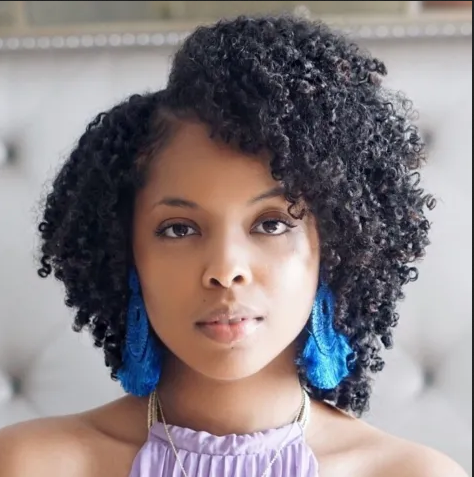 Ladies are often under pressure to find that perfect afro hairstyle that will suit the shape of their heads. The side-parted medium layered hairstyle will give you none of such issues and is perfectly tailored to suit every face shape. The curls of the hair are fashioned into a feminine side bob. This brings out your face and gives you that natural beauty queen looks that you've been desiring. The process of making this hair is not as hard as it looks even though you may have to indulge in hair maintenance from time to time to keep it looking fresh.
19. Pixie with Curls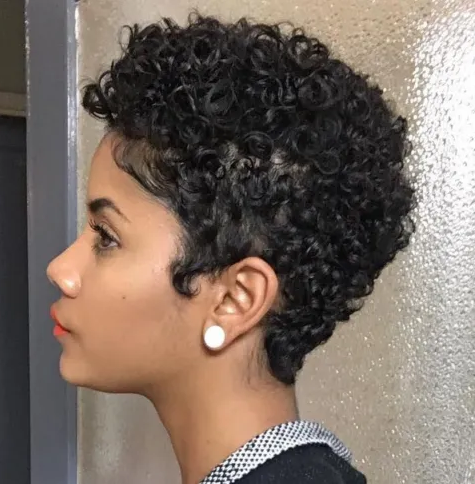 This is a crafted hairstyle that has been taken up a notch with flawless curls that make a very good afro hairstyle. The curls are made to be neither too loose nor too tight and they look shiny when a good moisturizer is used on them. Making this hair will only take your attention to the details surrounding the curls and the sideburns that will make your sides look just as gorgeous as the rest of your hair. This is one of the simplest afro hairstyles that you can try for your hair, especially if you have an oval, oblong, or heart-shaped face with a petite body structure. Short hair can be rocked with class with this style.
Trending Afro Plaited Hairstyles for Women

Plaiting of afro hair is some of the best fashion features of the twenty-first century. There are lots of braids that you can choose for your hair that will leave your natural hair looking flawless and aesthetically pleasing. The beauty of African women globally is enhanced by beautiful braids such as the ones that we're going to show you here. Let's look at some of the latest braiding styles that you can apply to your hair and get that killer look today rather than tomorrow.
20. Top Knots for Small Braids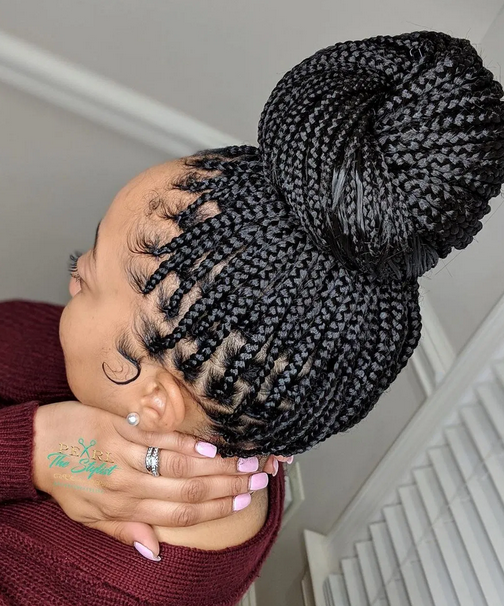 This is an afro hairstyle that will give you that extra gait when you're rocking it. The hairstyle begins with small braids that graduate from the root leading finally to a chunky bum that makes a perfect statement, giving you enough confidence. Making this hairstyle is not easy as it will take you a lot of time and dedication to handpick the hair and braid each group from the root up to the tip. This style will require you to get some hair attachments that will be used to give the hair a fresh shiny look as it progresses. This afro hairstyle comes highly recommended for ladies with afro heart-shaped faces.
21. Medium Box Braids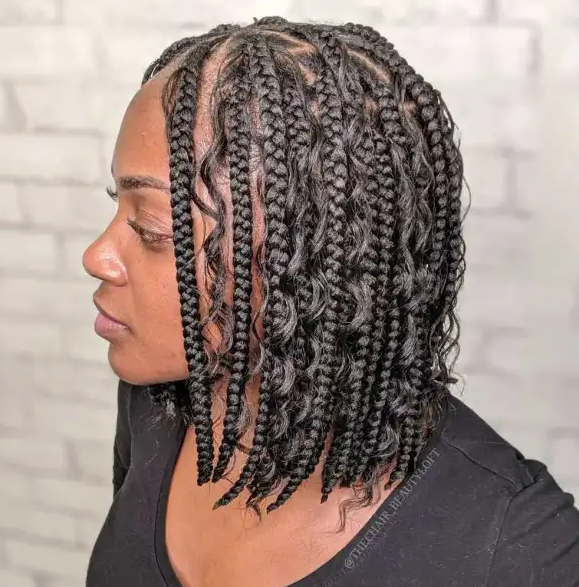 This is a hairstyle that has been made for ladies with round-shaped faces to show the craft that comes with the braider. There is a chance for one to show the alternate box braids with delicate curls in between them. Making this hairstyle may seem complicated but it's quite easy when you've determined the patterns that you wish to make and follow them to alternate with the medium box braids. This is a trendy braiding style in recent times. It will also require that you make simple twists of the hair inside to form the delicate curl that will garnish the braided top.
22. Upside Down Chunky Braids with Buns
This is one of the best ways to plait your natural hair in an afro style with very little accessories but your hair and the creativity of the braider. This hairstyle is a trendy one and can only amplify the beauty of the person that wears it. To start this hairstyle, all you need is to divide the hair into different parts, and then braid each part of the hair to the bun and finish off with a cute crown updo. The hairstyle looks classy and beautiful and will make you look like the unique pair out of any merry bunch of ladies with a hairdo. Ladies with oval-shaped faces will find themselves looking exceptionally pretty with this hairstyle.
23. Afro Updo with Braids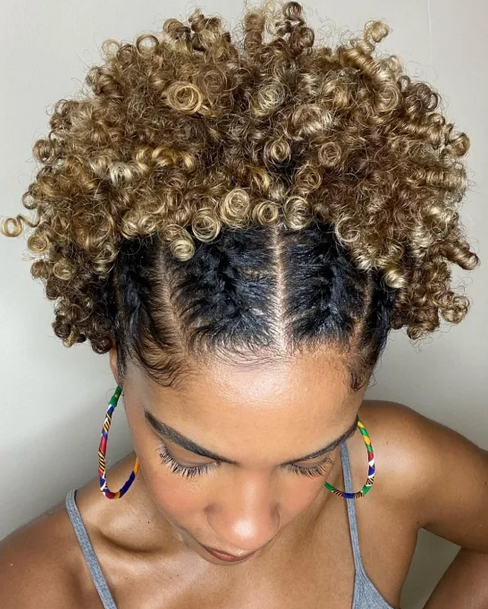 Making this hairstyle comes with a twist that is unusual among the hair-making scene. Another thing that I like much about the braid is that you can easily incorporate it into any hairdo and then finish it up with twisted curls. You can use it for hair of any length and will even look classier when finished with some gold highlights. Making this hairstyle will only take your time when braiding from the roots but once you're done with that part, the curls can be added and you can be really satisfied with the result. Ladies with oval or oblong-shaped faces should not hesitate in opting for this hairstyle.
24. Pulled-Back Cornrow Braids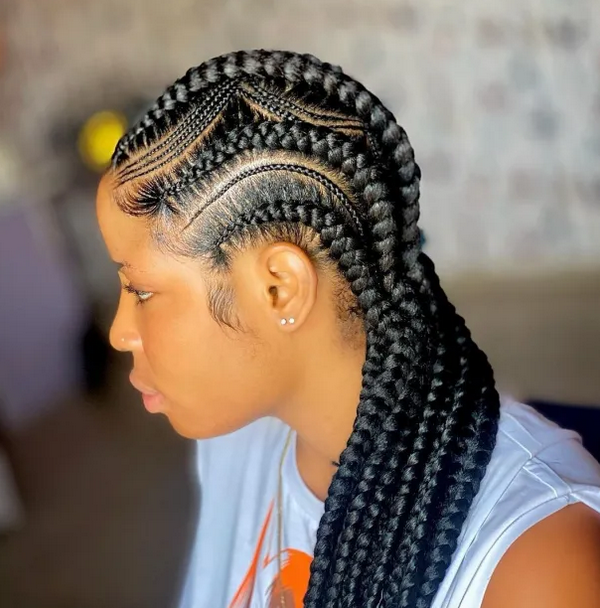 If you love braids that are mixed with beautiful well thought out patterns then you have to choose this hairstyle. You have no idea what is in store for you after you get to wear this wonderful hairdo. The process of making the hair may seem complicated but that means that the braids will be done amidst braided patterns to show off the texture of your natural hair. This is a trendy hairstyle that every lady should try for that classy look. The hair will require maintenance to keep it looking fresh and products such as moisturizers and gel can be used.
25. Classic Box Braids for Women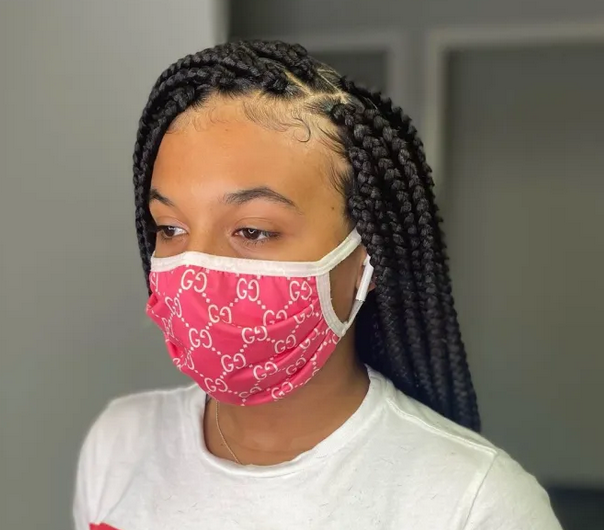 Braids have a special way of making African American women look like queens when done beautifully. The choice of these classic box braids can only mean that you wish to try something bold and beautiful while offering anyone who views it a wonderful sight to behold and marvel at. The process of making this style is pretty much straightforward since you're not alternating styles but it will take you a handful of time before you can finish the braids. A routine cover and maintenance will do the hair a whole lot of good. Again, women with oblong or oval face types will dazzle in this hairstyle exceptionally.
26. Bob Braids with Beads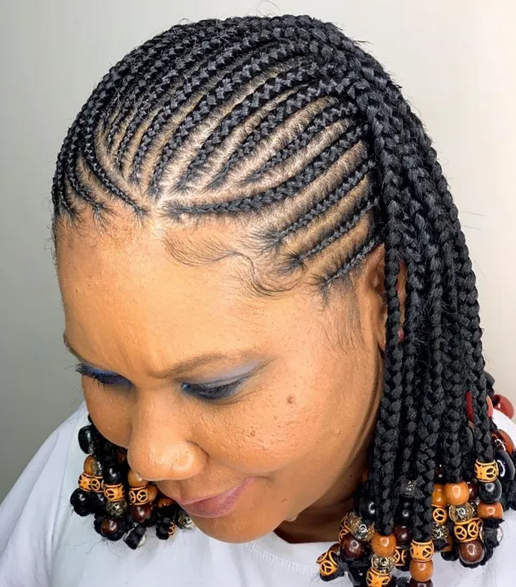 Bob braids are the hairstyle that you can choose when going for that classy look that will make you stand out, especially if you have an oblong face and look plumpy. This particular hairstyle can be used for short hairs and allows you to show off the texture of your hair and be proud of what you look like. The hair is adorned with nice beads to make it look traditionally African but modern enough to enable anyone wearing it to look like the princesses that they are. It's a very good style if you want a protective hairstyle for your hair.
27. Asymmetrical Braids and Curls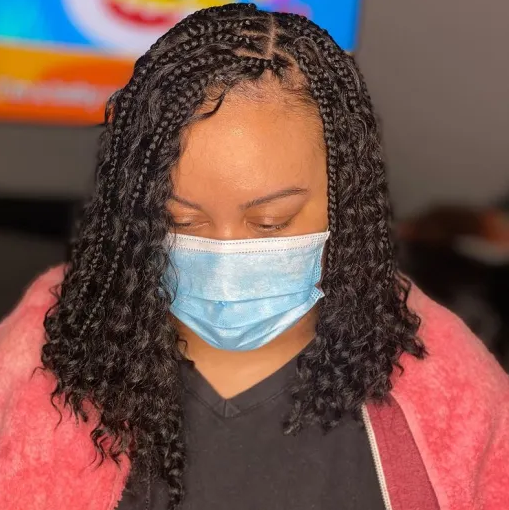 A mixture of braids and curls seems to be the trendy look of late. Your natural hair will always look awesome when its curls are shown off with meticulous braided patterns that you do not get to see everyday. The process of making this hairstyle will begin with asymmetric braids that will be finished off with either a simple twist curl or any other kind of curl that catches your attention. It will give you that classy look that allows you to enjoy a sense of boldness where your beauty is concerned. You should not hesitate to try out this hairstyle if you have an oval or round face.
28. Thick Twisty Braids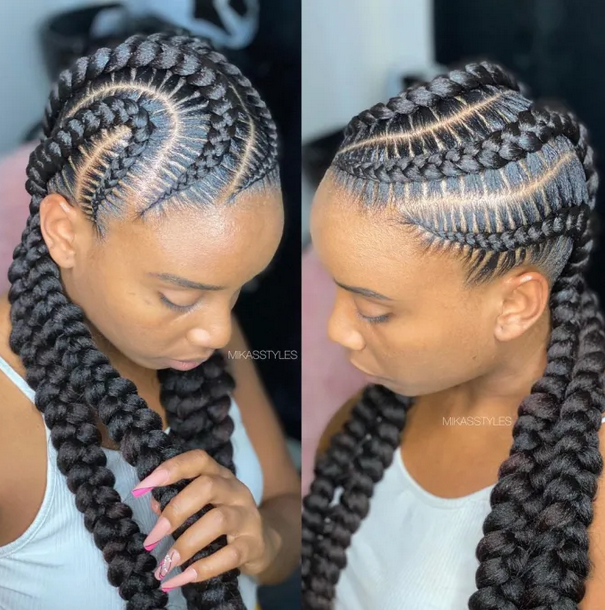 This hairstyle is one of the most in-demand afro hairstyles at the moment, especially amongst women with heart-shaped faces. This is one of the best ways to show off your hair in style and in a bold way as well. The craftiness that is involved in making this hair is one of the things that made it unique. The patterns will take good hand-to-eye coordination to achieve but once done, you only have to appreciate the beauty of this hairstyle. The hairstyle is a protective one but will demand a lot of maintenance to keep it looking fresh and firm.
29. Tribal Braids with Gold String
This is a beautiful hairstyle that beautifully shows off the tribal heritage of African tribal braids. The plan that went into making this hairstyle can give you an orgasmic view of its perfection. It is a trendy hairstyle that is demanded by beautiful black ladies and offers them an opportunity to show off the rich texture of their natural hair. You can make things interesting by adding beads or a golden string. The look is beautiful and should be something you can try if you have a round face.
30. Mighty Mohawk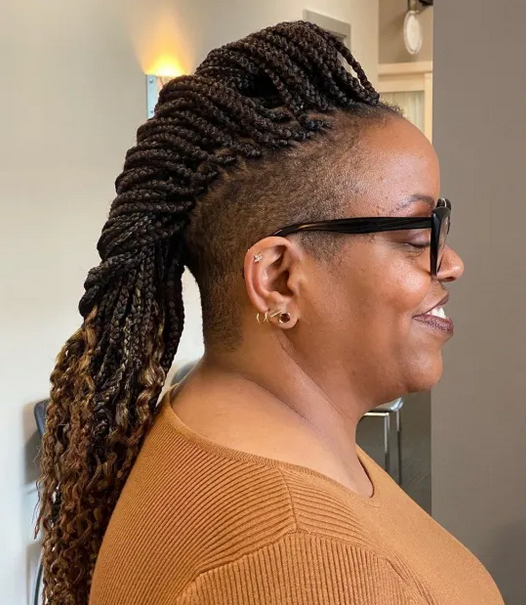 If you're looking for that extra height boost, then the mighty mohawk afro hairstyle should be something that will interest you, especially if you have a square face with a bit of pronounced forehead. You can always vary the styles by getting a blended undercut on the styles and the hair is very traditional. This can be a very boss chick look for women who are looking to turn up the style and rock their braids like never before. The braids are done first and then tied in a loop across the center of the head from the front to the back, finishing off with golden highlights. You should take time to do some maintenance to keep it fresh.
31. Neat Thin Cornrows with Accessories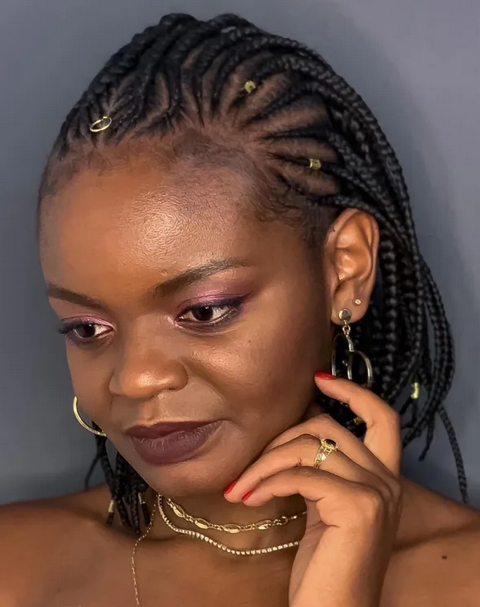 This hairstyle will continue to be a favorite for African women with round faces and can be easily adorned with accessories to give you that classy look. The style will begin with bob braids that are arranged in cornrow patterns and then decorated nicely with golden hair clips and pins. This will make the hair look nice and beautiful, showing off the texture in a way that you can never expect. Ladies with short natural hair can always try this style and garnish it up with pieces of jewelry for a good match.
32. Snail Braid Updo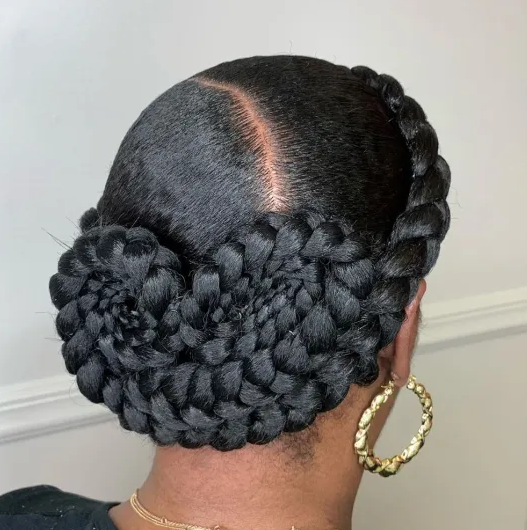 There are times you may wish to go for a simple hairstyle that will compliment your oval face when you wish to go for that special occasion. This trendy snail braid updo is a great choice. There might be a need for an extension for the lowly braided bun to stand straight. The process of making the hair is straightforward after which you can proceed to join them in a bun. The hairstyle shows off the rich texture of your hair and can easily be maintained as long as you have the right materials to keep the hair fresh and shiny.
33. Braided Bun with Curvy Partings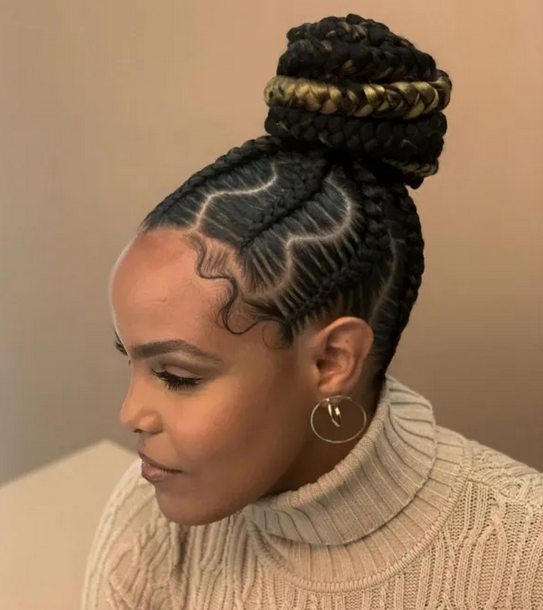 This is a fancy hairstyle that is modern and is one of the raves of the moment amongst women with square or oval face types. The idea is to make a hairstyle with neat, beautiful partings. The hairstyle is carefully thought out and the patterns went up from the roots up to the thick bun using cornrow braids. The curved partings are repeated around the head till it reaches the top. The process of making this hairstyle is not hard but it takes skill and ingenious craft to achieve. This is the type of hairstyle you can get when you need to make that hair statement.
34. Cornrow Braids with Twisted Ends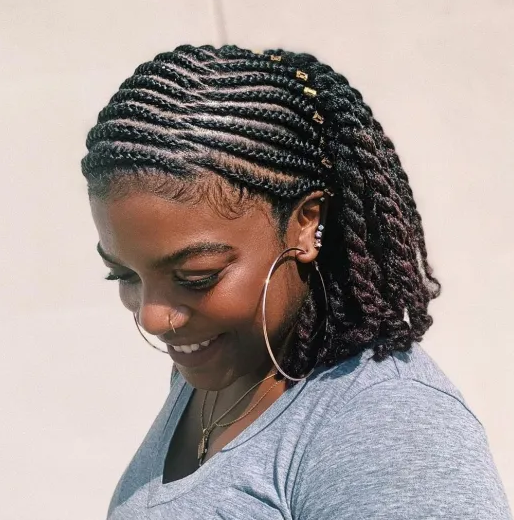 If you have an oval face type and wish to put on that classic natural hair look and look great at it, then you should try this hairstyle. This will also help you to keep your hair protected and enable you to keep your curls dangling free while accumulating strength. The making of this hairstyle is not so difficult as you can braid the hair into cornrows and end the style with twisted curls and a thick twist. Another thing that makes hairstyle great is the fact that it's a chance for you to show off how good your curls can be and the texture as well.
35. Crown Braid
Just like the name implies, this hairstyle is a worthy hairstyle for queens who have realized how priceless it is to be black women with round faces. This is more like an exhibition hairstyle that enables you to show off how beautiful and unique black hair can be. The hair is braided in a circular crown fashion, enabling you to show off your face card as you wish. You can decide to adorn the hairstyle with golden rings that will give it a beautiful look. Making this hair is quite easy as you do not need many accessories and it can be done in no time.
36. Lemonade Braids with Pink Highlights
Lemonade braids are some of the fanciest hairstyles that have been trending in recent times. The thing is that you may have to choose a color that will bring out the beauty of the style. Pink highlights may sound like a very likable option for ladies and will give you premium satisfaction to know that you look beautiful on your natural hair. Making this hairstyle is harder than it appears and you may have to get more accessories to be able to maintain it. The main quality of the hair is that it's suitable for faces of any shape and size.
37. Afro-Pony with Braids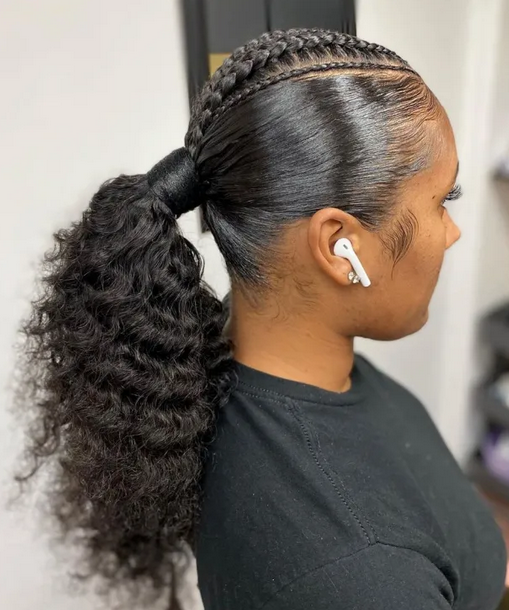 If you love ponytails, then you don't need to worry about making an entirely different hairstyle because your natural hair can be braided into a perfect ponytail. This can be achieved by braiding thick and thin cornrows and then leaving the ends of your hair in a beautiful curly ponytail. You can also add hair extension if your hair is not long enough. You can even decide to make the sides to be sleek in a burnt edge that will puff up your ponytail in the manner that you would like. Making the afro ponytail is not hard but you may have to add hair essentials to make your edges appear neat and well laid out. This hairstyle is a perfect fit if you have an oval face structure.
38. Thick French Braid Updo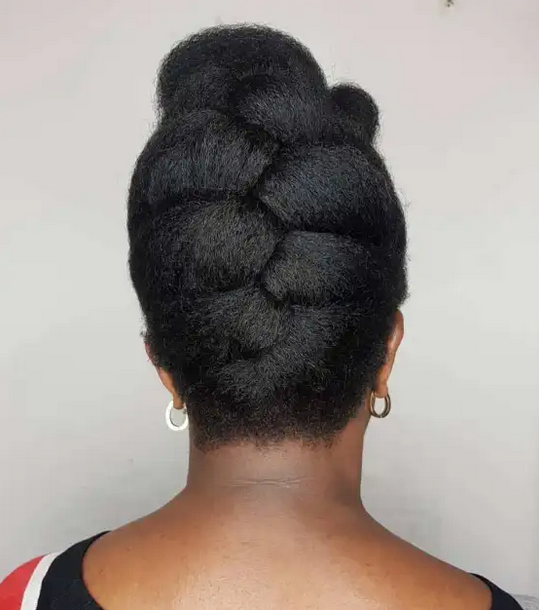 You would do well to show off that your beautifully groomed afro hair by braiding it in a French updo. This hides and protects the ends of your natural hair and shows off the rich texture that indicates the beauty of the afro hairstyle. Making this hairstyle is quite simple as soon as you have divided the hair into parts and moisturized it enough to begin. This is a classy look for black women who needs that bossy look to go in line with an extra height. It should give you the confidence to rock the hairstyle like a queen. It comes recommended for ladies with oval or heart-shaped faces.
39. Two Braids and a Braided Halo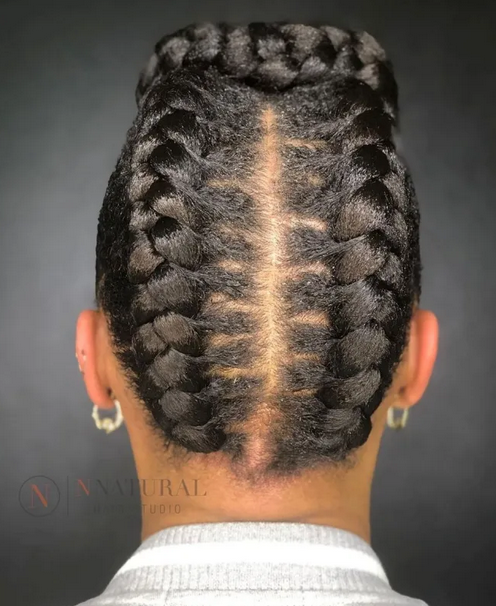 It's not always easy to get a good afro hairstyle and the swag that goes with it at the same time with a simple hairdo but that is exactly what this hairstyle offers. This is the desired hairdo by black women of late and gives you a bold look to go with the beautiful braids. To make this afro hairstyle, you have to braid from the nape to the crown and then complete it with a halo that will be sitting right at the top of the head. This hairstyle is easy to make but will require skills and good coordination so the braids are exactly in the right size and curve at the right parts. However, for you to look good in this hairstyle, you should endeavor to see that your scalp is very clean and good to look at. Applying scalp oil or other hair products can help you achieve this but it should be done moderately.
40. Long Braided Ponytail
Looking good in this long braided afro ponytail hairstyle is quite easy to achieve. The beauty of this hair can be amplified by plaiting cornrows at the front of the hair and then you braid the rest of the hair into a ponytail that goes all the way back. To show the beauty of this afro hairstyle the more, you can apply hair wax on the baby hair on your forehead to even them out and or even make them into a pattern you like.