Not just the best artist from southern Nigeria, Timaya is among the best that the country has to offer. The Bum Bum hitmaker has accumulated a mouth-watering N3.8 billion as his net worth thanks to his outstanding career. He is among the very few Nigerian musicians who have spent over 15 years in show business and still holds relevance. So far in his career, Timaya has recorded a total of six albums, released several singles and EPs, with much more expected in the near future.
As a result of his wealth, Timaya has extensively invested in real estate with at least three known houses in Nigeria; two in Port Harcourt, Rivers State, and one in Lekki, Lagos State. The singer's Port Harcourt houses are said to be lavishly furnished, but the one that takes the cake is his Lekki house. Reports have it that Timaya lives in the lap of luxury in Lekki as his abode on the island is designed like a palace, fit enough for royalty.
How Timaya Made His Fortune Calculated in Excess of N3.8 Billion
With a net worth of N3.8 billion, the Dem Mama record label boss is considered among the richest musicians in Nigeria. He is also listed among the crème de la crème of Africa's richest entertainers. Timaya started earning the big bucks from his music before he diversified into other ventures like business and real estate. His fame has further attracted some A-list companies to work with him as their brand ambassador.
Timaya Began Pursuing a Music Career as a University Student
Timaya was just a semester into his university education when he decided that schooling was not for him. He ended up packing his bags to leave his home in Port Harcourt for Lagos where he would become a backup vocalist for rapper Eedris Abdulkareem's music group. The aspiring musician ended up staying with the group for three years before deciding that his wings were strong enough to go solo. He did exactly that and continued hustling like every other wannabe artist.
Subsequently, Timaya's path crossed with a music producer named Obaksolo (K-Solo) in Oshodi who produced his debut hit record, Dem Mama. The song, which gave an account of the 1999 destruction of a riverside community in the Niger Delta by Nigerian soldiers, won him street credibility and instant fame. After Dem Mama, Timaya and K-Solo recorded an additional seven songs for his debut album, True Story, which was released in 2007.
For his next album, Timaya worked with several other producers, including K-Solo, Phyno, Spankie, Jeggs, Akeem D Beat, and Terry G. The album Gift and Grace eventually hit the music stands in 2008, the same year the singer bagged a couple of prestigious awards at the Headies and the Nigeria Music Awards. He notably won Best Reggae/Dancehall album and Album of the Year.
His third album, titled De Rebirth, dropped in 2010 with the prosperity-themed song "Plantain Boy" serving as the lead single. Production for the album was handled by the likes of Phyno, Akeem D Beat, Jesse Jagz, Jay Sleek, M-Yire, Obaksolo, and Flux.
His Last Three Albums Have Featured Worldwide Hits
In November 2011, Timaya released his fourth album, Long Life and Prosperity LLNP. The album's second track "Dem No Like Me" featured iconic reggae musician Ras Kimono. The Port Harcourt-born singer's next effort was a 14-track album titled Upgrade released on the 25th of June 2012. For the album, he collaborated with the likes of Duncan Mighty, Vector, Terry G, and Attitude, and it featured hit tracks like "Mnaloogede", "Sexy Lady", and "Bum Bum".
Epiphany, his 20-track sixth album was released in 2014 with the worldwide hit song, "Bum Remix" which featured international Dancehall artist Sean Paul. The album featured other musicians like 2Baba, Olamide, Patoranking, Delhi, Sir Shina Peters, and Terry G. Other songs on the album include "Ukwu" and "Sank".
For the ensuing five years, Timaya concentrated on releasing singles, capping it in 2019 with the EP Chulo Vibes and the hit song "I Can't Kill Myself". For the project, he collaborated with Alikiba from East Africa, Nigerian artist Burna Boy, and Machel Montano – Trinidadian Soca Legend. His latest album Gratitude hit the music stands in 2020, sporting tracks like "Iberibe", "Born to Win", "Something must Kill a Man", "Don Dada", and "The Mood".
Timaya is no doubt Nigerian music royalty as he has written his name in gold with his work. The controversial nature of his music makes him stand out and he seems to be at home with provoking lyrics. When quizzed on why he loves playing controversial songs, the singer's answer was that Nigerians love that kind of music.
Timaya Has Multiple Business Interests
Aside from his earnings from music; record sales and performing in shows all across the world, another way through which the Plantain Boy crooner's fortune has increased is his launching of a record label called DM Records (formerly known as Dem Mama record label). Through the imprint, he has worked with artists like Runtown and Patoranking. King Perry – a young Dancehall cum Afro-fusion musician became a signee to the record label in 2017.
Timaya's business interests do not just end with the entertainment industry as he also has links to the fashion world. He is also reportedly in the oil and gas business, the hospitality and real estate industries.
Endorsements That He Has Received Over the Years
Timaya has over the years received endorsements from two heavyweights in the communication industry; MTN Nigeria and Globacom. MTN signed him on as an ambassador in a N45 million deal. According to reports, he did not renew the contract upon expiration and was snatched by Glo in a bigger deal.
The hit maker's deals are not limited to the communication industry. His consistency in music attracted the attention of the Cognac company Hennessy which chose him as their brand ambassador. The musician was prompt to share the good news with fans on Instagram with a picture of him inking the contract with #HennessyAmbassador as the hashtag. "Another one! Son of Grace…" he wrote.
All The Ways Through Which Timaya Amassed His Fortune
Music (Record Sales, Performing Across the World)
Business (Record Label, Fashion World, Real Estate)
Endorsements (MTN Nigeria, Globacom, Hennessy)
Timaya's Three Huge Mansions in Nigeria
It is a given that Timaya is among the richest Nigerian musicians. He has translated a heavy portion of his fortune into investments in real estate. Notable among these are his aforementioned plush houses in Lagos and Port Harcourt.
His Lekki Mansion
People who are privileged to see Timaya's Lekki house will agree that it is one of the most expensive celeb abodes in Nigeria. The house simply is luxury personified. Inaugurated in 2019, the singer's crib reeks of extravagance and luxury, especially with its flashy paintings and expensive artworks. Every inch of the exquisitely decorated and designed house offers something interesting to look at. The dwelling is quite spacious, housing an inviting swimming pool and a personal studio.
The public first got to see photos of Timaya's house on social media through his comedian friend I Go Die. The singer later took the celebrity presenter Ehiz on a tour of his luxurious mansion. Estimations from reliable reports pegged the cost of the house at N500 million; the place sure looks like a palace, fit for a king.
From what we gathered, the mansion houses several cozy and comfortable bedrooms with expensive furniture. There are rooms that are designed in a peculiar and futuristic way while many others have a warm homely feel. The house's personal and unique feel is orchestrated by the presence of several home décor pieces like colorful floor coverings, green plants, portraits, and paintings.
Timaya's Port Harcourt Properties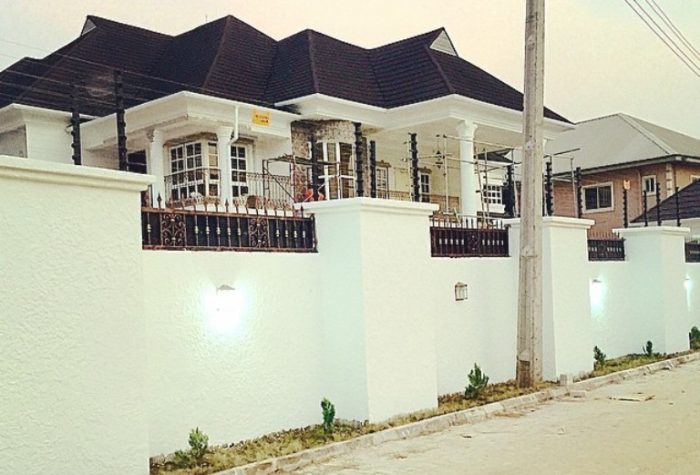 The Dancehall artist is reported to have a couple of landed properties in his city of birth, Port Harcourt. Though these properties seem a bit below the grandiose nature of his Lekki mansion, they definitely don't come cheap. The best among them is the one located in the highbrow Eliozu area of Port Harcourt. The house sports a sparkling swimming pool just as magnificently crafted and luxurious as the one in Lekki. Timaya's second Port Harcourt house is not as well-publicized as his other ones. It is said to have cost an astounding N100 million.