Ghana has stood out as one of the fastest developing and stable countries in West Africa. When it comes to education, Ghana is not left out as the country has one of the best systems in the region. There are several universities in Ghana, including government-funded and private universities. But how do you identify the best universities in Ghana?
Well, Webometrics uses certain parameters, including online presence, openness, publications, research, authority, and more to rank the top universities in Africa and across the world. So, when looking for where to discover and harness your full potentials, you might want to consider these top 10 best universities in Ghana.
10. Garden City University College
Garden City University came into existence in 2001 as a private institution to improve computer literacy and education in Ghana. At the time, it was known as the College of Information Technology and Management Systems.
The university became one of the notable private institutions in Ghana to be granted national accreditation when the institution was fully accredited in 2004 by the National Accreditation Board of Ghana, allowing it to award her own degrees. Due to its high standard of learning, it serves students from all over the world. Garden City University is located at Kumasi in the Ashanti Region
9. Ghana Institute of Management and Public Administration
Ghana Institute of Management and Public Administration is another public-owned university ranking high in Ghana. Set up way back in 1961, the institute has since its inception run with the vision of blending both academic and professional excellence with an appreciation of technology and globalization trends to its over 10,000 students.
It also works hard to instil in men and women who pass through it, quality knowledge in business administration, public administration, development management, governance, and leadership. The institute's main campus is located in Greenhill, Accra and the three other campuses are in Tema, Kumasi, and Takoradi.
8. Regent University College of Science & Technology
The Regent University College of Science and Technology (also known as Regent-Ghana) is an Accra-based institution of higher learning. Despite being a much recent university, Regent Ghana has had immeasurable success in academic excellence and records, making it one of the best universities in Ghana. It was registered in September 2003 and accredited to operate as a tertiary institution in 2004.
The institution subsequently started its maiden lectures in January 2005, with about 30 pioneer students at its maiden campus. Since then, the college has not failed in its mission of purpose-driven human resources committed to socio-economic and spiritual renewal, with science and technology expertise in a competitive global environment.
7. Ashesi University
Ashesi University started teaching students at the end of the first quarter of 2002 following its establishment with the aim of educating African leaders of exceptional integrity and professional ability. The institution quickly gained a reputation for innovation and quality education in Ghana.
In addition to the high standard of learning which it has achieved, the institution is also able to cultivate within its students, critical thinking skills, the concern for others, and the courage it will take to transform a continent.
6. University of Mines & Technology Tarkwa
The George of Mines & Technology Tarkwa is located in the Western Region of Ghana known to have the highest rainfall, lush green hills, and fertile soil. The university was first launched in 2004. Since then, the institution seeks to be an internationally recognized academic centre of excellence for teaching and research in mining, technology, engineering, mathematics and other fields in a sound ethical environment.
5. University of Education Winneba
The University of Education is a Ghanaian higher institution of higher learning located at Winneba. It was established with the aim of training teachers and professional educators, specifically for the Ghanaian education system. The institution is charged with the duty of spearheading a new national vision in the country's education sector which is aimed at redirecting Ghana's efforts along the path of rapid economic and social development.
When it comes to academic research and web presence, the university is one of the best institutions in Ghana that encourages web publishing and research.
4. University for Development Studies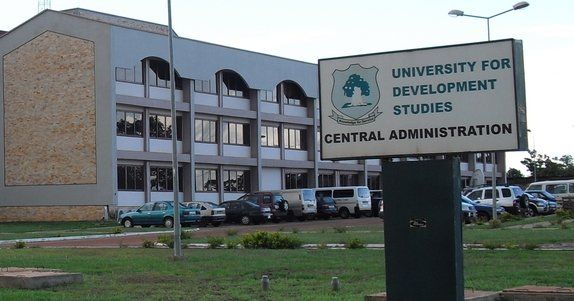 The University for Development Studies (UDS), despite the fact that it was established in May 1992, has been ranked as one of Ghana's best universities. This is because of her aim to share "Knowledge for Service" as well as her methodology of teaching, research, and outreach programmes.
The University began academic work in September 1993 and since then, has always sought to address and find solutions to the environmental problems and socio-economic deprivation that have characterized northern Ghana in particular, as well as some rural areas across the country.
3. University of Cape Coast
The University of Cape Coast was established in October 1962 and started off as a University College but later attained the status of a full and independent institution fully accredited with the authority to confer its own degrees, diplomas, and certificates.
It is one of the top-ranking universities in Ghana established with the aim to generate highly skilled and qualified individuals in education who will offer good leadership and enlightenment to the people of Ghana and to meet the manpower needs of the country's accelerated education programme. The University of Cape Coast is ranked one of the top 10 Ghanaian universities due to its track record in research and training and also for producing highly successful individuals across the globe.
2. Kwame Nkrumah University of Science & Technology
Kwame Nkrumah University of Science & Technology (KNUST) was founded by Kwame Nkrumah, and established in 1952. Since it started off as a University in Ghana, KNUST has been on record as a first-class university in Ghana. It is a globally recognized university for being the premier centre of excellence in Africa for teachings, research, and entrepreneurship training in science and technology which are targeted at the development of Ghana and Africa.
1. The University of Ghana
The University of Ghana was established in 1948 when it was known as the University College of the Gold Coast. It is on record that the University of Ghana is the oldest and largest of Ghanaian universities and tertiary institutions. From the time it was established, the institution was officially made an affiliated college of the University of London which had its academic programmes supervised and degrees awarded.
It was until 1961 that it gained full university status and since then, has continued to pioneer academic excellence and research in Ghana. It has since expanded on its original emphasis on liberal arts, basic science, agriculture, social sciences, and medicine to include more vocational and technology-based courses.
It is no surprise that the University of Ghana is among the best in Africa. Through its graduate school of nuclear and allied sciences at the Ghana Atomic Energy Commission, it offers academic programmes in nuclear sciences and is one of the very few to do so in Africa.