A Bank Verification Number (BVN) is a biometric system of identification that was introduced by the Nigerian apex bank – the Central Bank of Nigeria (CBN) in February 2014. It has since become the universal identification method and a binding factor for any customer to have and operate a bank account with any Nigerian Bank. The constant questions on how to check BVN prove that the 11 digit number is very vital for financial transactions in Nigeria as it ensures the security of customers' details. More so, no matter how many accounts you have with different banks, you need only one BVN to operate them all and this is so because you can link all your accounts with your BVN.
How To Check BVN On MTN, Airtel, Glo, and Other Mobile Networks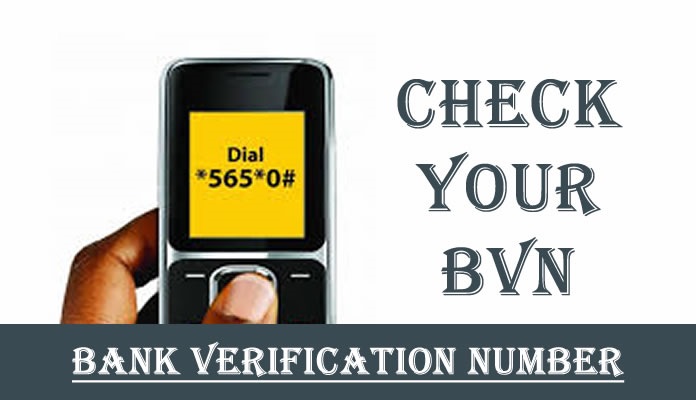 Once you have successfully enrolled for the BVN, you will be given the unique 11 digit number which is still easily accessible if for some reason one did not write it down. One of the simplest ways to retrieve a forgotten BVN is via the USSD on any of the Nigerian mobile networks. So whether you are using MTN, Airtel, Glo, or any other network, you can use the general code which is *565*0#. Although this code was actually generated first by MTN, it later became the generally accepted USSD code for checking BVN across all mobile networks in Nigeria.
To get started, all you have to do is open your phone dialer and punch in the code then send. However, ensure that you have sufficient airtime on your SIM card because a service fee of N20 will be deducted automatically from your account.
Can I Check BVN At The Banking Premises?
The answer is a big yes, there is also the walk-in option for anyone who prefers to visit the bank to get their BVN. In this case, all you have to do is speak to a customer care representative at the bank and provide the necessary details that will be asked of you. This would be simple info like your account number and a valid means of identification. Once all the requirements are provided, your BVN will be given to you.
More so, you can use the bank's ATM machine to check your BVN if you would rather not go into the banking hall. To do this, slot your card into the machine and follow the prompts that come up.
Is It Safe To Check My BVN Online?
While checking your BVN online is very much possible, it should be avoided at all costs because it carries some risks that might result in the exposure of your account details to the wrong people. But if you absolutely have to do it online, beware of any site that might offer to assist you with that. The safest option in this case would be to go to your bank's website and login to your account where you would definitely find your BVN on your profile.
USSD Code For Checking & Linking Your BVN To Your Bank Account
As long as you are using the same SIM card you used to register your BVN at the bank on your mobile device, you can use the general USSD code, *565*0# to check your BVN for most banks. However, some banks have their own unique USSD code you can use to check your BVN and if you are yet to link your BVN to your bank account, you can also make use of the USSD code to do it. Below is a comprehensive list of the USSD codes you can use to check as well as link your BVN to the accounts of some commercial banks in Nigeria:
Access Bank
Access bank uses the generic *565*0# for checking BVN. However, to link your BVN to your Access bank account since the USSD option is not yet available, the SMS option is as effective as it is convenient. To link your BVN to your Access bank account, send BVN followed by your account number and BVN to 20121. For example; BVN 06812345778 22498765732 to 20121.
GTBank
Although GTbank's 737 code caters to a wide range of transactions, they still encourage customers to use the generic USSD code *565*0# for checking BVN on your mobile devices. However, you can use the bank's own USSD code to link your BVN to your GT bank account. To do this, simply dial *737*20*BVN#. You can equally contact GTB customer care for further help.
UBA
To link your BVN to your UBA account using USSD code, all you have to do is to dial *919*6# and proceed to key in the 11 digits of your BVN. Once all the details provided are accurate, your BVN will be liked automatically to your account. Contact the UBA help desk for further enquiries.
Zenith Bank
Zenith bank customers can link their BVN to your Zenith bank accounts using the banks own USSD code. All you have to do is to dial *966*BVN#.
Wema Bank
For Wema bank, you can use the USSD codes : *945*BVN# to link your BVN to your account and the generic *565*0# to check BVN on your registered sim card.
Fidelity Bank
The unique USSD code for linking your BVN to your Fidelity bank account is *770*02# whereas you can use the general USSD code, *565*0# to check your BVN using your registered SIM card.
Different Things Your BVN Can Be Used For
The Bank Verification Number (BVN) has proved to be a very important initiative since its introduced by the Central Bank of Nigeria (CBN). This initiative has also been quite efficient in boosting the security of financial transactions across Nigerian banks. More so, all commercial banks in the country have ensured that their clients enroll in this scheme with ease by linking the BVN to all existing accounts for better accountability. Other uses or benefits of the BVN are:
It can be used as a unique form of identification across Banks in Nigeria not just necessarily the bank where your BVN enrollment was done.
Your BVN can be used to protect your bank accounts and prevent unauthorized persons from accessing them.
The BVN is also at the forefront of combating fraud and issues that surround identity theft.
The banking industry in Nigeria can easily make use of the BVN to nab clients that have been blacklisted for one reason or the other.