Linda Ikeji is a blogger and entrepreneur who redefined the face of Nigerian journalism in recent times. Armed with her news reporting website which has given her a huge revenue, this blogger has quickly risen to become part of Nigeria's elite while establishing herself as one of the wealthiest people in the country.
If you wish to showcase your wealth and affluence as a person who lives in the metropolis of Lagos state, there is no better way to do so than owning a house in Banana Island. Linda Ikeji currently owns a home on this prestigious island, further solidifying her position among the elites in the country.
When and How Did Linda Ikeji Get Her Banana Island House?
On the 19th of October 2015, Linda Ikeji's sister, Laura Ikeji took to Instagram to announce that her sister had bought a house in the elite Banna Island neighborhood. She also went ahead to post several pictures of the house, a two-story mansion Linda had acquired for a staggering ₦500 million. Linda later took to her blog to confirm the news and from the announcement she made, she specified how tedious the journey to buying her own home was, particularly in terms of all the work she had to do.
The industrious lady reportedly started this productive journey as far back as 2006. At the time, having access to internet facilities did not come with so much ease the way it is now. Irrespective of the many challenges which came with blogging during her budding years in the business, Linda Ikeji was determined to pull through and 9 years later, the result was mind-boggling.
Prior to buying her house in Banana Island, Linda built her parents a 5 bedroom duplex in their hometown of Nkwere, Imo State, in 2013. This house was built under 7 months and it had everything fixed within that same period.
What Unique Features Define Linda Ikeji's Banana Island House?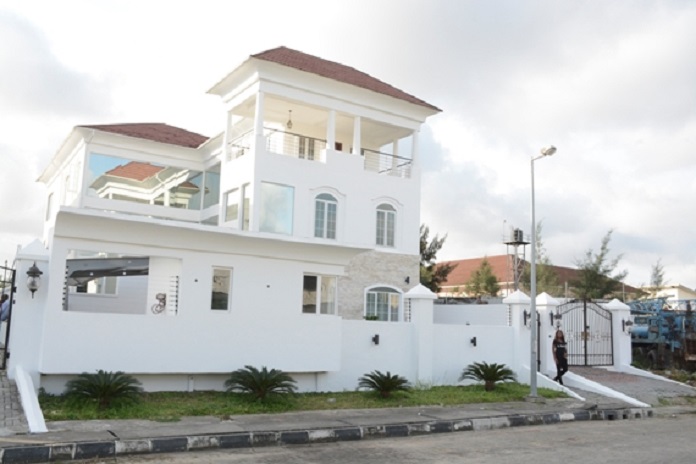 In the spirit of celebration for her house acquisition, Linda Ikeji took her readers on a tour of her new home during which she showcased her masterpiece for the world to see and it was definitely worth every inch of her time. For starters, the blogger's house has three floors and you won't be mistaken to compare it to a mansion as it has palatial leaning architecture.
This exquisite building has 6 bedrooms in the house, all of which are en-suite. There is a master suite that has its own walk-in closet which also serves as a dressing room, as well as a lounge area. The bathroom in the master bedroom has a bathtub, jacuzzi, and a shower. More so, this room gives you a great view of the neighborhood which can serve as the perfect spot to relax and just enjoy the scenery of Banana Island.
The mansion also comes with 2 living rooms, a laundry room, a gym room, as well a media room with a separate room serving as the cinema. Another room that is quite massive in Linda's house is her kitchen and it is fully fitted with the finest kitchen equipment and utensils. It comes with an equally large pantry.
The view outside Linda Ikeji's house is as beautiful as the inside. There are several properties outdoors which include the boys-quarters with two rooms, a gatehouse, a swimming pool with its own changing room, a cabana and a magnificent waterfall wall.
Recap Of The Features Of The Banana Island Mansion
6 Bedrooms – all ensuite
A master suite with a bathtub, jacuzzi, and walk-in closet
2 living rooms
Laundry room
Gym room
Media room
Cinema room
Boys quarters with 2 rooms
Gatehouse
Swimming pool
Waterfall Wall
A Cabana
Is Linda Ikeji's House The Most Expensive in Banana Island?
Banana Island is an exclusive location for Nigerian elites with a good number of them owning property on the island. This includes not just celebrities but other people who have managed to amass a lot of wealth for themselves in the country.
Although Linda Ikeji joined the circle of Banana island house owners, she is not the owner of the most expensive house on the isle. Mike Adenuga, owner of telecommunication company, Globacom has a mansion on the island which cost ₦10 billion. Also, the house owned by P-Square was bought for ₦1.5 billion and other public figures like Sayyu Dantata, Davido, and Aliko Dangote all own very expensive mansions on the island.
Cars Owned By Linda Ikeji
The famous blogger cum businesswoman is not just notable for her Banana Island mansion as it is also obvious that she is a lover of fancy cars and she loves to showcase her collection of automobiles. As of now, she owns several heavy metals in her garage and they are:
Bentley Mulsanne
This car was purchased in 2018 for $310,395 and at the time it was purchased, the cost in Naira was a whooping ₦108 million. The purchase of this car coincided with the birth of her son, Jayce and it was speculated that she intended for it to be a gift to him.
Land Rover Autobiography
Linda Ikeji has always been a fan of expensive cars and the Land Rover Autobiography she bought in 2016 is indicative of her love for luxury cars. The car was bought for ₦70 million which was equivalent to $199,495 as of then.
Land Rover Sport
This was one of her first expensive cars. She bought it in 2016 and while it was the 2014 model of the vehicle, it still cost a lot as she spent ₦25 million on it.
Toyota Camry 2008
Linda purchased this car in 2013 and it was also a fairly used car. However, this dark grey machine was also a beauty added to her garage that year.
Infinity FX 35
This vehicle was bought in 2013 for ₦8 million and as of when it was purchased, she bought the 2011 model of the car. It was not brand new but it still looked very sleek when she acquired it.
Cars Linda Ikeji Has Given To Other People
Buying cars for herself is not the only expression of Linda Ikeji's love for cars. She is also prone to buy cars for her loved ones as gifts. She once got a Honda Accord for her brother. Her father has received a Toyota Sequoia, while her mother has also received an Acura MDX for which she paid N3 million.
The generous blogger is also known to have surprised one of her sisters, Sandra with a car gift in 2018. The news of this sweet gesture was announced on social media by her other sister, Laura. The car was a Mercedes Benz GLE 350 and Linda's reason for giving her the car gift was because of her encouragement and sticking with her all the time.