Kyle Korver is an American professional basketball player who has recorded impressive streaks in his career. Not only is Korver a Cleveland Cavaliers player, but he is also known for his outstanding NBA record of holding the highest three-point field goal percentage in a season. With no less than 12 seasons in the NBA, here is all you need to know about Korver's life and his journey so far, from the New Jersey Nets to the Cleveland Cavaliers.
Early Life
Born Kyle Elliot Korver, on 17 March 1981, in Lakewood, California, Kyle Korver is the son of Kevin and Laine Korver. Initially raised in Los Angeles, Korver and his family including his three younger siblings later relocated to Pella, Iowa in 1993. From an early age, he loved and showed interests in basketball. He attended Pella High School and later Creighton University in Omaha, Nebraska, where he graduated with a bachelors degree in visual communications.
Career
As a collegiate, Korver played for his school's basketball team where he was named to the MVC All-Bench and Alle newcomer teams for scoring 8.8 points per game. More so, he was named to the MVC All-tournament team. Immediately after college, Korver made the NBA draft as the 51st overall pick by the New Jersey Nets. He was later traded to the Philadelphia 76ers where he played for almost four years before being traded to Utah Jazz in 2007. He played for Jazz for three years and then switched to Chicago Bulls in 2010. He later moved to the Atlanta Hawks where he scored a three-point shot in 127 consecutive games setting the record for the highest three-point field goal percentage in a season with 53.6%. Consequently, he was named to his first NBA All-Star game in 2015. But his impressive streaks with the Hawks ended in 2012 and he is currently a veteran sharpshooter for the Cleveland Cavaliers.
Who Are Kyle Korver's Brother and Sister?
The NBA three-point specialist was raised in a Christian family with his father, Rev. Kevin as the pastor at the Third Reformed Church of Pella, one of the community's largest churches. Kyle is the oldest son of four brothers Kaleb, Klayton and Kirk Korver. The Korver's are a basketball family, as all four brothers have played at either the collegiate level or above. While Kyle and Kaleb played at Creighton University, Klayton played at Drake in Des Moines, Iowa, and Kirk at the University of Missouri-Kansas City.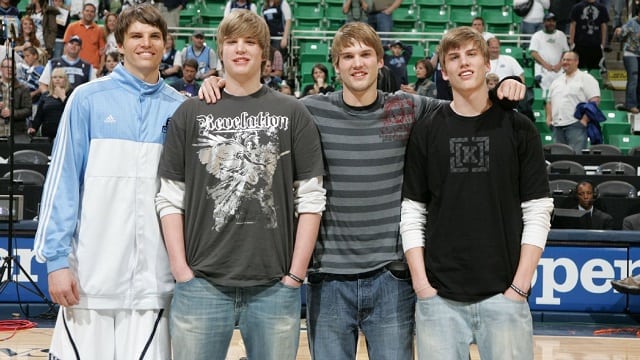 Sadly, on March 20, 2018, Kyle and his family suffered a tragedy as they lost their youngest brother, Kirk Korver who died at age twenty-seven after an undisclosed sudden illness. Before his demise, Kirk Korver played as a prep at Pella High School and was named third-team all-state in his senior year. He also played for the University of Missouri-Kansas City as a forward for three seasons (from 2009 to 2014), scoring 597 points and 267 rebounds.
His Wife and Son
Kyle Korver is married to American singer Juliet Richardson. A Philadelphia native, Juliet was once an alternative and talented singer/songwriter. She was a former lead singer of the band called 1 Plus 1 and has one album Random Order, (2005) to her credit. But the former singer has switched to other interests and is currently a yoga teacher.
Kyle and Juliet who met after one of Juliet's pastors in Utah introduced them to each other, got married on August 10, 2011. They have three children together, a daughter Kyra Elyse Korver born in 2012, and two sons, Knox Korver born in 2015, and the youngest Koen Korver, born in 2016.
See Also: Steve Nash Wife, Divorce, Kids, Girlfriend, Height, Net Worth, Bio
After Korver joined the Cavaliers, his family relocated to Cleveland. Together, the couple who are actively involved in charity has been going on strong in their relationship and show no signs of any breakup or divorce.
Net Worth
With over 12 successful seasons in the NBA, it is expected that Kyle Korver earns a befitting salary and a corresponding net worth from his career. The veteran Cleveland Cavaliers sharpshooter currently earns an annual salary of over $4 million and his net worth is estimated at $18 million. Besides his NBA career, Kyle is also a philanthropist with a charitable foundation called the Kyle Korver Foundation. As part of his various outreach programs, he recently launched a clothing line, Sheer Outfitters in conjunction with the foundation which is aimed at helping underprivileged children.
Height and Weight
Kyle Korver maintains an athletic build which has helped him in his career over the years. Like many other athletes, the NBA star stands tall at an impressive height of 6 ft 7 in (2.01 m) and weighs 96 kg (212 lbs).